It was a crisp, wintry morning, but you couldn't help but feel warmth radiating from the community standing in a line at The Get Down Coffee Company's grand opening this Black Friday. (Which is good, because the line of eager coffee seekers wrapped around the building.) 
At the corner of 44th and Humboldt in north Minneapolis, the building gleams, emblazoned with bold lettering featuring proprietor Houston White's name over his barbershop. A pop of multicolored letters above proclaim the location of his new coffee shop, a charming beacon leading groggy, under-caffeinated visitors like a moth to the flame of their glow. Funk, soul, and R&B music piped outside the building had those waiting bopping their heads and tapping their toes to the beat. The scent of frying meat and potatoes wafted through the air as Quince Minneapolis Market prepared massive piping-hot breakfast burritos for hungry patrons.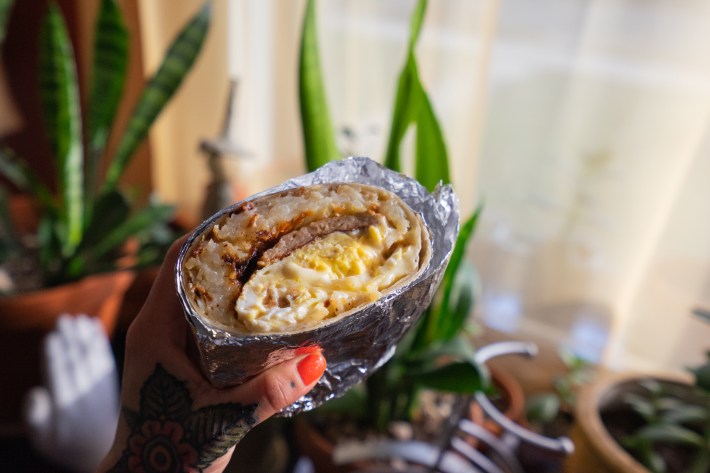 Though it was cold, everyone was smiling, and the energy was electric for this new Black-owned, Black-led specialty coffee shop. 
If Houston White's name sounds familiar, it's probably because you've read one of the many articles about his aspirations for his corner of north Minneapolis. He's a dapper dreamer who knows how to make things happen. After opening his barbershop in 2007—which he used as a space for community members of all backgrounds to gather—he launched his Black Excellence brand, and got it into Target stores. Now he's expanded to specialty coffee with the same ideas in mind: fostering community and connection in his beloved north Minneapolis. 
A new coffee shop in Minneapolis might not sound like anything revolutionary. We've got our fair share of places to grab a pour-over or Chemex full of fair-trade, organic, equal-exchange coffee—but next time you're in one of those spaces, look around.
Coffee shops are overwhelmingly white spaces, especially when you want a higher-quality and more flavorful drip. Nearly 70% of all coffee roasters in the United States are white. This is in direct contrast to the places where said beans originate—many are grown and harvested by Black and Brown hands in Ethiopia, Columbia, Brazil, Mexico, Guatemala, and El Salvador. Keep in mind that the history of the coffee trade is rife with the exploitation of Black and Brown people, colonialism, and enslavement. At a minimum, it feels especially important to have the kind of space White is creating in a historically Black community to support the local economy, create jobs, and provide a delicious coffee in a comfortable, welcoming, and stylish atmosphere.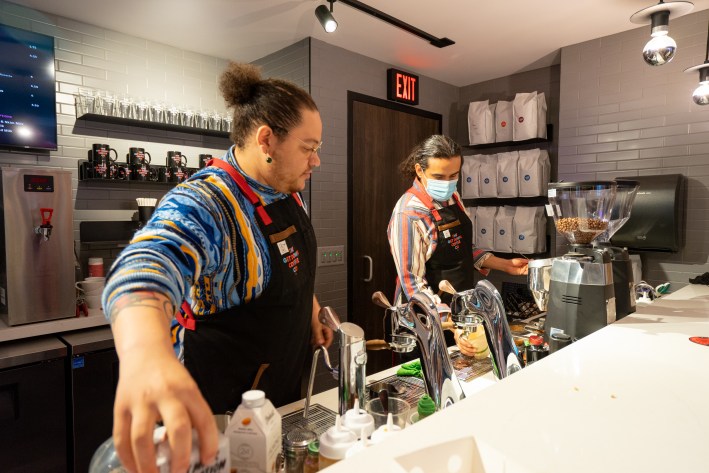 So let's talk about that coffee: It's beautiful, complex stuff. White partnered with Dan Anderson, founder of Dogwood Coffee, as a collaborator and co-owner. On The Get Down's website, The Get Down and Dogwood view each other as siblings that are "openly sharing knowledge, experience, people, resources, relationships, facility, and equipment." When I spoke with CJ Porter Born, The Get Down's director of coffee, he said they've been using Dogwood's space to locally roast their meticulously selected bean varieties. He hopes that by early next year, The Get Down will have their own roasting facility. 
On a recent (awesome) interview on the Libations for Everyone podcast, Porter Born talked about the kind of space he wants The Get Down to be. Namely, a space where Black and Brown folks can try a different kind of coffee in their neighborhood. A place where they can ask questions about what a cortado or a flat white is without the anxiety of judgment. It was so refreshing to see his desire for diversity come to fruition while waiting in line for my first taste of The Get Down Coffee over the weekend.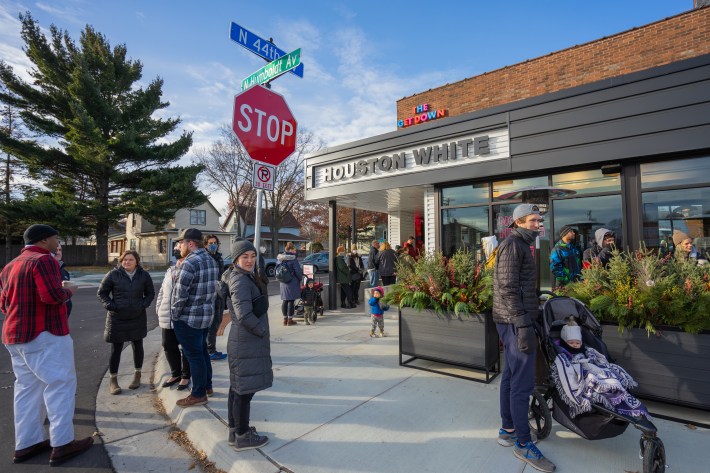 I walked past burnished oxblood barber chairs gleaming in the glass barbershop windows and stepped through the doors of The Get Down to hear DJ A-Quil bumping Alicia Keys and Aaliyah, a smooth counterbalance to the hectic first-day energy. Decorative neon-colored records popped against the low-lit walls, and a shelf stocked with The Get Down merch grew smaller as people eagerly stocked up on mugs and hoodies to rep their new favorite coffee shop. 
The baristas behind the counter deftly pulled shots, frothed milk, and drizzled latte art, gracefully keeping up with the manic pace of the day-one crush of excited patrons. Tables were packed with families with kids and elders laughing and sipping coffee—it was beautiful to see the confluence of multicultural and multigenerational visitors. The place was buzzing with positivity, and not just from the coffee. 
Because I tend to be caffeine-sensitive, I browsed their menu looking for a lighter option. I loved the nod to hip-hop culture in the drink names and settled on an On and On Matcha tea latte; my partner grabbed a Sweet Potato C.R.E.A.M. latte. The Matcha latte was just what I wanted it to be: earthy, sweetly grassy, and creamily satisfying. The Sweet Potato latte surprised me with its smooth creamy richness and subtle sweetness—sugar bomb this drink was not!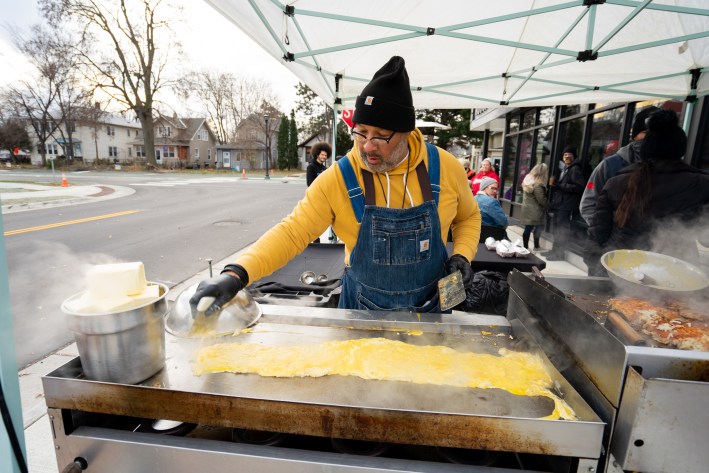 This spot had everything you'd expect from a specialty coffee shop (macchiatos, mochas, cappuccinos, and teas), and then some (check out the We Got the Jazz, a New Orleans style chicory latte). Any coffee shop worth its salt has pastries, and The Get Down is no exception. We split a Loungin' Cherry Turnover crafted by the expert burrito rollers outside, Quince Minneapolis Market. The flaky layers of pastry were drizzled in a delightfully sticky glaze and hugged a pocket of tart, gooey cherries that harmonized beautifully with our drinks. Their pastry case also featured slabs of Candy Rain cinnamon rolls and dense bricks of chocolate espresso pound cake. 
For the discerning coffee snobs reading this recap, I got y'all, too. I made sure to visit on Sunday and grab a single shot of espresso, au naturel, and it popped my eyes wide open. Its bright, clean acidity made my mouth water, and its flavor melted over my tongue, morphing to finish with a sultry toastiness. It left me considering a hiatus from my caffeine caution just to enjoy this flavor more often until they have a decaf option. In the meantime, I'll be back often to enjoy an It Ain't Hard hot chocolate or Bad and Bouchee kombucha and bask in the glow of the newest gem in Houston White's Northside community-driven crown. 
The Get Down Coffee Company 
7 a.m.  – 7 p.m.
1500 N. 44th Ave., Minneapolis