Culture
A N00b Goes to Twin Cities Con
And discovers that 'nerd' is truly a state of mind.
10:18 AM CST on November 7, 2023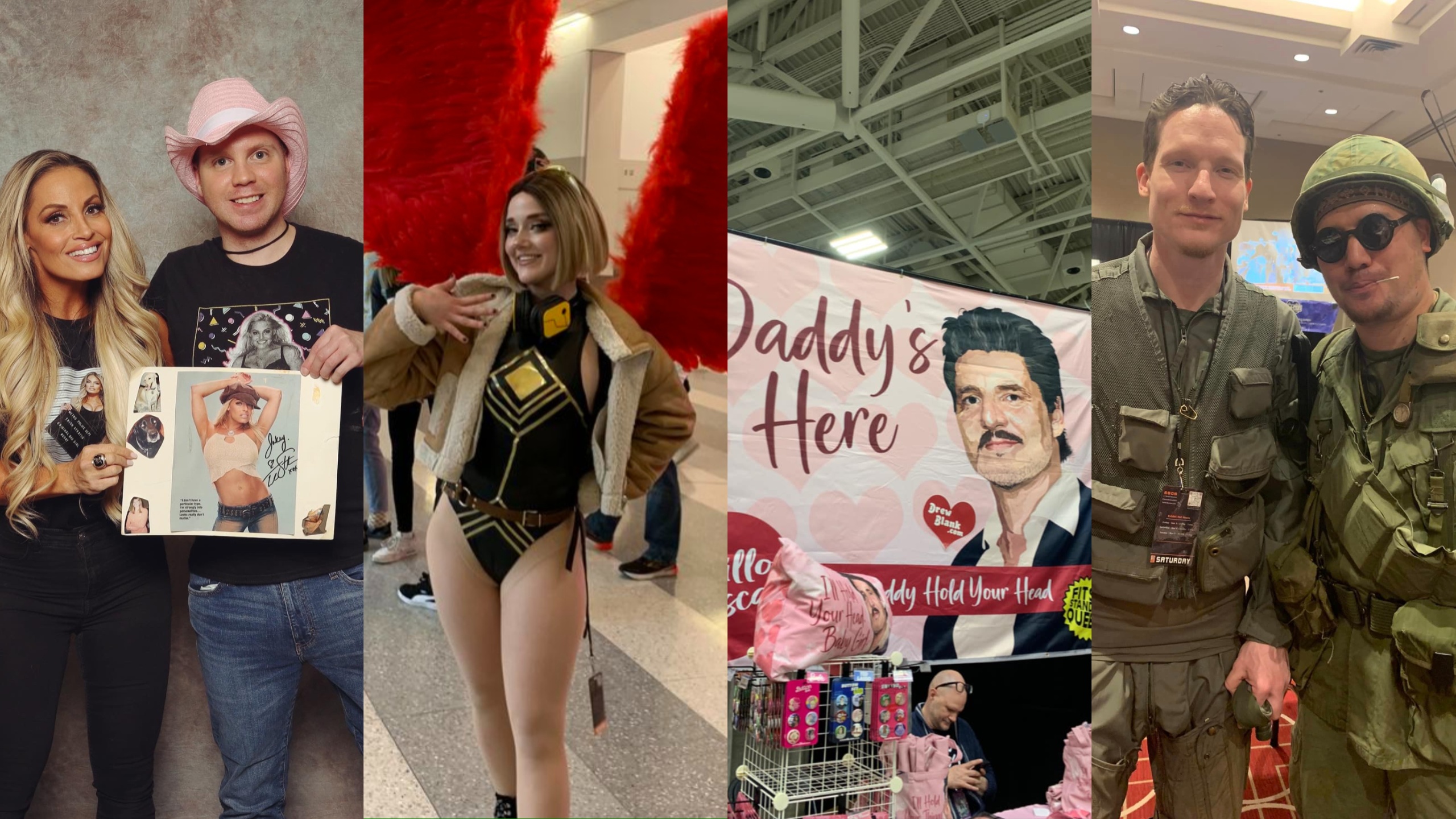 If you were anywhere near the Minneapolis Convention Center this weekend and noticed streams of people wearing extravagant costumes and/or intricate makeup, you weren't hallucinating and you didn't miss a memo about Halloween now lasting for two weeks. It was just the third annual Twin Cities Con!
Twin Cities Con is similar in format to the famous San Diego Comic Con. It's produced by Ben Penrod's Nerd Street, which brings "cons" to various cities that aren't in California or New York. Last year's event got some buzz when very busy Minneapolis Mayor Jacob Frey declared a "Middle Earth Day" to celebrate appearances from Elijah Wood and Sean Astin, and though there would be no mayoral declarations this year, I didn't need that as motivation to attend.
But let's rewind a step: Hello, my name is Jakey, and I'm a WWE nerd. Specifically about the women in wrestling, and extra specifically about WWE Hall of Famer Trish Stratus, who was booked for an appearance at this year's Twin Cities Con. I'd never met her in her off-and-on 23 years in the business, and I jumped at the chance. My 16-year-old self was going to die! 
Alas, by "jumped," I mean "splurged." Out of panic, I purchased a three-day VIP pass ($149) without realizing the following: While admission was required to meet celebrities appearing, a VIP pass was not, and a photo and/or autograph would in fact be an additional purchase. Perhaps most importantly, while Trish was one of three wrestlers appearing during the weekend, Twin Cities Con is far from a wrestling convention. I would be entering an entirely new, different kinda nerdy realm.
I decided to go all in and attend all three days with an open mind. I metaphorically geared up to educate and enjoy myself, despite the fact that my gaming experience stopped after the release of the PlayStation 2. I couldn't think of myself as a nerd, because this is where nerds were in power and celebrated. I was their opposite—a noob, someone who had yet to learn that CONsole Room isn't a room full of gaming systems but rather a Doctor Who convention.
Day 1
I joined the Twin Cities Con Fans group on Facebook for tips and facts, and felt virtually welcomed as I read of others sharing their excitement. I also made a fool of myself by saying "DM me!" to a friendly person letting me know that Trish Stratus would also be hosting a panel; instead they replied with a link to the updated panel schedule from the Twin Cities Con website. This friendly informant, by the way, was none other than the event creator Ben Penrod himself. Noob foul No. 1!
There weren't as many panels on Friday compared to the other two days, but I began my journey that afternoon to get a feel for things. I took the skyway all the way from Target Field, which seemed fine in theory but was more arduous than expected, and arrived sweating through my hoodie with the exhaustion of a frustrated RPG player. I received my complimentary T-shirt and VIP badge and tried to explain I was sweaty from the skyway. "My mom and I are staying at the Millennium Hotel and when we walked here this morning we were cold," the young woman scanning my ticket told me. That reminded me that people were coming from out of town for the con; to many, this thing is a Really Big Deal.
Exploring the exhibition center, I was already gobsmacked by the creations I was seeing. If you've ever been to the expo building during the State Fair, it was like that, only instead of people selling hot tubs, it was independent creatives selling their books, artwork, and crafts in a section called "Artists Alley." Then there's the vendors' section—I had never seen so many Funkos in my life! At least two separate vendors were selling comic books from inventories that could have filled up their own stores. If shopping wouldn't alleviate my stress, then surely looking up at a large airbrushed drawing of Pedro Pascal saying "Daddy's Here" would.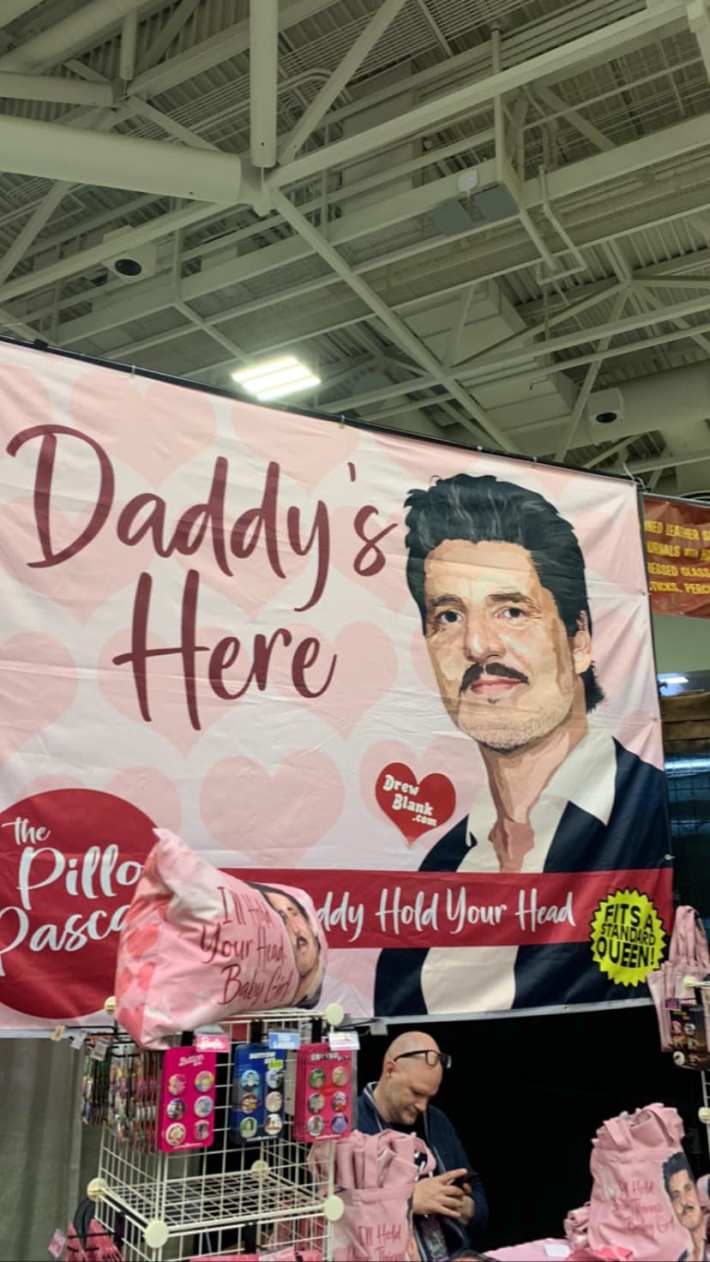 Way at the other end of the exhibition center sat an autograph table and photo for every celebrity that would be appearing during the weekend: Minnesota-born actor Rachel Leigh Cook, prolific voice actor Grey DeLisle, Trish. There were already a good amount of cosplayers walking around, and I felt schlumpy and underdressed next to an array of Storm Troopers, Spider-Men, and expertly detailed anime characters that I didn't recognize but knew enough that they weren't Sailor Moon. 
On my way out, I noticed a huge booth for an "independent stylist" representing a shady multi-level marketing company and was dismayed to learn not even Twin Cities Con was immune to such tactics. Who would keep the colorful streets of Con safe from our cousins adding us to their "private" Facebook groups? I felt confident navigating the skyways back home, where a bouncer from The Saloon recognized me somewhere by Walgreens and let me know that I was going the wrong way.
Day 2
Thanks to Ben Penrod, I now knew that Trish Stratus's Q&A panel was at 11 a.m., so I was a bit nervous when I wasn't ready to call an Uber until 10:20. It was upon my 10:40 arrival that I began to feel less guilty about my VIP splurge. Because I already had my badge, my check-in process was complete for the whole weekend. I would have estimated 200 people, most of them in full cosplay, were waiting in an unmoving line while a volunteer shouted directions at them. I took a picture of a girl in line with a giant gavel and sent it to my friends, because I was Patrick McHenry for Halloween and had a far less impressive gavel as a prop. I still don't know what character she was supposed to be.
Then I met Lauren Leigh, a cosplayer whose garb was attached with red wings so big I couldn't even fit them in the frame when I got her picture. She told me it was made out of two thousand feathers and PVC pipe, and that somehow she got access to the freight elevator to get in because her wings were too big to fit through the doors.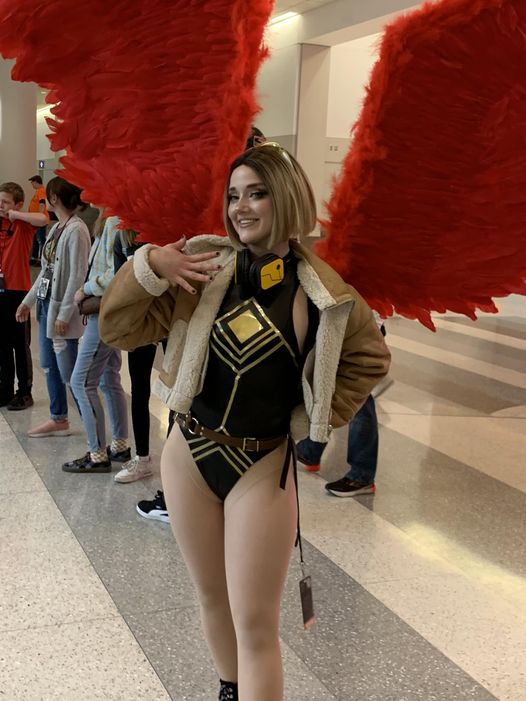 I smoothly made it to my first panel, where Trish Stratus was joined by fellow WWE Hall of Famer and female trailblazer Amy "Lita" Dumas. I was too shy to ask a question of my own but felt relaxed when others did. Wrestling nerds were my nerds. Now feeling less nervous about meeting Trish the next day, I now wanted to interact with my other kind of people: gays! 
My next stop was the Queer Geeks of the Twin Cities Panel. On the way up to the second floor, I noticed the huge line for that hour's featured speaker, Steve Burns of Blue's Clues fame. (Millennials love our kinda-recent nostalgia.) At the queer panel, I learned more about cosplay, along with a much deeper lesson. To find where you belong, after so much of your previous experience in society has left you feeling the opposite… well, it's why X-Men continues to be so resonant to LGQBT+ individuals, and it encapsulates gatherings like Twin Cities Con. We're all weird, and here that wasn't even "okay" so much as it was expected. Wrestling nerds are weird, and so are gamers and manga readers and cosplayers. We all belonged—except for the two people who sat behind me and were talking the whole time.
Needing some levity, I headed to a final panel hosted by the creators of Animaniacs. This was the most crowded panel I attended, and we were directed to stand up and sing along to the theme song. Diehard fans of the show earnestly asked questions and recited specific episodes. Even though this was almost a full room, some of it was drowned out by the noise from the room next door, which was hosting an apparently raucous hour of speed dating. 
I left halfway through Animaniacs, because earlier that morning I decided to also buy a photo with Lita. The photo experience was like airport security—a woman barked at us on a microphone, "For Lita, stand in line 3! For David Yost, stand in line 7!" I was happy to meet more wrestling fans, and witnessed a young man from Indiana bond with a young couple from Wisconsin as they were all there to meet Kevin Smith and the reuniting cast of Mallrats. (Smith had to cut his time short and rearrange some things for a family emergency, but didn't have to miss the weekend entirely.) Lita very nicely told me "Bring it to the table" when I started talking (OK, gushing) and that's when I realized the photo shoots are meant to be very quick-paced, and the tables are where you can actually talk to the celebrity while you purchase an autograph or selfie. This is where not everyone had as positive an experience as I did.
It was not clearly marked which celebrities would take cards and which were cash only, and as for the cash, both ATMs in the convention center were out of order. By Saturday afternoon, the signs were updated to tell people where the nearest working ATM's were located. This led to complaints in the Facebook group, and I regrettably got involved in the discourse. However, more experienced attendees expressed that they thought the convention was generally well-organized, especially for one only in its third year. The only people I really felt bad for were those attending the Gift & Art Expo or The Midwest Cardiovascular Forum, which were being held in the basement all weekend. They were likely very confused by all the costumes and jealous of all the fun we were having. Sucks to be you, Midwest Cardiovascular Forum!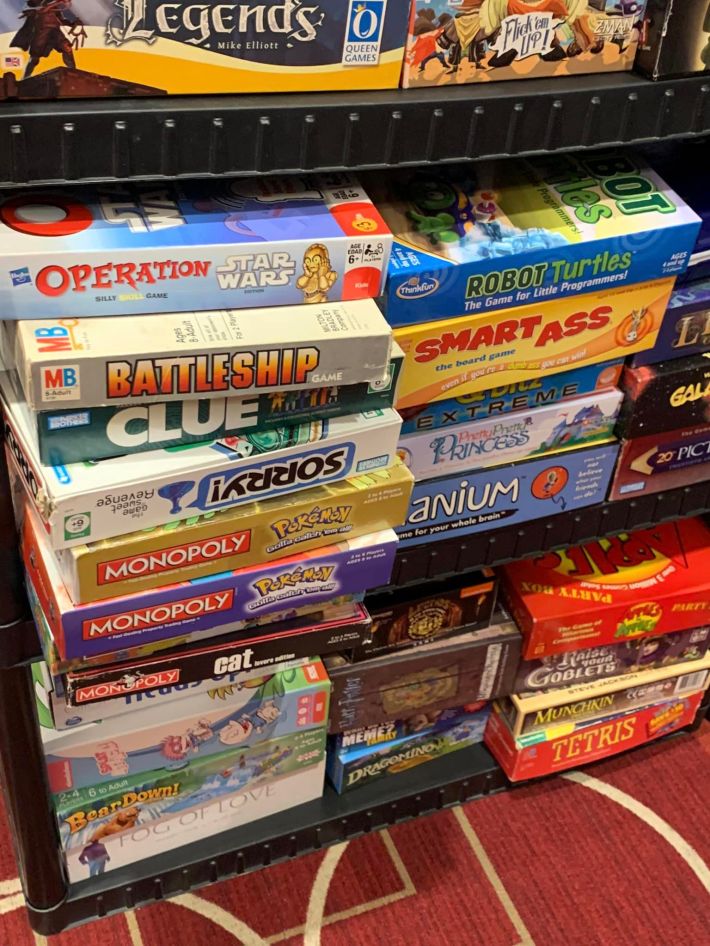 Later that night, I attended The Game Room, and while board games are more my speed (they had Cat Lovers Monopoly and I would have enjoyed the Ticket to Ride tournament), I still had fun playing Jackbox with strangers and two guys I knew from high school. Jackbox was being displayed on a large screen, and anyone else can join in by using the Internet browser on their cell phone. Unfortunately, we couldn't play any games with audio because it was being drowned out by others in the room playing Street Fighter II. #TwinCitiesConProblems.
Both evenings involved late-night entertainment that included stand-up comedy, "nerdlesque" (like burlesque, but with sexy nerds), and a drag show. I qualified to attend and I was over 18, but did not have what I really needed to attend, which was remaining stores of energy. Saturday was a long day, and I wasn't even cosplaying as anyone.
Day 3
I wasn't the only one feeling exhausted by Sunday, because the energy was much more subdued in the exhibition room. There was still a noticeable line for actor Danny Trejo, which my friend Paul—I mean Uncle Fester, whom he was cosplaying—attended and gave a rave review. Even though the energy was winding down, the final event of the weekend was the Sunday costume contest, with the line literally going out the door.
I was still processing the events of the previous half hour as I walked by the long parade of cosplayers. After my parents moved last year, my mom gave me anything from my old bedroom, including a crappy homemade collage with a picture of Trish Stratus, torn from now-defunct WWE Magazine, in the center. A former fitness model with over 200 covers to her credit, she's in a strong and sexy pose with a quote on the picture about how looks don't matter and she likes guys with a nice personality. "I can tell you have a nice personality," she told me. "I don't know, I've only been told I have a lot of it," I rapidly replied.
She signed it.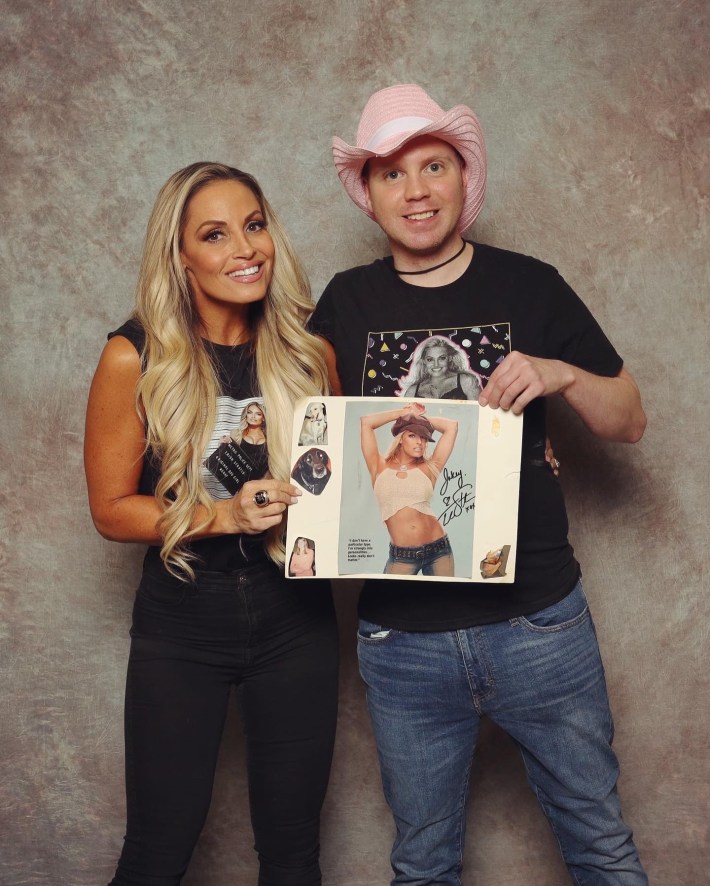 Stay in touch
Sign up for our free newsletter