Last week on The Bachelorette: Bad pickup lines, dude montages, and the Stone Arch Bridge.
The second episode of The Bachelorette begins with an exterior shot; the closed captioning tells us that we should be hearing "gentle guitar music." 
"I have this amazing group of 23 guys here," Michelle enthuses.  
Cut to a shot of a bunch of the guys, out on a balcony, shouting "Michelle!" at what appears to be an empty frontage road. Hm.
The Group Date Turns into Pizzagate
A handful of dudes are drinking bubbly and toasting to love and "the journey" before their group date. You know, the kind of thing people do when they're about to compete for a woman's hand in marriage.
"It's very weird to know that one of these guys will become my soulmate," Michelle exposits.
Today's lesson is love, the group date card teases. Spoiler alert: For some of these guys it will actually be a literal lesson in multiplication, chemical reactions, and how to spell "protein." 
"This is my time! Big Will time!" says a dude who is probably named Will.
Did you know that Michelle is a teacher? Well, the show is reminding us again with this segment. The date is actually a school-type challenge… thing. Michelle is joined by three students: Mia, Riley, and Kennedy. The dudes are asked to answer math questions, create a chemical reaction in a beaker, and play musical chairs. During each test, Peter the Pizzapreneur is pissing dudes off, drawing pizza on his spelling board and sitting too aggressively during musical chairs. When asked to spell "narcissist," Big Will writes "Peter" on his card. 
"His face was as red as tomato sauce!" Will claims gleefully. 
Reality check: It was not.
They end the group date with a cocktail hour where Michelle has one-on-one moments that include a game of cornhole and sexy Mad Libs. 
"You've been bringing out a side of me I've never seen before," proclaims a man who just went on a group date with at least five other dudes.
During this time, Pizzapreneur Pete also confronts Big Will about the "narcissist" call out. All you need to know is that the fight ends with Will shouting, "What else do you have to offer besides the slice, bro?" 
"Peter is an insecurity supernova," another dude points out in an interview. "This better not derail Michelle!"
When Michelle tries to give a fuck about the situation, Pizza Pete tells Michelle he's upset that he was called a "narcissist" in front of the children. Not the children! Michelle isn't having it.
Some guy named Brandon gets the "safe from elimination" rose. "I think what she saw in me was the authenticity," he posits.
"Somebody decided to be a petty bitch," Pizza Man says of his sworn enemy, Big Will. "I got rose-robbed."
​​Minnesota Factor: Pizza Peter is hogging the spotlight, and those kids are obviously professional child actors, not actual Minnesota students. 0 / 10,000 lakes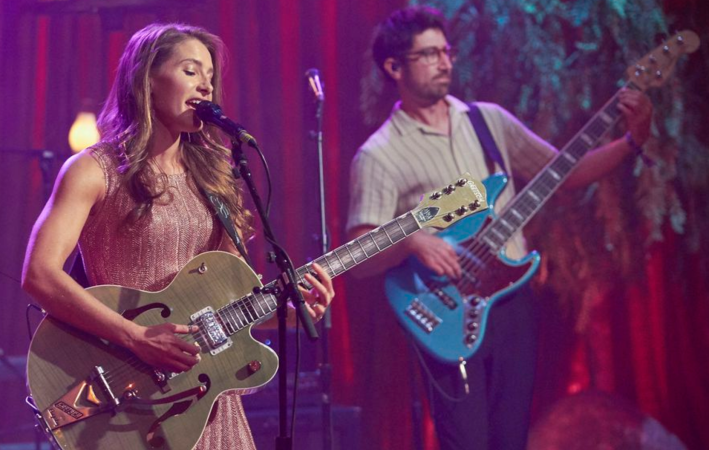 First One-On-One Date: Also a Tragic Villain Origin Story
The first one-on-one (plus a camera crew) date is with Jamie. He and Michelle are at Joshua Tree. There's going to be a picnic, but, first, they have to climb a rock formation together.
"Doing things like this is just what relationships are about," Jaime notes.
"I hope Jamie will be my rock," Michelle tells the camera, unironically.
They make it to the top, they drink champagne. The camera weirdly zooms in on Jaime's hand as he kinda scratches her butt/thigh area. They make out and we get the first panoramic shot of the season.
In the evening, they reconvene at a table filled with glasses that no one seems to be drinking from. 
Michelle wonders aloud what it would be like for the two of them to grocery shop together. Jaime pivots to talking about his mother's mental health struggles and eventual suicide. Michelle is crying. She gives him a rose. 
The date ends with an awkward concert featuring some white lady folkery. The singer smiles at them toothily while they kinda sway and kiss and avoid eye contact with her.
Whew, that was heavy! And that's actually a pretty typical first date on The Bachelorette, believe it or not.
Minnesota Factor: No mention of our fair state, but you know Michelle was probably thinking about grocery shopping at Rainbow, Lund's, or Kowalski's. 0 / 10,000 lakes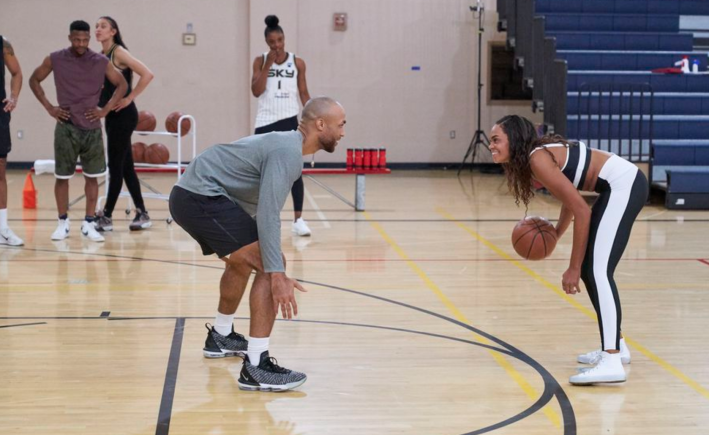 More Group Dates! Guys Compete for Open Bar, Michelle
The next segment opens with Minneapolis Joe crying. He's on the phone with his mom, who is calling to let him know that his high school basketball coach has died.
"We're going on a basketball date," says MN Joe in an interview. "I think [Coach] Novak is the kind of person who would want me to go out there and play hoop."
Michelle explains in an interview that Minnesota Joe was named Minnesota Mr. Basketball, an award that basically says you are number one in the state. Michelle was Minnesota Miss Basketball runner up in 2011.
"Not only does he get that basketball life, he gets that Minnesota basketball life," she says.
The dudes join Michelle at a basketball court. They form two teams. The team that wins will get to hang with Michelle again later that night. MN Joe's team loses, but he wins MVP, which scores him an invite to the party.
"This sucks dude! We can't even go to the cocktail party at all. Wowwwww," whines a dude who is obviously sad about missing out on the free booze. Relatable.
At the cocktail party, MN Joe explains to Michelle, tears in his eyes, that his old basketball coach died today.
"We have a connection," Michelle admits. "I don't know if it's basketball, I don't know if it's Minnesota. I don't know if it's both." Minnesota basketball is apparently a helluva drug, folks. Minnesota Mr. Basketball Joe gets the rose.
"Joe's a silent assassin. One hundred percent," says a dude.
There's also a guy who has a legit photo album in his pocket. What is this, 1987? 
Minnesota Factor: Minnesota Mr. Basketball Joe from Minneapolis is starting to bring that Minneapolis, Minnesota, flavor to this episode. Bless. 2,000 / 10,000 lakes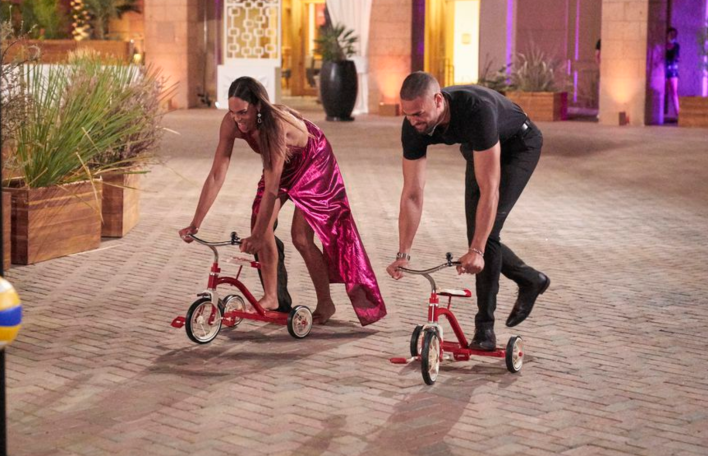 Jaime Knows a Guy in Minneapolis, and That Guy in Minneapolis is Fucking Things Up on the Show
This show is an endless series of cocktail parties. Tonight's cocktail party is pregaming for the elimination ceremony. And Jaime is ready to start some shit. Apparently he knows a guy who lives in Minneapolis who claims he saw Michelle on a date at a bar with a "light-skinned baller." That could only be Minnesota Mr. Joe Basketball, obviously! Jaime says his Minneapolis friend believes they already know each other. He is a silent assassin! 
Jaime decides to tell Michelle that the dudes are worried that this season of The Bachelorette is rigged. That's crazy talk!
"I think she took it well," he says afterward. 
Cut to Michelle crying. This cocktail party is over!
Michelle addresses the room of dudes, explaining she and Mr. MN Joe messaged twice "a few years ago" before he ghosted her. She also points out that any time she is in public with a Black man, people assume that they're a couple.
Side note: The music during this segment is pretty epic, like a Lord of the Rings battle scene. Calm down, sound department! 
Cut to the Rose Ceremony of Love Elimination. Pizza Man makes it through. And Jaime emerges as the guy getting the villain edit this season.
"There's a rat in our midsts!" one dude exclaims. "I hope someone sets a rat rap!"
Minnesota Factor: That Minneapolis friend is fucking shit up! Not cool, Minneapolis friend! But also, email me. I have questions. 5,000 / 10,000 lakes, just for the drama
Next Week: 
"I am gonna keep exposing you!" shouts Pizzapreneur Pete to someone off camera. There's going to be more crying, more makeout sessions, and some sort of Top Gun-themed promotional date. #ad