The Bachelorette is back, baby! Let's watch together. 
First up, a disclaimer: I am not a member of what former host/puppet master Chris Harrison often called "Bachelor Nation." I am merely a traveler with a passport to this hellscape of love. I've watched maybe five seasons in total, mostly at the behest of friends who enjoy hate-watching the show, as many do. So I'm pretty familiar with the format, but a little rusty on the nuances of "the journey." 
The Bachelorette is from Woodbury, y'all
This installment of The Bachelorette stars Michelle Young, a teacher at a Burnsville, Minnesota, elementary school. We open with her teaching her class about fractions. One very cute student seems kinda gobsmacked that Miss Young could potentially be kissing 30-something dudes on her way to love. Girl, you have no idea.
This intro segment has to familiarize us with the lead of the show, so there's a lot of exposition here, brought to you via a casual dinner with her parents in Woodbury, where she grew up. She talks about being into basketball in high school, but not dating much. Her parents talk about how much they love each other and how they hope she finds "her person" on this extreme reality dating show.  
"This is my shot to find love!" she exclaims. 
Next, we meet the hosts: former contestants Tayshia Adams and Kaitlyn Bristowe. The duo replaced Harrison after he was booted for defending a racist contestant, among other things. While Harrison lent the show a calm murder robot vibe, the ladies bring a scripted "wine friends" energy, which is… an improvement? I guess?
"Cheers to finding your husband!" the two proclaim in unison at the end of their intro chit chat. Let the romance begin!
(Oh, and in case you were wondering, tonight's episode of The Bachelorette was brought to you by the new Batman movie: Batmaaaaan Harder!)
Minnesota Factor: I'm not seeing much of our beautiful state here. It's there, but it's playing hard to get. 3,000 / 10,000 lakes
The mind-numbing man montage
Now it's time to intro the 200-plus men who will be vying for Michelle's hand in marriage. It's a real fucking slog. The standout of this segment is Joe, a dude from Minneapolis whose online bio states that he "loves snacks." Relatable. He's walking across the Stone Arch Bridge during part of his interview. It steals the show.
The best part of these intros are the stupid things people say. Hey, if I were on this show I would be breaking out in hives and saying stupid things, too. I get it. Here are some highlights:
"[Michelle's] smile is like, top notch for sure" — smile ranker Joe
"There is nothing better than a road trip, honestly" — some guy in a car
"Fundamentally, I feel like we see the world the same way" — a man who has never met Michelle
"I come in with my launch pail and go to work. I can plow a field, ladies" — shirtless man on a tractor
Minnesota Factor: The Stone Arch Bridge, baby! 7,000 / 10,000 lakes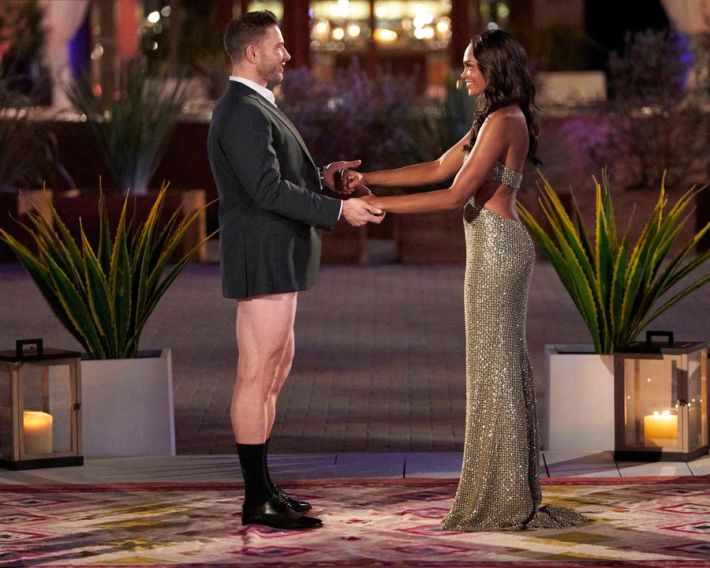 Clown car limousine time!
"Tonight is the night. It's the start of a really beautiful relationship finding my soulmate," Michelle says, introducing the cringiest part of any Bachelorette season. This segment is really a bar scene simulator without the booze. Michelle wears a beautiful dress and plays along while dudes try to cold-flirt with her. Some are kinda charming, some are embarrassing, and some are gross, proving that no matter the setting blind flirting is a total crapshoot.
Here's a rundown of the worst (best?) pickup lines:
"Better Nate than never" — some guy named Nate
"Jeff Russell, like the dog" — some dude explaining his name 
"No surprise to me, I know you are a teacher. No surprise to you, I used to be a student" — man with a ruler who is requesting a smack on the butt
"It almost feels like NBA draft night, and I hope I'm your #1 pick" — some dude who is not her #1 pick
"I have never been so excited to be back in school. I might give you an A. I might give you a D" — creepy guy
"Did someone named Michelle order a double scoop of love?" — dude who arrived in an ice cream truck
When Minneapolis Joe shows up, Michelle realizes that they did a bit of flirting via DM a few years ago, and then he ghosted her. More on that later.
Unrelated: One contestant lists his job as "pizzapreneur." I need to know more.
MVP: The dude (pictured below) who spent about half the episode as a head on a platter.
Minnesota Factor: Eh. Just Joe. 1 / 10,000 lakes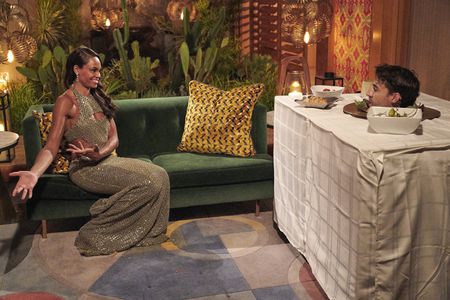 The happy hour(s)
And now we enter the first date section of the show, where the drama begins. It's basically an awkward party with an open bar and no food, and according to past contestants, filming often goes until 8 in the morning.
There's a guy who gets booted from the show early on after Michelle is tipped off that he has a stack of notes in his room on how to maximize screen time and get on her good side. It's creepy and it's the thing the gossip sites are going to talk about today, but it's not really that scandalous. It's a reality TV show—no one is here "for the right reasons," unless the right reasons are social media celebrity. This dude was just dumb enough to create notes—oddly specific notes that are in complete sentences to himself—so that Michelle and the hosts can read them aloud and they come across as clearly disingenuous. Definitely not scripted.
Before all that bullshit, Michelle checks in with Joe and asks why he ghosted her back in the day. His excuse? He owned property "near George Floyd Square." Michelle, a Black woman who teaches at a multi-racial school, mentions that she was also impacted by the murder of George Floyd, and is not having it.
Minnesota Factor: I'm feeling… wary? George Floyd, the riots, and what is going on in Minnesota is a heavy topic, but there are Black people on this show who lived through it. That's a great perspective to share with the world. I just don't know that I trust The Bachelorette to handle it with the weight and honesty it deserves.  No lakes awarded due to skepticism
The romantic elimination round
This first Rose Ceremony of the season is always a shitshow. There are guys you've never seen. There are panicked looking men. There's a guy dressed as an apple and a guy who ripped the sleeves off his suit for some reason.   
Joe makes it through, though. 
Minnesota Factor: Nothing to see here! 0 / 10,000 lakes
Coming up!
They always have to end the first episode with a montage teasing what viewers can look forward to in this installment of The Bachelorette: of extreme romance, extreme outbursts of rage, extreme crying, and extreme panoramic shots. 
This season's extreme montage hints at: 
A trip to the US Bank Stadium to meet a dude dressed as a Viking on a… is that a Roman chariot? 
Bike rides (very Minnesotan!)
Basketball!
Making out at the Twins Stadium while fans clap and a mascot stands nearby.
Some guy angrily throws a puffer jacket into a pool!
Michelle walks alone in a field somewhere (a Minnesota soy field?)
Michelle does some soul searching (or maybe searching for a Target?) while walking around downtown Minneapolis.
Lots of men crying! There are going to be a lot of people in emotional pain this season! Oh boy!