Events
Ski Jumping, YG at the Armory, and an Epic Ice Maze: This Week's Best Events
Plus January residencies, Wrestlepalooza, and a free RV show. Hell yeah!
11:41 AM CST on January 9, 2023
Welcome to Event Horizon, your weekly roundup of the best events in Minneapolis and St. Paul.
MONDAY 1.9
The Minnesota Ice Maze
Viking Lakes
Getting lost in a pile of ice and snow in nature? Potentially deadly! Getting lost in an ice maze during this ongoing party in Eagan? Potentially a lotta fun! This year, Vikings Lakes has brought in over one million pounds of ice to create an epic maze that will take guests through a half-mile of disorienting twists, turns, and beautiful icy spectacle. Oh, and there's also a slippery ice slide, of course. Once you make it out, you can enjoy the trappings of Winter SKOLstice, a free festival featuring a warming house with drinks and food from Omni, plenty of bonfires, and free ice rinks for skating, curling, and pond hockey (just bring skates). Special events scheduled during the winter include trivia nights, live music, a winter princess gathering, and a Cry Baby Craig's hot sauce night where the maze will be lit red and orange and a special spicy menu will be offered. Find tickets and more info here. $14.14-$26.14. 4-10 p.m. Mondays through Fridays; 10 a.m. to 10 p.m. Saturdays and Sundays. 2645 Vikings Circle, Eagan. Open daily through February 19–Jessica Armbruster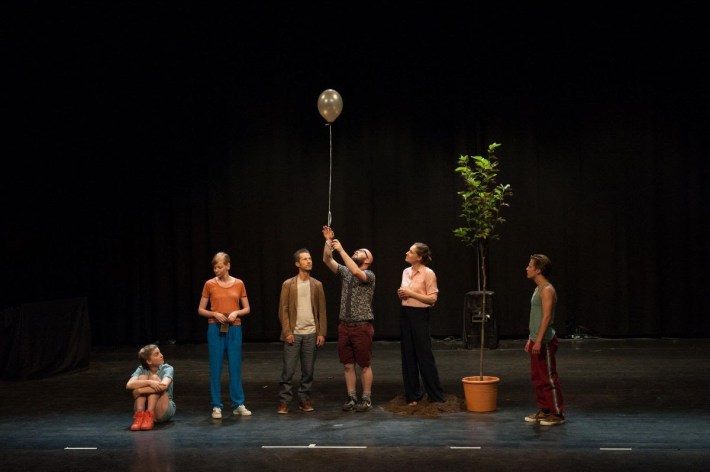 THURSDAY 1.12
Out There: Are we not drawn onward to new erA 
Walker Art Center
It's January, are you ready for things to get weird at the Walker? Or, rather, even weirder at the Walker? Every year, the modern art museum hosts Out There, an experimental theater series that brings in fresh, cutting edge performers, troupes, and productions from around the world. This year's event kicks off with Ontroerend Goed, a company from Belgium known for its absurdist theater. Are we not drawn onward to new erA is billed as both a "bleak" and a "surprisingly hopeful comment on the climate crisis." Wordplay-lovers have probably already noticed that the title is a palindrome, but you'll have to see for yourself how that works out onstage. $31.50. 8 p.m. Thursday through Saturday. 725 Vineland Place, Minneapolis; find more info here.–Jessica Armbruster
the bull-jean stories
Pillsbury House Theatre
Although it got its start as a novel, Sharon Bridgforth's the bull-jean stories is a piece that was made for the stage. It's a fusion of storytelling, spoken word, history, and fiction. It's also a love story, following the titular character as she navigates Black queer life in the Deep South of the 1920s. Bridgforth is known for shows that are much more than they appear to be; Pillsbury's 2018 production of dat Black Mermaid Man Lady/The Show was part book, part performance, part oracle deck/reading sessions, and part collaboration with Powderhorn Park Neighborhood Association to mentor several artists toward homeownership. The return of Bridgforth's work to the Pillsbury Stage, this time directed by Signe V. Harriday, is an excellent addition to the venue's 30th season lineup. 3501 Chicago Ave. S., Minneapolis; find more info here. January 12-February 5–Jessica Armbruster
St. Paul RV Super Show 
Saint Paul RiverCentre
Look, you're not going to buy a $70,000 RV. But you might have kiddos. They might be fascinated by large vehicles. And this free industry propaganda event promises "dozens of outdoor adventure vendors, family-fun activities, speakers, and more!" What more could you possibly want? The idea of someone giving a Ted Talk-y lecture about the virtues of the 2023 Jayco Jay Flight SLX 7 sounds funny to me, and they probably let you walk in and out of the RVs, which, honestly, seems pretty neat. Some of the fancier ones might have creative features and doodads that'll make the whole family remark: "Neat!" Think retractable TVs, space-saving bathrooms… stuff like that. Ever see Will "Mr. Slap" Smith's $2.5 million RV? It's a sight to behold. (That was a non sequitur; Mr. Slap's RV won't be at the RiverCentre.) Would we be writing about this event if we weren't in the post-New Year's activity doldrums? Almost certainly not, but hell, I've half-convinced myself to check out the St. Paul RV Super Show. Free. Noon to 9 p.m. Thursday through Friday; 10 a.m. to 8 p.m. Saturday; 10 a.m. to 4 p.m. Sunday. 175 Kellogg Blvd. W., St. Paul; find more info here. Through Sunday–Jay Boller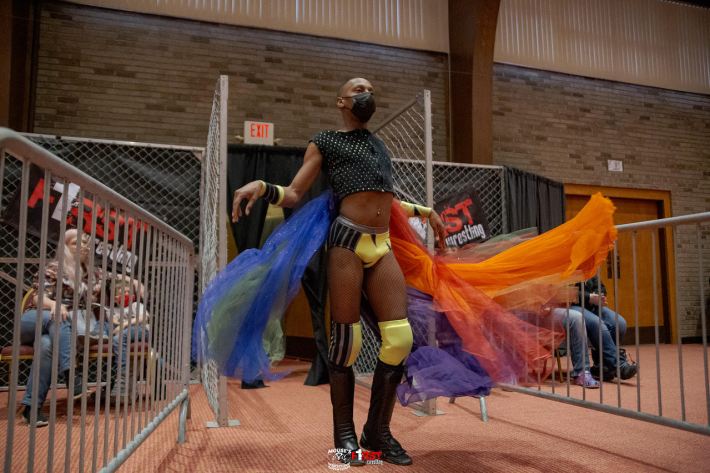 FRIDAY 1.13
Wrestlepalooza
First Avenue
For years, F1rst Wrestling has been bringing top-tier pro wrestling to the nightclubs, brew pubs, and gyms around town. This weekend, they return to their main gig venue, First Avenue, for a night of pure, delightful chaos. The "Fatal 4-Way" headliner will feature Arez, Komander, Gringo Loco, and ASF. Also entering the ring: Tons of people who have been featured in Racket, including bad-ass, rainbow-flag wearing, boundary-breaking Devon Monroe (aka ​​"Black Sexcellence"); Badger Briggs, a 20-something gal with a death wish; and, uh, presumably not wrestling, delightful local rock group the Gully Boys. Also on the ticket? Dan the Dad,  Effy, Thunder Frog, Bryan Keith, and Joey Janela, plus burlesque from Sweet Pea and Deeva Rose. Tickets are sold out, but AXS still has resellers on their site. $30-$40. 7 p.m. 701 N. First Ave., Minneapolis; find more info here.–Jessica Armbruster
Logan Guntzelman
Comedy Corner Underground
Disaffected in the classic Malkmus-ian sense, Logan Guntzelman scored a coveted New Faces slot at the 2019 Just for Laughs comedy festival. The L.A.-based comic unfolds jokes with an effortless, conversational style that'll blindside audiences with punchlines about slutty Helen Keller Halloween costumes and cum-covered Roombas. When not performing standup comedy, Guntzelman curates an Instagram series where she crams weird stuff inside a Sodastream. $15. 8 p.m. Friday and Saturday. 1501 S. Washington Ave., Minneapolis; find more info here.–Jay Boller
Act III: Who the Heck is Hoffman?
Artista Bottega
When curator Emily Landberg answered an ad on Craigslist inviting anyone to claim free artwork by the recently deceased Frank G. Hoffman, she ended up taking over 100 paintings, sculptures, drawings, poems, and more home in a U-Haul truck. "I only had to see three canvases to know that this collection was truly special," says Landberg. Now you too can learn more about this prolific dude from Duluth, whose career spanned 50-some years (some of his pieces are also in the Smithsonian's National Air and Space Museum's permanent collection). Over the past year, Landberg has begun archiving and creating a timeline of his work, which you can see in this unique show, which is 18+ (some pieces are sexually explicit). 7-10 p.m. 937 W. Seventh St., St. Paul. Through January 27–Jessica Armbruster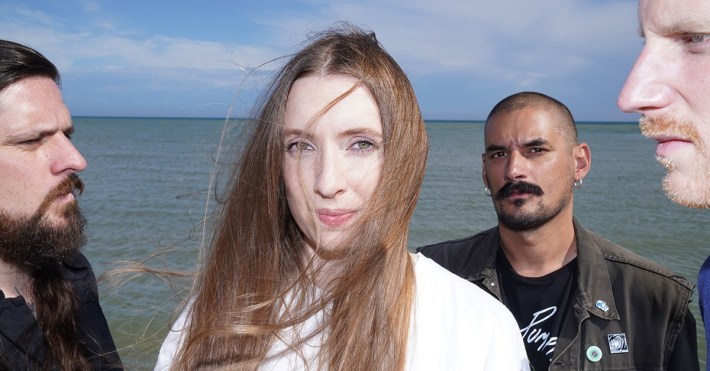 SATURDAY 1.14
Dry Cleaning
Fine Line 
Post-punk spoken word with guitar—it's not for everyone! If the success of this South London band's New Long Leg last year was unexpected, it owed primarily to who's doing the speaking and who's playing the guitar. While you might expect the reverse, in fact Florence Shaw's acid, deadpan observations are what draw you in, while guitarist Tom Dowse, who's got far more in his toolbox than just the old Rough Trade tricks, keeps you around with the nuance of his technique. On their follow-up album, Stumpwork, Shaw lightens up a bit, lyrically if not stylistically, reminiscing about a lost pet, a tortoise, while the band finds new ways to encase her in rhythm and noise. With Nourished by Time. $22-$40. 8:30 p.m. 318 N. First Ave., Minneapolis; find more info here.–Keith Harris
The Official 2023 Flyfest Ski Jumping Event
Minneapolis Ski Jumping Club
Slapping on a pair of skis, sending yourself hurtling down a multi-story ramp, flying (or flipping) through the air, and landing safely is a feat most of us will never attempt. And yet, it prevails as a popular (and dazzling) Olympic sport. One place where you can learn to do such a thing is through the Minneapolis Ski Jumping Club, which teaches folks of all ages how to do the impossible. (It's a slow process building up to the big jump). At this annual event, former, current, and future Olympic hopefuls from around the world will compete, sending themselves up to 300 feet into the air. It will be exhilarating, majestic, and kinda crazy. Thankfully, you get to watch it from the safety of the ground. Find tickets here. $10; kids under 12 free. 5 p.m. 8401 E. Bush Lake Rd., Bloomington.–Jessica Armbruster
SUNDAY 1.15
YG (Update: This show has been canceled)
Armory
The Compton rapper has come a long way since the gleefully obscene "Toot It and Boot It" in 2010. In 2016 he even got political with "FDT," the polite title for what we all think of as "Fuck Donald Trump." His latest, I Got Issues, is fairly introspective rather than explosive, focusing on his industry feuds ("Issues") and domestic drama ("Baby Momma"). But he never gets quite as mopey as the younger trap MCs, and there's plenty of room for a banger like the Hit-Boy production "Maniac," with that thick West Coast synth bass that always starts a party. With OhGeesy, Day Sulan, + D3szn. $47 and up. 8 p.m. 500 S. 6th St., Minneapolis; find more info here.–Keith Harris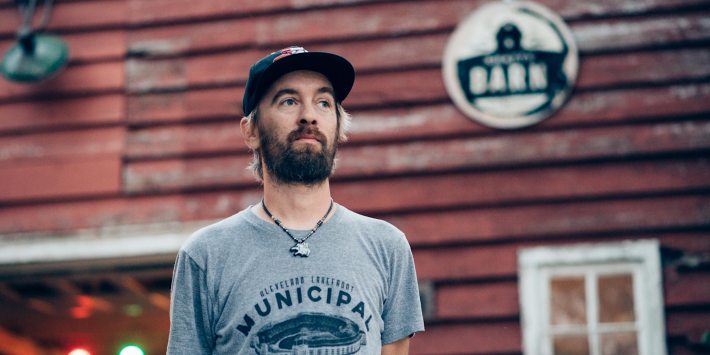 ONGOING
January Music Residencies 
Various venues
'Tis the season for residencies. In the fallow winter nights, when coastal cowards are spooked by our robust climes, local musicians pick up the slack, settling in at local clubs for a month at a time, with special guests every week. As usual, the Turf Club hosts weathered troubadour Charlie Parr (on Sundays) and harmonizing sibs the Cactus Blossoms (on Mondays). If your tastes are less rootsy inclined, you can check out the restlessly experimental Dosh at Icehouse; he's been entrusted with January's "Jazz Mondays" series, which the venue sets aside for one artist each month throughout the year. Next week, on January 12, Alex Schaaf's Yellow Ostrich starts its own Thursday night residency at Icehouse. And the White Squirrel, which hosts Tuesday night residencies every week, turns its stage over to Labrador Wild in January. Did I miss anyone? Possibly—there's a whole mess of these out there. Check our music calendar every Tuesday for the full picture.–Keith Harris
Into the 21st Century Dystopias
Trylon
What's dystopia like these days? The Trylon is offering up 12 variations on that theme this month, with a look at the grim futures some 21st century films have imagined. The series started yesterday with briskly selling anime standout Ghost in the Shell, which continues through tomorrow. From there on in, they'll cover Japanese horror (Pulse), contemporary classics (Children of Men, Mad Max: Fury Road), a couple Spielbergs (War of the Worlds, A.I. Artificial Intelligence), and plenty more. Looks like they've got a punch card for anyone who plans on catching the whole series, with unrevealed prizes for the diehards. (Perhaps a ticket to the off-world colonies, where a new life awaits you?) Depending on your outlook, this series can be an opportunity to look on the bright side: Things could be worse! Or you could look on the darker side: They probably will be! $8. 2820 E. 33rd St., Minneapolis. See here for full schedule and showtimes. Through January—Keith Harris
Minnesota Ice Castle
Long Lake Regional Park
Folks, this is the big one. This is the ice castle that has more square footage than your own home. It starts as a single icicle, but by the end of construction it becomes an epic thing you can wander through and enjoy. There are architectural marvels, sparkling caverns, slick tunnels that funnel you to more adventure, and slides made of ice. In addition to the big frozen structure, there's also an illuminated trail to explore and an ice bar serving up wintery adult beverages. The castle was supposed to be ready in mid-January, but our weather sucks so hard this year that the event was able to open a few weeks early. Lucky us! Find dates, times, and tickets at icecastles.com/minnesota. $11-$15 weekdays; $15-$20 weekends. Wednesdays through Mondays in January; Thursdays through Sundays in February. 1500 Old Highway 8, New Brighton. Now through February 23'ish –Jessica Armbruster
Paul Chan: Breathers
Walker Art Center
Can those inflatable tube guys used to drive people to sales be art? If it's in the Walker Art Center then, yes, it can. But that would be oversimplifying the work of Paul Chen, a Hong Kong-born, Nebraska-raised, NYC-based writer, publisher, and artist. In the '90s and '00s, Chan garnered attention releasing videos, animations, fonts, and more, often for free on his website, nationalphilistine.com. These pieces explored pleasure, war, politics, and human interactions. But by 2009, he had burned out, tired of looking at a screen. Relatable. Five years later, after a brief, you know, "breather," he found a new way to explore movement and meaning without a computer, instead using physics, fabrics, and fans to create shapes that move about in interesting ways (and, thankfully, won't try to sell you a car).  You can see these kinetic sculptures at the Walker; the show will also include some video installations as well as pieces from his publishing company, Badlands Unlimited, which releases poetry, erotica, artists' writings, and more. 725 Vineland Place, Minneapolis. Through July 16, 2023—Jessica Armbruster
Stay in touch
Sign up for our free newsletter