Badger Briggs's first match was a murder with five witnesses.
It was March 28 in the basement of a skateboard shop in Fargo, North Dakota. There was no ring, only gym mats laid over concrete. The promotion: Timebomb Pro Wrestling. Her opponent: The Carver of Cutters Alley, a deathmatch specialist with a Leatherface obsession. In just over three minutes of action, Briggs ate a battery of elbows, took a guardrail to the face, and got heaved head-first into the foundation. The match ended after the Carver stretched a plastic bag over her head and pulled until she passed out.
"It was kind of like the best possible first match," Briggs says. "It felt very low pressure."
In the 7 months since her debut, Briggs has wrestled in nearly 20 different matches. She's sparred with women in brewery parking lots and competed in a tag-team deathmatch tournament in Indiana. But this past Friday, she hit an unfortunate milestone: her first injury. During a gutty time-limit draw against Higher Ground Wrestling champion Josh Price, Briggs suffered a full tear of the ACL.
She was originally scheduled to appear at this Sunday's F1RST Wrestling Unleashed show at First Avenue, but the injury will keep Briggs out of the action. She's not sure how long it will be until she's back stalking in the ring, but if we've learned one thing in her short career, it will be a violent return.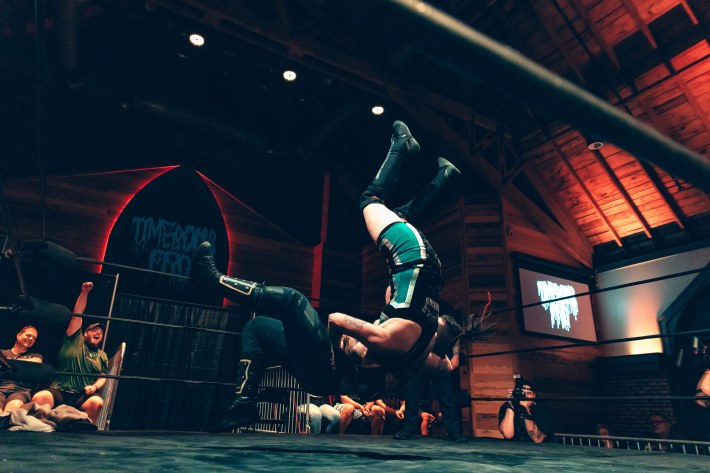 Headlong into strong style
Unlike fellow local wrestler and the Academy trainee Devon Monroe, Briggs didn't grow up a fan of wrestling. 
Born in Wisconsin, she moved to the Twin Cities to attend Minneapolis College of Art and Design. One day, a friend tweeted her a GIF of hulking New Japan Pro Wrestling heel Bad Luck Fale tearing another wrestler's plush cat to pieces. She was baffled (as anyone unfamiliar with the absurdities of pro wrestling might be), but that 5-second animation sparked a curiosity that would quickly turn into morbid obsession.
Her friend JB Roe, co-owner of Hardway Apparel, started recommending 1990s Japanese wrestling matches to help acquaint Briggs with the history of New Japan. She became enamored with Japanese "strong style," a type of wrestling that emphasizes hard, physical striking and realistic storytelling. Kenny Omega and Minoru Suzuki were the first two wrestlers she fell in love with—one a cocky powerhouse, the other a tactical sadist. 
Before long, she was digging through old tapes from Combat Zone Wrestling, a Philadelphia promotion most known for their annual gore spectacle the Tournament of Death. By comparison, WWE-style wrestling seemed timid.
"That really formed a lot of how I wrestle and how I think about wrestling," Briggs says. "I didn't have a basis in American wrestling. I watched WrestleMania 2018 with some friends, and I was like, 'What the fuck is this? This is dogshit.'"
Within a year of her wrestling fandom, Briggs was getting tattoos of Japanese legend Tiger Mask putting a young man in an overhead hold. She started sketching scenes from New Japan matches and selling zines at local record shops. As she was getting ready to graduate MCAD without a sure career path, she started toying with the idea of getting into the ring.
"I already kind of felt like, 'I'm a stupid artist, I'm not going to make money anyway, so why not do more stupid artist stuff and start wrestling?" She says. "I started talking to my friends like, 'Guys, do you think it'd be kind of funny if I train to be a professional wrestler after I graduate?' I was pretty jokey about it, but it became not a joke pretty quickly."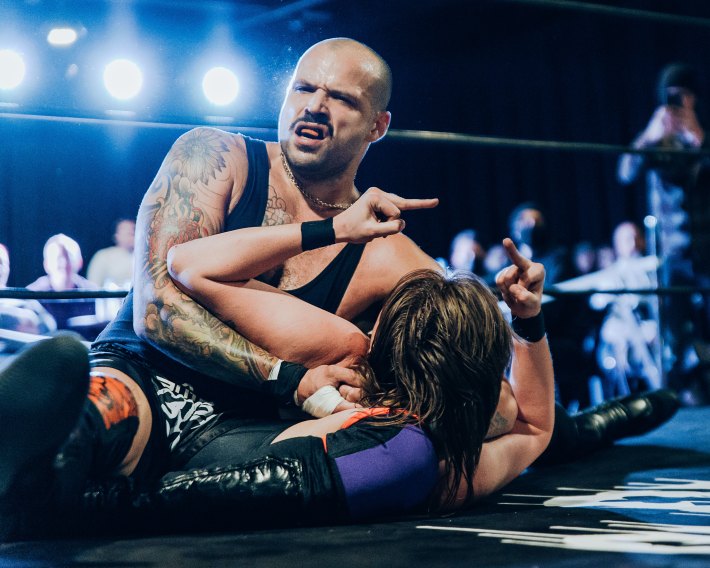 Breeding a badger
It was M.S. Harkness, another one of Briggs's artist friends, who took her to her first local wrestling show: a Pro Wrestling Battleground event in March 2018. That night, Briggs says Harkness gave her "a SparkNotes of wrestling," and encouraged her to join up at The Academy, a school for pro wrestling. She had no idea you could even learn wrestling in Minneapolis.
Briggs spent the next year getting in ring shape. Harkness, who is also a personal trainer, taught her how to squat and deadlift. She started running, and by the time she enrolled in May 2019, she had lost 40 lbs.
"I showed up and was like, 'Okay, here I am,'" she says. "And then they kicked my ass anyway, because you can't really prepare."
Briggs spent her time at the Academy developing into a "shooter"—a technical, amateur-style wrestler who focuses on holds and submissions. Briggs has a brutal tendency to focus on limbs and joints. In one signature move, she straps an opponent in an armbar and dives backwards over the top rope.
But she slowly added more and more comedy to her act. Taking a note from Chuck Taylor, the All Elite Wrestling tag-team specialist known for his goofy, self-referential humor, Briggs repositioned herself as a self-deprecating masochist—her promos sound like she's trying to convince herself that she's going to kick your ass. She adopted a menacing face paint design from Japanese legend Kagetsu, a fact she frequently mocks herself for.
"I try to get a little meaner," Briggs says. "I like wrestlers like Minoru Suzuki who do that technical kind of sadistic submission style. Chuck Taylor doesn't do any of that, but his comedic timing and physical comedy in the ring is amazing. I wanted to combine that."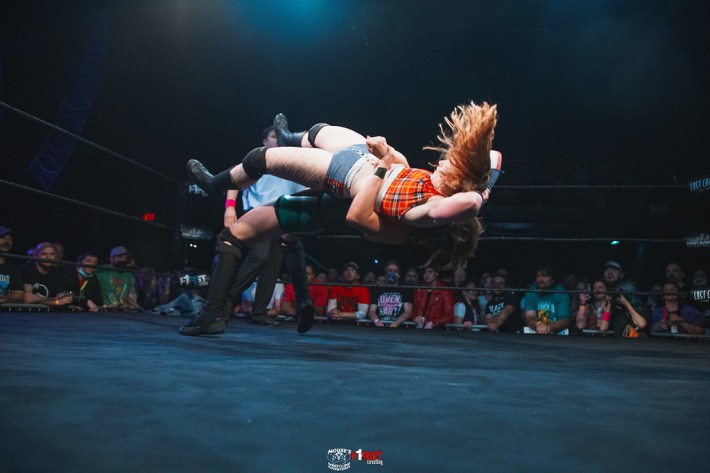 A taste for blood
Because of COVID, Briggs never formally graduated from the Academy. Instead, she's been honing her character in bloody matches for Fargo's Timebomb Pro Wrestling. After getting nearly killed by the Carver in her debut, she started bringing more and more malice to her matches. In August, she talked promoter Eric Morrison into letting her bring gusset plates and a barbed wire door into the ring.
"He was like, 'No, like, it's too early, you're gonna freak out, I would feel really bad,'" Briggs says. But she convinced him, and immediately, she wanted to up the stakes. "I was like, 'Oh, this is really fun, this is easier than I thought.' It sucks, but it's a little easier than I expected. As soon as I rolled out of the ring, I told him, 'I want to do glass.'"
That's exactly what she did at their September show, taking fluorescent light tubes to the head and back. The next month, wrestling on the same card as her idol Minoru Suzuki, she submitted wrestler Jordan in the second match. 
Briggs doesn't have her sights set on wrestling any particular opponents She's settled her score with the Carver ("Can't die twice," she's joked), and now, anyone who dares crawl into the ring across from her can get it. Were it not for the injury sustained last week, she'd be reigning down some kind of hell on Sunday in the Mainroom. 
"I don't keep a list of names," she says. "I just want to wrestle, honestly."