Culture
I'm Plus-Size and Into Alternative Fashion. Let's Go Wedding Dress Shopping!
My trip through the Twin Cities bridal scene yielded disappointments and a few pleasant surprises.
1:40 PM CDT on October 10, 2021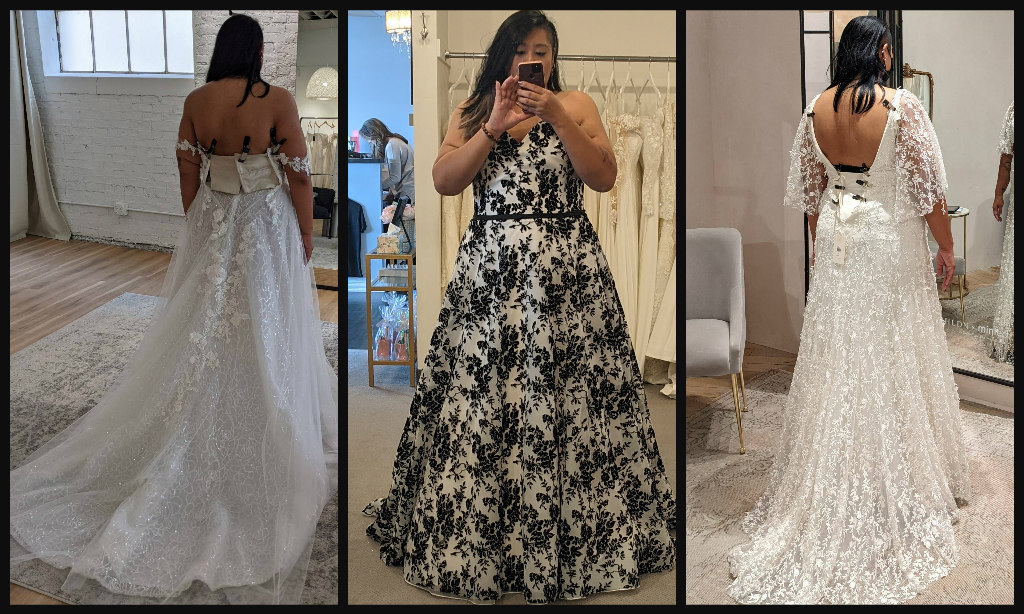 Many people begin planning their wedding long before they've even met "the one." I am one of those people. And while my visions of décor and DJ tunes have changed now that I'm actually engaged, the bold entrance I want to make has not. The big white wedding dress and dainty accessories were never for me. My wedding shoes will be Chuck Taylors, and I want color in my dress. (And no, ivory/beige/blush/peach/"insert flesh tone here" doesn't count.)  
Seeking a bold wedding dress—hopefully in some shade of purple?—is one thing. But that, coupled with being a plus-size bride, is going to complicate my dress search. If you go to theknot.com, a popular online resource for wedding planning, and search for "bridal salons," that search yields 158 results. When you filter those results by "plus size available," that reduces options to 25. And nearly none of them advertise or feature colorful gowns. 
I was also wary of the bridal shopping experience. I had heard—even from mid-sized friends and family—that trying things on would involve being expected to squeeze into too-small sample dresses while a stranger attaches modesty panels on any exposed fleshy bits. Nothing about that sounds pleasant or glamorous. 
I can't be the only full figured bride-to-be looking for unique wedding attire, right? So I decided to look into some options.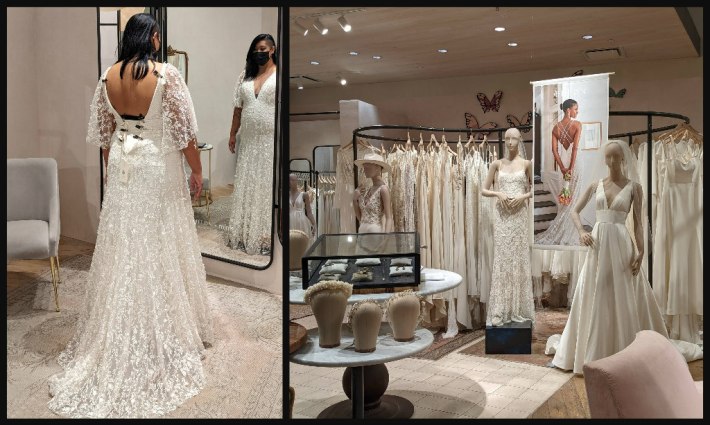 Two-stop shops
BHLDN, a "wedding shop within a shop" concept from Anthropologie, was recommended to me for its moderate price and wide size ranges. 
As a plus-size woman, I've been bamboozled by proclamations of a brand having a vast size range only to learn that those bigger sizes must be bought online and not in-store. That was the case here. Most of the plus-size bridal gown samples in the store were size 14, which is the smallest size generally considered "plus." 
"We are so happy to see the inclusivity online," says Megan Stewart, shop supervisor at the St. Louis Park location. "It's been a slower process getting them to all stores, but it is something we always communicate as wanting more of."  
My BHLDN stylist did excel at clipping gowns to get an idea of how the right size of a certain style might look. During my appointment, attention was focused on pulling up shoulder seams and adjusting the fit of the waist, even though it didn't zip up all the way. Just seeing how sleeves that didn't fit over my arms might look using similar fabric pieces wrapped and clipped was helpful in envisioning possibilities.  
While the dress selection at BHLDN didn't have the drama I was looking for, the variety here was broad enough to help me narrow types of looks down.  
Ready-to-wear wedding dresses
While the traditional bridal shop experience includes trying on sample gowns and placing an order for the "right" size (that will still need to be altered), some bridal shops offer dresses straight off the rack. This saves a lot of time by skipping the special order process, and, often, saves you a lot of money.  
Bridal Aisle in Osseo hopes to normalize spending less on a worn-once garment, leaving more for the experience (the wedding, the honeymoon, the mortgage, etc.). The shop offers gowns in sizes 0 to 30, and caters to brides "who would love to take their dress home with them that day," says owner Annette Hall. While all Bridal Aisle gowns are offered below retail, they also have a Budget Bridal Outlet where everything is under $500. 
It's here that I discover that looking into general "formalwear" may be the key to finding dresses bright enough to excite but fancy enough to get married in. Bridal Aisle does have formal attire, typically purchased for red carpets, pageants, and proms."But if brides are looking for a more vibrantly colored dress, we do take a look at our formal dresses as well," Hall notes.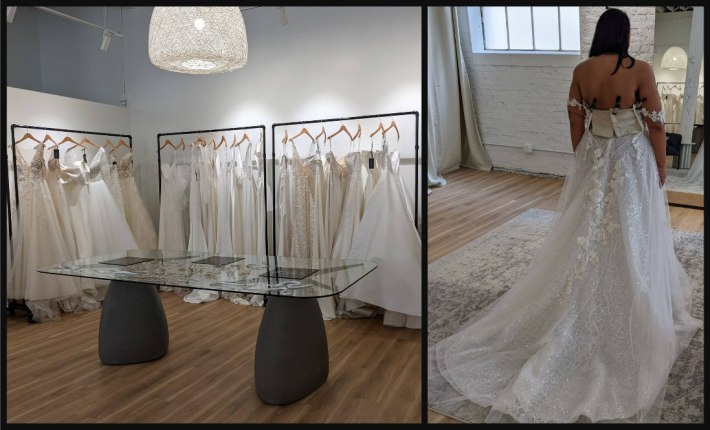 More new and local bridal shops
The wedding industry has been rebounding bigtime now that more people are vaccinated against COVID-19 and disease transmission is less likely (but not eradicated!). In fact, two new bridal shops have recently opened in the North Loop to help meet demand for bridalwear in the Twin Cities.  
New bridal boutique Anna Bé carries luxury gowns from big bridal names like Monique Lhullier, Watters, and Minnesota's own Tara LaTour. Anna Bé strives to be more "fashion forward" than its Loring Park sister store, a&bé. 
They also have a house brand, which "offers sizes without a sizing fee," says store manager Molly Flannery.
In ready-to-wear clothing, a sizing fee might mean charging a few bucks more for a XXL shirt versus a medium. In bridal fashion, this can entail an extra $400 to produce a gown to fit a size 20 rather than a size 10. Flannery says that there's still a long way to go for size inclusivity, but "we will continue to do better, by offering more options at more sizes, and champion our partners to do better as well." 
Angelique's Bridal in Blaine has been a wedding and formalwear staple for over 30 years, carrying gowns from sizes 2 to 26. While their selection tends to stay on the more traditional side, owner Robin Green says that she does consider what formal garments could make for an interesting and unique bridal gown when she goes to market. "The demand [for colorful bridal gowns] is low, but we love getting them," she says.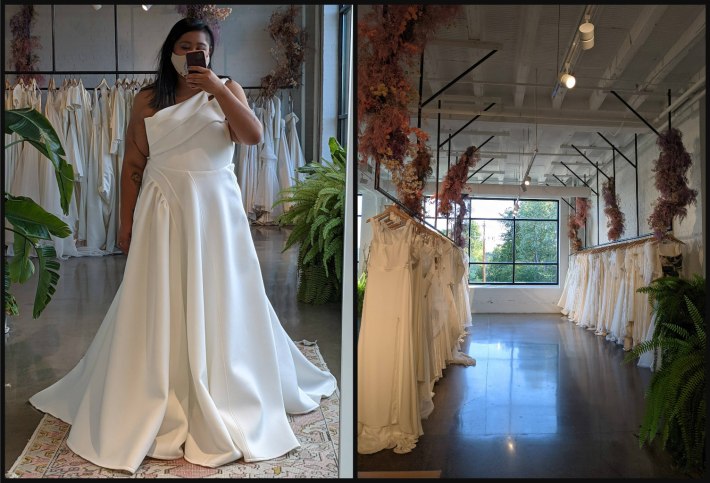 Insta-worthy looks 
While some bridal shops try to appeal to what's popular, others specialize in the funky. The White Room in Minneapolis works with contemporary bridalwear designers who challenge what is considered bridal attire. The shop's inventory includes separates, capes, and pieces with neoprene sculptural elements. Nothing in the White Room is reminiscent of any wedding dress I've seen, yet everything still screams "bridal!" "Our main mode of advertising is our Instagram, which we keep on the more artistic end of things," an email from the shop's leadership team explains. 
Even the friendliest bridal stylist and flowiest fabric can't stop a too-small garment from busting a seam, which did happen to me at this shop. Samples are meant to be tried on by shoppers, and wear and tear is natural in this process. Fortunately, an in-house tailoring and alterations team can often make a sample dress good as new. But wouldn't offering more sizes for try-on lessen that repair burden? 
"The hardest part about running a bridal shop is choosing a sample size, as we want to be able to serve the greatest amount of sizes possible," the email continues. "It can get frustrating as a small business not to be able to afford to do things all at once, but it is definitely on the radar to expand our inventory."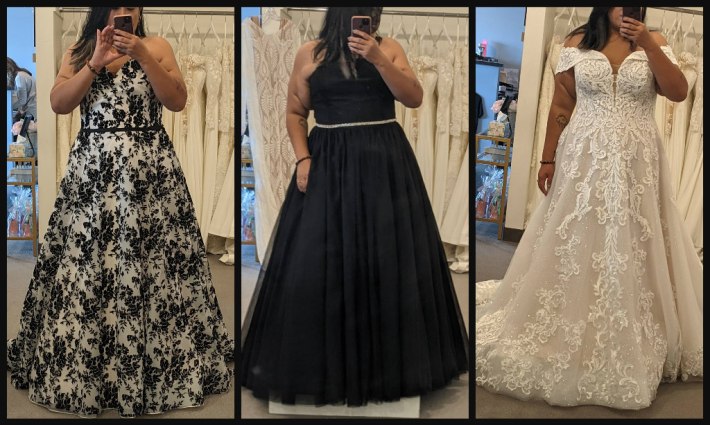 Finding an actual plus-size wedding shop?!
Luxe Bridal Couture in Eagan welcomes brides of all sizes, but the store actually specializes in those who fit 14 to 34. "I was turned away from so many designers who did not want to create gowns or feature images of brides above a size 10," says Luxe Bridal Couture shop owner Shayna Clute, "and now, years later, they are asking how we can work together." 
When Clute worked in event planning, she would often hear stories from brides who were not able to get the dresses on or were told to lose some weight; many found the dress-shopping experience stressful. 
"I knew it did not need to be that way," she says, "which got me started on the journey of understanding what the bridal, retail, beauty industries were lacking." 
It's here that I find the same typical variety of silhouettes and details, from the sleek and simple to beaded and sparkly, but the try-on sizes are closer to my actual size, making it easier for me to envision what the final product would look like.  
Luxe also partners with brands that offer customizations and local alterations shops that can create more personalization and better fit. Modifications can include simple things like changing a sleeve length or closing up a plunging neckline, as well as things like switching out liner layers for other colors or adding a layer of sparkle tulle for extra oomph. While these changes are possible, each additional one adds cost to the finished garment.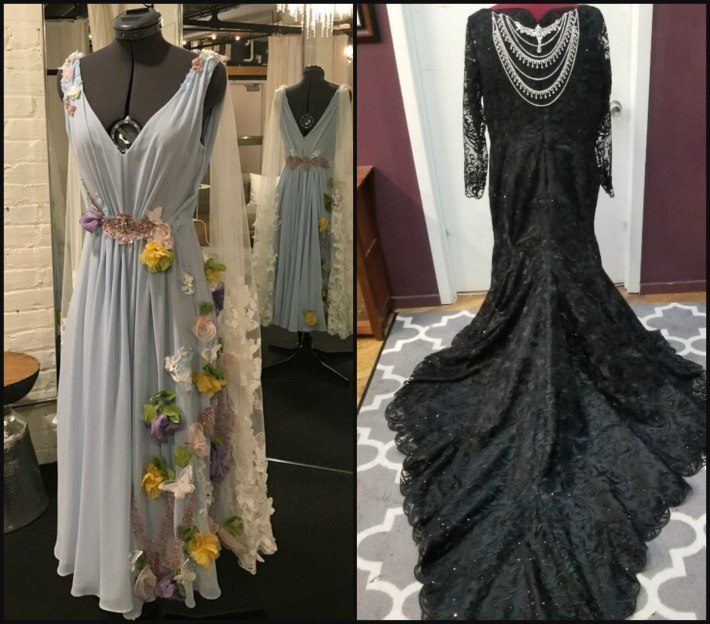 To go full-custom or not?
Is there a point where the cost of ordering a dress and getting it altered exceeds the cost of commissioning a custom dress made to measure? Probably.  
"Custom" does not have to mean unreasonably expensive. Most designers I spoke with seemed comfortable with a ballpark $2,000 figure, though certain fabrics or design elements can scale this number up or down. Considering that theKnot notes that the average bridal gown costs around $1600, that's not that much more expensive, relatively speaking. Depending on what you're looking for, a custom gown might be worth considering. 
And if you find the right designer, you can also go ham on the wild look of your dreams.  
"We have done a lot of themed weddings," says Kaitlyn McClain from KMK Designs. "We've done a Harley Quinn and Joker wedding, and a lot of gothic Addams family weddings."  
KMK Designs and Beauty By Design also offer major alterations that can reimagine an existing gown--whether that gown is a vintage find or a sentimental heirloom.  
"I hope we get to a point where as a culture overall we are better about celebrating the unique and different and less about making it all about trends," she says.
Mariah Talbot, the designer behind Mariahmac Designs, has been a photographer for nearly 20 years and has shot countless weddings. She debuted her first collection at Fashion Week MN's spring event. "I have been planning to shift my focus to more and more wedding dresses," says Talbot when asked about creating a custom bridal gown, explaining that she hopes to provide "more of the out of the ordinary type of thing."  
My search continues
If I had to get married in the purple ball gown I had envisioned long before my fiancé proposed, I'd be pretty happy. But now that I've discovered so many different looks that I like, touched different types of lace and beading and tulle and silk, and squeezed into so many different silhouettes, my vision is starting to evolve. I'm finding more options than I had anticipated, though there's still a ways to go on plus-size alternative wedding wear. 
Mostly, I am finding that the important thing is to dress like yourself. After all, the only thing special about a wedding dress is that it's the one you wear on your wedding day. 
Stay in touch
Sign up for our free newsletter