The Twin Cities has a lot of great "coffee and" shops. Coffee and bikes? You've got Venture North, Angry Catfish, and The Fix. Coffee and records? There's Caydence. Coffee and books? Moon Palace. Coffee and games? Steamship.
Corey Bracken wondered: Why not coffee and skateboards?
Bracken had worked for another skate brand for many years, but in the summer of 2019, he decided to set out on his own. "One of the things that's really important to me is the environment, sustainability," he says, "and that's not something that's talked about much in the skateboard community."
He launched Pilllar, an environmentally-minded board brand that plants a tree for every deck purchased and crafts apparel from recycled goods, in February of 2020. Incredibly, the timing actually turned out to be good: When the pandemic hit, people were more interested in outdoor sports and were picking up new outdoor hobbies like never before, and skateboarding's popularity skyrocketed with the summer Olympics.
By the end of 2020, the Twin Cities-based brand was selling boards all over the country and all over the world, and Bracken put together a Pilllar skate team. But he wasn't finished yet.
Looking at places like Angry Catfish and Deus Ex Machina—a coffee and motorcycle shop on Venice Beach—Bracken couldn't shake the idea of a skateboard shop-slash-cafe. "Minnesota, and specifically Minneapolis, has such a thriving skateboard community, I thought, 'Why couldn't someone do this with coffee and skateboards?'"
It turns out someone can: Pilllar Forum Cafe and Commodities opened at 2300 Central Ave NE this March. (It's just a block down Central from the former home of Anelace Coffee—RIP.)
Bracken loves coffee but had never worked in it, so he teamed up with local skateboarder Dalton Jones—who's worked in coffee for years and actually roasts his own beans—to bring Pilllar Forum to life. Jones came on as a consultant, helping build out the space and hone their approachable, simple menu of drip coffee, lattes, pour overs, cappuccinos, and cortados.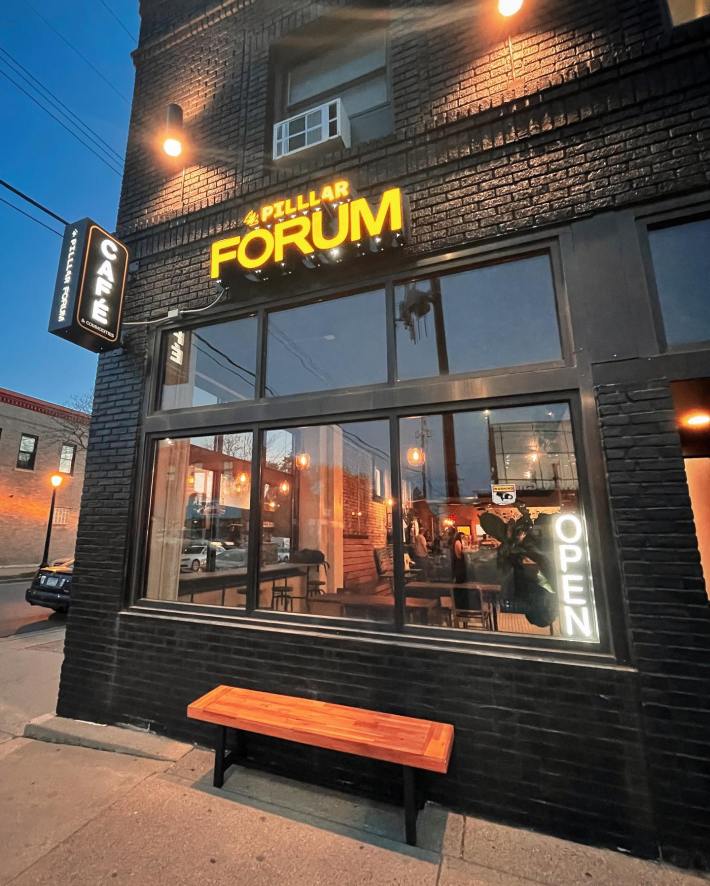 You'll find a lot of local names on the menu: The beans come from Silverbird Coffee, a new roastery from former Spyhouse coffee director Tony Querio. Pastries—croissants, cinnamon rolls, and kouign-amann—are baked by Patisserie 46. Pilllar's working with Bagel Taïm to offer an expanded bagel menu starting later this summer.
If the boards lining the brick wall make you feel a little anxious, know that Bracken understands how intimidating the sport can be—and that's not the kind of space Pilllar is.
"Don't get me wrong, I even feel that sometimes. If I go to a skate shop where maybe I don't know the people there—I can still feel that," he says. "We're trying to bring that gatekeeper pretentiousness down and just be like, 'Hey, everyone's welcome.'"
Bracken himself is often at the shop to answer questions you might have, and the staff is equally enthusiastic whether you're talking beans or boards. The shop invites local creators to exhibit their art in the cafe's back space—something Bracken hopes to do more of—and as many of their guests are people from the neighborhood stopping in for a cold brew as there are serious skateboarders.
Surprisingly, the toughest thing so far has been keeping it green. "Everything I've done on the skateboard side of the business was pretty easy, but it's much more difficult now that we've got employees and food waste and everything else that comes along with having a cafe." He's working on a few grants with Hennepin County to help mitigate waste, including a reusable program and a reduced energy use pilot.
Bracken understands the impulse to look at our climate crisis and say, "What I do doesn't matter." Looking at the fact that 100 companies are responsible for 71% of emissions, what can any of us really do?
"My response to that is: It's really going to take government, businesses, and individuals to invest in this," says Bracken. "Even though I'm just a small skateboard shop and this little cafe in northeast Minneapolis … my whole goal with Pilllar, with the skateboards and the cafe, is just to have that be part of the conversation."
Pilllar Forum Cafe & Commodities
2300 NE Central Ave., Minneapolis
8 a.m.-5 p.m. daily