When Josh Klauck founded Angry Catfish 12 years ago, it was a thing of serendipity. He'd been trying to find a place to open a bike shop for a while, and suddenly, there the building was.
"We were sitting outside of Buster's, drinking beers, and realized that spot was vacant." 
The space at 4208 28th Ave. S. was just about perfect—nestled in a walkable, bikeable area, with room to open a cafe inside the shop. (And also, crucially, Buster's adjacent.) But as business grew over the years, space got tight. Klauck thought about what expanding the footprint would look like, whether it would be possible. But there weren't many buildings for sale at the size they'd need, especially in the neighborhood, where most of their mechanics and lots of their customers live and where they wanted to stay.
Serendipity struck again. Their original location had been owned by the same family that owned Hudson Hardware, which moved to a much bigger space just across the intersection (2900 E. 42nd St.). Klauck wondered if maybe the owner was getting ready to sell. One day, he asked. 
"He gave me this cryptic response: 'Well, you know Josh, I certainly am getting to be retirement age,'" Klauck laughs. Two weeks later, he got a call from the broker; he was in the process of listing the building, and wanted to know if the Angry Catfish inquiry was serious. The new bike shop opened up in their building on 42nd Street this fall. "It could have been a different story, but I was kind of first in line."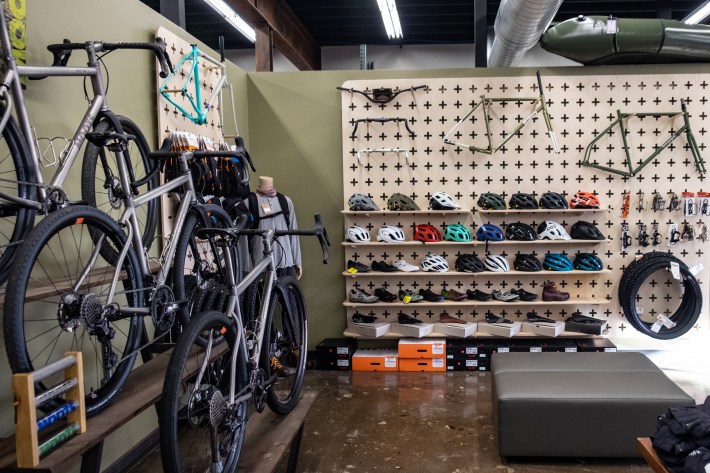 Klauck's been keeping busy outside of bikes in the decade-plus since Angry Catfish debuted. He opened a fly-fishing outfitter, Mend Provisions, around the corner at 2719 E. 42nd St. Northern Coffeeworks, their Minnesota-inspired coffee shop, opened in downtown Minneapolis a few years after that; they've since left the downtown location to move into Angry Catfish's old address.
That puts three of the businesses Klauck owns or co-owns—Angry Catfish, Mend Provisions, and Northern Coffeeworks—within about a 100-yard radius of each other at the intersection of 42nd Street and 28th Avenue in Minneapolis. (The same team is also behind the custom frame company Northern Frameworks.)
When it comes to moving and expanding the bike business, Klauck says storage is a big part of it. "We really had outgrown the other space a long, long time ago," he says. They had "Band-Aids that worked OK" for offsite storage, but especially after they closed in-store shopping during the pandemic, boxes started to take over the old space. The new building lets them "reimagine a purpose-built space from 12 years ago, where we started."
They new space has almost twice the square footage as the old one, which means there's room for lots more outdoor gear and bikepacking accessories, all those packable tents and bags and "things we wanted to do but didn't have a place for." The high ceilings make it feel even larger.
They've been able to almost double their number of mechanic work stations, adding a dedicated wheel-building station and suspension-servicing station. And they have a kitchenette now—bike shop employees no longer need to share fridge space with their coffee-making crew. 
And speaking of coffee: Northern Coffeeworks is up and running seven days a week, from 8 a.m. to 2 p.m., in the old Angry Catfish space—now with a good deal more seating. (You'll recognize the cool Concrete Pig tables from their old address downtown.) The cafe is far roomier without the bikes, and the coffee menu is complimented by a selection of homemade pop tarts and hand pies from Fruit & Grain.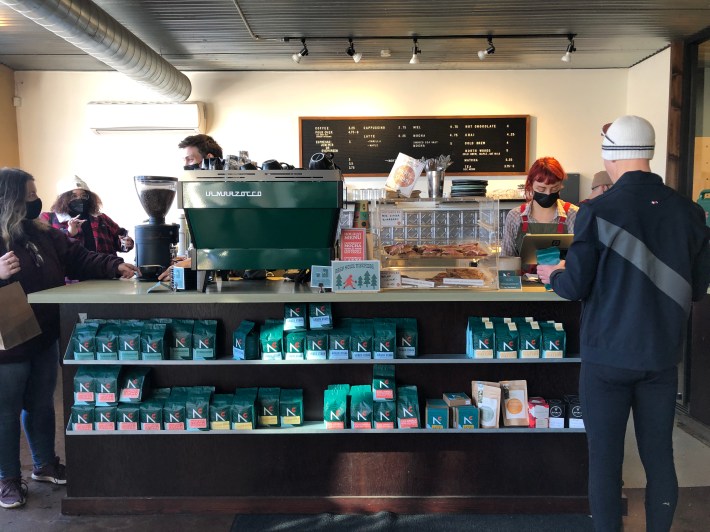 And the location certainly has enough room to build out a kitchen… which would be great, since Northern Coffeeworks' downtown spot served a menu of stellar breakfast and lunch dishes made with local ingredients from places like The Fish Guys, Twin Organics, and DragSmith Farms.
It feels a little different than in the old Angry Catfish days, when the mechanic stations and espresso machines were under the same roof. "To some extent we definitely miss the cafe, and the hustle and bustle, and the regulars and regular neighborhood folks … but I think they're still coming in for coffee, which is good," Klauck says.
The hope is that people will grab a coffee before or after picking up bike stuff at the new Angry Catfish—a short journey I myself made, and saw a few other people making, this past weekend. And it's a small price to pay to have every business operating at full capacity, all in the neighborhood they love. Says Klauck: "It feels good."