Like so many of us, Sasha—one half of the duo behind the south Minneapolis scratch-made bagelry Bagel Taïm—is a regular at Palmer's Bar. You'll often find them there after work, sipping a Hamm's and a Jameson ("after stopping at The Wienery for a hot dog"). 
So when Sasha and Leore, their partner in bagels and in life, started thinking about places they'd want to host an ongoing pop-up, the longstanding West Bank bar felt like a natural fit. After all, the Bagel Taïm dream was always to make a spot where working-class folks could get a not-too-fussy, delicious, and affordable lunch. Maybe a dive bar seems like a weird place to eat a bagel… but on the other hand, why not Palmer's?
"It's a deeply diverse, working-class spot with loads of history and culture, awesome regulars, and cheap drinks. That's exactly what we love and want to create ourselves," the pair explain via email. "We lost a lot of our institutions during the pandemic, just look across the street at the Nomad (RIP). It's really important to us to protect and work with places like this that give Minneapolis its identity."
All it took was talking with Palmer's owner Tony Zaccardi, and Bagel Taïm held its first pop-up there last Thursday. They'll be slingin' hot pastrami sammies with sweet pickled onions, melty cheese, and a bite of horseradish from 4-7 p.m. on Thursdays for the foreseeable future, alongside huge house-made pickle spears. You can also grab a dozen bagels for the road. "We'll probably be keeping it the same for a little while, but who knows what we'll be doing down the line? That's the fun part."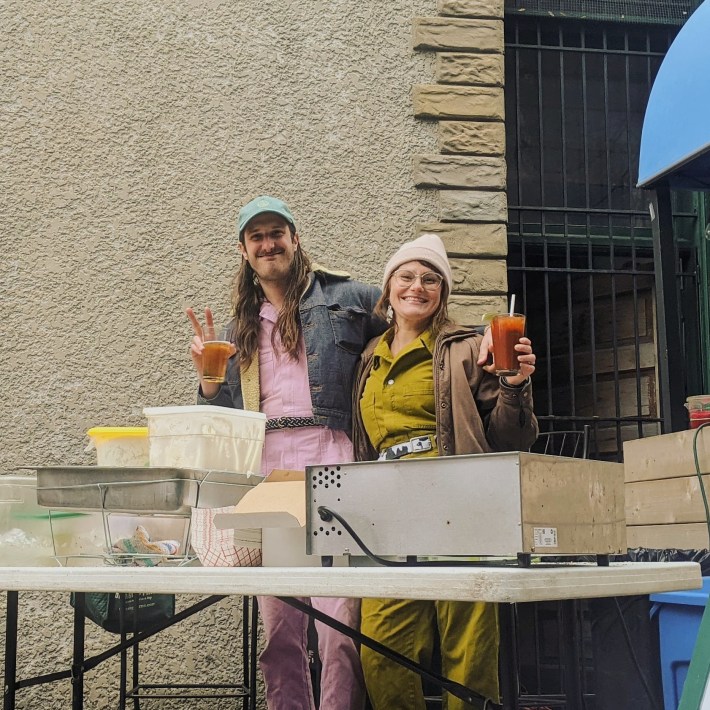 Bagel Taïm got its start during the pandemic; in their earliest days, weekly pickups were held in George Floyd Square. Pop-ups like this, with hot sandwiches and bagels to go, are kind of new for the proletariat bagelry.
But over the coming months, Leore and Sasha say they plan to shift their business model to focus more on pop-ups and sandwiches while trying to get their bagels in more coffee shops and cafes. They're already planning some summer pop-ups, and are pleased to report they've perfected their vegan schmear—it'll be available starting in May.
And of course, they're doing it all with an eye towards affordability and community. At the first Bagel Taïm x Palmer's pop-up last Thursday, Sasha and Leore say they saw a bunch of fresh faces—people they're guessing had probably never been to the West Bank bar before. "It was so heartwarming seeing a bunch of people coming in after work to get a bagel, and then just knocking back a couple pitchers of Hamm's with their friends all night."
"We'll be there every Thursday till they kick us out!"
Bagel Taïm at Palmer's
Thursdays, 4-7 p.m.
500 Cedar Ave., Minneapolis