When People & Pets Together was founded during the height of the 2008 financial crisis, program director Kate Meador says the nonprofit was very much a "kitchen table program."
"People were struggling to keep their pets, and their houses, and a lot of other things," she says. Then known as The Pet Project, the goal was the same as it is now: to, well, keep people and pets together. "The mission is to stop surrenders," Meador says. "And one piece of that, of course, is the food that people need to keep their pets. We all know, if you have pets, how expensive it is to feed them."
The People & Pets Together pet food shelf opened at 38th and Bloomington in 2016; last year, they gave out more food than ever before. What started as a small organization focusing on south Minneapolis now serves people (and pets) throughout Minneapolis-St. Paul and the surrounding suburbs, and 2021 will likely be another record year. 
And the organization has no plans to slow down. This week, in collaboration with Secondhand Hounds and with funding from Chuck & Don's Pet Supplies, they've launched a game-changing new pet wellness program.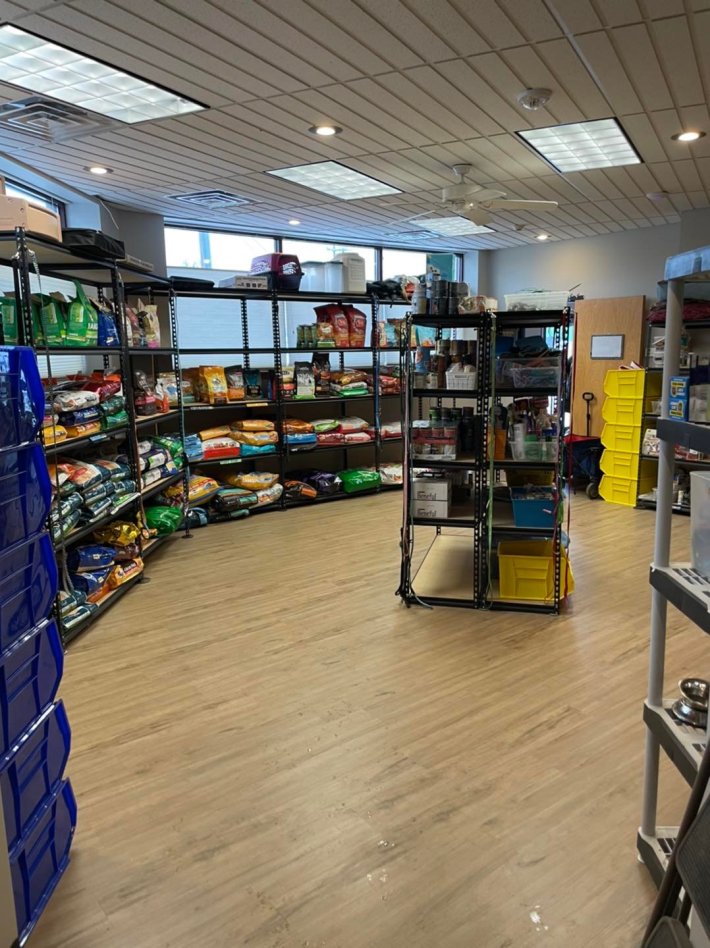 It's not just expensive to feed pets. It's expensive to train them, to keep them up-to-date on their shots, to outfit them in the winter gear Minnesota's climate necessitates. Vet bills can quickly and unexpectedly climb into the thousands of dollars—as I write this post, my own pup is healing from a run-in with a piece of glass that racked up a $750 bill in the span of seconds.
"What became clear as time went on, and maybe it was actually clear from the beginning, was that it would help to integrate some of the other things that make people unable to maintain their pets at home," Meador says.
In a country where only 39% of people can pay for a $1,000 emergency expense, a surprise vet bill can be the reason a family has to surrender a beloved dog from an otherwise happy home.
People & Pets Together merged with the animal rescue group Secondhand Hounds in May of this year, realizing that their goals are intertwined. If you can alleviate the financial burden of more expensive services, people are less likely to surrender animals they love. That in turn lets rescue groups focus on puppy mills, or strays in the South, rather than spending time and resources rehoming animals due to financial hardship. 
The new, much larger facility, located in a spacious former ambulance dispatch at 2501 Minnehaha Ave. S., is the latest evolution of this collaboration. With the funding boost from Chuck & Don's Pet Supplies, they'll eventually be able to provide training, something that's especially crucial for folks with big and unruly dogs who live in apartments with shared walls. "My personal vet said she thinks that one of the most common reasons people relinquish [their dogs] is training," Meador says. 
They'll also offer services like grooming and veterinary care at free or low cost. And the space is big enough that they can offer it up to other kitchen table organizations and smaller groups that could use some additional square footage to accomplish some of the things they want to do–for example, their partners at The Street Dog Coalition, a monthly vet clinic that provides care to the pets of people experiencing or at risk of homelessness.
People & Pets Together was the first pet food shelf in Minnesota when it opened; at the time, there were only a handful of other programs like it in the country. But more and more are popping up to meet the need, including the North Minneapolis Pet Resource Center, a program of My Pitbull is Family that started serving the community last year.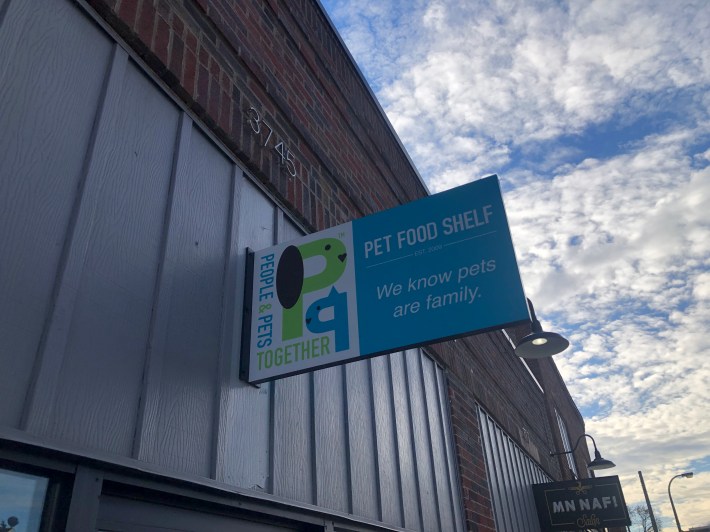 People & Pets Together has relationships with a number of canine- and human-focused groups; when we spoke in late November, Meador said spent part of the week dropping off dog food with orgs including Family Pathways in Cambridge, PRISM in Golden Valley, and STEP in St. Louis Park. 
"The other thing I'm really proud of that we'll be able to do in this new facility—because it's really big, and we have a warehouse—is we don't have to turn away donations from distributors," she says. That'll let the organization do more of those drops, and, in turn, help keep more animals happy in their homes.
"To me, we all do better if everybody gets some," Meador says.