Music
My Teen Niece Helps Explain the Taylor Swift Show I Saw on Saturday
We discuss a bout with "Taylor Swift amnesia," why it is not OK to propose at a Taylor Swift concert, and how not even Taylor Swift can get teenage girls to listen to the National.
4:10 PM CDT on June 26, 2023
I needed reinforcements for this one.
I've reviewed Taylor Swift concerts before (the Red Tour in 2013, the Reputation tour in 2018) and I'd written plenty about her, going back to a review of her debut, Taylor Swift, in 2007 for a website that no longer exists. ("'Tim McGraw' isn't just for young girls to moon over a love they'll someday lose," I said of her career-making single at the time, adding—presciently, if I do say so myself, "It's a song about making boys cry. And that, girls, is something to look forward to.")
But Saturday night, en route to U.S. Bank Stadium and the much-hyped Eras Tour, a three-plus hour extravaganza showcasing 44 songs drawn from (almost) every phase of Swift's career, I wondered: Did the world need another middle-aged guy raving about a show you can see every last minute of, from thousands of different angles, on TikTok? So for an additional perspective, I decided to consult with an expert.
Fortunately, I have one in the family. My niece Julia, 17, lives in New Jersey and saw the third night of the Eras Tour in Philadelphia. It wasn't just her first Taylor Swift concert—it was her first concert ever—and in some ways it was a night she'd been preparing for all her life.
She agreed to compare notes with me after my show. As we journalists sometimes do before interviews, I offered her some preparatory info beforehand. Swift has a fixed setlist for this tour, but she plays two "surprise songs" each night, so I texted Julia's dad to tell her what our surprise songs had been.

Having been put in my place, I realized that the internet being what it was, and teenage fans being who they were, I could not assume that I had any more information than Julia did. The show is divided into 10 "acts," each representing an "era" of Swift's career, so we just ran consecutively through each, swapping impressions about the concerts we'd seen.
Are you ready to talk Taylor Swift?

I am always ready to talk Taylor Swift.
OK, so one thing: As we do this, remember we're describing it for people who weren't there, so don't assume everybody reading knows everything we're talking about.
I'll try. It's hard because I just assume that everybody thinks about Taylor Swift as much as I do. 
Something I was wondering: Everyone has been talking about this show. Do you feel like people are glomming on to your thing?
When your thing is Taylor Swift, you gotta pick your battles. 
Yeah, I guess you kinda have to share. 
A little bit. A little bit. I don't have to share too much though because not everyone is in her .005 percent of listeners on Spotify. 
Her first record came out the year you were born, right?
Yes. I've totally grown up with all of this. 
You've never known a world without Taylor Swift.
I wouldn't want to. I feel like it was supposed to be that way.
---
The Lover Era
After a two-minute countdown clock on stage somehow ratcheted up the anticipation ever further, the star herself emerged from beneath the stage and dancers filed in behind her with huge, billowing attachments that resembled fans, shells, and peacock plumage all at once. Swift began with material from the most stadium-ready of the four albums she released since her last tour. The visual highlight was maybe when she donned a leg-baring pinstripe suit and commuted to a workplace set for the double-standard-bashing "The Man."
The sparkly bodysuit with the pink and the blue that she wore for the Lover set, that was my favorite outfit of the night. 
Did you think Lover was a good place to start?
I think it was such a good way to start. "Cruel Summer" is a great song to start with, everyone knows that one.

"Whatever doesn't kill me makes me want you more" is such a Taylor Swift lyric.
And "Miss Americana"–I feel like people didn't really talk about that before the tour.
But it feels like a nice overture to the show. It gives her a moment for people to get over their initial excitement before she really digs into the hits. 
I thought it was perfect. But she could have done anything and I would have been like, "Oh my gosh, this is the best thing ever." 
There were a lot of Lover-derived outfits in the crowd at my show.
Yeah I saw a lot of people in Lover shirts, with the heart done around the eye. Lots of Miss Americana and the Heartbreak Princes—couples were doing those outfits.
Did you go all out for the show?
Not like crazy crazy. I had the glitter, and a dress, and such. Lots of bracelets. 
There were a lot of boots.
There were a lot of boots. I was actually thinking about going in the cowboy boot direction but it looked so uncomfortable that it was just not the right way to go for me. They're a very awkward shaped shoe. 
So they fit at your foot but not at your calves?
Yeah, and then you're bouncing around for 3 1/2 hours? No thanks.
The Fearless Era
As the stage and catwalk floor lit up like a golden guitar, Swift catapulted back to 2009 to breeze through the title track of her country-pop breakthrough album and its two career-defining hits, "You Belong With Me" and "Love Story." "Are you ready to go back to high school?" she asked, and the short set felt like a quick blast of remember-when. And as such, it seemed to work with at least one teen fan.
I like Fearless a lot but I think mostly for nostalgia reasons. "You Belong With Me" was the first Taylor Swift song I remember hearing and it was my number one song for a long time. I remember watching the video over and over and over. 
And I liked the presentation too. I loved that it wasn't such a big production. She's got her guitar, she's got her sparkly gold outfit—it felt very nice and simple and nostalgic. A lot of people got into her during Fearless and it's just nice to remember the simple stuff. 
I guess you're just old enough to finally have things to be nostalgic about.
I guess. But my parents say I've always been nostalgic. 
The evermore Era
The second album Swift that released during the pandemic was produced by Aaron Dessner of the National and has an organic feel some went so far as to call "indie." For this set, Swift re-entered the stage wearing an emerald cape and was trailed by dancers similarly clad holding glowing orbs.
The evermore songs really don't need to be listened to live, but they worked so well. It was exactly how I would envision it. I liked the witchy stuff, I liked the little glowing orbs. Just fun. The whole woodsy thing was really cool. 
Also it was fun to hear a whole stadium scream "It's a shame she's fucked in the head!" during "Champagne Problems".
I have seen so many videos of little kids just yelling that part. Kids who are six, seven—it's like why are they even here?
People are putting those on TikTok?
People are putting everything on TikTok. You could see the whole show if you wanted to. There's a livestream every night. I just watch the surprise songs. I'm not watching three-and-a-half hours on someone's phone every weekend.
Even you have your limits. Speaking of which, did evermore get you listening to the National at all?

No. I listened to the one song she's on with them and that's it. 
Yeah they don't seem like they'd be your thing. Kind of divorced-dad rock. 
That's what I figured. 
The Reputation Era
Released during the messiest era of Swift's life, Reputation is remembered for its sharp-edged pop songs about backbiting and lies, but it also includes glittery numbers like "Delicate." Swift wore a body suit with one leg bare and a bejeweled snake writhing up the other leg, and another snake coiled around her mic stand. And she let out a fierce wail during the goth-gospel "Don't Blame Me."
Oh my gosh, That was my favorite set hands down. Which I really did not expect. Going to this from evermore was a crazy decision but I thought it worked. 
I think that's such a good album, because of the timing and everything that was going on with the internet and just her whole... well, her reputation, obviously.  And that it was also so different. She has rappers on that album. You would not expect that from a country singer. 
Do you listen to rap?
[Laughs.] I listen to "Ready for It" and "Endgame".
Those songs are made to be played in a big stadium. 
It was just the most fun. It really brought up the energy of the whole show. Everybody was screaming those lyrics. And the set design was so cool, too. All the snakes. I just think that album is so iconic. 
How much do you care about the biographical stuff when you're listening to these songs?
A little bit, but I don't go crazy. 
I don't want to think about specific people, I want the songs to feel a little more universal.
With Reputation, now that she broke up with Joe Alwyn—which I'm sure you've heard about—I like that I don't connect it with them. They are songs about him, but I don't hear them that way. She even says in the show, the songs might have once been about her life, but now they're for everybody.* 
And also he was just… not a very well-defined person so it's easy to forget the songs are about him. 
Yeah. 
* The exact quote, at least on Saturday, at least as I scribbled it down, is "These songs may have been about my life when I was 14 or 20 or 23, but from now on when you hear them you're gonna be thinking about us and the memories we made tonight."
The Speak Now Era
Swift's 2010 album, which she's re-recorded and is releasing in two weeks as part of her "Taylor's Version" series, got an abbreviated single-song representation, with "Enchanted," a song much too lovely to be about meeting the kid from Owl City.
So I'm guessing the crowd at your show was like mine, maybe 90% female...
More like 95%. It was mostly my age. There were some people a bit closer to my mom's age and a bit closer to me. Still mostly women.
Yeah I saw some gay men, a few dads, but not many. Not many couples.
There were a few couples at my show. The row next to me someone proposed. She looked like she was happy but I don't know—we're in the middle of a Taylor Swift concert. This is not the time. This is about me and Taylor Swift.
I've seen a lot of people doing that and… it's just not for me I guess. She's been waiting so long for this show and you're gonna propose? This is during "Enchanted"? This is not the time. This is the only Speak Now song she did—this is not the time to not be paying attention. 

How did you feel about that being the only song?
I love Speak Now. I did think probably she didn't play a lot because she's re-recording it. So now in hindsight it makes a lot more sense. And a lot of the surprise songs are from Speak Now.
Do you think she's gonna change the set when she releases the "Taylor's Version"?
I am curious about that. I would think no because she has played so many of the Speak Now songs as surprise songs. 
It's kind of sad that she didn't do anything at all from her first record.
I also think that. When she played "Tim McGraw" at the first show, because we didn't know it was a surprise song, people were like, "Oh it's just the one song from Taylor Swift." But it's not even the one. It's nothing. But the same way with Speak Now, she's been doing a lot of surprise songs from it, so I guess that's a way to get it in. 
The Red Era
As a prelude, a dancer repeatedly opened a large box onstage, from which would escape a snippet of a song from Swift's 2012 album, and fans would continue singing after the box was shut. Then Swift bopped out in era-appropriate costume—black felt hat, a long white T-shirt that turned out not to be a T-shirt after all but a tear-away top removed to reveal another spangly outfit underneath.
[Excitedly] So, Red!
[Unenthusiastically] Red, yeah. I have to be honest, Red is probably my least favorite of her albums. That's a pretty bold statement. I don't think a lot of people agree with that. 
What don't you like about it?
For all her complaining about hipsters I think it is so hipster. It's so 2012. I mean, it's still good. It's still Taylor Swift. But it's in a weird place between pop and country.
And the set. It was OK. Yeah it was like, the box opened, the songs came out, whatever.
I will say that the live performance brought me around to the 10-minute "All Too Well." Before that I'd always preferred the shorter original.
I think for girls and women, "All Too Well" is type of situation that she talks about that you can really connect to. There's a lot of good stuff that she cut out—I really like that lyric "Do I ever double cross your mind?" And the 10-minute version just hits a lot harder on the points she's trying to make.
Where she takes her hat off and gives it to someone in the front row, I think that was a cute moment. Things like that, she makes the show feel really personal. There's 60,000 people in the stadium but it can really feel like a lot more intimate of a concert than it is. 
Did it feel that way to you, like she was talking to you?
Oh yes, it did! We weren't on the floor, we were in the lower bowl. She can't even see that far. But it still felt that way.

Honestly I think even though you're a little further away, I think the 100 level might have been better seats. 
I agree. For the visuals. Because even on the actual stage, there are projections. It's not just her walkin' around.
And I couldn't see that from the floor. I had to look at the screens.
You were on the floor? And you got free tickets?
Yeah.
Are you joking?
Nope, I emailed with Tree Paine herself to get them
What?
Well, she's the publicist.

I know that. I know Taylor Swift's publicist. 
This is my job.

I guess. Whatever.
The Folklore Era
The artwork for the first album Swift released in 2020 went for a cottagecore vibe, and the 3D representation of that aesthetic was a sturdy facsimile of a one-room wooden dwelling with smoke billowing from a chimney. Swift joked about her life as "a lonely millennial woman surviving on television and white wine imagining I was a pioneer."
It was almost like a movie set. It really visually represents the album very well. 
I thought her flowy dress for this worked well.
Do you remember which one it was? She has three. 
It was sort of off-white?
She wore the purple one for mine. They're all flowy but they don't look the same. But they have the same vibe. 
So she doesn't wear the same outfits every night?
No. She has two or three for Fearless, and two for Lover, and three that she rotates out for the 1989 set. 
How do you feel about Folklore?
When I first heard Folklore I didn't really like it that much. I got into Taylor Swift because of... not really the country stuff but the pop stuff. And this was really different. I listened to it once and I was like, OK, whatever. But I listened to it a lot more in the past year and a half and it grew on me so much. Folklore is my favorite album of hers by so far now. 
Maybe that's just getting older and not liking pop music as much but I think it's so different and that makes it so meaningful. She didn't write a lot of songs like "My Tears Ricochet" before this. There's so much there lyrically and poetically that wasn't here before.
It's almost timed perfect for fans your age and a little older, who were ready to grow into something new.
It probably wasn't very intentional because, you know, the pandemic, and everybody was having a lot of new experiences. And that was just hers. But I think… it could be. Either way, it did work out very well. 
Do you know people who didn't like her before who like the new records?
My best friend has kinda listened to her over the years, partly because of me, but Folklore/Evermore is so much more her type of music, She went with me to the concert and she loves her, loves her, loves her now. It's not what people who write off a lot of her music expect from her. It was a really good move, whether she meant it that way or not. I'm not even sure the tour would be as big as it is if she hadn't done those albums. It makes people take her a lot more seriously, too. 
Do you think it helped that she wasn't writing about herself on Folklore?
I honestly think it did because it brought in a bunch of new audiences. Before, if you'd talk to people about Taylor Swift they'd be "Oh, she only writes breakup songs about all her ex-boyfriends"—which, I don't think is true but… she does write a lot of breakup songs. So it's cool to see on Folklore, it's not just her life. She's a storyteller, and I think Folklore really solidified that for me. 
With "Betty," it's funny hearing a stadium of girls sing along with a song written by a woman in the voice of a 17-year-old boy asking a girl to forgive him. Though he seems like kind of a dick actually. 
I think he's OK though.
Do you think Betty should take him back? 
I do. I can't explain why. He just seems very earnest. 
Let me tell you something about boys, they always seem earnest. That is not the way to judge them. 
The 1989 Era
Swift saved her big pop breakthrough album for late in the evening. If this had been a typical show, this would have been the set closer, with encores to follow. You'd think the moment would be unforgettable. And yet...
There are sections I can't even remember because I was so excited. I just forget them completely. 
So have you read about that being a thing? People are saying they have "Taylor Swift amnesia"? 
I have! And I feel like I might be crazy but there really are parts I don't remember. I had to look up what songs were in the 1989 set after I went. Because I was so excited. I was singing along the whole time and I couldn't even tell you what even happened. 
I looked them up, I know she played "Style" but I can't remember that happening. I'm sure I was singing. I'm sure it was great. I know she was wearing green because she was wearing that during my surprise songs but I don't know anything else about that set.
One thing I've been meaning to ask: What exactly is it about Taylor that you love so much?
I love that her music is so diverse and there's so much of it that no matter what mood I'm in or what I'm feeling or what I'm going through, there's always a couple songs that express the same feeling.
And for someone so famous, she does really well at making individual fans feel seen through her songs or even small interactions online or things on tour like giving every fan their own light up bracelet. Her fans are clearly so important to her and that makes being one feel very special.
[NOTE: She wore pink at our show.]
The "Surprise Songs"
Each night, Swift performs two songs that are not on her setlist, solo and acoustic, usually one on guitar and one on piano, at the foot of the T-shaped stage. Saturday we were treated to a song she hadn't played live since 2012—"Dear John." (You can tell it's a good surprise song when a mock-outraged cry of "I AM DONE WITH TAYLOR SWIFT" starts trending on social media.)
With your surprise songs, that must have been really insane. 
It was. I don't know if I've ever heard a crowd explode like that. Have you seen the intro she did?*

I did. She was like "Please don't hurt John Mayer." [Pause.] It's gonna happen anyway.
She didn't say his name but… I'm sorry, if they're coming for Jake Gyllenhaal they're definitely coming for John Mayer.
Oh, yeah. And he's just such a—I don't know, I just can't take him seriously. It's like, this is a really good song and it's about John Mayer? Really? And his song, "Paper Doll," which is about her, it's just not even close to "Dear John." So that's just a little bit embarrassing for him. 
We got that and we got "Daylight," which was fine
[Incredulous] Fine? Daylight was fine? I think it's the best song on Lover. I do. I like how it refers back to her old songs. She says, "I used to think love would be burning red or black and white but it's golden." So, she sees it in a new way. I just think it's the heart of the whole album.
Were you happy with your surprise songs?
I felt really good about them. I've not heard the same from the general audience. Philly night three is not one of the big ones that you hear about. I really like Fearless, and it was Mother's Day and I was there with my mom so "The Best Day" was really good for me.** But "Hey Stephen" people are like "uh, whatever." I thought it was cute. 
My number one surprise-song pick was "Forever and Always," which she played the night before. My other choice was "Teardrops on My Guitar," which she'd already played also. So at that point I was like, "oh, whatever." I think when you're there, what is there to be disappointed about? I'm not gonna be picky. 
* "Dear John" will be released on the Taylor's Version of Speak Now. When she introduced it, Swift said, "I'm 33 years old. I don't care about anything that happened to me when I was 19 except the songs I wrote and the memories we made together. So, what I'm trying to tell you is that I'm not putting this album out so that you could go and, like, feel the need to defend me on the internet against someone you think I might have written a song about 14 billion years ago."
** "The Best Day" is about Swift's mom, Andrea, who was strolling (well-guarded) through the stadium Saturday night accepting friendship bracelets from fans. One girl near me handed her a bracelet then turned to her friends and incredulously screamed "What the fuck!?!"
The Midnights Era
I was a little bleary as the show entered the home stretch just before 11 p.m.—which, in old people time, is practically midnight, if not 3 a.m—and Swift entered her most recent "era." The songs from Midnights include some incredibly memeable lyrics (I lost count of how many "It's me, hi, I'm the ______ it's me" shirts I saw, filled in with "dad," "husband," "Swiftie mom," and more) and the material felt more propulsive with producer Jack Antonoff's dinky beats beefed up to stadium-filling volumes.)
Where do you stand on Midnights?
I like pop music so I think it's really good. I think a lot of people, a lot of new fans, were expecting something more like Folklore and Evermore, something more mature. So I think a lot of new fans were expecitng something more poetic. "Lavender Haze" is one of my favorite songs of hers.
I kind of wish she would move on from Jack Antonoff.
[sighs] Yeah, me too. 
What is the fan consensus on him?

A lot of people like him, but I don't know
They like him personally, right?

Yeah, he seems like a nice guy. But I think it Midnights sounds similar to a lot of her other albums. It's not that new. I do like a lot of the songs though. "Would've Could've Should've"—for her to say "Don't go after John Mayer" after releasing that... If anything, that song fueled a lot more hate for him.
Oh, I didn't realize.
She says that she's 19 in the song, so, you know… 
Something I'd been meaning to ask: Did you meet other fans at the show?
I mean obviously.
You know, not obviously, though. Because that doesn't always happen at concerts.
I would assume it does.
I did too when I was a kid. You think, I'll go to this show with a bunch of people who like the same thing as me, I bet we'll all be friends. But that's not usually how it works out. 
Really? We traded bracelets with people. There were some girls behind us who were also into [Philly opener] Phoebe Bridgers so we talked about her. It was really nice. 
So, overall...?
It was the best night of my entire life and I don't think I'll ever top that concert. 
P.S. After our conversation I texted Julia my recent ranking of Taylor Swift albums.

I'll take it.
Setlist
Miss Americana & the Heartbreak Prince
Cruel Summer
The Man
You Need to Calm Down
Lover
The Archer

Fearless
You Belong With Me
Love Story

'tis the damn season
willow
marjorie
champagne problems
tolerate it

…Ready for It?
Delicate
Don't Blame Me
Look What You Made Me Do

Enchanted

22
We Are Never Ever Getting Back Together
I Knew You Were Trouble
All Too Well

the 1
betty
the last great american dynasty
august
illicit affairs
my tears ricochet
cardigan

Style
Blank Space
Shake It Off
Wildest Dreams
Bad Blood

Dear John
Daylight

Lavender Haze
Anti‐Hero
Midnight Rain
Vigilante Shit
Bejeweled
Mastermind
Karma
All photos by Stacy Schwartz.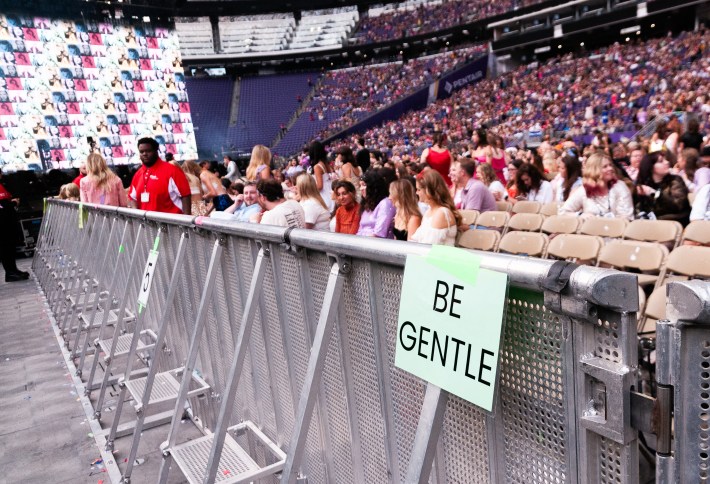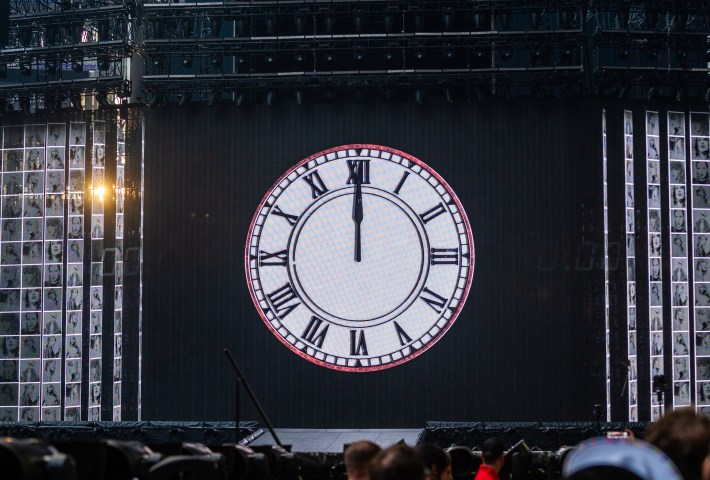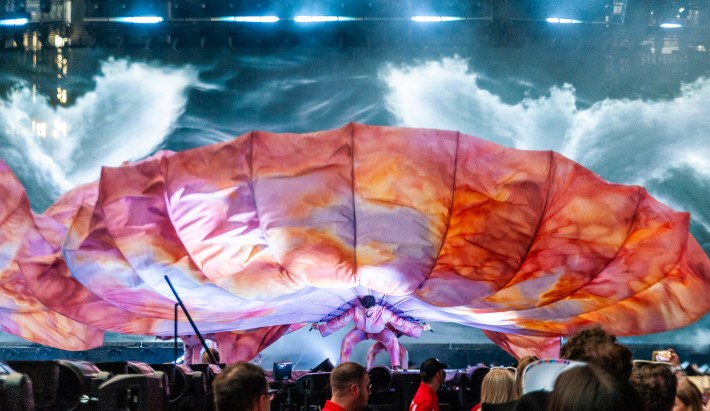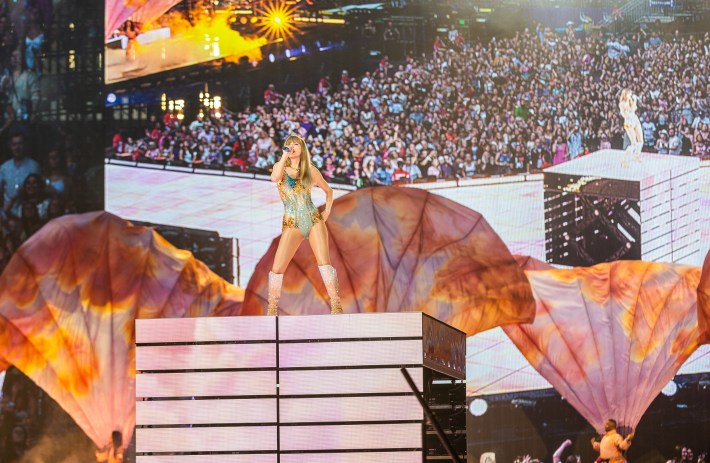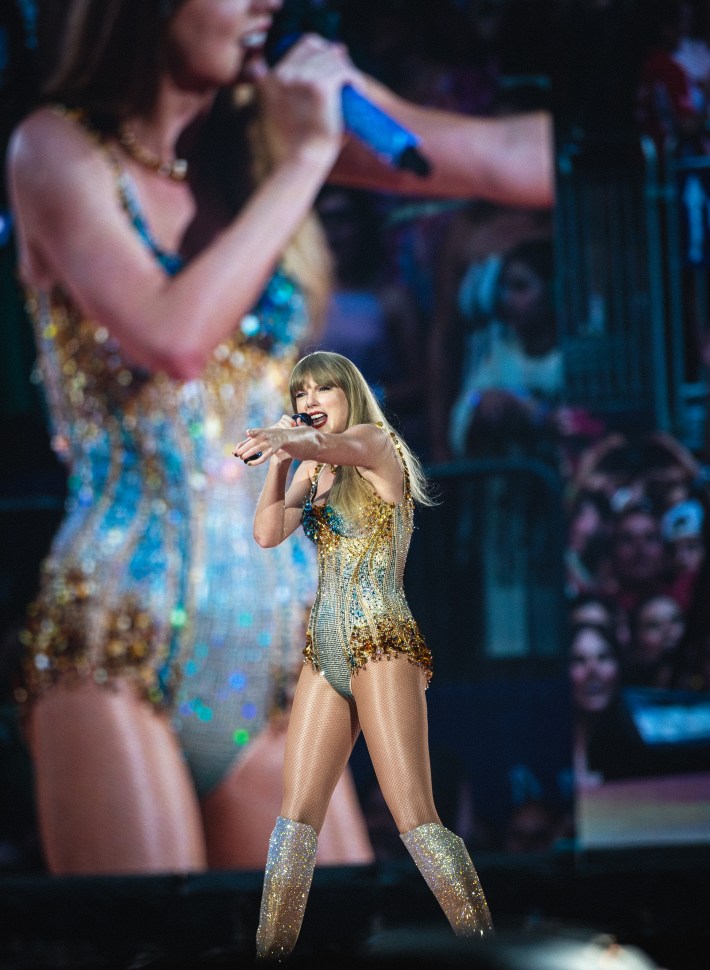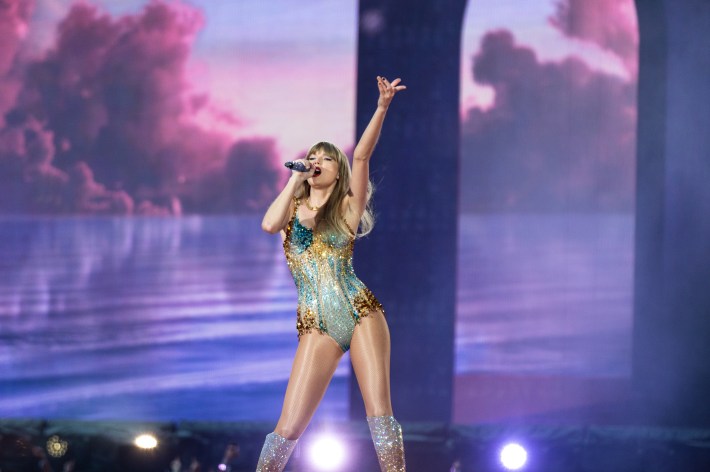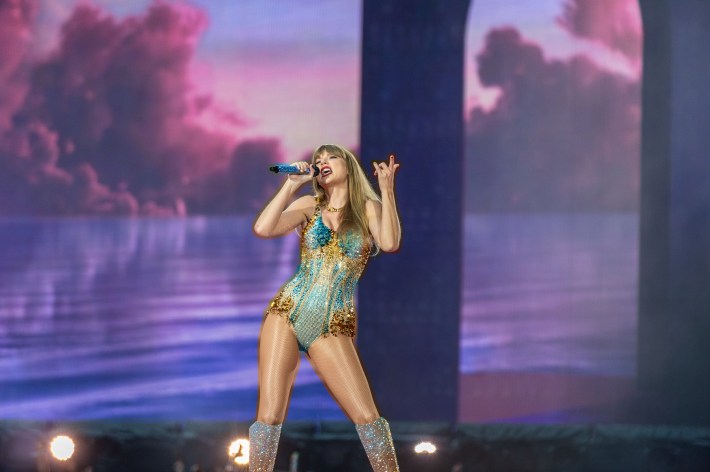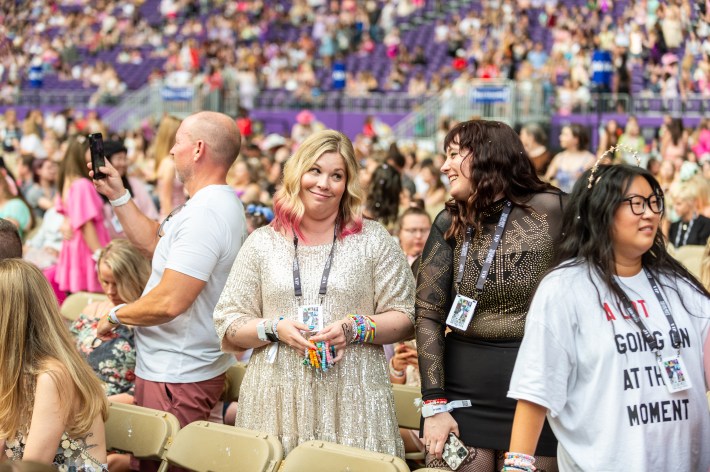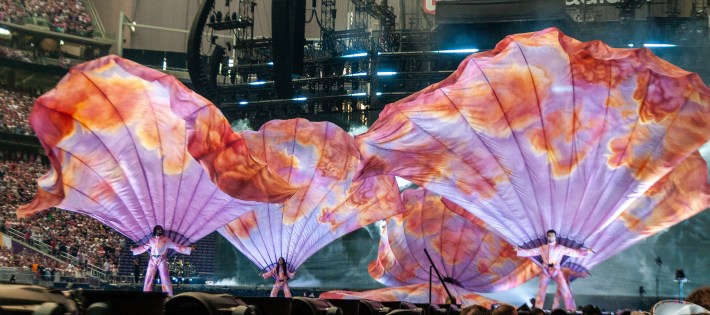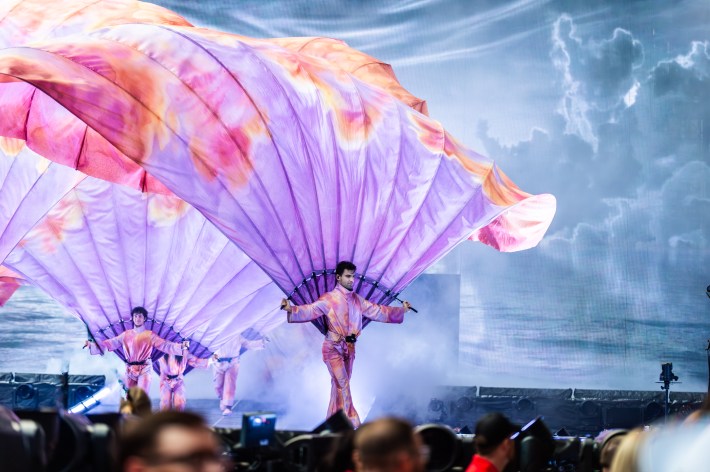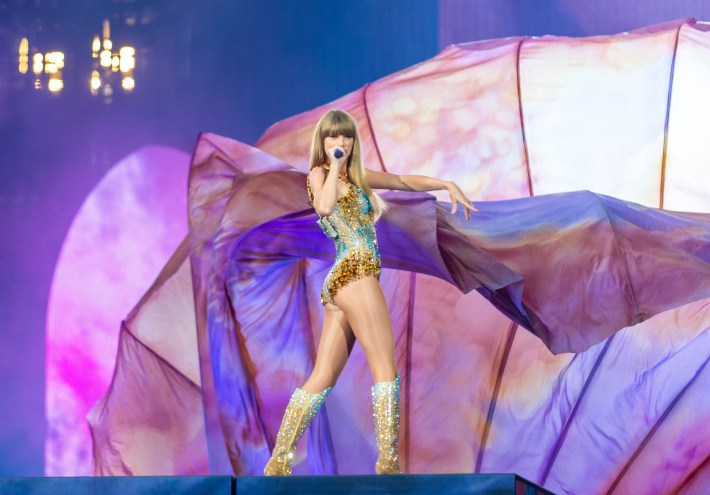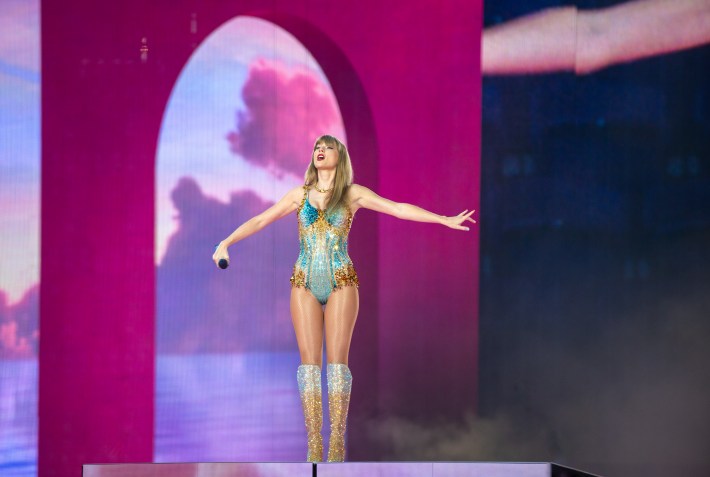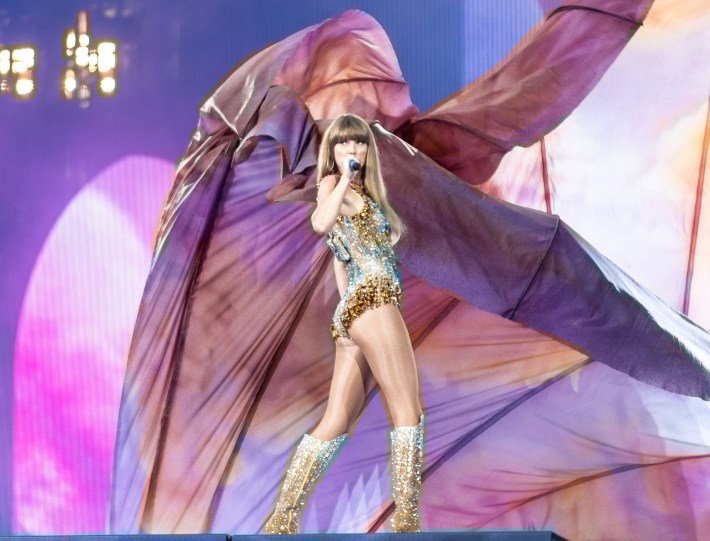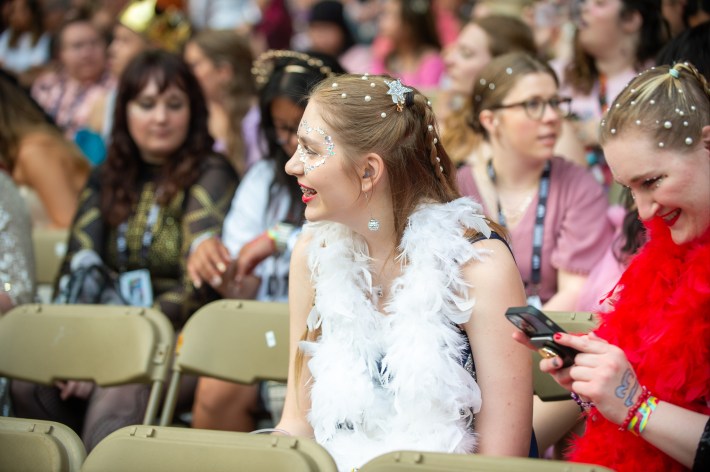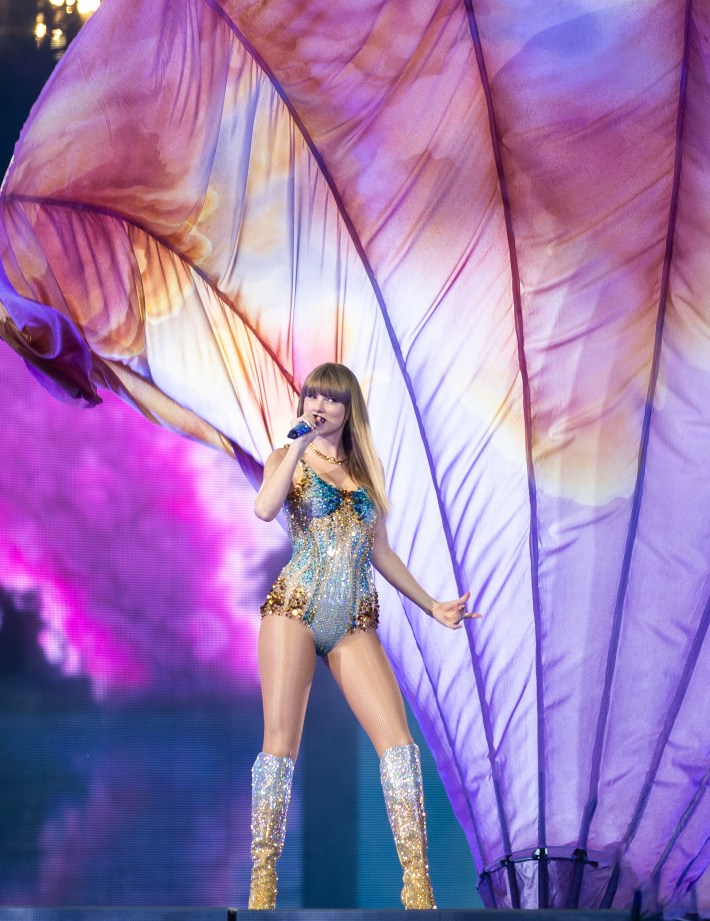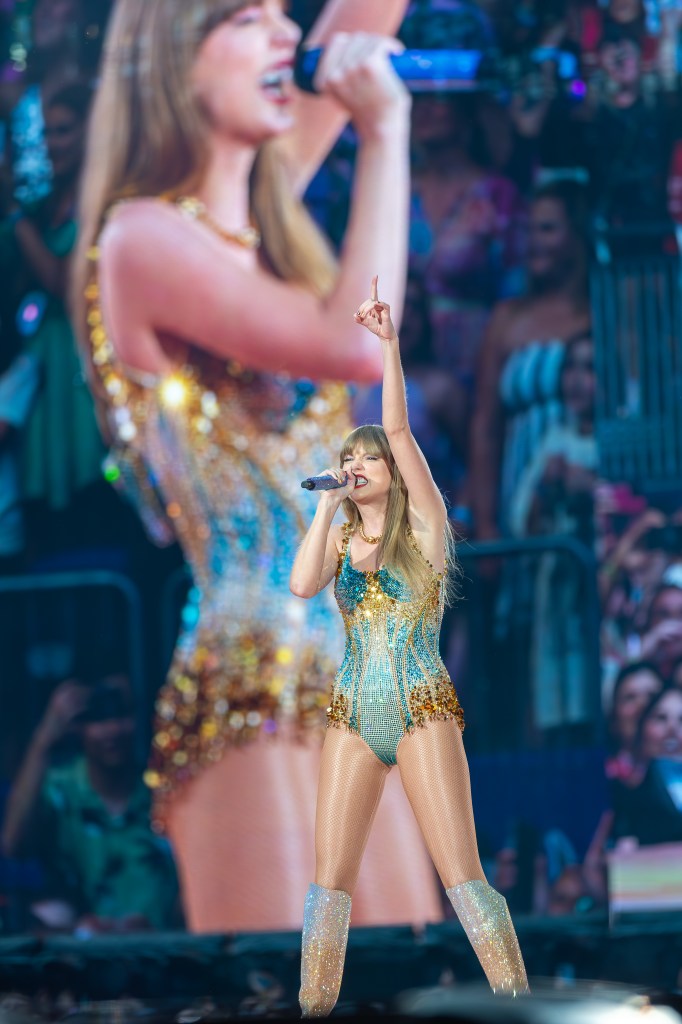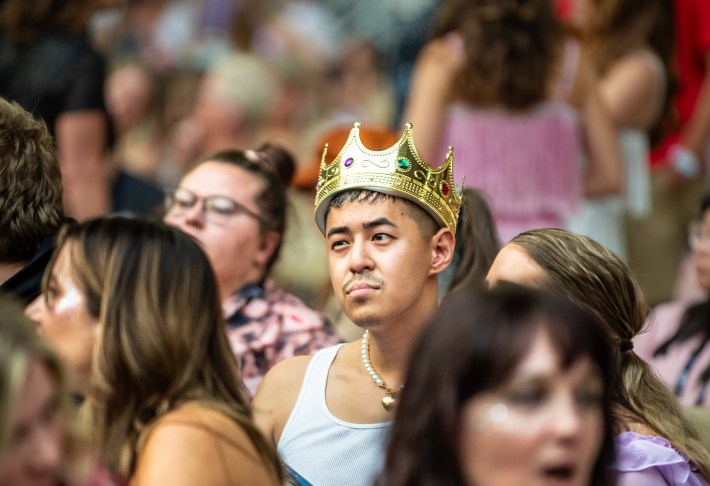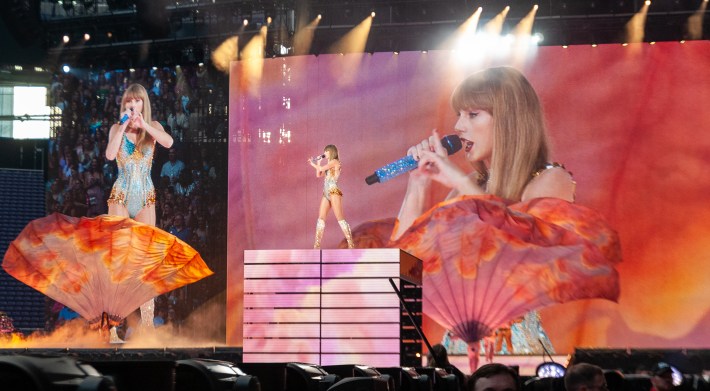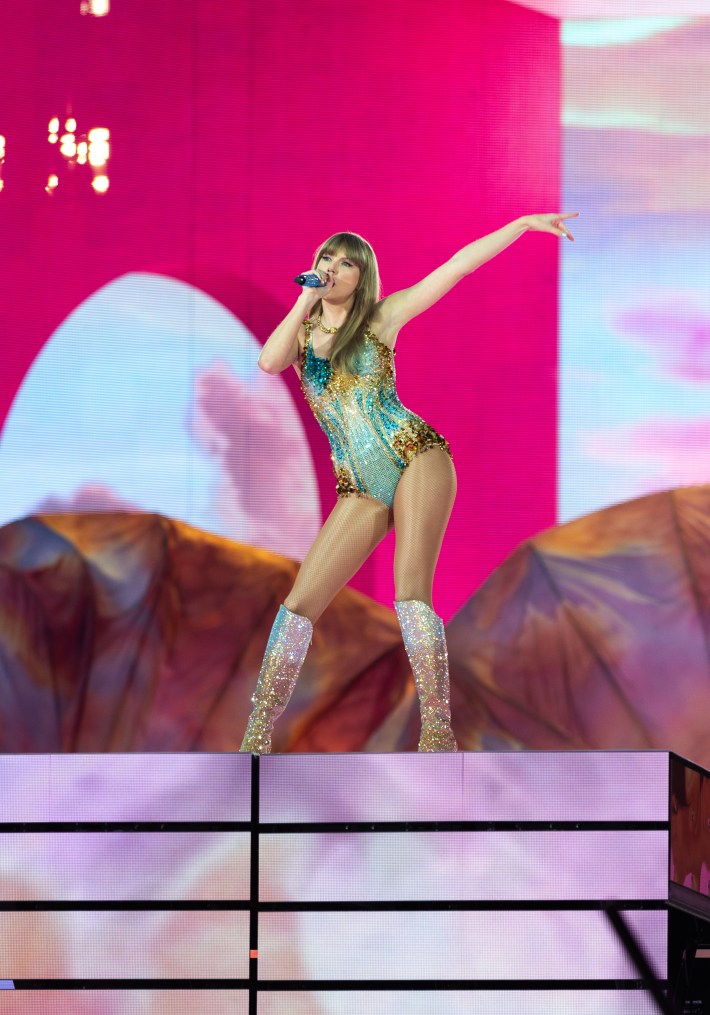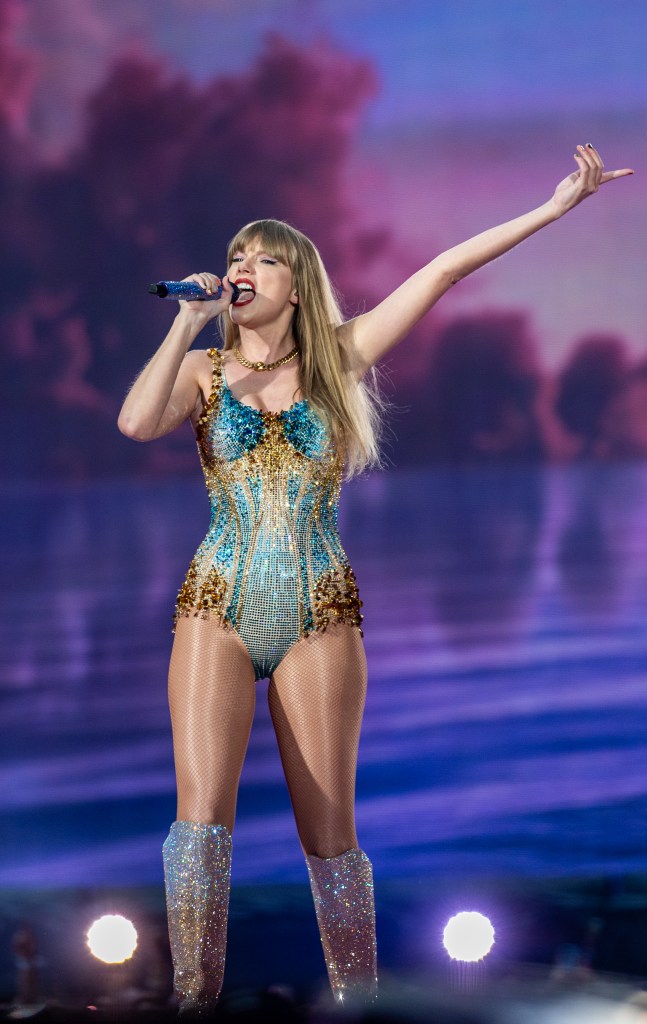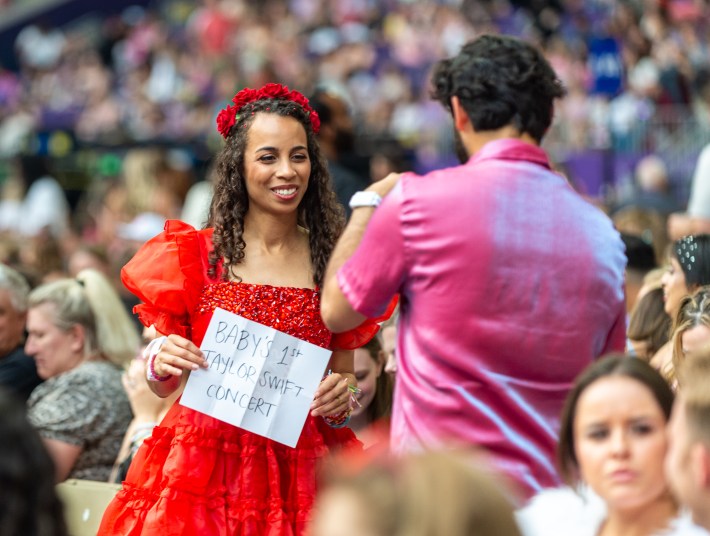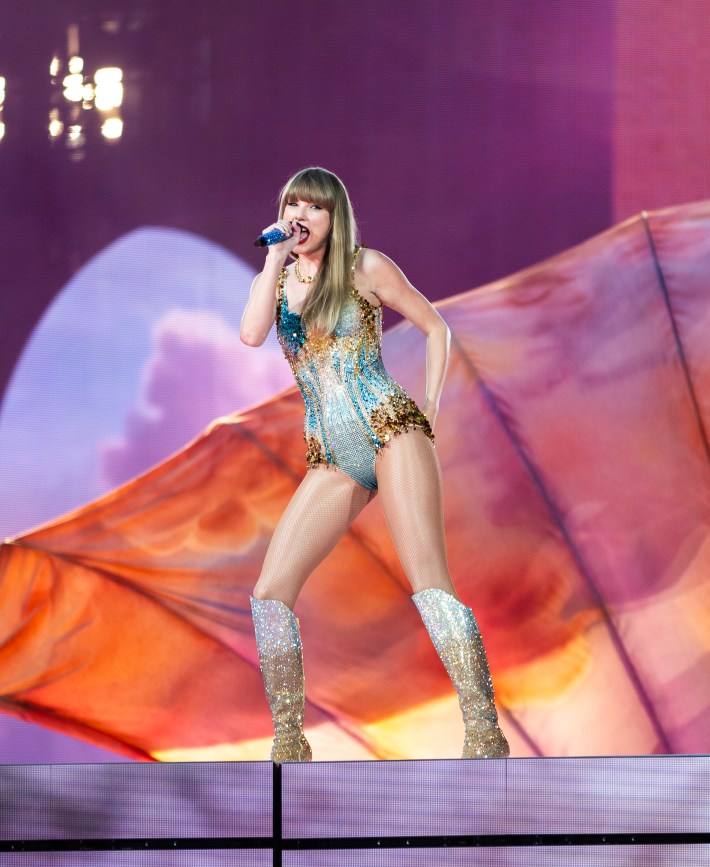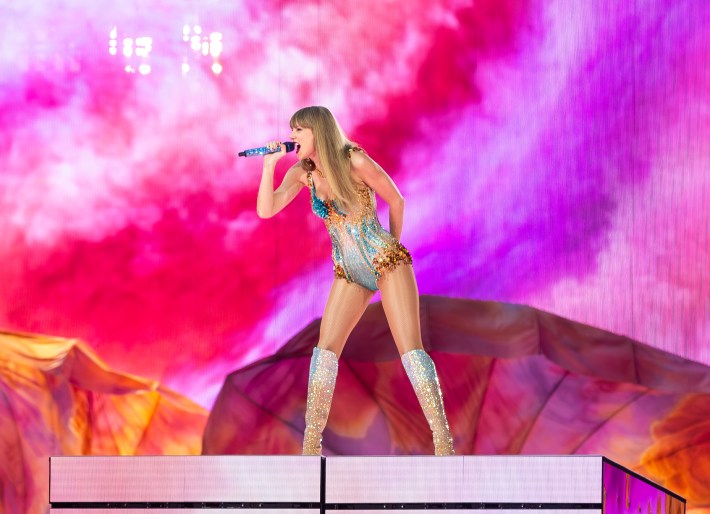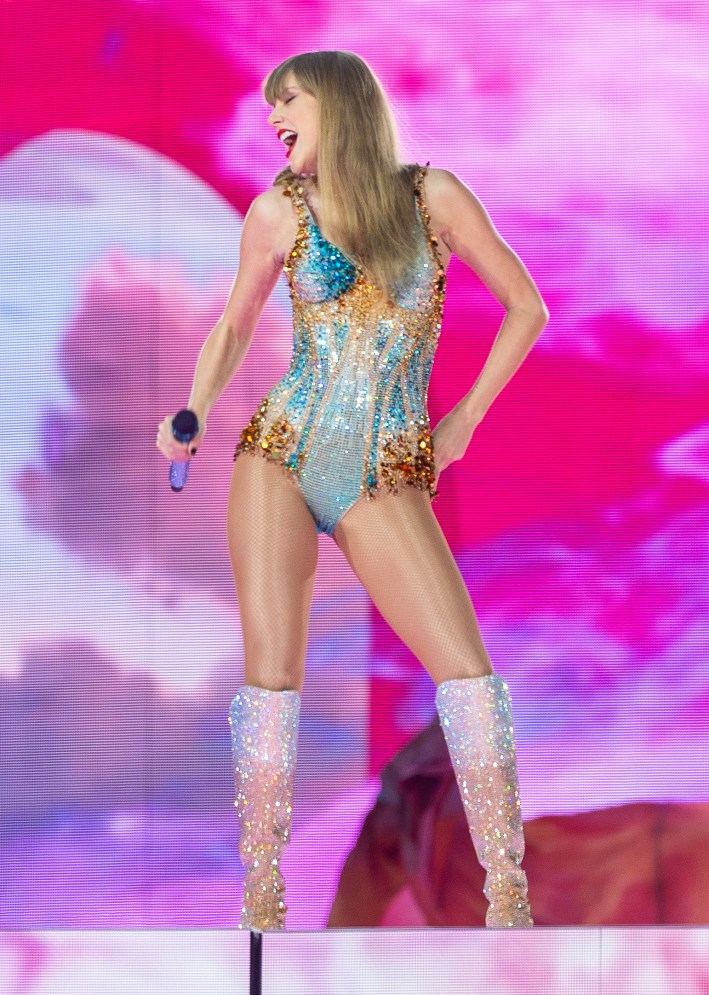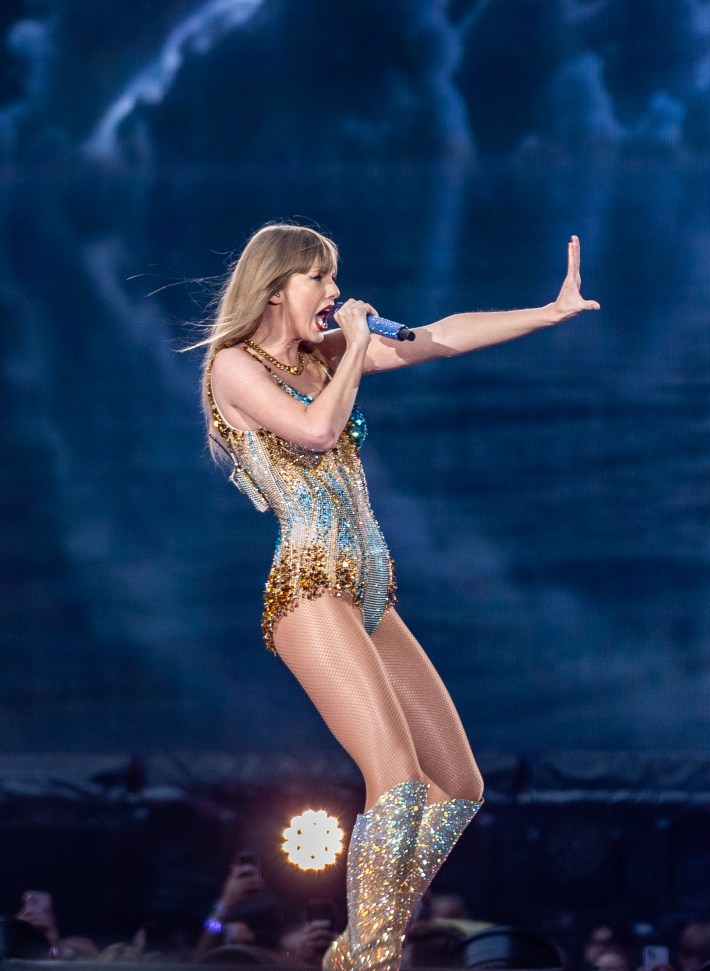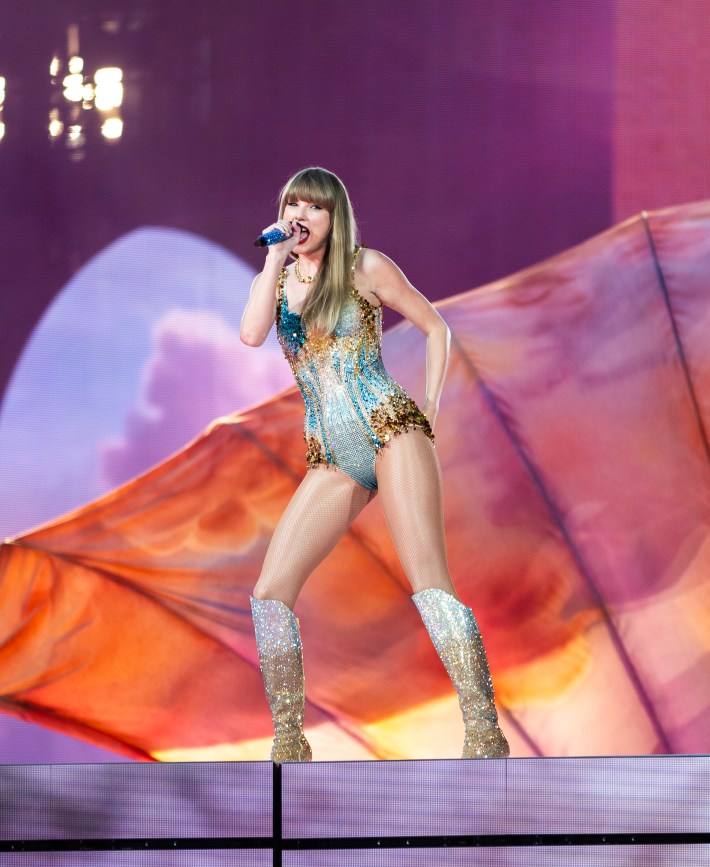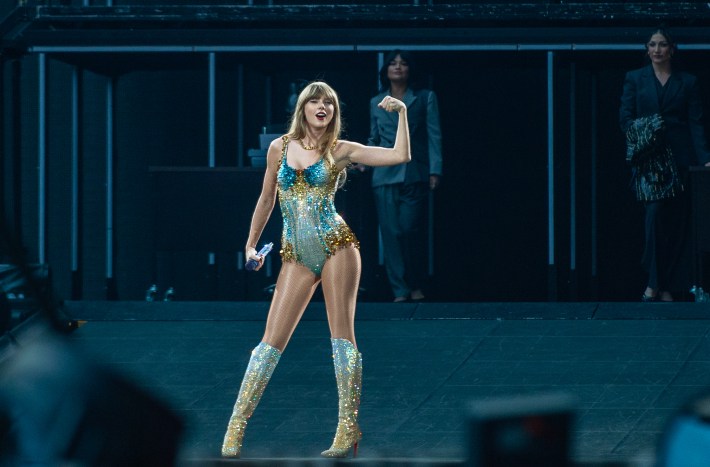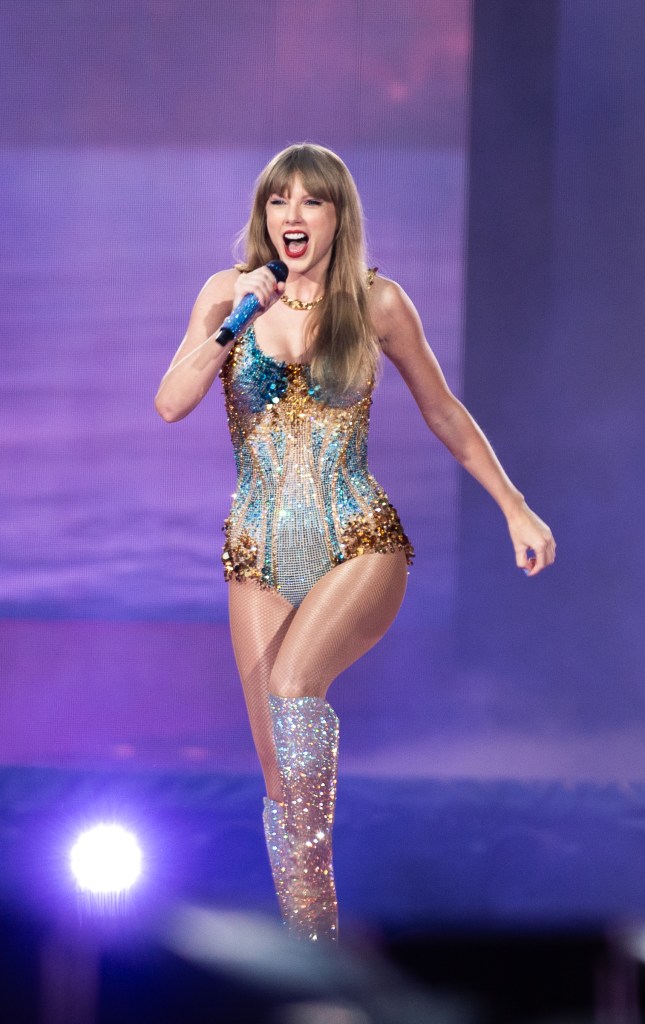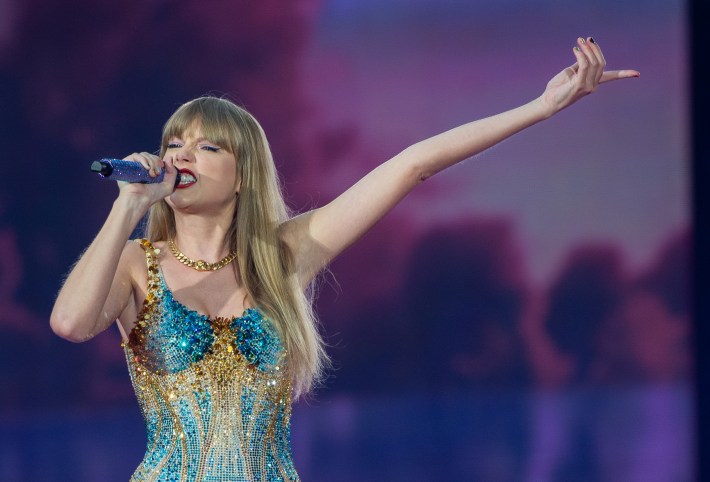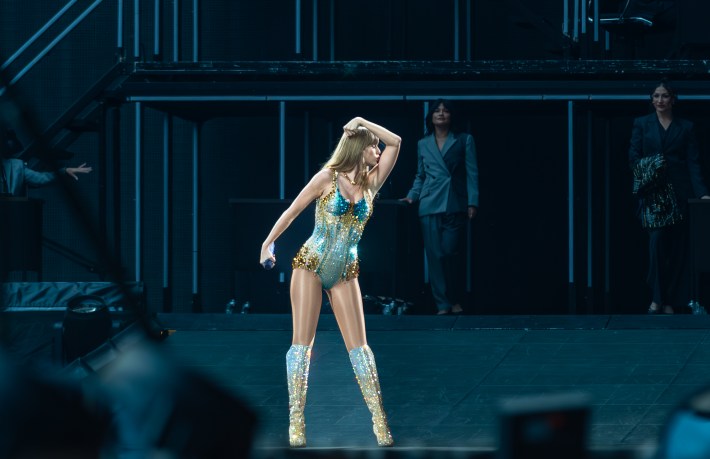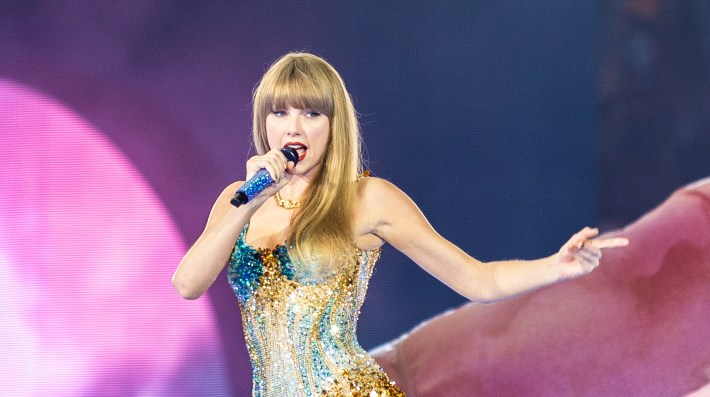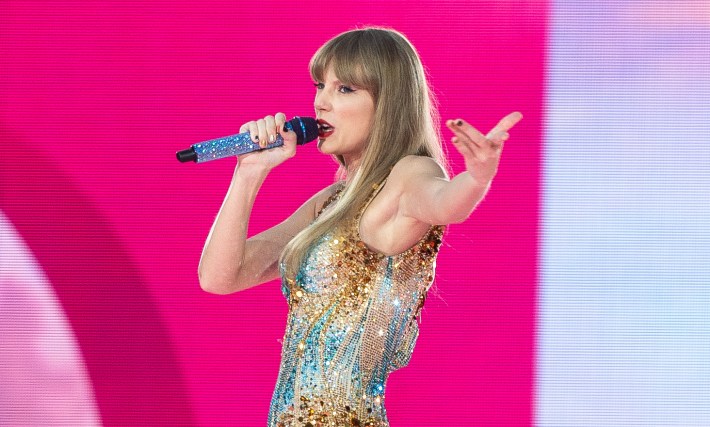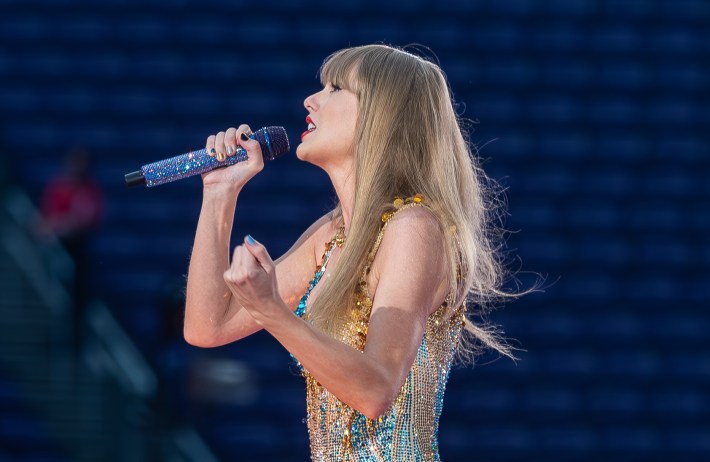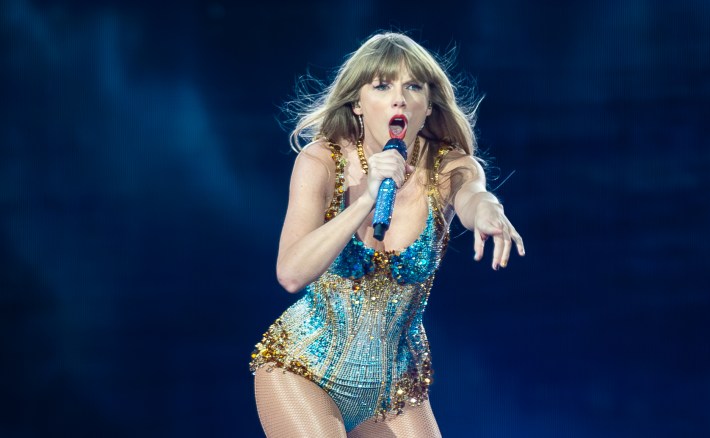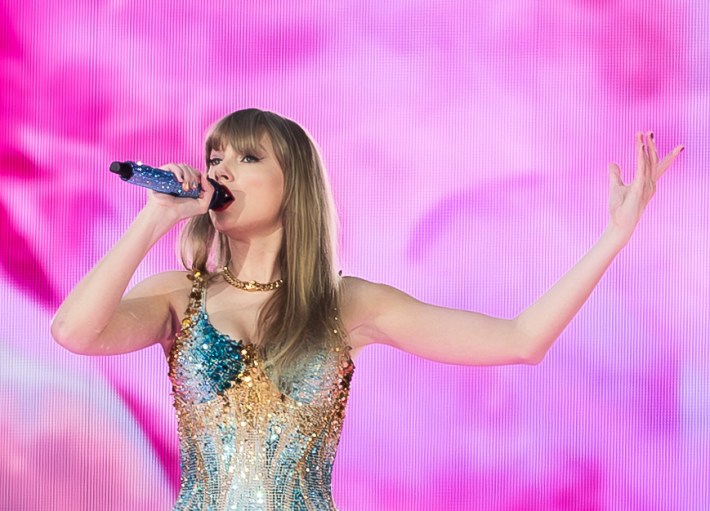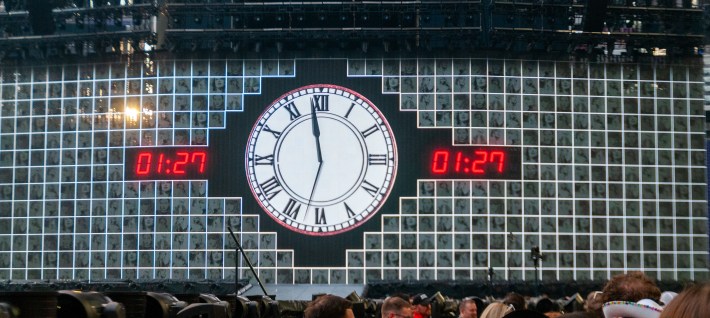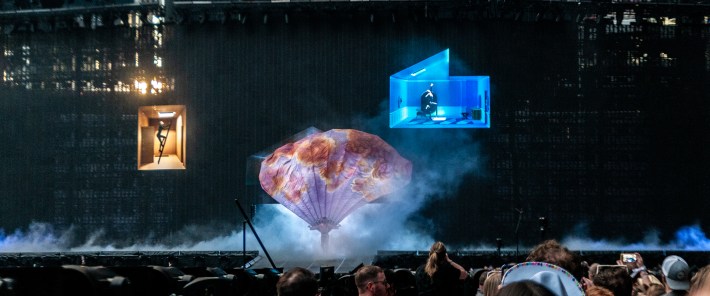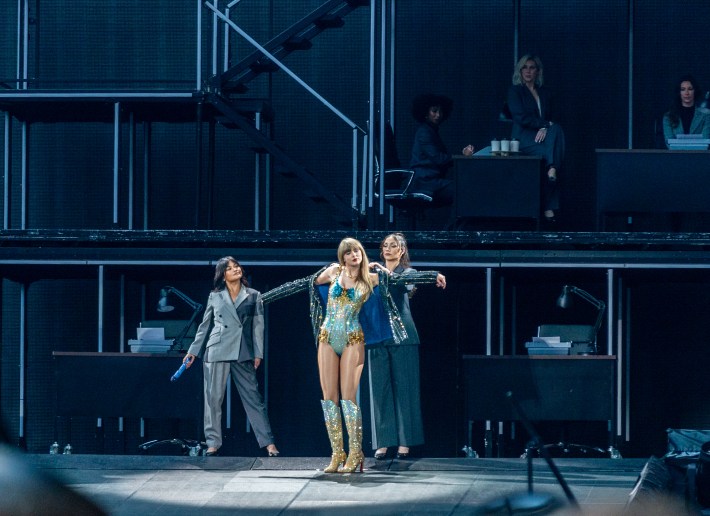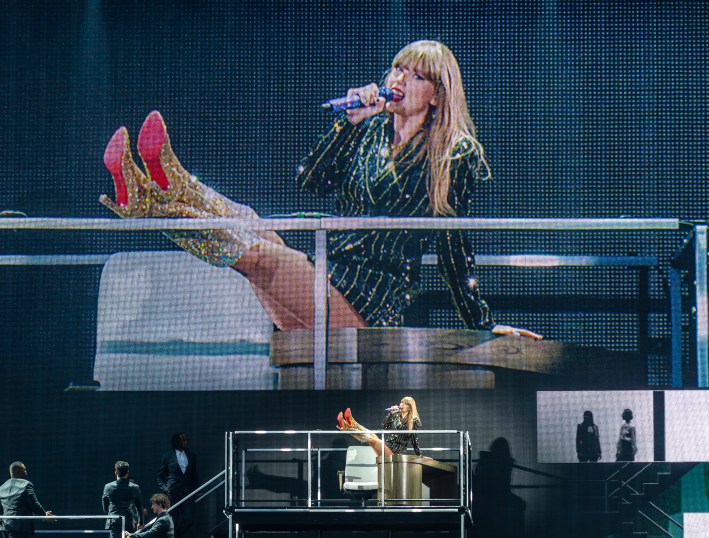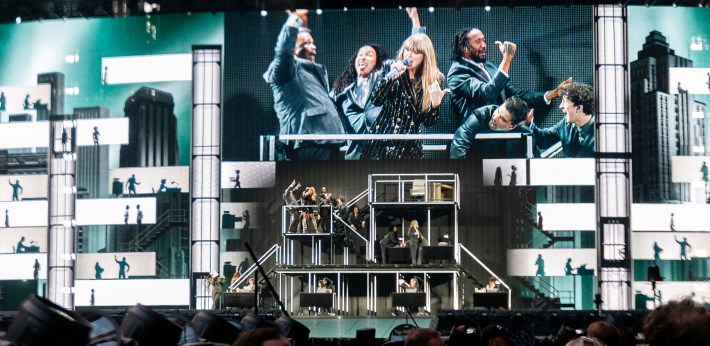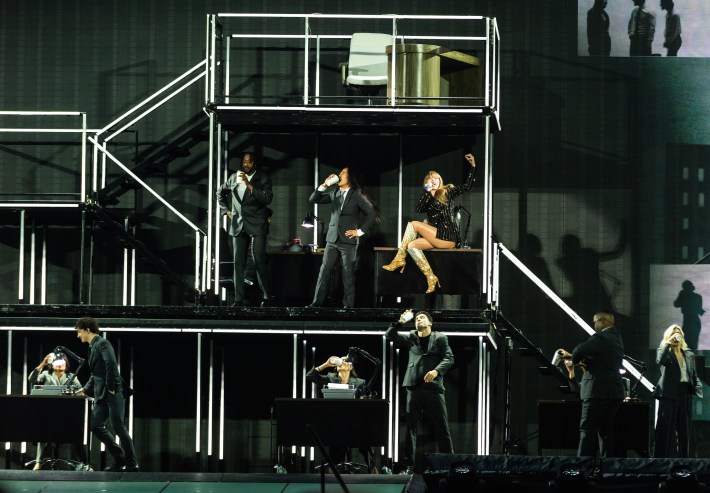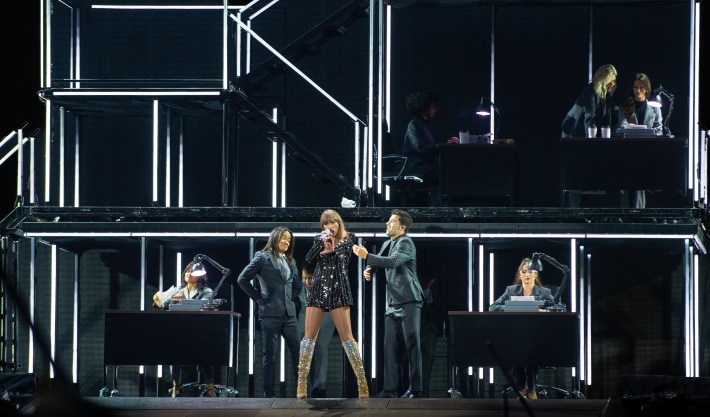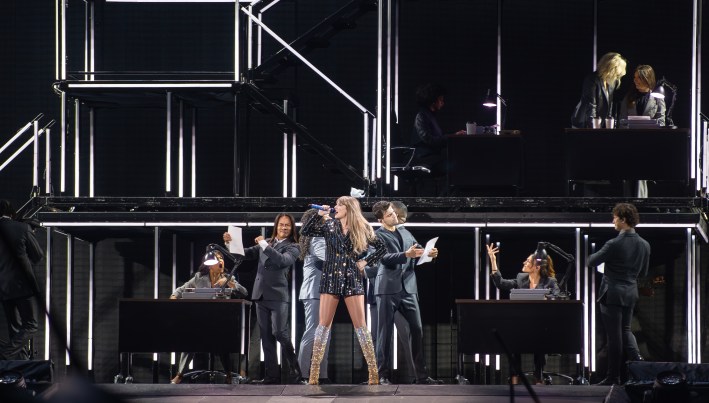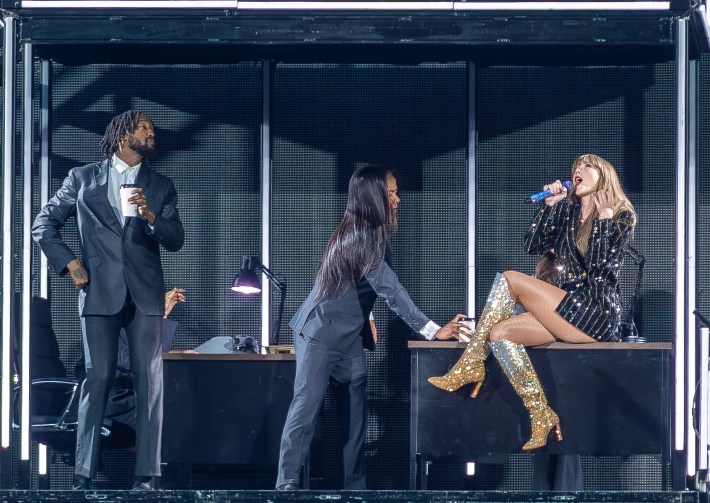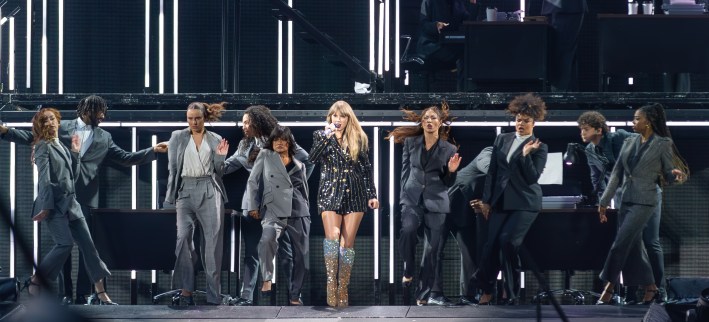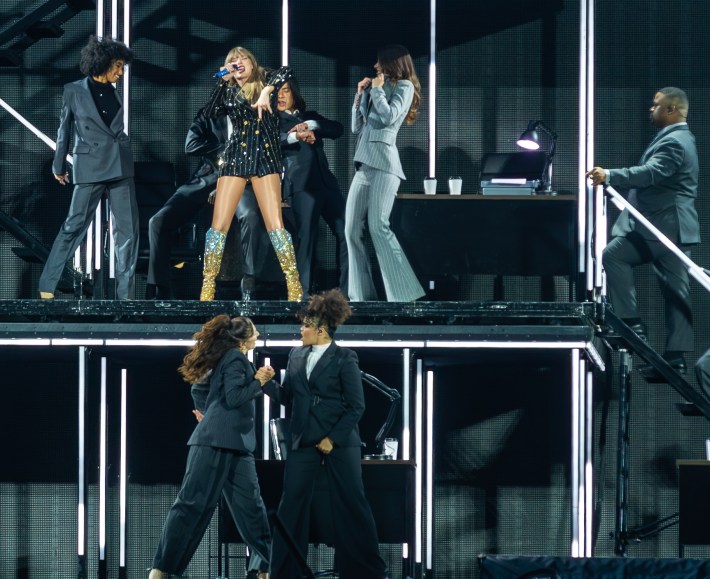 Stay in touch
Sign up for our free newsletter