Music
Minnesota's Parrot Heads Adjust to Life Without Jimmy Buffett
RIP to the beachcombing bard.
1:07 PM CDT on September 22, 2023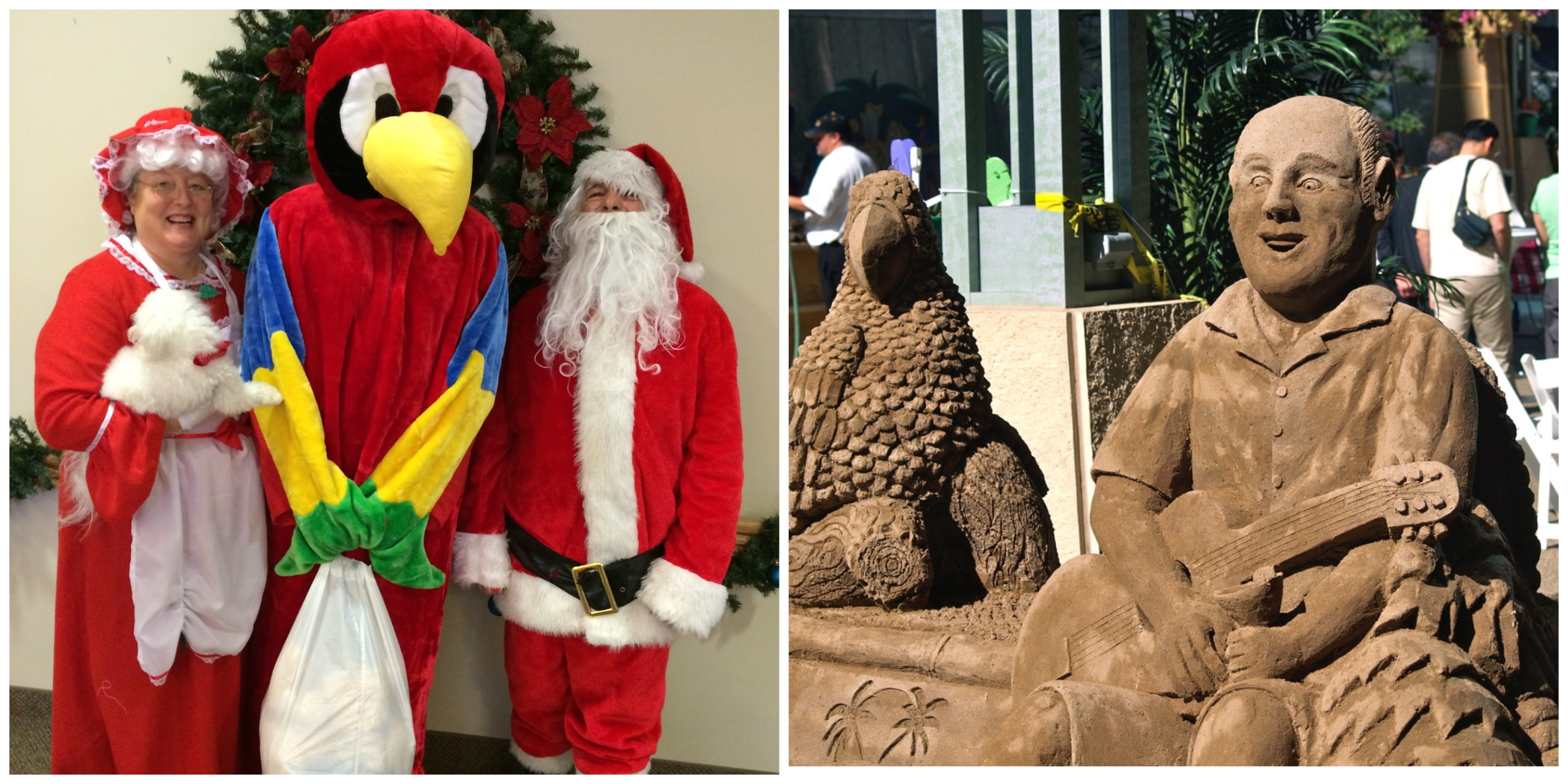 When Jimmy Buffett started taking his cheeseburgers in paradise instead of "paradise" (Florida) on September 1, the world scoured its collective closet for its darkest-hued Hawaiian shirts to don in mourning.
Somewhat poetically, Buffett passed just before a remarkably hot Labor Day weekend, what might be considered the last official long weekend of summer, during which Minnesota's weekend warriors likely flocked for one last cabin trip, one last lake weekend, one last holiday before "The Holidays." One last opportunity to crank Songs You Know By Heart and get twisted on a pontoon on a Monday. Nothing after Labor Day is guaranteed. Maybe folks went just a little harder this year, for Jimmy.
The local angle on Buffett goes way deeper than 1979's Minnesota-appropriate "Boat Drinks," a song about longing for the beach in the cold Midwestern winter. For the uninitiated: Buffett's most ardent fans are organized and incorporated into Parrot Head clubs across the country, and Minnesota has two, the Twin Cities-based St. MinneSomePlace club and the Lakes Area Parrot Heads, based in Detroit Lakes. As perhaps the Twin Cities' foremost reporter on the Parrot Head beat, I caught up with members of both clubs to check in on their attitudes following Buffett's final change in latitude.
Jeff Hage is current president of the St. MinneSomePlace club, and he helped found the Chippewa Valley Parrot Head club in the Eau Claire, WI, area. He boarded the Buffett boat at age 12 and has no plans to disembark.
Hage's been surprised by the length and intensity of the national and international response to Buffet's death, both inside and outside Parrot Head circles. 
"I'm part of a crazy, large, loving family of Parrot Heads who are my best friends," Hage said, "and I know who and what they all are, but I never in a million years imagined what the reaction would be from the rest of the world… I still thought it would be just people in my Parrot Head world grieving, I didn't think it would be, like, America."
Hage's wife Kathy broke the news of Buffett's passing when he woke up Saturday, September 2. His initial reaction was a state of shocked calm, but that would dissipate as his day transformed into a humble odyssey of grief processing.
After scrolling through the tributes and outpourings on the "sickening amount" of Parrot Head and Buffett-related Facebook groups he belongs to, Hage decided to take a solitary, Buffett-soundtracked drive. He'd done something similar after the death of one of his other musical heroes, notable Buffett associate Jerry Jeff Walker. He set out on Highway 10 toward Brainerd, just him and his thoughts and SiriusXM's Radio Margaritaville. Or he tried to, anyway. About a block from home, Hage's youngest son, Joshua, called to check in on him, and that was the moment reality started setting in. Hage listened to Joshua's condolences, but when it was his turn to speak, he froze up.
"I didn't know what to do," Hage said, "and the only thing I knew to do was—and this is sad—I hung up on him. I couldn't talk."
He immediately called Kathy, even though he was, again, only a block from home.
"That's when I broke down," Hage said, "I had my one minute of bawling my eyes out on the phone to her, and asked her to call my son up and explain what just happened in our weird phone conversation."
After that, Hage got back on the road. Radio Margaritaville's programming was all-Buffett, the DJs sharing stories between songs, often audibly holding back tears of their own. Around Rice, Minnesota Hage's middle son called, and by this time he was ready to have a pleasant, reminiscing conversation. He turned around and headed back home, and later he ended up on the evening news: Fox 9 called to use him as their local Buffett expert.
---
Jim Brogren is a founder of the Lakes Area Parrot Head Club and the current Midwest regional communicator for Parrot Heads in Paradise (PHiP), the Parrot Heads' parent company, as well as president of the Lone Palm Foundation, PHiP's disaster relief nonprofit. News of Buffett's death reached him in a wee-hours text from his youngest daughter, Kacee, who was raised in the family tradition of Buffett fandom and is an alum of Margaritaville University's "Margaritaville Ambassadors" program.
Brogren grew up listening to Jimmy Buffett in the backseat of his parents' car and started attending Buffett concerts in the '90s with his brother and some friends, following Jimmy to a variety of spots around the country. They eventually got the idea to form a club, and the Lakes Area Parrot Heads were established in 2003. Brogren spent 19 years as club president.
The Lakes Area Parrot Heads gathered the Saturday following Buffett's death at their host pub, Zorbaz on the Lake, and partook in a nationwide 5 o'clock cheers in Buffett's honor. In the course of the night they raised $1,175 for Singing for Change, Buffett's charitable foundation.
"We always, no matter what we do, we kind of throw a charitable aspect into it," Brogren said.
Other charitable and service activities of the Lakes Area Parrot Heads include participating in parades, roadside cleaning, an annual Christmas teddy bear delivery to the local hospital and nursing homes, and a "Welcome to Polaritaville" event in February benefitting Dolly Parton's Imagination Library. An August fundraiser for their local animal shelter raised over $14,000 in one weekend. The St. MinneSomePlace club has their own slate of charitable activities, including an annual golf tournament with proceeds to a memory care facility in Minnetonka and thousands of dollars of support for Midwest Avian Adoption and Rescue Services. They also purchased the Minnesota Zoo's resident cockatiel, Coconut, and provide support for his care and feeding.
Brogren and Hage are both optimistic about the future of the Parrot Heads. Buffett's obituary specified a number of organizations for fans to donate to in his memory, and that's several more purposes for Parrot Heads to party for.
"I think we have a little more direction now," Hage said, "through his passing... because he, in his obituary, kind of told us where he'd like things to go in the future."
After Buffett's death, there was a spike in registrations for the Parrot Heads' annual convention, the "Meeting of the Minds," and Brogren related a funny story of a John Denver Fan Club member reaching out to encourage the Parrot Heads.
"'We've been going strong ever since John Denver passed away,' she said. 'Keep it going.'"
"I think our commitment and our mission is even stronger than ever," Brogren said, "that we want to continue on and party with a purpose in memory of Jimmy."
Hage made it to 49 Buffett shows. His favorites include one in the late '80s that was his son Christopher's first Buffett concert at age two; seeing Buffett on the beach in Key West at Meeting of the Minds in 2004; and his last Buffett concert, which was Buffett alongside another favorite of his, The Eagles, in 2018. But another concert looms large for Hage: his 50th, the one that didn't happen.
"He left me hanging at 49," Hage said. "I wasn't in a hurry—I was taking it really seriously. I wanted my number 50 to be the coolest concert ever. But I wasn't in a hurry to get to it because I didn't think September 1 and his passing was ever ever ever in a million years going to happen."
And it's true—Buffett's total embodiment of a lifestyle and a state of mind made him almost a folk hero; hearing he's no longer with us is a little like being told Bigfoot died, or Santa Claus.
"I thought Jimmy Buffett was immortal," Hage continued. "I never dreamed he would die, and I thought I could wait to see him at show number 50, wherever this euphoric place was going to be for me."
Brogren has a concert-that-could-have-been story too. One of his favorite Buffett songs is "He Went to Paris," from 1973's A White Sport Coat and a Pink Crustacean. Brogren dreamed of seeing Jimmy Buffett in Paris someday, and this year at a Parrot Head event in the Ozark Mountains, he made an informal pact to do it the next time Buffett played Paris.
"In the pool, I made them all pinkie swear," Brogren said, "that the next time Buffett plays in Paris, we are going, and that's going to be a big regret of mine."
Hage and Brogren both noted that in one respect, they weren't surprised by Buffett's passing. He had been intermittently canceling shows in recent years, suggesting health issues. It turned out Buffett had been fighting cancer. But death always surprises, even when expected.
Early this year, Buffett and his long-running Coral Reefer Band recorded one last album, Equal Strain on All Parts, to be released November 3. Three songs were released alongside the album announcement. Naturally, Hage's been wearing them out, especially "Bubbles Up," the ballad on which Buffett spins an elegant lyrical metaphor out of a sign scuba divers use to guide themselves to the surface if they become disoriented underwater.
"If you're scuba diving," Hage explained, "if you look up, the bubbles lead you to the surface, and the bubbles lead you to the light."
---
Buffett's musical legacy isn't only his own songs. It's also the legion of songwriters and bands who've followed his aesthetic footsteps into a hybrid genre: trop rock, defined by Hage as "Americana music with often a beach, ocean, or even a cocktail theme."
Trop rock and Parrot Heads are deeply intertwined. Club members often support trop rock musicians by booking them for house concerts, in a sort of funhouse mirror reflection of the way many bands start on the DIY scene: Where a young punk band might cut its teeth in scummy college house basements, a rising trop rocker might pay dues in the backyards of accountants and project managers.
"In a lot of ways, the Parrot Head clubs have transitioned into being trop rock clubs," Hage said. "Even here, up with St. MinneSomePlace, we had probably four or five house concerts this summer alone."
Parrot Heads often get hip to new trop rockers at Meeting of the Minds, which Hage described as "four days of non-stop trop rock music."
"You see these people playing all over the island," he said, "and you also come home with probably $300 worth of CDs. You listen to them all year, they become your new favorites, and you hope and pray that when the local Parrot Head clubs are putting together their house concert schedules that your favorite is coming to a town near you."
Say you're looking for the easygoing, escapist feel of Buffett's music, but with Jimmy gone, you want something just a little different. Where do you turn? Trop rock's your answer. With that in mind, I've compiled, with extensive input from Hage and Brogren, a short playlist of choice cuts from a variety of trop rock artists (and a few from Buffett himself). They range from the thoughtful songwriting of the late Hugo Duarte, to Tom Shepherd's tropic-themed country rock, to the Boat Drunks, who use bold stabs of harmonica the way Springsteen used keyboards in the' 80s. Buffett would have wanted us to keep the music going, after all.
Looking for your nearest trop rock house show? Ask a Parrot Head.
Stay in touch
Sign up for our free newsletter