Target Field offers some pretty tantalizing eats: Kramarczuk's sausages, Red Cow burgers, Hot Indian Foods' channa rice bowls. But all that deliciousness comes at jacked-up prices, and that's on top of the money you spent on tickets and event-rate parking.  
For the frugal-minded, there's another glorious option: All-You-Can-Eat night, held every Friday home game. For $31-$36, you get a seat in the Grandstand (a.k.a. the uncovered cheap seats looking down on the outfield) and limitless hot dogs, popcorn, and other "ballpark favorites" (a.k.a. the cheap food).
My husband Mike and I share a fondness for baseball and bargains, so we recently spent nine innings sitting in the nosebleeds and trying to consume enough food to feel like we got our money's worth. Did we succeed? And was the food actually any good? Read on for an inning-by-inning review of our cheapskate dining experience. 
1st inning
I kick off my eat-a-thon with nachos and lemonade. The nachos consist of a plastic bag of Old Dutch yellow corn tortilla chips and a warm cup of nacho cheese sauce.  
As far as concession stand nachos go, these are in the top 10%. The chips are sturdy enough to hold up to the thick cheese sauce, and their salt content is nicely balanced by a pronounced corn flavor. The nacho cheese sauce (made from water, vegetable oil, modified food starch, natural flavors, various other ingredients, and less than 2% cheddar cheese) is surprisingly zesty. It has a Minnesota nice level of heat, with tiny bits of tomatoes and jalapenos adding welcome flavor and texture.
The lemonade (and all the fountain drinks) are your standard-issue Pepsi products, served in stingy 12-ounce cups that are far too small to counterbalance the thirst induced by a tray of nachos.
Mike opts for nachos and a perfectly adequate hot dog—you could recreate it at home with store-brand products.
As the inning winds down, it becomes apparent that All-You-Can-Eat night disproportionately attracts families with elementary school-aged children, who spend the evening double fisting ice cream bars (which is pretty cute) and 20-something dudebros who spend the evening double fisting beers (the results of which are not so cute).
Nachos: 8/10
Fountain drinks: 5/10
Hot dog: 5/10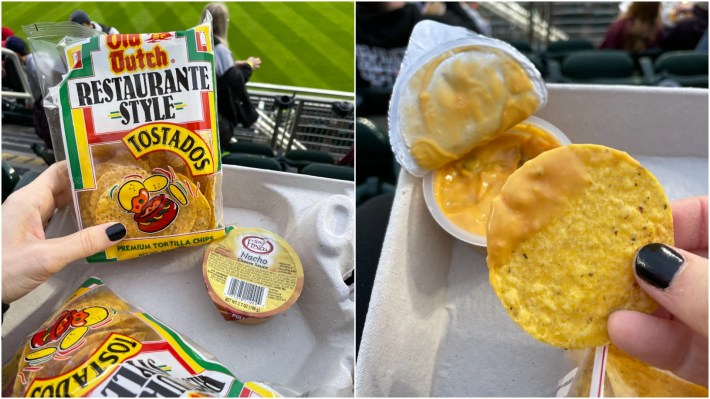 2nd inning
We each get a box of popcorn, and I'm impressed—the boxes are generously sized, and the popcorn tastes freshly popped, with the perfect amount of butter-flavored salt. This is exactly what I'm hoping for whenever I spot a popcorn machine in a bar or taproom.
Most of the dudebros sitting in front of us are White Sox fans, and they heckle the home team and surrounding Twins fans. 
Popcorn: 9/10
Twins heckling: 0/10
3rd inning
Mike leaves to acquire another hot dog. One of the dudebros proclaims his intention to eat a hot dog and drink a beer every inning.
A distraught Mike texts "The hot dogs are being rationed!" I feel bad for him but kind of smug that this will thwart the dudebro's plan.
4th inning
Mike returns with an ice cream bar, peanuts, and a much nicer hot dog than the first one—it's larger in girth, with a natural casing and a snappy chew. Presumably, they ran out of the cheap dogs and are slowly doling out the good stuff.
The peanuts are well-salted and satisfying—granted, there isn't a lot that you can do to mess up an in-shell peanut.
Upscale hot dog: 7/10
Peanuts: 8/10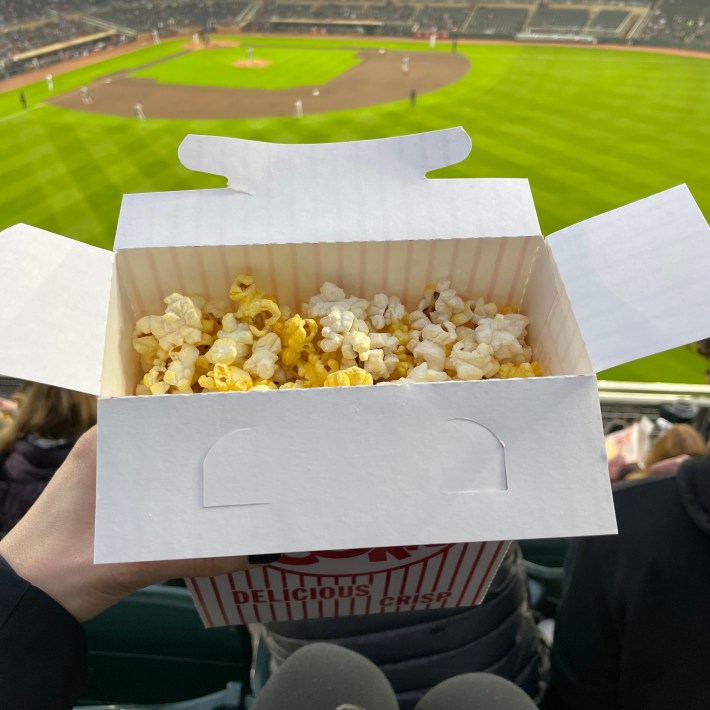 5th inning
The White Sox get a home run and the dudebros lose their minds.
I console myself with another round of nachos and a hot chocolate. Although it's served in a Caribou Coffee-branded cup, the hot chocolate is extremely watered down, with a mere hint of cocoa powder. The only redeeming feature is that it's warm.
Hot chocolate: 2/10
6th inning
Whoever cooked up this "all you can eat" scheme knows what they're doing: Despite my best intentions, I'm surprisingly full. Mike is still going strong and fetches another hot dog (they're back to serving the cheap dogs in abundance) and nachos, plus an ice cream bar for me because my third-rate superpower is that I always have room for dessert.
The ice cream bar is labeled "artificially flavored homemade vanilla" whatever that means. I appreciate that it's a standard sized treat, but the quality of the ice cream and chocolate flavored coating is nothing to write home about.
Ice cream bar: 5/10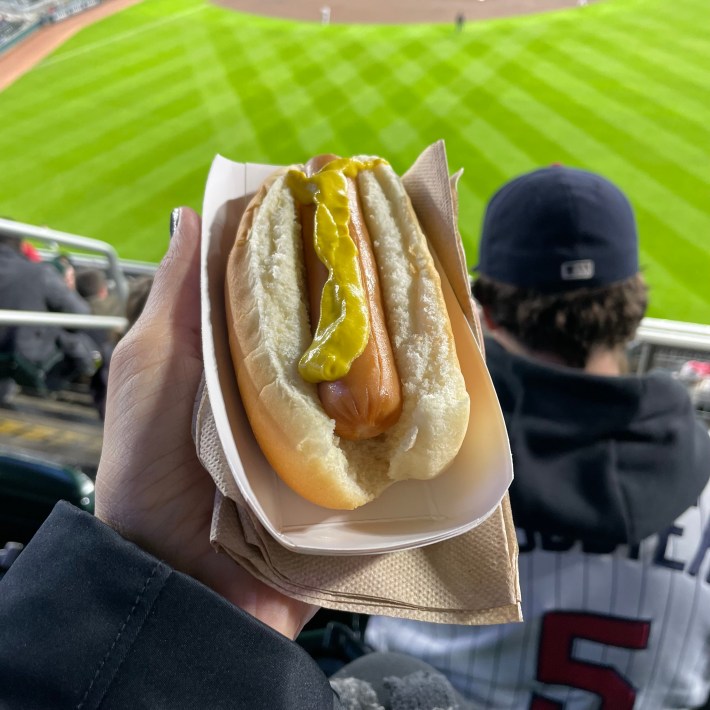 7th inning
I'm supposed to stretch out my arms to mimic a billboard for the "Kris Lindahl 7th inning stretch"? What the hell.
8th inning
By this point, one of the dudebros has removed his shirt and is standing in the top row, screaming incoherently. Another starts boisterously cheering for the Cubs, who are not present at Target Field.
Thanks to sloppy fielding by the White Sox, the Twins score 2. The shirtless dudebro comes down for a hug, which I decline.
9th inning
The concession stand has closed for the night, but there are still plenty of ice cream bars in the self-serve cooler. We grab a couple and stress eat them. The Twins are ahead 2-1, but in the immortal words of Yogi Berra, "It ain't over till it's over."
The dudebros start yelling "Skol!" at random intervals. The Vikings are not present at Target Field.
After a truly excruciating top of the ninth in which the Twins load up the bases before finally striking out the White Sox, the home team prevails. The White Sox dudebros slink off, completely silent for the first time all evening. Mike and I start jumping up and down and screaming as though the Twins have won the World Series. The amount of sodium we have consumed has probably caused some sort of intoxication. 
I've been to baseball games where I sat in better seats and ate better food, but I've never been to a baseball game that left me feeling so completely satiated.