One winter day in 2017, Peter Borne took his wife Michele to see a houseboat stored on a back lot in La Crosse, Wisconsin.
Many of the boat's floor-to-ceiling windows were shattered. The hull was sinking into the asphalt. And it was filled with busted furniture, rotting carpets, dead fish, and decomposing birds. Everything was covered in mold.
To the owner, the broken-down boat was junk, and he parted with it for "scrap rates," Peter says. But, to the Bornes, it was perfect.
"I looked at it and said, 'Yeah, this is gonna be our boat. This is what we're being called to do,'" Michele recalls. "I could just feel it."
At the time, the newly empty-nested Richfield residents had been searching for a way to merge their backgrounds in teaching, music production, and auto restoration—Peter had built working replicas of the Batmobile, the Ghostbusters ambulance, and the DeLorean from Back to the Future—with their passion for boating and volunteer mission work.
The dream? To give folks in communities along the 6,000 miles of the Mississippi River and its tributaries the chance to learn, perform, and record in a world-class studio. 
But resurrecting the hundred-ton, 65-foot-long, 3,300-square-foot steel hull luxury boat wasn't easy. In 2000, the original owner paid around $1.7 million (rumored to be lotto winnings) to construct the vessel, Peter says, and allegedly customized the 7-foot ceiling height to accommodate his Stetson hat. In 2013, then with a new owner, the boat sank in the St. Croix River under mysterious circumstances.
"The lower deck was completely underwater, and water came halfway up the windows on the main deck; so Michele and I suited up in hazmat outfits, and we were taking fish and dead animals and all kinds of moldy things off [the boat]," Peter says, noting that his nonprofit, Unlocked Mission, has so far spent around $600,000 bringing the boat back to life.
And today, after four years of planning, fundraising, volunteer wrangling, and renovating, Peter, 54, and Michele, 55, are nearly ready to launch their passion project, which they've re-christened Joyful Noise.
While Joyful Noise may have the distinction of being the only motorized floating music studio in the U.S., the idea of building a recording studio on a boat isn't entirely new. Pink Floyd's David Gilmour has his Astoria studio anchored in the River Thames, and Pete Townshend of The Who has his Grand Cru docked beside the Tower of London.
In 2019, Peter and Michele were invited to tour both of these boats, where they consulted with the engineers in each studio.
"They were happy enough to show us around and talk to us about what they did for acoustical treatments and how you do life on a recording studio boat," Peter says. "We took all those bits of information and turned it into what you see here [on Joyful Noise]."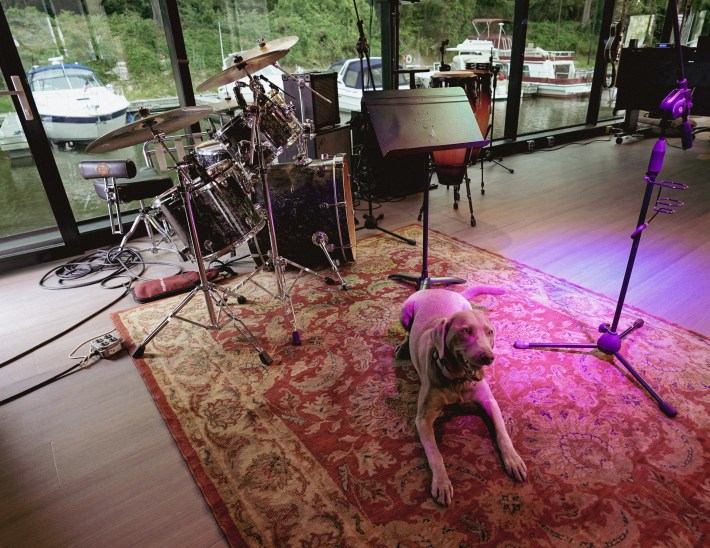 Back in the States, the only other notable attempt to build a floating studio was made in the mid-70s by Steve Boone of the Lovin' Spoonful. His Blue Seas vessel met its demise in Baltimore's Inner Harbor on Christmas Day in 1977.
(By odd coincidence, the Lovin' Spoonful's current drummer, Mike Arturi, heads a music nonprofit in Red Wing and has coached Peter and Michele on running Unlocked Mission; Arturi also helped set up a visit for Boone to tour Joyful Noise.)
To help convert the main deck of their boat into a professional recording space, the Bornes called in Dave Ahl, acoustical designer and founding member of Twin Cities punk pioneers the Suicide Commandos.
"It's not a tiny room, so you can get a big sound. The ceilings aren't low, and it's got cubic volume, which is what you want in a studio. And great views for inspiration while you're playing—so long as you don't get too distracted," Ahl says. "Every project has its own joys and sorrows. I haven't really run into any sorrows yet on this one."
One of the biggest challenges is the potential for outside noise—from passing boats and planes taking off from MSP—to bleed through into the studio. For soundproofing at the front end of the boat, Peter installed thick black curtains that once hung in Jimmy Jam and Terry Lewis's famed Flyte Tyme Studios in Edina.
"This came from their vocal booth in their personal suite, which was the same space that Janet Jackson recorded all of her vocals," Peter says. "We're carrying a lot of the Minneapolis tradition forward on this project."
In what may be another nautical first, Peter plans to turn the hull at the front of the lower deck into an echo chamber.
"It might sound horrible or great, we don't know—it's gonna be a fun experiment," he says.
On July 9, co-captains Peter and Michele welcomed a few dozen visitors aboard for their first live music show on Joyful Noise, featuring the Peter Gabriel tribute band PG-13. 
Docked that evening in St. Paul's Watergate Marina, the boat towered over its neighbors, including Siren's Gate, the pirate ship Airbnb. The special acoustical ceiling system and floors weren't yet finished, and the engineers were still working out a few sonic kinks.
"Maybe we were in there a little prematurely, but it all worked out," says Will Jacobsen, lead singer of PG-13. "And even hearing the boat whistle from the paddle-wheeler that was going by during our very final song—you know, rock on."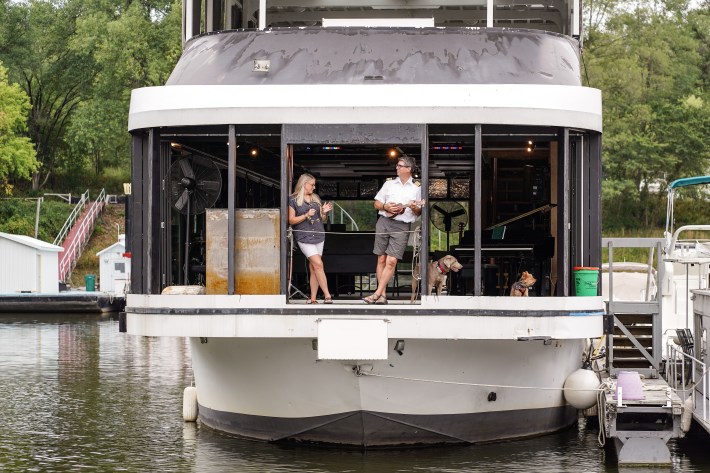 Peter and Michele don't expect to make any trips down the Mississippi until 2022, but they still have a full slate of projects lined up this fall here in the Twin Cities, including a recording session with the Galactic Cowboy Orchestra. They'll also host local schoolchildren for classes on music, river ecology, and nutrition—the boat's second level is set up as a teaching kitchen.
For a vessel that had been all but left for dead, Joyful Noise's musical reincarnation is, according to Peter and Michele, nothing short of a miracle.
"Every time we get on the boat, we are still awestruck," Michele says. "We've been given so many talents and been so blessed. We just want to be able to use those to bless others in the community."