Sports
The Push to Make Minnesota's Pastime More Inclusive
Hockey is an affluent, homogenous boys' club, but these organizations are striving to change the culture in the State of Hockey.
8:08 AM CST on January 19, 2022
Standing on a frozen stretch of Lake of the Isles, hockey seems infinite. 
The playing surface spans from snowbanked shore to snowbanked shore, an arena that melds into the Minneapolis skyline. Plants lie beneath your skates, laminated in ice. The game emerges like weather—the manifest of a year in its first and final season.
It's sentiments like this that Hockey Day Minnesota was created to memorialize. Conceived in 2007 as a collaboration between the Minnesota Wild and Bally Sports North, Hockey Day started as a showcase of the State of Hockey's high school, college, and professional teams, but it quickly became a boundless statewide celebration. This year, Hockey Day falls on January 22, and from Warroad to Zumbrota, you'll find Minnesotans taking to the ice in an act elemental to their state identity.
But for every Gopher Stater you see standing on two skates, there are untold numbers left on the sidelines. Hockey fans are 77% white, more affluent than other sports fans, and skew more conservative. Extrapolate that out to the folks who participate in the game, and you have a hostile environment for just about any historically marginalized group in America.
Exclusion is as natural to hockey as ice and inertia, and the game's exclusive culture is a Minnesota birthright. But there are people who work every day to change that.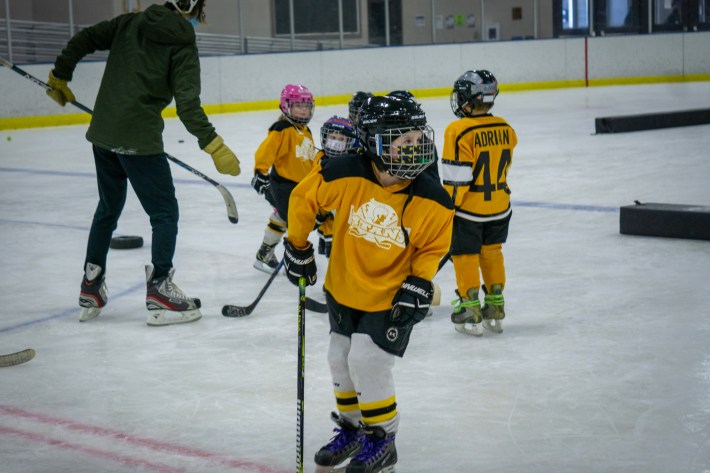 Cutting costs to 'grow the game'
It's just before nine on a Saturday morning, and the Northeast Ice Arena is filled with the crinkling of polypropylene.
Lindsey Coleman and a team of volunteers are shuffling between the benches and a beige shed stuffed with hockey gear, setting out big blue Ikea bags full of skates, helmets, gloves, shin pads, and breezers. In moments, parents will be rifling through this equipment, working with volunteers to fit their kids before this morning's Minneapolis Titans learn-to-skate program. Coleman, a former Minnesota State University-Mankato forward, is soon joined by her loquacious boss, Jon Cherney, executive director of the Herb Brooks Foundation. 
"I have a storage container filled up with some really good skates, really good helmets, really good hockey sticks," Cherney says, electrified. "We take that out of the equation for somebody to get interested in the game."
Named for the vaunted Olympic hockey coach, Herb Brooks works to fulfill the late Saint Paulite's vision to "grow the game" of hockey by lowering the cost of playing. Hockey is a highly exclusive sport, requiring specialized and expensive gear. A 2016 survey by Utah State University found that the average hockey family tallies $7,013 in annual expenses, and the National Sporting Goods Association determined that families of youth hockey players had a median household income of $82,000—$31,000 above the national average. 
Herb Brooks overcomes these barriers with a mix of free clinics and scholarships, and by providing no-cost gear to organizations like the City of Lakes Youth Organization, DinoMights, and the Titans. Herb Brooks' flagship program is Rink Rats, an indoor/outdoor series that introduces groups of 50 mainly urban kids to hockey with the intention of making them fall in love with the game.
"Kids may be a little skittish getting on the ice, but you put a helmet on, you put some pants on, put some gloves on, and if they fall down, they get right back up," Cherney says. "You can see the joy on their faces. There's a lot of smiling kids; there's a lot of smiling parents."
One of those parents this morning is Joel Svenby, a brawny sheriff's deputy whose six-year-old daughter is taking the ice for the first time. Svenby works with the Citizen Law Enforcement Academy, a community outreach branch of the Hennepin County Sheriff's Department. He's here to help kids get their feet under them and get parents comfortable with the dressing process, but when he's guiding his daughter in her tie-dye puffer jacket through the doors as she grasps for the boards to balance, he's just another dad enjoying a midwestern rite of passage.
"It's Minnesota, man," he says, a smile obscured by a black gaiter. "We gotta keep it goin'."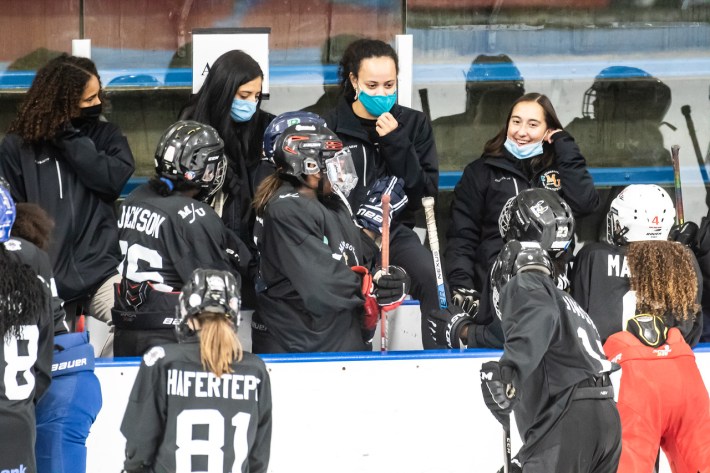 An unbounded spirit
When George Floyd was murdered in May 2020, the NHL was in the middle of a COVID-induced pause. Gameplay resumed not long after Breonna Taylor was killed by police in Kentucky, with some arenas flashing massive "END RACISM" graphics across the Jumbotron. Before an August game between the Chicago Blackhawks and Edmonton Oilers, Wild defenseman Matt Dumba walked out to center ice and became the first NHL player to kneel during the national anthem.
Dumba, who is of Filipino descent, stood flanked by Black players Malcolm Subban and Darnell Nurse to announce the formation of the Hockey Diversity Alliance, a joint effort between the NHL and NHLPA to "eradicate systemic racism and intolerance in hockey." 
The HDA, which also includes former Wild winger Chris Stewart, began as part of a confusing and nondescript body of NHL-led programs like the Executive Inclusion Council, Player Inclusion Committee, and Respect Hockey. A lack of racial diversity has long been identified as an existential threat to the sport. The HDA was designated to sow the ground for longterm, growth-generating equity, but two months after it was founded, the group broke from the league, saying that the NHL was only interested in "performative public relations efforts."
At the same time, Tina Kampa had started kneeling before Bemidji State games. The Colombian-born senior defenseman was the only non-white player on her team, and she knew she was taking her safety into her hands the second her knee hit the ice.
"I learned a lot about who was really there for me and who really supported me," Kampa says. Soon after, she started College Hockey for Diversity, Equity, and Inclusion, an education and advocacy group endorsed by all 11 divisions of men's and women's college hockey. Her work there led her to Meredith Lang, founder of the Hockey Niñas. 
Lang founded the Niñas, a tournament team of all-BIPOC girls, to help her daughters Mia (10) and Aubrey (12) feel more welcomed and accepted in hockey. Professional hockey is 78% white, and there are fewer than 50 Black NHL players (about 5%). Economic barriers that programs like Herb Brooks seek to eliminate affect families of color more acutely, and even with options for free equipment and ice time, BIPOC players and parents still might not be comfortable walking into an overwhelmingly white environment.
Even though she played varsity at Richfield High School, Lang knows what it looks like when a Black mother walks into a rink, and that it's enough to keep other parents from giving the sport a try. "I had to push through my own stereotype," she says. "Like, 'Oh, I don't know what I'm doing,' or 'I can't afford it.' And do I think that other Black moms would do that? I don't know. But that's why I'm here."
Together, Kampa and Lang expanded the idea of the Niñas into Minnesota Unbounded, a pair of under-10 and under-12 BIPOC teams that travel to compete in tournaments across the country, bringing with them a new representation of what a hockey player can be. Over 50 families have participated and there will soon be an under-14 club.
"Girls shouldn't have to change just because they're playing hockey because it's a white sport," says Kampa, who acts as head coach. She says the Unbounded girls—whether they're Asian, Indigenous, Black, or Latina—all feel a common discomfort in hockey. "I just want to show them that they can be exactly who they want," she sas. "Hockey, at some point in time, will hopefully get there."
When the NHL came to Target Field on January 1 for the 2022 Winter Classic, they invited Lang and Kampa to skate in the outfield with their girls, even profiling their work on NHL.com. When it came time to drop the puck, it was Mia who was skating a ceremonial State of Hockey flag to center ice.
"The NHL isn't going to go out of their way to start all these programs, but what I think they're trying to do is amplify these stories," Kampa says. "We want to be more than just words. We want to be about it. We want to be action."
Coming out on the ice
Glenn Witman makes a habit of playing lunchtime hockey. There's plenty of ice available in Denver, where he lives, and he's rarely made to feel uncomfortable for being one of the few openly gay hockey players in the locker room. But for all the good interactions he has, one bad one from four years ago still sticks with him.
Witman was almost ready to get on the ice when a 17-year-old high schooler asked around the room for an extra jersey. He'd forgotten his at home, and another player offered him a pink one. The young man turned it down. "I'm gonna look like a fuckin' fag," he said.
What he didn't know is that not only is Witman gay, he's the president of the You Can Play Project, an initiative aimed at making LGBTQ+ people feel safe and respected in sports. Witman took the ice without saying anything, but after the game, he gave the kid an earful. The teen was remorseful, saying that he just wanted to fit in, and that guys on his team always talked like that. The next time they skated together, Witman offered him some rainbow stick tape, and he took it.
"Any progress you make, it's always like a couple steps forward, a couple steps backwards," says Witman, who notes that experiences like this are becoming less frequent. "People have to want to change and be good. They have to want to create this environment."
You Can Play was formed to honor Brendan Burke, the late son of Pittsburgh Penguins executive Brian Burke. Brendan came out in a watershed 2009 ESPN article, and died just months later in a car accident. You Can Play was founded in 2012 and has been close to the NHL since, driving hockey (and other professional sports leagues) towards a welcoming environment for gay players through training, fundraisers, grants, and pride nights, where NHL players tape their sticks with the same rainbow tape Witman used as an olive branch at his lunch skate.
"If one kid sees, 'Oh, my favorite player has rainbow tape on their stick and a pride warmup jersey,' that could save a life," Witman says. "When you start having coaches, when you start having captains that can stand up and set the tone [for acceptance] in that locker room, that's when the change will happen."
Last July, Nashville Predators prospect Luke Prokop came out as the first openly gay NHL player. It's a barrier that the NFL breached with Michael Sam seven years prior, but it is no less significant for a league that has largely avoided outspoken LGBTQ+ advocacy. Local gay fans have criticized the Wild for their lack of engagement with Twin Cities Pride and poor representation at designated Hockey Is for Everyone nights. (The Wild did not respond to our requests for comment.) The team has since begun selling Pride shirts, and on March 29, they'll host their first-ever Pride Night in conjunction with You Can Play.
Part of the difficulty with including LGBTQ+ hockey organizations in such an event is that few exist in Minnesota. You Can Play operates on a national level and across all professional sports. The Twin Cities Gay Hockey Association, once a proud outlier in hockey culture, disbanded long ago. Their pucks and jerseys now sell for novelty value on eBay and Sideline Swap. Less formal groups like Minneapolis Queer Hockey Club have been holding gay-friendly skates on a recreational level, but nothing at the level of the TCGA.
Minneapolis magazine Lavender lists the Women's Hockey Association of Minnesota (WHAM) and the Minnesota Whitecaps of the Premier Hockey Assocation (formerly NWHL) as the only gay-friendly hockey organizations in Minnesota. Women's hockey has always been ahead of men's when it comes to gay acceptance, but neither of these organizations are explicitly for queer-identifying people. And though gay and transgender men are permitted to play in male rec leagues, Coon Rapids queer couple Dani and Cam Danek-Bennett felt a vacuum in the local hockey community. 
"It's time to do something about this," Cam says. "We're finding a space here that is missing for transgender and other LGBTQ+ people that just don't feel comfortable in that more traditional cisgender space."
In 2021, they attended the Friendship Series, an all-queer hockey tournament hosted by the Madison Gay Hockey Association (MGHA), and were blown away by the experience. Nothing like that existed in Minnesota. So the Danek-Bennetts decided to start the Twin Cities Queer Hockey Association (TCQHA). Their vision was cribbed from MGHA but far more expansive than what TCGA or WHAM had offered locally: They wanted to welcome queer people of all walks as well as allies—a fully integrated community. 
"All these years, we were able to figure out a space for our trans and our nonbinary players, but this whole entire time we were missing our gay hockey players," Dani says. "They shouldn't have to find the right team. They shouldn't have to be quiet in the locker room."
The gender binary is fully preserved by hockey's governing body. USA Hockey, which regulates gameplay from mites up to the Olympics and across most beer leagues, updated their guidelines to accommodate transgender and nonbinary players in 2019, though there are rigid documentation requirements, including a doctor's note for athletes doing hormone therapy. ("That has to go away," Dani remarks. "It has to.") Beyond this, recent bills introduced to the Minnesota Legislature are pushing for even stricter regulation in high school sports.
By working outside of these guidelines, TCQHA allows for a truly "come as you are" atmosphere. The Danek-Bennetts have five high-school-aged kids between them, including a gay daughter (17) who plays goalie for Coon Rapids High School. Their hope is programs like TCQHA will be the norm by the time she's old enough for adult leagues. The TCQHA plans to begin skating in February, and 194 people have already signed up to join them.
"There's a saying that, when you come out, you have to continue to come out the rest of your life," Dani says. "Feeling safe to take your shirt off if you've got scars, whatever level, especially as a transgender person, wherever you are in your transition, to feel comfortable in that space and not feel like you're going to get ostracized or picked on, that's a huge thing."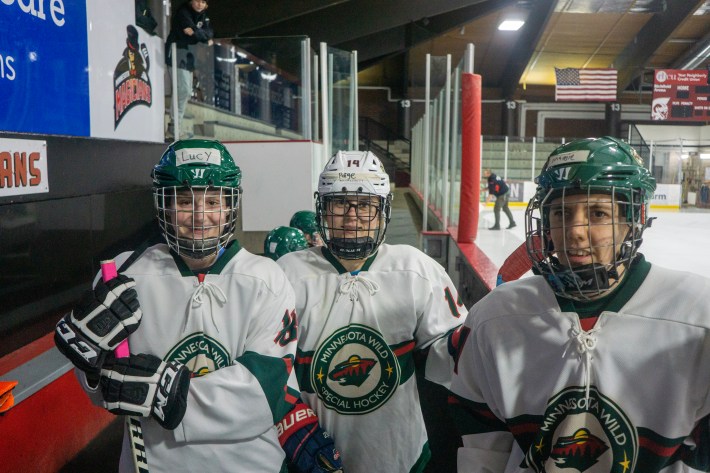 Remaking the sport
Richfield Ice Arena is thumping as the Minnesota Special Hockey players step out onto the ice. Their movement is carefree, their faces are bright and elated, and the crowd—full of parents with oversized cutouts of their kids' heads—is loud loud. 
To Thomas Schuneman, chairperson of MSH, this is what hockey is all about. The Wild's mascot Nordy drops the puck for the opening faceoff, and a proper Minnesota barnburner is underway.
"I'll meet somebody, and they have a child with a disability, and I'll say, 'Have you ever thought about them playing hockey?" Schuneman says. "I'll get a look back like, 'Are you out of your mind? I'm just trying to get through the day.'"
Schuneman's 29-year-old daughter Maggie is one of the better players on the ice; he calls her MSH's "best recruiter." She's the reason why he's been involved with the program since 2008, two years after it was founded. Schuneman grew up playing hockey around Minnesota, and so did his two sons, but when it came to Maggie, who has special needs but is a natural athlete, this was the only place that could accommodate her. So they went in full bore. Both have been with MSH since 2008.
"For many of these skaters, it's their only time in their life they're ever given a jersey," Schuneman says. "These are the kids that are always just trying to stay caught up, they're left behind. But you give them that opportunity, and they thrive. It's just fantastic."
MSH is a tentpole in Minnesota Hockey's Wild-endorsed "diversified hockey" program, which also includes Minnesota Sled Hockey Association, Minnesota Warriors, and Minnesota Wild Blind Hockey. Though these organizations are often welcomed to Hockey Is for Everyone nights alongside Herb Brooks, DinoMights, and the Whitecaps, they serve a population that, regardless of economic status, race, gender identity, or sexuality, can never fully integrate into mainstream hockey. Instead, they remake it around them.
A tall kid wearing 97—a tribute to Wild superstar Kirill Kaprizov, no doubt—cuts down ice, his knees wobbling. There is no one between him and the opposing goalie. It's about the tenth breakaway in the first half of the game, but fans are on their feet as he sails a puck through the goalie's pads.
However boundless it may seem in the sprawl of nature, hockey is not a natural phenomenon. It is a game of extraordinary privilege. But when it adapts, the joy is undiminished.
Jerard Fagerberg is a freelance beer writer and product manager in Powderhorn Park. His name is not Jared, but lotsa folks get that wrong.
Stay in touch
Sign up for our free newsletter