Events
Summer Guide 2022: Concerts, Festivals, Comedy, and More
Here's your starter kit for the season.
7:41 AM CDT on June 1, 2022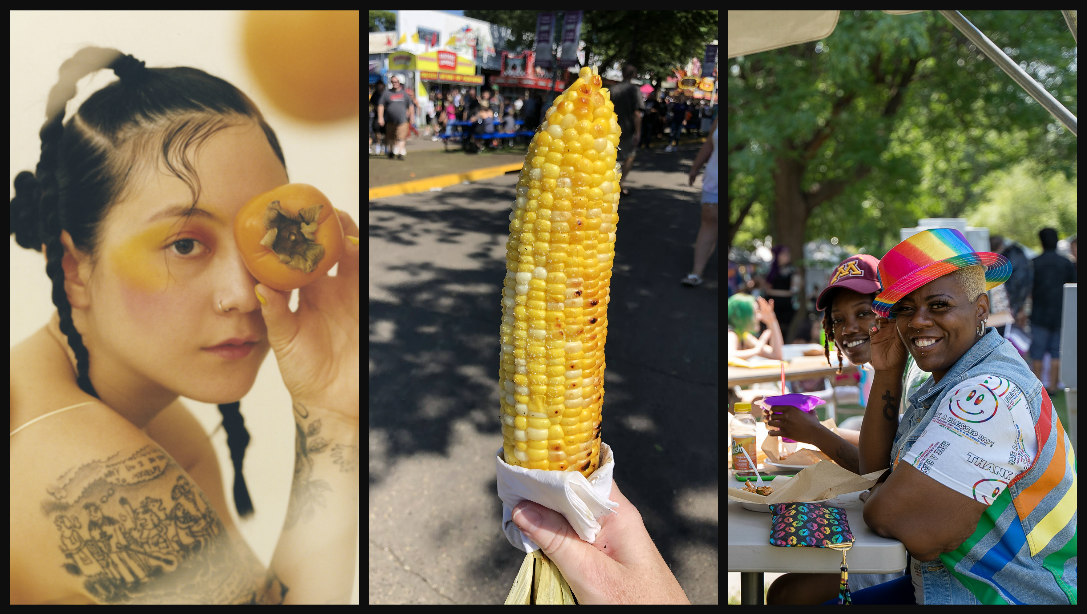 We know it's not officially summer yet, but after a gray rainy spring, we're super excited for the next season. So we're calling it summer right now anyway. Deal with it.
This is just the first installment of Racket's Summer Guide series; we hope you use this as a resource to help plan your summer, when the days are long and the weekends go fast. First up: pure entertainment. This post features some great music shows we're excited to see, the festivals we count on returning every year, and a handful of comedy shows you won't want to miss. 
Stay tuned this week and next for more Summer Guides, including special farmers' markets, bike stuff, camping info, and lots more. Happy summer, everyone! Make the most of it.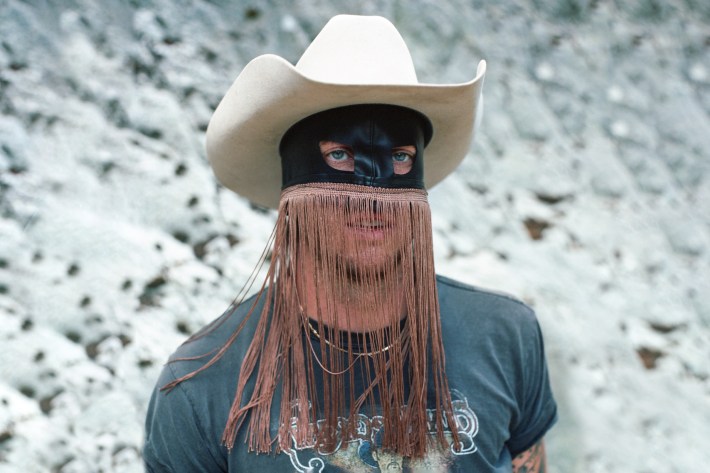 CONCERTS
Orville Peck
First Avenue
He's singing duets with Shania Twain and Trixie Mattell. He's dancin' to "Chattahoochee" with Noah Cyrus on TikTok. He's releasing Bronco, his LP follow-up to 2019's Pony, in three chapters over the course of three months. He's got Norman Reedus co-starring in his music videos. He's always, always wearing that mysterious fringed mask, singing songs in that deep baritone, and begging boys to haw when he yees. All that to say, is it any wonder First Ave. had to add a second night? Get to the gig if you know what's good for you—we've got a feeling Orville Peck won't be back at a venue this small again. With the Nude Party. 18+. $30+. 8 p.m. 701 N. First Ave., Minneapolis; find more info here. June 4-5 –Em Cassel
Haim 
Armory
For their first two releases, Haim made fun, infectious pop-rock. On their latest, the trio of L.A. sisters made their first great album. Featuring production from Vampire Weekend collaborators Rostam Batmanglij and Ariel Rechtshaid, Women in Music Pt. III grooves and simmers while still incorporating the trademark chuga-chuga-chuga guitars the group perfected way back on "The Wire." It's a thrilling exploration of genres and womanhood, one that earned top 10 placements on most prominent year-end lists. Sasami opens. All ages. $67-$77. 6:30 p.m. 500 S. Sixth St., Minneapolis; find more info here. June 6 –Jay Boller
Tune-Yards 
First Avenue
You can't be chill on a moving train. Fraught times call for a psyche-rattling soundtrack, and Sketchy, Tune-Yards most accomplished album since Whokill fluked into critical consensus a decade ago, is just that. Merill Garbus's horn arrangements and guitars and electronics clamor for space as Nate Brenner's conversational bass excuse-me-pardon-mes its way through a knottily anti-ambient groove that's personal but not private, as busy as Garbus's brain and maybe yours. On each song, verses pester along till a bubble of a chorus levitates above the roil, where phrases as suggestive as "A body knows a truth you can't hear," as simple as "Look into my eyes," even as cross-stitch meme-worthy as "If you cannot hear a woman/Then how can you write her song?" are nuanced into resonance by the dialectic of noise and tune. With Anjimile. $31/$33. 8 p.m. 701 N. First Ave., Minneapolis; find more info here. June 7 —Keith Harris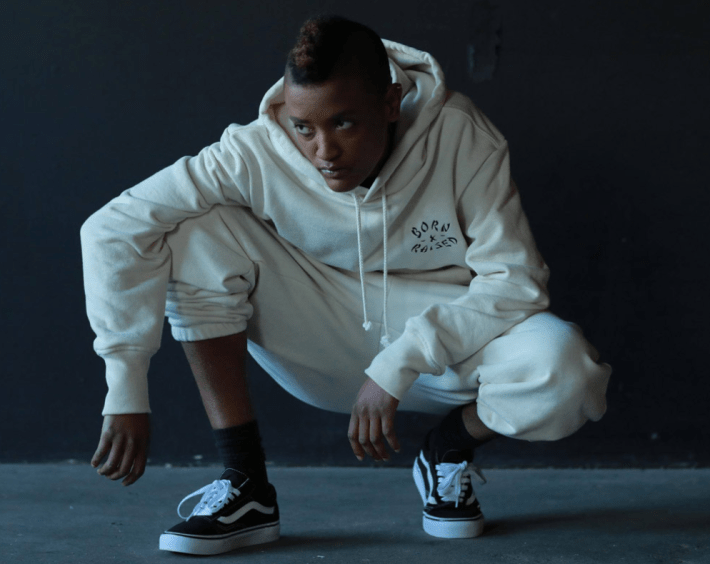 Syd
Varsity Theater
No matter how much she loves the game, every player's got to hang her cleats up sometime. So while Syd's younger fans seem a little surprised that their favorite daringly queer R&B seducer is so keen to boo up on her latest album, Broken Hearts Club… well, someday they'll be on the cusp of 30, too. Anyway, Syd the Kyd's fantasies of monogamy are good for her art, giving her an opportunity to rhyme "Tie the Knot" with (cute!) "I like you a lot," and adding depth to her flirtatiousness. She still sings like a less femme Janet or like Aaliyah with a weightier breathiness, especially when producer Rodney Jenkins pops in to anchor "Control" to a Timbaland-lite flutter. With groove a given throughout, retro sound effects include Purple Rain-era phased drums and a heroically thin guitar solo straight out of Scandal's "The Warrior." Ultimately, it's hard to say if Syd's expressing her desires or just playing a new game. Either way, she's winning. $35. 7 p.m. 1308 SE Fourth St, Minneapolis; find more info here. June 9 —Keith Harris
Rock the Garden
Walker Art Center
Back at CP, we once ranked the historical RTG lineups. How would this year's fare? Honestly not that great, but hey, who are we to quibble with a glorious summer day filled with outdoor music in the city? Plus co-headliners Sleater-Kinney are all-time indie rock greats, Low is a local institution, and among the lower-billed artists, desert-blues guitar Bombino is a particular standout. (If this reads like Nathaniel Rateliff shade, we salute your comprehension.) Also performing: Beabadoobee, DāM-FunK, and Divide & Dissolve. $84. 1 p.m. 725 Vineland Pl., Minneapolis; find more info here. June 11 –Jay Boller
Jeff Rosenstock
First Avenue
Jeff Rosentstock canceling January's NO DREAM tour date at First Ave was among the things that almost broke me this winter. But now that the daylight lasts a little longer and the seasonal thrust of my depression is ebbing, I'm willing to admit that June is actually the best time to see everyone's favorite ska-pologist. It's a show you should bike to with your friends, in cutoff shorts and sneakers. This is a show you should leave laughing, stepping into a warm night, not huddling your shoulders and hustling to the bus. It's a show meant for almost-summer, when the air is full of possibility, when it feels like you might just be able to dance and sing so loud you crush the sadness under the weight of your collective euphoria. With NNAMDÏ and Catbite. All ages. $20. 6 p.m. 701 N. First Ave., Minneapolis; find more info here. June 12 –Em Cassel
Suldaan Seeraar
Target Center
Ah, what can I say about Suldaan Seeraar? No, really—what can I say about this guy? I've honestly never heard of him before, and here he is commanding top dollar for an arena show—his only U.S. gig, and his first North American appearance ever. His videos on YouTube have millions of views and raves (mostly in Somali) and on first listen they sound intriguing: the pitch-bent synths of East African pop swaying to something of a reggae lilt. Regardless, this concert seems like a capital "e" Event, and I hope to find out more about this fella before he comes to town for Somali Independence Day weekend. DJ Flavio and DJ Challo open. $65-$150. 8 p.m. 600 N. First Ave., Minneapolis; find more info here. July 2 —Keith Harris
Trampled by Turtles and Jenny Lewis
Bayfront Festival Park
Trampled by Turtles were barely back from a self-imposed, two-year hiatus in 2018 when a coronavirus-imposed one shut down live music. The feverishly followed Duluth bluegrass stars are now back in earnest, with a loaded summer schedule that includes big music fests, Colorado's Red Rocks Amphitheater, and this homecoming show on the shore of Lake Superior. Lewis has deep family connections to Minnesota and Wisconsin, as ex-89.3 the Current writer Jay Gabler explored in 2019, and, of course, she also has the delightful locally connected line from "Heads Gonna Roll": "Took a little trip up north / In a borrowed convertible red Porsche / With a narcoleptic poet from Duluth." It's hard to overstate the top-to-bottom quality of her Rilo Kiley and solo discographies. "Actually, her band is gonna be all Minnesota guys this time around, which is cool–all friends of ours," TbT frontman Dave Simonett recently told the Current's Local Show. $39.50-$50. 6 p.m. 350 Harbor Dr., Duluth; find more info here. July 9 –Jay Boller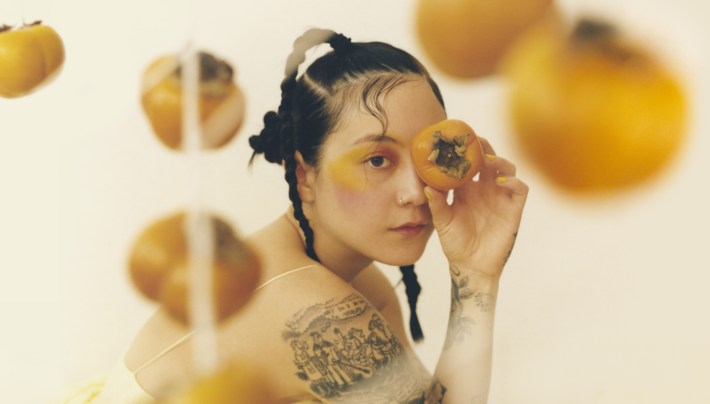 Japanese Breakfast
First Avenue
I know you can't say stuff like this anymore without people (accurately) throwing around phrases like "parasocial relationship," but I'm just so goddamned happy for Michelle Zauner. When I first saw her onstage with the short-lived and underrated Philly band Little Big League, I never could have imagined she'd be one of Time Magazine's 100 most influential people a decade later.  The Japanese Breakfast singer/guitarist/writer/sound-layer-er now has two Grammy noms for her latest, the resplendent and aptly joyful Jubilee. Not only was her first book, Crying in H Mart: A Memoir, a runaway success upon its release last year, but it's being adapted into a feature film. (Zauner is providing the soundtrack.) One day she's performing on SNL; the next she's throwing out the first pitch at the Mets/Phillies game. And the beauty—and rarity—of that success is not lost on Zauner: "How's it feel to be at the center of magic/To linger in tones and words?" she asks on Jubilee opener "Paprika." You can see her answer the question in real time on July 11. With viral tween/teen punks the Linda Lindas. 18+. $49.50. 7 p.m. 701 N. First Ave., Minneapolis; find more info here. July 11 —Em Cassel
Mitski
Surly Festival Field 
"Please don't be weird to Mitski," Racket's Keith Harris wrote in his review of her Palace Theater show earlier this year, "I want her to keep touring." We assume, then, that Racket is to thank for the reluctant star's speedy return to the Twin Cities, this time at (arguably ethically compromised) Surly Festival Field. What can we say about Mitski here that Keith didn't already, and at length, in his March review? Um… it's interesting that Mitski is following in the footsteps of a few other favorites on this very summer music list—Orville Peck, Jenny Lewis—and opening for Harry Styles's UK shows this June, isn't it? I think it is. Also, with a few months of distance from the release, Laurel Hell kind of grows on you, even if it never does seem to find its footing. Give it another shot, and get to the gig either way. For far more eloquent Mitski thoughts, please return to Keith's Palace review—thanks! With Indigo De Souza. All ages. $49.50. 5:30 p.m. 520 Malcolm Ave. SE, Minneapolis; find more info here. July 14 —Em Cassel
Burna Boy 
Armory
Cosmopolitan, urbane, and sleek, the West African club music known as Afrobeats is slowly beginning to break its own stars here on the wrong side of the Atlantic, years after its sounds were pillaged by the likes of Drake. This Nigerian star is in contention for the music's biggest international figure with his friendly rival, Wizkid. (The two now battle it out for the "Global Music" Grammys that a dying industry bestows on representatives of the rising culture that will replace it.) But Burna Boy's looking past mere "pop star" and eyeing the status of world ambassador. His latest album, Twice as Tall, starts with a Pat Boone sample (!) and enlists Afropop elder Youssou N'Dour for encouragement, then incorporates innocuous white Brits (Chris Martin), old school hip-hop (Naughty by Nature), and U.K. grime (Stormzy). It's ambitious as hell, but a little too eager to please, coming as it does from a leader of an African musical genre dominating the market on its own terms. I hope that for his upcoming album, Love, Daman, he realizes that we need him more than he needs us. All ages. $57 and up. 7:30 p.m. 500 S. Sixth St., Minneapolis; find more info here. July 22 —Keith Harris
Motion City Soundtrack
First Avenue
When we interviewed Motion City frontman Justin Pierre earlier this year, he was eager to reflectively stroke his pop-punk beard, so to speak, about being an elder statesman of a bygone scene. "We're like a mid-level nostalgic act now, for all intents and purposes… shit man, I feel grateful for being able to do this as long as I have." So are fans of the synthy locals who blew up at the height of the '00s emo boom. MCS will treat back-to-back Mainroom audiences to their 2005 sophomore album, Commit This to Memory, in its entirety. The MOOG handstands and fist-pumping that runs through "Everything Is Alright" will carry extra oomph, considering Motion City broke up from 2016 through 2019, only to shelve comeback plans as the pandemic locked things down. All Get Out and Neil Rubenstein open. All ages. $36.50-$40. 5 p.m. 701 N. First Ave., Minneapolis; find more info here. July 22-23 –Jay Boller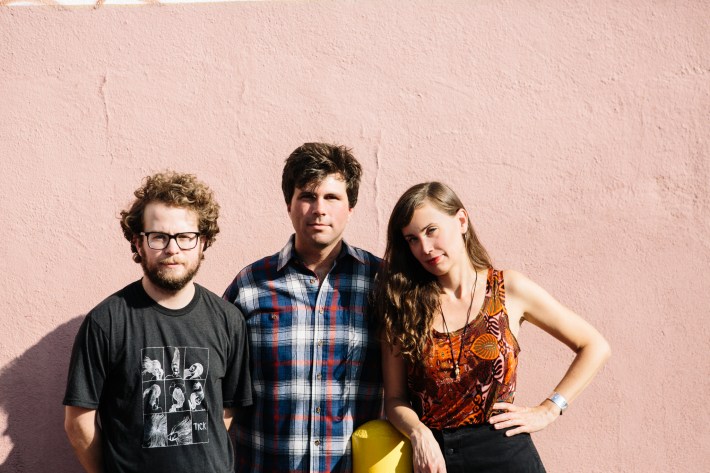 Cheekface
7th St Entry
Indie bands don't pop up with fully formed worldviews much these days, so please excuse the lyric-heavy introduction to Racket's favorite L.A. band. "It's your best life if it's the life that you're living right now." "Some personal news: Everything is OK." "I wanna overthrow the government—or at least the bad part." "I come from a long line of people/Who procreated" (but also "who were problematic"). Building off a sharp 2019 debut, Therapy Island, the 'face (as I sincerely hope no one calls them) continued on Emphatically No. to lob skewed aphorisms at everyday absurdities to make their cruelty endurable, and the music matches that chipper but wary non-pessimism, with a wiry guitar that springs from the beat at odd angles. Let me close with one more quote: "Just because it's funny doesn't make it a joke." With Bad Moves. $16/$20. 8 p.m. 701 N. First Ave., MInneapolis; find more info here. July 24 —Keith Harris
Alanis Morissette, Garbage
Xcel Energy Center
A nostalgia show, for sure, marketed as a celebration of Morissette's monster 1995 breakthrough album, Jagged Little Pill, which is now old enough to rent a car. But let me take this space to argue for the next decade of Morissette's career, where, rather than coasting on either her goofball charm or the (atypical) rage of "You Oughta Know," she emerged as a genuine eccentric. Whatever you call Supposed Former Infatuation Junkie's dense mix of Lilith Fair vocal swoops, cluttered studio-funk, and Led Zep's "Kashmir," you can't say she played it safe. If you dig, you are one of my people, and you should proceed to Under Rug Swept, maybe even So-Called Chaos. After that, uh, you're on your own, though anyone who says they're not even a little curious about her upcoming meditation album, the storm before the calm, featuring pure Alanish titles like "Purification—The Alchemical Crunch," has never fav'd a Marianne Willamson tweet. As for machine-tooled alt-pop stompers Garbage, last year's No Gods No Masters was their strongest album since the '90s, with Shirley Manson turning her "The Men Who Rule The World" and "The Creeps." Sure, you'll be there to hear the hits. But really, you-ou-ou-ou oughta know the rest. $55.50 and up. 7 p.m. 199 W Kellogg Blvd., St. Paul; find more info here. July 24 —Keith Harris
Foxing
Fine Line 
To be honest, though I enjoy Foxing's music very much, I haven't yet listened to their latest—last year's Draw Down the Moon—so as I write this blurb, I'm queuing it up on Spotify. Foxing's previous three records (The Albatross, Dealer, and the exceptional Nearer My God) each drew the St. Louis-based trio nearer and nearer to indie rock indelibility, with varying and increasing degrees of heart-rending scream-singing and exciting experimentation. On Nearer My God especially, the title track and songs like "Slapstick" seemed like the kind of anthemic crowd-pleasers you could see translating to bigger, perhaps Armory-sized stages. As for their latest… I've gotten through "737" and "Go Down Together." Not bad! Love that screamy breakdown at the end of the former; the latter's much dancier and much less Foxing-y than I expected. The half of "Beacons" I heard sort of feels like it's giving Coldplay? So… that's nice for Coldplay fans. With Greet Death and Home Is Where. All ages. $20-$22.  6 p.m. 318 N. First Ave., Minneapolis; find more info here. July 27 —Em Cassel
Brandi Carlile 
Xcel Energy Center
It's taken a while, but Carlile has finally broken her way into the big rooms—Grammys'll do that for ya. Of course, the rural Washington-born folk-country songwriter always had the big tunes, big voice, and big feelings to reach the upper decks, while her audiences have remained as fervent as a cult even as its numbers grew. And she's still courting listeners: Her latest, In These Silent Days, has moments where it seems like she's gunning for Americana's answer to Dianne Warren, particularly on the lead single "Right on Time." Elsewhere that hint of a drawl still keeps her poppiest moves feel downhome, giving life to lines like "You're a stone wall/In a world full of rubber bands." Carlile's excesses are the essence of her charm. She'll be flanked as ever by Phil and Tim Hanseroth, the twin brothers, bandmates, and writing partners who've been at her side from the start. With Lake Street Dive and Celisse. $40.50. 6:30 p.m. 199 W Kellogg Blvd., St Paul; find more info here. July 30 —Keith Harris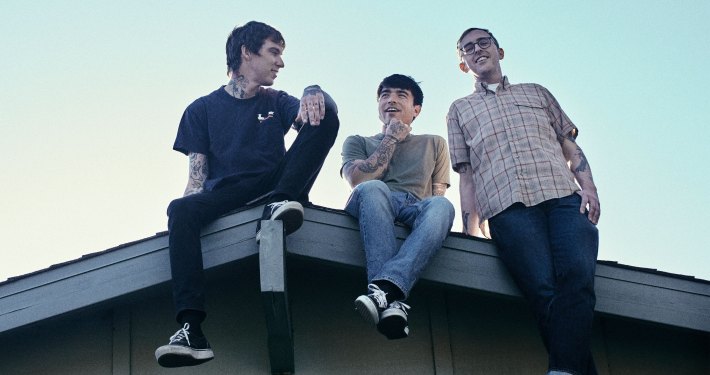 Joyce Manor
First Avenue
Lord, what we wouldn't do to return to the relative halcyon days of March 2020, when presidential hopeful Bernie Sanders gruffly thanked "The Joyce Manor Band" for their performance at a campaign event in San Jose. One pandemic and Biden victory later, at least we can still capture some of the hopeful, youthful, joyful feeling of that time thanks to the Cali three-piece's fast, free, fun pop-punk. Their forthcoming LP 40 oz. To Fresno seems like it'll stay true to the cleverness and brevity the band have honed since 2011's self-titled LP, whose 10 tracks blasted by in under 19 minutes. Just take the first two singles—"Gotta Let it Go" and Don't Try"—neither of which cracks the two-minute mark. With Citizen, Prince Daddy & The Hyena, and Phony. 18+. $20-$30. 7 p.m. 701 N. First Ave., Minneapolis; find more info here. August 5 —Em Cassel
The Wild Hearts Tour
Surly Festival Field
Sad girls unite outside the brewery! A heavily vibing indie-rock Cerberus—Sharon Van Etten, Angel Olsen, and Julien Baker—has loosely formed for the Wild Hearts Tour, though it's unclear if we're dealing with a supergroup of simply a triple bill. No recording plans have been announced, so likely the latter. And that's just fine, considering each celebrated artist has spent the past decade leveling up record after record. Van Etten "is an institution now," if we're to believe Pitchfork; Olsen just dropped "the album she's been waiting all her life to make," to hear Rolling Stone tell it; and Baker, who's no stranger to supergroups, well, she's "still learning," according to a RS profile that's much more glowing than the headline suggests. 18+. $50-$55. 5 p.m. 520 Malcolm Ave. SE, Minneapolis; find more info here. August 9 –Jay Boller
Built to Spill
First Avenue
I had a good tweet last fall—"an emo sandwich shop called BLT to spill"—which inspired wonderful replies including "Carry The Gyro" and "There's Nothing Wrong with Lunch." And then, off Twitter, fellow Racket music editor Keith Harris chastised me, saying he would not call them an emo band. But… they kind of are, aren't they? [Ed. note: No, they aren't.] Maybe it has something to do with the era in which you were raised, but songs like "Carry the Zero" and "You Were Right" certainly sound like a lot of the emo I grew up listening to—a bit twangier and less angry, perhaps, but no less angsty or despairing, with references to manic depression and math. This could even be part of Built to Spill's enduring charm: that regardless of the year in which they were released, the music seems both timeless and perfectly suited for whatever time you're in. The songs are malleable that way, they'll form to whatever it is your reference point is, they—ope, just saw Keith's icon pop up in the Google doc, gotta go! Please leave your best Built to Spill sandwich puns in the comments. With Prism Bitch and Papas. 18+. $30-$32. 7 p.m. 701 N. First Ave., Minneapolis; find more info here. August 16 —Em Cassel
Kehlani, Rico Nasty
Armory 
For this fan, Kehlani has yet to top SweetSexySavage, her 2017 debut album, but that's not to say the Oakland singer/songwriter/sorta-rapper has been slacking since that classic. If anything, Kehlani's art has grown more subtle: On their latest, Blue Water Road, Kehlani claims to be "workin' on bein' softer" even when they mack on a stripper and instruct her to "call me daddy in front of all your bitches in the lobby." The way they harmonize with themselves on "Everything" makes the hardly original sentiment "you are everything to me" newly seductive, and the way she toys over the title of "Wonderin/Wanderin" is a pure pleasure. Few rappers enjoy making a big noise as purely as Rico Nasty does; on her latest singles she's teaming up with similarly destructive femmes Flo Milli and Bktherula, while on "Intrusive" she wilds out over some crazy-ass MTV Amp-style beats. All ages. $52 and up. 7:30 p.m. 500 S. Sixth St., Minneapolis; find more info here. August 19 —Keith Harris
Kendrick Lamar 
Xcel Energy Center
Yes, yes, "heavy is the head" and all that—we know, Kendrick. Those of us who don't routinely get called the greatest rapper alive will have trouble relating to much of the pain and confusion K. Dot expresses on his latest, Mr. Morale and the Big Steppers. Like a lot of big shots, he worries about the fates, feelings, and reputations of other big shots too much. He gets tripped up on the potentially ground-breaking trans-sympathetic "Auntie Diaries" by stupidly thinking f-slurs add depth and color and accuracy to his verses. And unlike the jazz-hop experimentalism of To Pimp a Butterfly or the hard directness of Damn, the beats here won't save Kendrick from himself. But! (You knew that was coming.) That just means his self-questioning stands out as more raw than ever, and, musically, his various tones of voice and cadence interact to create a complicated blur of perspectives. There are struggles with his masculinity, examinations of how pain is passed on through generations of Black families, and a vocal feature from Portishead's Beth Gibbons. A hip-hop culture hero sounding less fucked up than this in 2022 would sound like a lie. Even when he puzzles needlessly over "cancel culture," he doesn't sound pigheaded, just confused. Who isn't these days? With Baby Keem and Tanna Leone. $55 and up. 7:30 p.m. 199 W. Kellogg Blvd., St. Paul; find more info here. August 20 —Keith Harris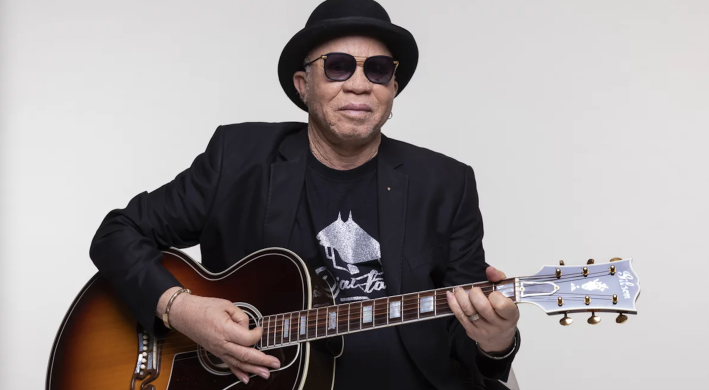 Salif Keita 
Dakota Jazz Club
As "golden-voiced" as his sobriquet advertises, Keita arose in the late '70s as one of West African pop's two great modernists. Both Keita in Mali and his Senegalese counterpart Youssou N'Dour remade their scene's music in their image; both partnered with white musicians to record partly successful rock fusions in the '80s. But where N'Dour has recorded prolifically in the years since with a broad range of collaborators, even opening his own studio, Keita's output has been sparse. His 2019 album, Un Autre Blanc, was his first in nearly a decade. And since Keita doesn't make it to the U.S. much—this will be his first Minneapolis show since 2017—classic Afropop connoisseurs might even undervalue him a smidgen now. That'd be silly of them. His is a voice worth luxuriating in, and since he'll be 73 by the time he makes it to town, probably worth taking the opportunity now. $35-$45. 9 p.m. 1010 Nicollet Mall, Minneapolis; find more info here. September 3 —Keith Harris
The Shins
Orpheum Theatre 
If they're capable of changing Natalie Portman's life, who are you to resist? Since 2012's Port of Morrow, the Shins have more or less been a solo vehicle for frontman James Mercer, who'll be digging deep into the classic catalog by playing the band's beloved 2001 debut, Oh, Inverted World, from front-to-back. Ya know, the one with "New Slang" that wore out your iPod wheel in high school. "Everything was so tongue-in-cheek in the indie world of the '90s," Mercer said, reflecting on the 21-year-old LP. "I remember feeling a longing for some sort of romance in music again, something earnest, like a real attempt at some emotional language." My recent relisten confirms: World—the adventurous lo-fi Shins scaffolding that Mercer would later build out but rarely improve upon—still slaps. Portland, Oregon, band Joseph opens. $39.50-$104.50. 8 p.m. 910 Hennepin Ave., Minneapolis; find more info here. September 10 –Jay Boller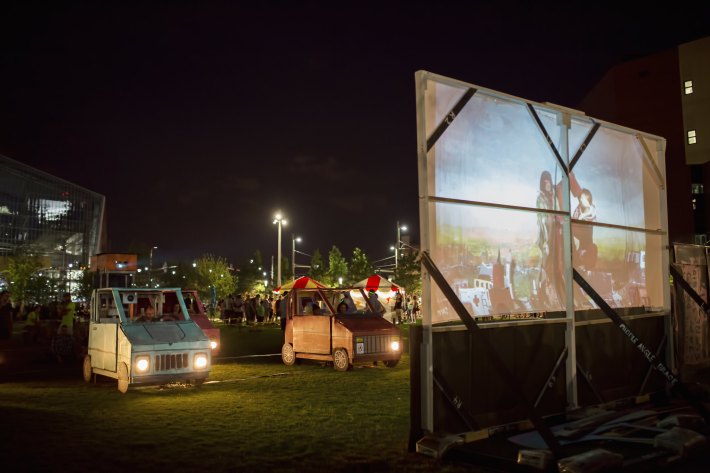 FESTIVALS
Northern Spark 2022
University Avenue, St. Paul 
Pour yourself another cup of coffee, because this festival goes all night. This year the fun is in St. Paul, namely in five venues: Victoria Theater Arts Center, Rondo Community Library, Springboard for the Arts, Minnesota Museum of American Art, and Raspberry Island. At each spot you'll find a variety of art installations, performances, and other things to explore. A few options: Rooted in Rondo, a neighborhood docu-series and podcast made by kids and teens; the Drive-In Movie Extravaganza, where you'll watch puppet shows while sitting in a cardboard art car; and screenprint patch making with Grupo Soap del Corazón. The closing party on Raspberry Island will offer paintings, tunes, and light installations. Find more info at northernspark.org. 9 p.m. to 2 a.m.; closing event on Raspberry Island 2-5:30 a.m. Saturday. Free. June 11 –Jessica Armbruster
Love's Labor's Lost
Various Locations
Classical Actor's Ensemble is back in the parks this summer to bring free theater to the masses. This year's production is Shakespeare's Love's Labor's Lost, a comedy poking fun at masculine desire while celebrating feminine intelligence. The plot: The young King of Navarre forces he and his friends to swear off "worldly pleasures" for three years of fasting and academia. His virtuous goal gets completely fucked, however, when a French princess and her crew show up in town to talk diplomacy. Horniness ensues, and—spoiler alert!—wins. Find times and locations at classicalactorsensemble.org. June 17-July 17 –Jessica Armbruster
Stone Arch Bridge Festival
Stone Arch Bridge
Father's Day weekend means the return of the Stone Arch Bridge Festival, a multi-day event featuring art, food, fashion, and music. Over 200 artists will come together to showcase their creations and wares. Fun markets to explore include the Black Market, featuring Black-owned businesses; the Vintage and Vinyl Market, where you'll find retro tunes and duds; and the Culinary Arts Market, where local makers and artisans serve up Minnesota honey, cured meats, coffee, hot sauces, and more. The car show features vintage cars, modded oddities, and other colorful modes of transportation. Live music on two stages will offer sets from Matt Jennings, Mary Bue, the Violet Nines, Katy Vernon, and more. For more info, visit stonearchbridgefestival.com. 10 a.m. to 7 p.m. Saturday; 10 a.m. to 5 p.m. Sunday. Free. 212 SE Second Ave., Minneapolis. June 18-19 –Jessica Armbruster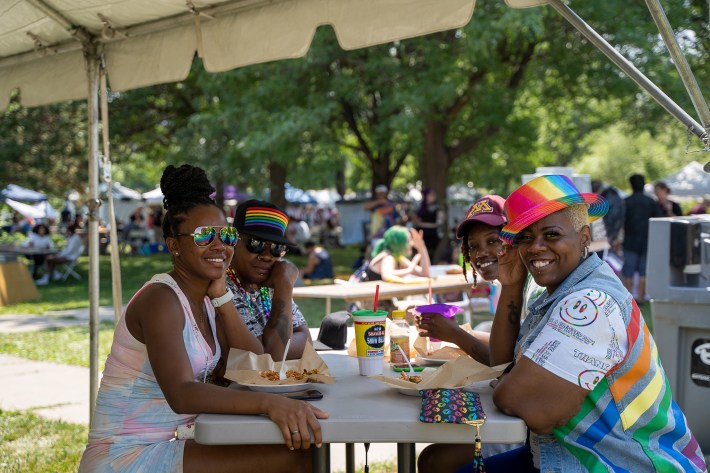 50th Annual Twin Cities Pride
Loring Park
Twin Cities Pride is a little bit of everything. There's a family-friendly picnic. There's a gallery show. There's a 5K. There's music. There's a parade. There's beer. Just like the local LGBTQIA community there are a lot of different people involved and hence a lot is going on. But the big ol' festival in Loring Park this weekend serves as an excellent starting point. Here you'll find food trucks, community resources, performances, a beer garden, and more. Four stages will offer entertainment; the lineup includes Tina and the B Sides, Queer Circus, the von Tramps, theyself, and others. Meanwhile, over at the Armory is '10s pop icon Carly Rae Jepsen. Sunday's parade goes along Hennepin from Seventh to Spruce, ending in the park. For a full schedule of happenings, visit www.tcpride.org. Free. 10 a.m. to 6 p.m. Saturday and Sunday. 1382 Willow St., Minneapolis. June 25-26 –Jessica Armbruster
Minneapolis Aquatennial
Various locations
Minneapolis's water is awesome, right? I'm talking about the rivers and lakes we're known for. That is the gist of the Aquatennial, an annual fest that is more of a cluster of events rather than one central celebration. Things kick off on Wednesday with the Torchlight Parade, which runs from 12th to Fourth Street on Nicollet, followed by a screening of Black Panther in the Commons area in front of U.S. Bank Stadium. Scheduled fun includes live music each night, the return of the Twin Cities River Rats water ski show, yoga sessions, open house at Upper St. Anthony Falls Lock and Dam, Twin Cities Carib Fest, and a fireworks show on West River Parkway. For a complete schedule, check out aquatennial.com. July 20-23 –Jessica Armbruster
The Magic Flute: A Pickup Truck Opera
Various Locations
For the past 14 years, Mixed Precipitation has brought accessible opera shows to parks, gardens, and wineries throughout the metro and beyond. They used to go by "A Picnic Operetta," but have rechristened themselves "A Pickup Truck Opera" as a nod to the 2011 Ford Ranger Pickup that serves as their ride and part of their stage. This year, they'll be presenting their take on The Magic Flute, Mozart's last production before he kicked it. The (modernized) plot follows a few young professionals facing burnout in their bullshit jobs, and explores the principles of Freemasonry. (Mozart was in the illuminati, y'all!) In addition to 18th century bangers, expect a few hits from Deee-Lite and Bjork. Make reservations at mixedprecipitation.org. $10-$20 suggested donation. July 31-September 11 –Jessica Armbruster
Fringe Festival
Various Locations
Every summer, the Twin Cities hosts one of the most epic theater festivals in the country. Over 100 companies, troupes, and one-man shows pop up on a variety of stages for 10 days of performance. The content varies per year, and there's no theme, so pick your genre, mood or curiosity in the moment. Want a romantic comedy? Looking for something queer and super fun? What about an historical drama? A Middle Eastern musical? How about an experimental puppet show? Yeah, you'll probably find all that here. Productions are short and sweet, lasting about an hour, so if you end up at a dud you won't have to plan your escape at intermission. Plan your Fringe by checking out the schedule at www.fringefestival.org. August 4-14 –Jessica Armbruster
CONvergence
Hyatt Regency Hotel
Nothing like an epic nerd party to help you make the most of every minute of your weekend. Like any good con, this event is stacked. There will be an artist alley where you can support creative ventures, there will be a merch mart where you can support… merchandise. There will be gaming, whether you prefer board games or video games. There will be TV marathons and movie screenings. There will be panel talks, meetups, and hands-on crafting sessions. Cosplay will abound here, of course, and room parties will keep things going so you'll never have to sleep. Check www.convergence-con.org for tickets and a complete schedule. $25-$85. 1300 Nicollet Mall, Minneapolis. August 11-14 –Jessica Armbruster
Minnesota State Fair
Minnesota State Fairgrounds
Love it or hate it, the Minnesota State Fair is a pretty big deal here. At Racket, we're all lovers, and we've got plenty of reasons why you should love it, too. The food is epic, whether you want to go for classic eats like fried cheese curds, foodie finds like ahi tuna bowls, miscellaneous meats on sticks, healthy eats (yes, they exist!), or the truly weird. There will be baby animals and giant beasts. Sometimes they get dressed up real fancy (hey there, llama people). There will be a variety of rides, from the thrilling (and practical!) sky rides to the joyfully silly giant slide to disorientingly spinny offerings in the Midway. Free music includes Caitlyn Smith, Dire Straits Legacy, The Family Stone, The Jayhawks, Durry, and Gully Boys. The Grandstand features the kind of nostalgia shows you want to see after a day in the sun eating fried cheese: Bush and Alice in Chains, Iggy Azalea and Pitbull, Diana Ross, Counting Crows and the Wallflowers, and, uh, Portugal.The Man. Don't forget to wander through some buildings. The Fine Creative Activities building offers a variety of wonderful (and sometimes very weird!) offerings, as does the Ag-Hort Building and Pet Pavilion. Find more info at mnstatefair.org. $15-$17. Daily gate hours are 7 a.m. to 11 p.m.; 7 a.m. to 9 p.m. Labor Day. 1265 Snelling Ave. N., St. Paul; 651-288-4400. August 25-September 5 –Jessica Armbruster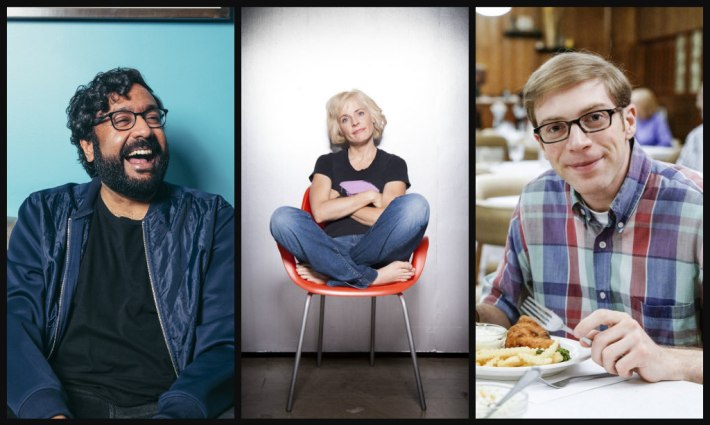 COMEDY
Nick Swardson
Mystic Lake Casino
Love him or hate him, the frequent Adam Sandler collaborator might belong on the Mount Yuksmore of Minnesota comedy, at least in terms of success. $39-$89. 8 p.m. Fri.; 9 p.m. Sat. 2400 Mystic Lake Blvd. NW, Prior Lake; find more info here. June 3-4 –Jay Boller
Bill Maher
State Theatre
I am the rare individual who tortured themselves by listening to the entirerty of Maher's Club Random podcast interview with Bella Thorne. Why? I'm a true sicko! Maher's suffocatingly smug, throwback '80s club comic style isn't for everyone, myself included, but he's a big name and we wanted a comprehensive list. $83-$139. 8 p.m. 805 Hennepin Ave., Minneapolis; find more info here. June 4 –Jay Boller
Steve-O 
The Woman's Club
Hear the now-sober Jackass star re-live a lifetime of nut crushings, flesh piercings, and alligator baitings at, hilariously, the classy Woman's Club, as part of his Bucket List Tour. Promoters warn: "Not for kids, or the faint of heart." Along with Maria Bamford the following week, Steve-O is part of the loosely organized Minnesota Comedy Fest. $40-$50. 6 p.m. 410 Oak Grove St., Minneapolis; find more info here. June 15 –Jay Boller
Hari Kondabolu
Cedar Cultural Center
The politically charged, mango-loving Problem With Apu creator joins locally launched ex-Tonight Show writer Chloe Radcliffe. All ages. $25. 7 p.m. $25. 416 Cedar Ave., Minneapolis; find more info here. June 18 –Jay Boller
Maria Bamford 
Pantages Theatre
We love Maria, and Maria loves Minnesota. She's simply the funniest. $35-$45. 7 p.m. 710 Hennepin Ave., Minneapolis; find more info here. June 19 –Jay Boller
Chris Rock 
Mystic Lake Casino
Does this recent slapping victim belong on the Mount Yuksmore of comedy alongside Carlin, Pryor, and Bruce? A convincing case could be made! $99-$250. 8 p.m. 2400 Mystic Lake Blvd. NW, Prior Lake; find more info here. June 24 –Jay Boller
Hannah Gadsby 
Pantages Theatre
Twin Citians must've really loved Gadsby's breakthrough 2017 special Nanette, since its follow-up, Body of Work, demanded three consecutive nights at the Pantages. $39.75-$99.75. 7 p.m. 710 Hennepin Ave., Minneapolis; find more info here. July 15-17 –Jay Boller
Tim Heidecker Live!
Fitzgerald Theater
The endlessly funny Tim & Eric Awesome Show! co-star is a legit great singer-songwriter, and these live shows will see him perform one half as his hack, Bill Maher-ish standup caricature, one half with a full band singing his often serious songs. All ages. $39-$194. 6 p.m. 10 E. Exchange St., St. Paul; find more info here. July 20 –Jay Boller
Weird Al 
State Theatre
Don't like Weird Al? Take a hike! The Unfortunate Return of the Ridiculously Self-Indulgent, Ill-Advised Vanity Tour will see Al performing more setlists of deep cuts. Emo Phillips opens. $59-$69. 7 p.m. 805 Hennepin Ave., Minneapolis; find more info here. July 24 –Jay Boller
Comedy Bang! Bang! Live
State Theatre
Scott Aukerman's manic improv playhouse is still funny after all these years. Great guests tend to help, and that's exactly what we'll have at the State with fan-fave Paul F. Tompkins and TBA guests billed as the "CBB All-Stars." $39-$109. 7 p.m. 805 Hennepin Ave., Minneapolis; find more info here. August 1 –Jay Boller
Joe Pera 
Varsity Theater
'Round these parts? We're big fans of Pera, star of the feel-good TV show every Minnesotan should be watching. $35. 6 p.m. 308 SE Fourth St., Minneapolis; find more info here. August 7 –Jay Boller
Kevin Hart
Target Center 
Hart has arguably been the biggest name in standup for over a decade now. As such, he's the only name on this list headlining a sports arena. "New hour of material, new energy, new ways, new love, just embracing the new," the pint-sized superstar says of his current Reality Check Tour. $45-$396. 7 p.m. 600 N. First Ave., Minneapolis; find more info here. August 26 –Jay Boller
Amy Schumer 
Northrup 
The Emmy/Peabody-winning star of Trainwreck and Inside Amy Schumer returns to standup with her Whore Tour. $59.50-$129.50 7 p.m. 84 Church St. SE., Minneapolis; find more info here. August 26 –Jay Boller
Jim Gaffigan
State Fair Grandstand
We're heard of Pronto Pups at the fair… but Hot Pockets!? In any case, Gaffigan, the rare "clean comic" with sky-high peer respect, should be a hoot when he brings his "Fun Tour" to the Grandstand. $39-$94. 7 p.m. 1265 Snelling Ave., St Paul; find more info here. August 30 –Jay Boller
Stay in touch
Sign up for our free newsletter