Culture
'I Didn't Want to Do Anything Else': A Conversation with Metro Transit's Longest-Serving Bus Driver
Melanie Benson just celebrated 47 years behind the wheel of the bus. She still loves the job, the only one she has ever wanted.
3:14 PM CDT on October 19, 2023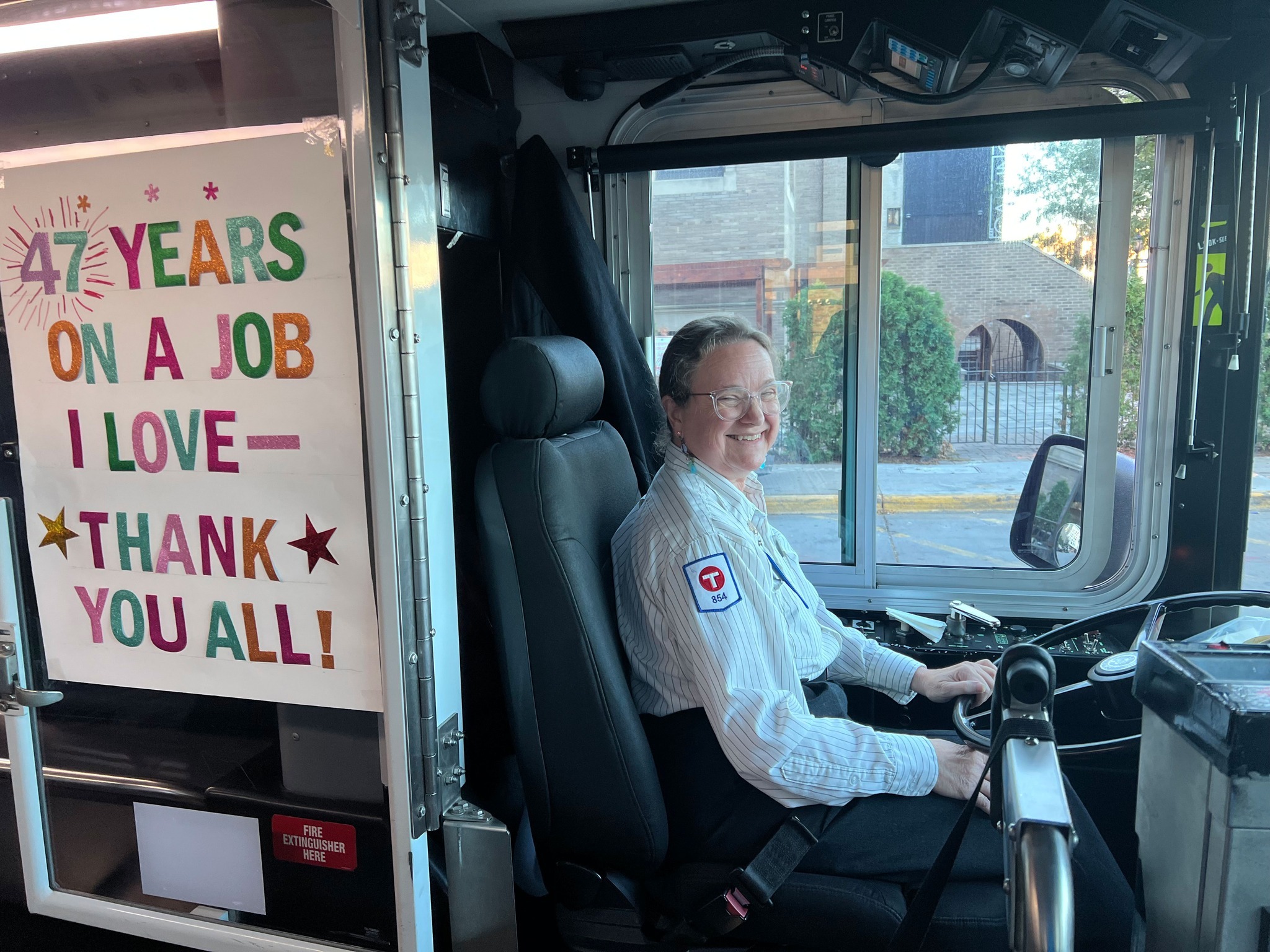 Melanie Benson left her hometown of St. Peter, Minnesota, after graduating high school, in part, to avoid the family tradition of attending Gustavus Adolphus College. (She didn't want to be mistaken for her older sister.) In 1972, the freshman arrived on Macalester College's St. Paul campus. By 19, Melanie had developed a remarkable sense of clarity and purpose about her future: She was going to be a bus driver, and nothing was going to stop her.
"I took the bus everywhere I went," she tells Racket today. "I appreciated it, and I considered it kind of my savior."
Months after graduation, on October 11, 1976, Melanie secured a job with Metro Transit, which was then known as MTC, for $5.25 per hour. She never looked back, except into those giant bus mirrors, for a remarkable 47 years and counting as of this month. It's believed she's about to eke past a former co-worker, 47.5-year vet Martin Ruter, as the longest-tenured driver in the agency's 56-year history.
We caught up with Melanie by phone to hear just a sliver of the stories, experiences, and lessons she has acquired while getting Twin Citians around for almost five decades.
On scoring her job with the bus company...
I just keep on going in every few weeks and saying, "I'd like to fill out an application." And they'd say, "Well, we're not taking applications." So finally one day, they said, "Well, here's an application…" I wanted to say, "That's not what you're supposed to say!" So I filled it out, interviewed with an older guy, and part of the interview process was a psychological test or something… just kind of, "How crazy are you?" [Laughs.]
On training...
I had no idea what else I was going to do; I didn't want to do anything else. We started training, and I don't think that I've forgotten much of it, certainly, in 47 years. I always tell people, you know, it seems like two days ago. I knew nothing about driving something that big because I didn't even have a car. I didn't get a car until I was 39 or 40 or something; I just took the bus everywhere I went. If I needed to go out of town, I'd rent a car.
On whether she was daunted by driving the bus...
No, because I wasn't used to anything smaller. I mean, what I was daunted by was when I went back to St. Peter and my dad had this 1967 Cougar. The mirrors were so small, the steering wheel was so small… everything was so small!
On her first route...
I was on the "extra board," which is when you sign up for whatever route happens to come your way, and then you drive something else the next day. I don't remember what my first route was; I drove a lot of routes before I settled in on the 23—the 2, the 4, the 6, the 9, the 17, the 18, the 21—ya know a bunch of those lower numbers. The 21 was interesting—still is! Some people just love the 21, and others don't understand it.
On starting out...
There wasn't any question I wanted to be a bus driver. Absolutely, it felt exactly like doing what I wanted to do. You know, I had my learning curve. I was driving a route called the 35, and one time there was one of the roughest, horrible snowstorms. I was driving out to Apple Valley on narrow roads… it wasn't premium. I had a decent number of people on the bus, and the defroster wasn't working very well, so one guy just took a towel and wiped the windshield as I drove along. I was getting a little nervous, because it was snowing really hard and getting slippery. I had this feeling of fear. And then I looked in the mirror, and there were people doing crossword puzzles, and people having conversations, and people reading the paper, you know, and I thought: If they trust me, I trust me. I got them all home safely and got back to the garage—it took us an hour and half to get across the Minnesota River! It was a big lesson for me. I don't think I was ever that scared again.
On the best parts of the job...
Definitely the passengers. I've gotten to know some amazing people on all of the bus routes, but mainly on the 23, which is where I've been for 25 years. There are some incredible people out there. I rarely ask people what they do for a living, I just let them tell me. There are so many instances of small-world stuff, passengers recognizing each other from 10 years ago. I really love the folks I drive for. The other thing I love is being a big bus! I love driving a big bus because I do it well, I know how to operate it, and I'm bigger than almost everybody on the road. Maybe not those car haulers, they're big. And sometimes the trash trucks.
On accidents...
I've had my share of accidents here and there... one just the other day as a matter of fact. I was at the Uptown Transit Station, and it's really tight quarters over there. I was squeezing past this articulated bus on the 21 line, ya know the long ones, so I cleared it and I was so happy! I went to park the bus, was just so excited, and I totally smashed the guy's mirror. It made a very satisfying sound [laughs]. And that's OK, it'll go on my record but it's not going to hurt me. I've had maybe six or seven accidents over the years—maybe eight or 10 [laughs]. You know, if you're not held responsible, then it doesn't count against your record.
On what has changed most about the job...
When I started, we learned every route in Minneapolis and St. Paul. And with that knowledge, we could help other people find where they were going, because we have that breadth of knowledge. Now, they only teach people the work that they're going to be doing immediately. And I don't think it's a fair shake for the new people, because they can't really tell anybody much of anything. They don't know, they never trained on it. Training has changed in many ways, in some good ways. There's the mentorship program now, but now they're having trouble hiring and holding onto divers, and I think some of that is people not feeling like they're getting all the information they need to do a good job.
On what has changed about the fabric of the Twin Cities since the 1970s...
It is really hard to discuss without discussing the effects of the murder of George Floyd and the ensuing changes. And the growth of the number of unhoused people who have no place to live.
It's miserable for the people who have nowhere to go. And it's very painful for those of us who see that every day, and really can't do a whole lot about it. But it hurts us. They had to close the waiting area at the Uptown Transit Station because of the chaos that was going on there, and that's hard. People need some place to stay warm, and they'll get on the bus, and they'll ride for a few hours. But sometimes there are bad behavior problems, on the light rail and on the bus… I mean, I'll let someone ride for six hours if they need to get a good day or night's sleep. They're grateful when they get off. But not everybody can do that. Apparently nobody knows the answer, without putting money into it, without building houses. It's so hard to see one person limping more and more each day as his teeth get worse and worse. It's hard to see a woman in an encampment on the sidewalk at the corner of Lagoon & Hennepin.
On the George Floyd front, there's a very big detour around 38th & Chicago. City busses can't go through there because of the people who've been taking care of the area. So we make this huge U around the intersection; I consider it an inconvenience. I don't know what the answer is to that. I keep in touch about what's going on through passengers who go to the community meetings, but it's so tricky.
And then there's the immense amount of construction going on in the streets. Uptown, elsewhere, you name it. It puts us behind schedule, increases our stress. You never know when the next street is going close.
On how much longer she has before retirement...
I absolutely still love the job. I'd like to go to 50 years. If my body hangs in there. Because I do get tired sometimes. It's not so bad; now that I have high seniority I can pick runs that have breaks at the end of the lines. I'm used to it. If not that, then maybe 48 and a half—that's a version of my badge number.
On why public transit matters...
Because it's affordable. Because it's a way of meeting people. Because it's easier on the environment than so many other things. And people can get where they need to go without the cost of a vehicle. I mean, my gosh, cars and trucks are expensive, especially these days. If you have money, driving a car or a truck or whatever will get you where you're going faster. If you don't have money, you can still get there—it'll just take you a little longer on a bus. And it's just a social atmosphere. You're not sitting alone in a car staring out the windshield. You're with people. You're seeing people you've known for years, or maybe someone you just met. It has always felt better, to me, to feel that social character. It's a wonderful thing. I wrote up some of the stories I've experienced on the bus. I haven't done anything definite with it yet, but I have a collection of stories, just of my favorite passengers, ya know, the fun things. I think I called it Magic On 38th Street: The World On the Bus Gets Smaller and Smaller. Because it does, it just does.
Stay in touch
Sign up for our free newsletter