Arts
Meet the Tattoo Artist: Ashley Dahl of Black Sheep Tattoo and Art Collective
This St. Paul artist loves lady faces, skulls, and flowers, and chooses colors carefully.
9:17 AM CDT on July 28, 2022
Welcome to Meet the Tattoo Artist, a series where we aim to showcase a variety of talented Twin Cities tattoo artists who are creating spectacular art on peoples' bodies in Minnesota. This week: Ashley Dahl, co-owner of Black Sheep in St. Paul.
Are you from Minnesota? 
Minnesota born and raised.
How did you get into tattooing? 
I had known from a very young age that I wanted to be a tattoo artist. When I was 15 years old my father, being a supporter of me and my dreams, bought me a "tattoo kit" off of Amazon. (I know, I know, don't judge! I was young and uneducated on tattooing at that time and had no idea it was a "no-no"!) Once I found out that I wasn't going about it the right way, I tossed all of my "tattooing equipment," worked on building up my portfolio, and waited until I was 18 to start harassing shops. In just over a 4 year period I was put through the ringer a couple of times: people not taking me seriously, new shops promising me apprenticeships and then changing their minds, working at a shop just to be sexualized and treated like shit (the basics of becoming an apprentice, right?). 
When I was 22 an old friend of mine messaged me on Facebook saying that there was a tattoo shop in the area that was looking to hire an apprentice, so I got my portfolio together and met up with the owner. He looked over my drawings, and said he'd get back to me as they had a few people applying for the apprenticeship. A few days later, I got a call saying that I had the strongest portfolio out of everyone that had inquired and that the apprenticeship was mine!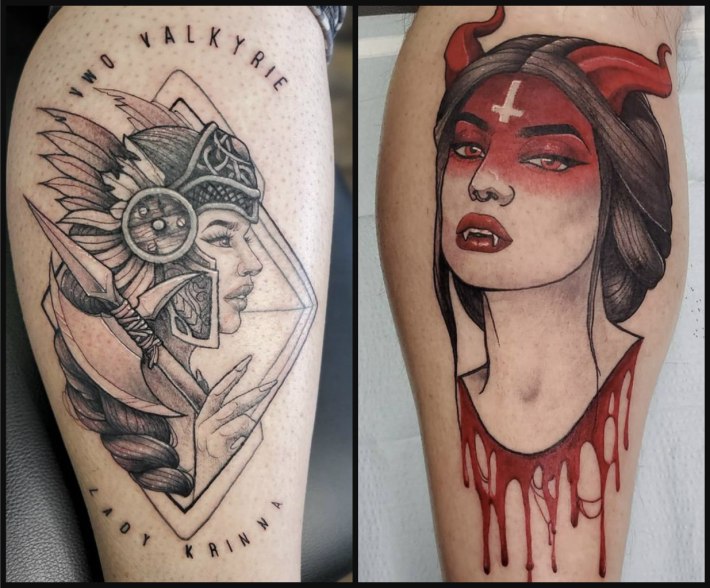 What were some of the barriers/struggles you have faced as a tattoo artist? 
As I mentioned earlier, I wasn't taken seriously by quite a few shops. The main reason for that is that I was born with only one hand and damn near everyone told me that there was no way I could properly stretch the skin to tattoo therefore there was no way I could tattoo. Even the shop that ended up hiring me was on the fence about it at first, but another artist there stood up for me and basically said, "She has the best portfolio out of everyone that applied, so what if she has one hand? Let's see what she can do." 
The owners and other artists were still unsure, so this artist then said, "OK, she was born that way, right? So therefore everything she does makes sense to her; it's easy for her to do it one handed, right? So if I can successfully set up and break down my station with one hand behind my back, we give her a chance." And ultimately he is the reason I was given the opportunity I was given at that time, and ended up also being my mentor.
Fast forward to seven years later, he and I and one other person (my significant other) are the three owners of Black Sheep Tattoo and Art Collective.
It's hard to say that having one hand has made things "harder" for me as a tattoo artist as I don't know life any other way, but after being in this industry for seven years now I have realized that there are certain areas of the body that are more difficult for me to tattoo than others, so much so that I absolutely will just not tattoo those areas as I feel like it does not showcase the strengths of my artwork and abilities to tattoo. On our website I do have a diagram of areas I do and do not tattoo.
Do you lean towards a particular style of tattoo? 
I love dark imagery and pretty lady faces. If I could tattoo lady faces, skulls, and flowers all day I'd be so happy! I typically like to stick with black and opaque grays over color, but I also love doing monochromatic color fades within my work.
How would you describe your style? 
I think the style that my art closest resembles would be neo-traditional, but at the same time it's not, lol. That's honestly one of the toughest questions for me to answer. I like playing around with line weights and always throw thick black lines around my designs.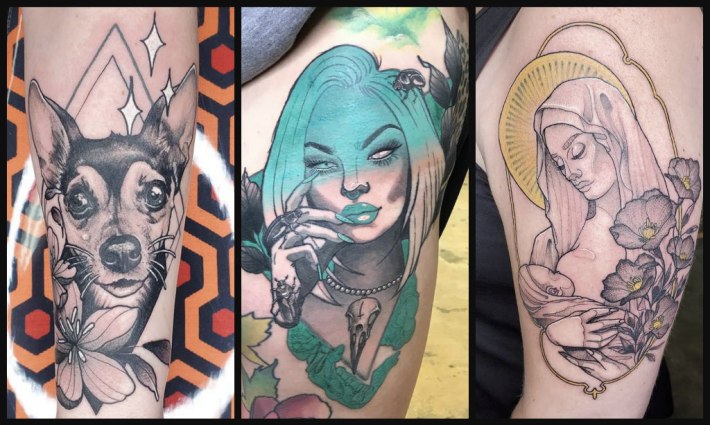 Name three things that inspired you early on in your career: 
Early on in my career I was very interested in the "story" behind the person's tattoo. I had thought at that point in time that every tattoo had to have this strong significant meaning behind it, and in the beginning of my career I would thrive on that–I loved having the opportunity and privilege to make that person's day. And it's not that I don't thrive on that feeling now, but of course I now know that tattoos don't have to have any meaning other than, "I liked it so I got it." And that's rad, too; I have many I-liked-it-so-I-got-it tattoos.
Another very inspirational moment in my early years of tattooing was tattooing this girl's thighs and just completely changing her outlook on how she viewed herself! She was a bigger girl and had self confidence issues (mind you, I didn't really know this until we were done working on both thighs) but when we had finished everything up she teared up and thanked me, she had told me that she struggled with her weight and didn't feel comfortable showing off her legs most of the time and how now she couldn't wait to wear her shorts and show her legs off to the world. That was the first time a client made me cry, it was beautiful and so heartwarming knowing that I got to do that for her.
And, lastly, tattooing my grandmother was a very pivotal and inspirational point in my career. This woman has got to be my biggest fan and supporter, she has always been so proud of me and every milestone I've hit in my tattooing career and being able to tattoo her was just so amazing and fulfilling. She has helped me out so much in my life and in my career and for her to trust me enough to get tattooed by me speaks volumes in how much she supports me and my dream. The tattoo was a drawing of my two cats that my little sister had drawn for her.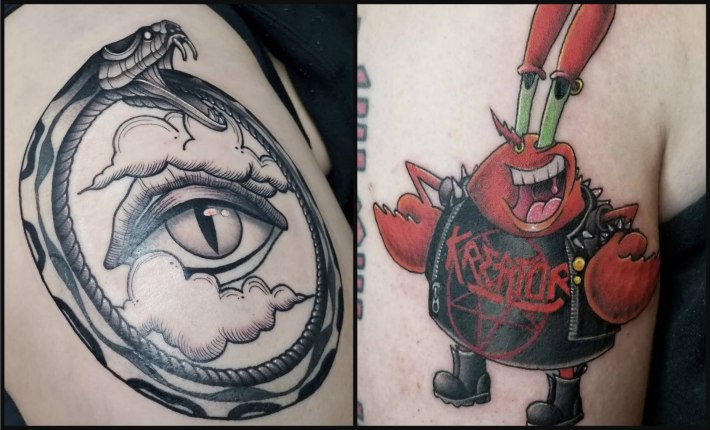 Name three things inspiring you now: 
My biggest inspiration now definitely comes from my daughters, hands down. Without even knowing it they push me to do better and be a better artist.
Next would be the people I work with, seeing them create makes me want to create, seeing them push themselves makes me want to push myself. Working alongside my significant other definitely helps as well, as we are both able to lift each other up and inspire each other and each other's work.
And, lastly, I'd have to say all of my friends within the tattooing community inspire me. There's honestly a lot of artists out there who are arrogant and big headed and it's just sickening. But our little group of tattooing misfits within the Twin Cities are just so great; artists from different shops sharing with each other, teaching each other, recommending each other to potential clients, it's really just a great group of people and having artists from other shops hyping you up is such a great feeling!
Is there a tattoo that you're particularly proud of? 
One tattoo that I'm particularly proud of is a tattoo that I did on one of my favorite clients. It's a Pet Sematary tattoo on the back of her leg, and I just absolutely love it!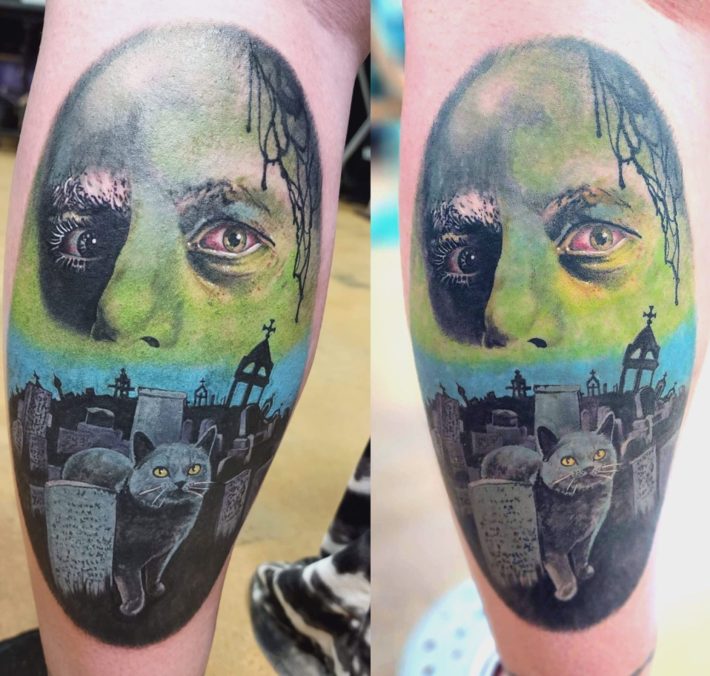 Can you take us through why? 
I don't really mess around with color too much and I NEVER do any sort of portrait realism, so this piece was one that I was very very pleased with. I surprised myself with how well it turned out, honestly, lol. I'm not sure if this is a style that I'd like to do continuously but every once in a while it would definitely be fun!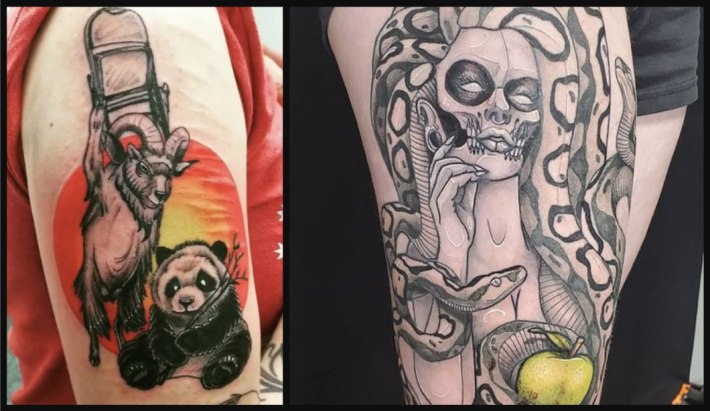 What about the weirdest/most original/most random tattoo you've even done?
My favorite weirdest/most original/most random tattoo that I've done is definitely a goat getting ready to hit a panda over the head with a folding chair. I did this tattoo about four years ago, and I don't even think I asked about the story behind it, I just thought that the idea was so fun and unique that I was just happy to be the one to tattoo it.
Do you create other kinds of art? 
I have always been interested in art. I've played guitar since I was 13, and I love to sing. I used to write songs when I was younger but haven't done that for quite a few years now. I do paint as well, though I actually "paint" with anything but paint. I use tattoo ink, coffee, makeup. I've used blood before–just whatever I can use to create something I find pleasing to the eye. I'd say I'm an all around a crafty person; I dabble in jewelry making, I make beard oils and body butters, I make painted skulls, just whatever I'm in the mood to create at the time. I like trying new mediums and playing around with odd ideas.
Where can we find you when you're not tattooing? 
When I'm not tattooing I'm at home with my babies and my significant other, we're both homebodies for the most part and with us both being tattoo artists and business owners and that being such a demanding job, we definitely make sure to structure our schedules so we can be mom and dad too and not just working constantly.
Do you have any projects or new things coming up that we should check out? 
I am going to be making a shirt for our shop that will be solely mine and now a "shop shirt" so I'm excited about that. I also recently just got certified in laser tattoo removal which is such an amazing opportunity. So I now am able to not only give tattoos but I can remove them as well.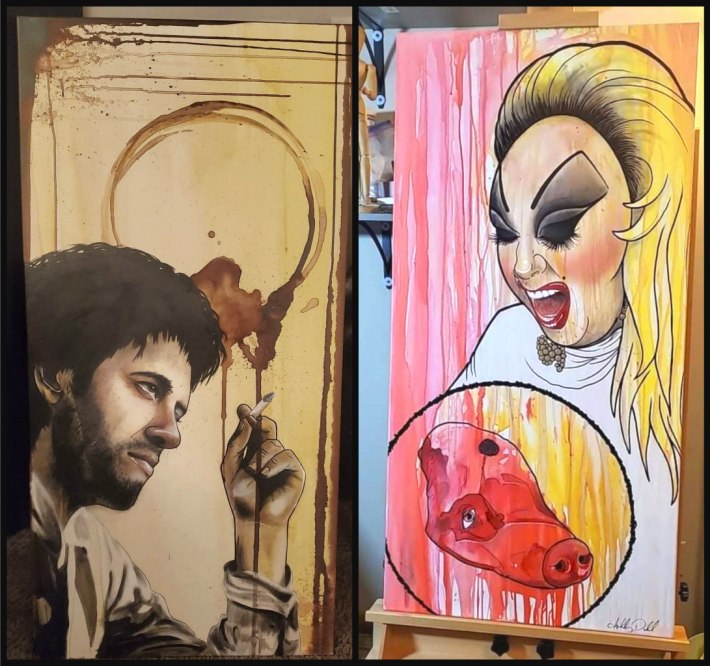 Anything I didn't touch on here that you'd like us to know about you and your work?
Every third Wednesday of the month at 8 p.m. in St.Paul we (the misfit group of tattoo artists that I mentioned earlier) get together to talk about art and the tattoo industry. We do critiques, we work on upcoming tattoos, we hold seminars, and all artists are welcome! We've been holding this meeting for a little over three years now, and it's really a great way to bring the tattooing community together. If you're ever interested in coming to a meeting, shoot me a message on social media for the deets! 
Where can we find you? 
Instagram: @dahlfacetattoos 
Facebook: Ashley Dahl
Black Sheep Tattoo and Art Collective, 713 Minnehaha Ave. E., St. Paul.
blacksheeptat.com and instagram.com/blacksheeptattoomn
Stay in touch
Sign up for our free newsletter