Books
Meet the MN Book Influencers Blowing Up on TikTok, Instagram
Is this the most wholesome corner of the internet? Yes it is.
7:47 AM CST on January 26, 2022
Remember all those fears that the internet would lead to the end of books as physical objects? If you've been on Instagram lately, you may have noticed that's not quite how it turned out.
"There are challenges on Bookstagram to do a book stack of a certain theme," remembers Keeley Norton about a project she undertook in fall 2020, "and this was a book wreath." 
To form a festive wreath, Norton struck on the idea of standing books on their edges. "As soon as I did that, I thought, 'Well, what else can you do if you're arranging books like this?'"
Just over a year later, more than 19,000 people follow Norton's Instagram account (@moonlight_bookclub) to catch the elaborate images she creates by arranging books, often posing in the scenes herself while her husband helps photograph them from above. This holiday season, Norton fed a carrot to a reindeer (made of books), snapped a Thanksgiving turkey (made of books), brewed a witch's cauldron (made of books), and even transformed into a bat hanging upside down, with wings (you guessed it).
Norton is one of Minnesota's most popular "Bookstagrammers": avid readers who use the photo platform to share posts and stories about their book-loving lives. Bookstagram—and its TikTok analog, "BookTok"—took off during Covid lockdown, as bookworms found themselves having a lot of extra reading time.
"I've always enjoyed reading, but life has been really chaotic," says Stephanie Henigin (@stephsbooktherapy) who, like Norton, lives in suburban St. Paul. When the pandemic prevented a planned overseas vacation in 2020, Henigin dove into reading—and started to notice book-themed accounts popping up on Instagram. She created an account that July. "And I wish I would have started sooner," she says.
Holly Inniger and Anna Gross, who work in education in Barnesville ("a super small little suburb, if you will, of Fargo-Moorhead," describes Gross) started their account to promote a podcast they launched in 2019.
While the podcast is still active, their Bookstagram soon eclipsed that project. 
"When we got to a thousand, that was a big deal," says Gross. "We couldn't believe we had a thousand followers."
"Then it got to be 2,500," says Inniger, "and we're like, 'Oh my gosh, that's the community of Barnesville!'"
At over 7,800 followers, @bibliophiles_bookstagram now has about three times as many followers as there are people in Barnesville, but Gross and Inniger say many of their followers are local—including alumni of the school system where they both work.
"One of them mailed us the sweetest thing ever," says Inniger. "She had written, 'Happy holidays … thank you for focusing so much on reading and making it important.'"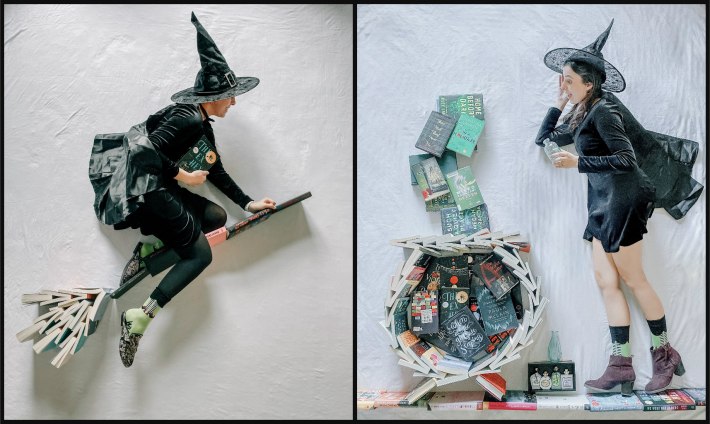 Don't think about the numbers
While many Minnesota Bookstagrammers are networked with one another in "engagement groups" to share ideas and boost each other's posts, the situation is different on TikTok. "I don't think I know any other Minnesota BookTokers," says Rosemount high schooler Zara Bennett, who has followers from all around the world.
Bennett, too, started posting during the pandemic. "My school was completely online and I had a lot of free time," she remembers. "I was bored with just doing Zoom calls every day, so I was watching TikTok more and getting deeper into BookTok."
Minneapolis journalist Zoë Jackson says she initially made a book-focused account (@zoes_reads) on TikTok "to save all my book recommendations, basically. Then, after a while, I was like, 'Why don't I just make a video of me walking around Magers & Quinn or something?'"
Before long, Jackson was going viral with posts like recommendations for books to read before they're adapted for movies or TV (219K+ views); a response to an "opposites book challenge" (116K+ views); and a post likening her excitement over a review copy of Sally Rooney's Beautiful World, Where Are You to "the way that men acted when Joker came out" (26K+ views).
"I was like, 'I need an advance copy of this book,'" Jackson says about the highly anticipated Rooney novel. When the publisher agreed to send one, Jackson knew she'd really gained some BookTok traction. "That's not a niche author who needs their work out there … it's the most famous millennial female author there is."
Free books—including coveted advance copies—are a strong incentive for many Bookstagrammers and BookTokers, but the local influencers we talked to say that they want to avoid serving the algorithms, or even the authors, at the expense of their own enjoyment.
"We have people send us books and want reviews," says Inniger. "I got kind of caught up in that at first, but then it's so overwhelming and you forget … well, why can't I just pick books I want to read and review what we want?"
Jackson says she's learned some winning strategies for TikTok—jumping on trending memes, for example—but the platform's famously inscrutable algorithm continues to surprise creators. "Something that's simple and took, like, a minute to do will have like a thousand likes if not more," she says, "and then something that's like, 'I read this whole book and here's me discussing it,' might flop."
While Henigin's also learned what to lean into (colorful content, popular hashtags), she agrees that "it's so easy to get caught up in all the numbers of followers and likes. And then it's just kind of, what's the point?"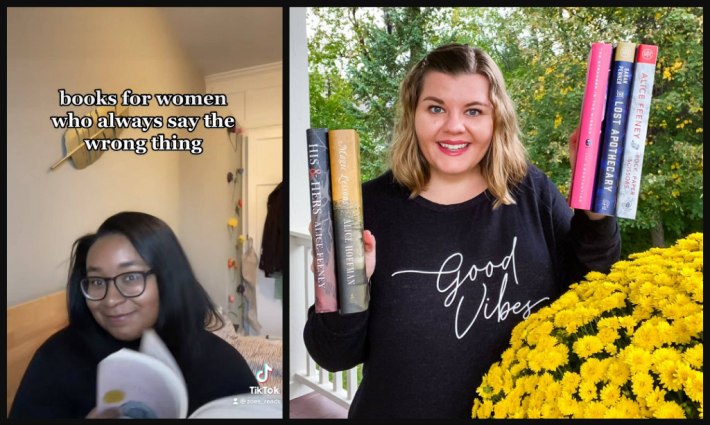 Good influencers
After Norton posted a review of Chanel Miller's Know My Name, about the author's experience surviving sexual assault, a follower reached out to the Bookstagrammer. "She was a sexual assault survivor, and was inspired to read the book because of my post," explains Norton. "And I said, 'You know, while you're reading it, it's really hard … let's talk about it as you read so that you have a support system.' And we've developed a really great friendship through that, which has been really incredible."
All the influencers have stories about people who've been affected by their posts. "I've discovered that a lot of people at my school read," says Bennett. "A lot of people [watch] BookTok … and they do read the books."
The irony, of course, is that posting about books inevitably cuts into free time for reading. Henigin says she and her friends joke that "we sit and we're going to start a book, and then it's like, 'Oh, I just spent an hour on Bookstagram instead.'"
Still, she says it feels "refreshing" to have social media serve as a conduit to fellow book lovers. "Buddy reads" serve as virtual book clubs, often culminating in Zoom meetings with grateful authors. "It's been really exciting," Henigin says, "because they get to hear how the book impacted you as a reader."
While publishers are increasingly counting on social media influencers to promote their books, the community is also often misrepresented and misunderstood. For example, Jackson cites one recent New York Times piece about BookTok that likened the community to "teenage girls crying about fantasy books and stuff like that." For her, that's one small part of the community. "I'm in a circle of literary fiction, women's fiction, and adult readers," she says.
Bennett is one example of a teenage BookToker who loves fantasy but is hardly breaking down every day on camera; her feed is a series of bright and witty videos celebrating the books she enjoys, critiquing the tropes she doesn't, and making tongue-in-cheek admissions about her tendency to fall for fictional characters. (Hence her handle, @simpforbookboys.)
"With TV shows, you can follow the actual actors," she points out. "BookTok bonds over how [reading is] such a weird concept, because you're following these fictional characters and you're obsessed with these fictional things."
Bennett's monthly reading wrap-up posts regularly cover between 10 to 15 titles, and she might read for three-plus hours a day when school's not in session. Watching her videos has inspired a few of her friends to read more. "One of them now reads as religiously as me, which is pretty cool," she says.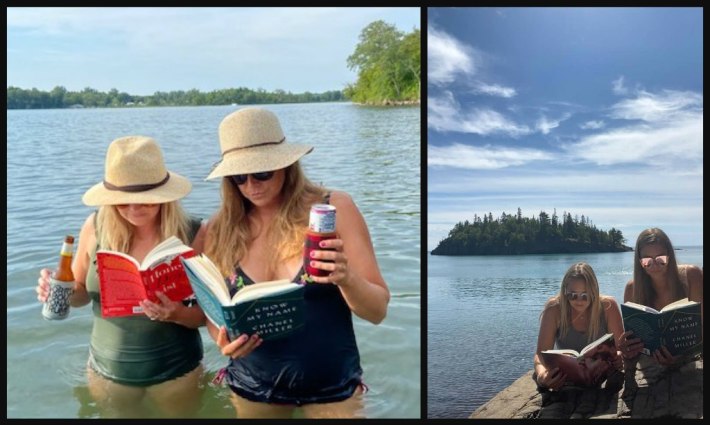 "They think we're in Alaska"
The characters may be fictional, but the community is real, and Gross says she's proud to represent Minnesota. "When we think of books, I think of publishing houses, and I think of Manhattan and I think of New York City … we get to be a part of that in our tiny little town."
One of the Bibliophiles' popular posts went up last winter. "I have this old-fashioned sled and I pulled that down and took a picture of my books on this sled because it was negative 40," says Gross. "Like, it was ridiculous. People don't always get to see that. We had so many comments."
"They think we're in Alaska," says Inniger.
For all its growing impact, Minnesota's BookTok community exists somewhat apart from the local literary scene—but the influencers are hoping that can change.
"I think there's a lot of opportunities to connect with local Minnesota authors and the book communities around here," says Norton. "I'm proud of being from Minnesota … you definitely see big social media people who are in L.A. or New York, but with books, you can read anywhere."
The ongoing pandemic, says Henigin, is making it difficult to translate local Bookstagrammers' online friendships to real-life meetups. But she considers Norton one of her "best buds" despite the fact that they've never actually met in person. "She just got married, so her life's kind of busy, and she's working on her Master's!"
Despite her packed schedule, says Norton, she's happy to make time for Bookstagram. "I've met so many incredible people and made some really wonderful and deep friendships through it. A lot of times people say, 'You come for the books and you stay for the relationships.'"
The Bibliophiles say they appreciate how social media can help connect avid readers who might otherwise feel isolated in a community like theirs. "If you don't play football in Fargo, that's okay, because there's hundreds of other kids that don't," says Inniger. "But in Barnesville, there's like three others that don't."
"Hopefully," says Gross, "these kids see how we're loving this and we're posting about books, and it's a cool thing to do."
"It's very different from how I read as a teenager," says Jackson. "I've always been a huge reader, but thinking back to that, reading books was less cool. I feel like it's almost having a resurgence."
"There have been some people," says Norton, "who are like, 'I stumbled across your page and you've inspired me to start reading again.' I'm like, 'Oh, gosh, I don't think I should be responsible for that!' But I'm so glad, because I think that there's so many wonderful books that have so much to offer."
Stay in touch
Sign up for our free newsletter