Culture
Meet Macalester College's Sex Bell
The history of this 165-year-old bell includes the Civil War, football fanaticism, Walter Mondale, and lots of love.
8:53 AM CDT on October 7, 2021
Macalester College has a very special bell. It's often affectionately referred to as the "sex bell" and "the virginity bell." On any other campus, something with a name like that might have a dark and ominous implication, but in actuality it's all pretty wholesome… albeit in a horny, college student kind of way. Tradition dictates that after you get it on, you and your partner head out to the bell, ring it, and receive cheers and applause from whoever's passing by.
Campus literature sometimes refers to it as a "bell tower" but it's really much more humble: a tiny little brick and concrete structure of four pillars, a little roof, and a bench that folks jump from to smack the bell's clapper. It's located in front of Weyerhaeuser Hall, mere feet from the bustling car and foot traffic along St. Paul's Grand Avenue.  
During my time at Macalester I cheered for a variety of ringers, including newly out gay couples, longtime friends turned lovers, apparent threesomes, two women chanting "public sex!," and even a few lone ringers. (Hey, you gotta celebrate those self-wins, too!) Bell-ringing was a silly, cheerful, and almost daily occurrence on campus. I didn't really have a word for what we were experiencing at the time, but I do now: sex positivity.
The Basic Lore
Some say you're supposed to ring the bell when you lose your virginity. Others will insist you ring it when you lose your Macalester virginity. Others will tell you to just ring it whenever you've had some sexy fun. This guy has a five-point system:
While not all Mac grads ring the bell, most are aware of its existence, even if the memories become a little foggy in the years after graduation.
"I know I rang it a couple of times (breaking the Virgin rule) and I definitely streaked between the church and the bell once," one friend wrote when I texted him about it.
"Definitely remember the bell! I never rang the bell, though (TMI) I did fit both supposed criteria to do so early on," an '01 Mac grad responded when I posed the question on an alumni board. "But who wants to go half naked in cold MN in the middle of the night to announce your sexual conquests? Not I, at least."
"I never rang the bell while a student," another grad admitted, "but I did ring the bell years later when visiting the Twin Cities with my then boyfriend, now husband."
And yes, it's still a thing in 2021.
"I don't know too much about it, but it's very much still tradition," says Kiara Garcia, a current Mac student. "I know of friends who do actually ring it, or sometimes I'll hear it while I'm walking outside."
Like many ancient traditions at colleges and universities, ringing the bell has meant different things at different points in its history. But since the '50s it has referred to something amorous, often shifting with the norms of the times. 
"During the 1950s, the bell was referred to as either the 'Engagement Bell' or the 'Kissing Bell,'" Bret Kramer wrote in a 1993 article for The Mac Weekly. "It had become a symbol of romance at Macalester. Students would stand under the bell and kiss and ring the bell afterwards. It became such a college tradition that The Mac Weekly ran an engagement announcement column entitled 'Rings From the Bell Tower' during the late 1950s and early 1960s. With the dawn of the 'free love' era, this innocent vision of the bell grew obsolete and was replaced by our more modern take on 'ringing the bell.'"
For years, the cupola that housed the bell even boasted some historic graffiti: Walter + Joan. This prized destruction of public property was—presumably, there's no concrete confirmation—made by lovebirds Walter and Joan Mondale. Both attended Macalester in the 1950s—the height of the bell's "kissing" phase—where they met on a blind date.
Sadly, that graffiti was lost in 1993 when the cupola was completely rebuilt due to age and critical wear and tear.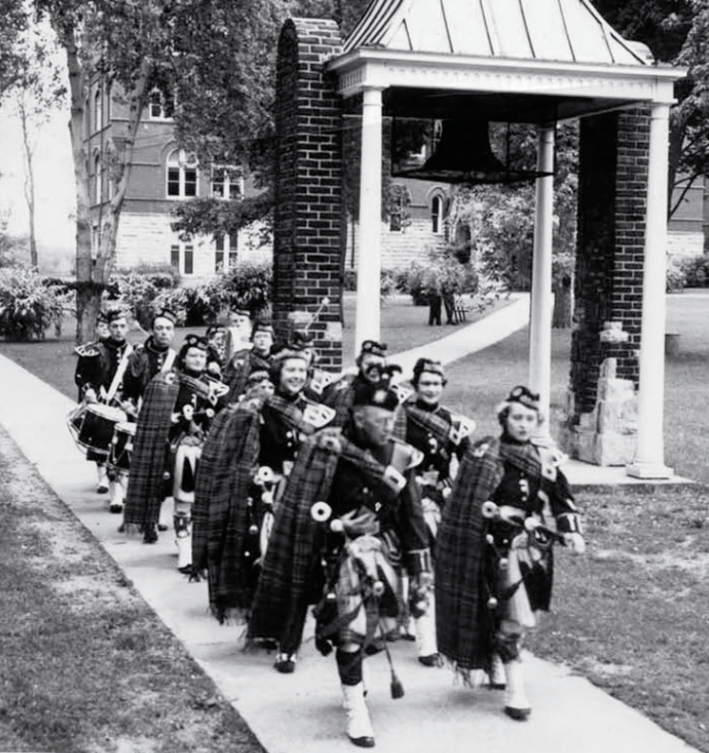 A Minister Briefly Held the Bell Hostage
The Macalester Sex Bell is over 165 years old, so of course it's seen some shit and has been through some dark times. 
The bell was originally donated to St. Paul College in 1856. But that school didn't make it through the era's economic collapse and the Civil War. Next, it made its way to House of Hope, a nearby Presbyterian church, where it was used as a city fire bell. (St. Paul College and the church were both started by Macalester's founder, Edward Duffield Neill.) It stayed there until 1914, when someone at Macalester retrieved it and tossed it in a basement closet until the classes of 1927 and '28 decided to build the first iteration of the cupola for the bell.
But all was not well. Anger, resentment, and bitterness would boil up and reach a breaking point at House of Hope. Sixty-four years later, one misguided minister would would attempt to reclaim the bell for Jesus Christ. Also, for football.
"On Christmas Eve 1978, the bell mysteriously vanished from its cupola, only to reappear at the new Summit Avenue location of its former home, House of Hope," wrote Rosa Durst in a 2017 issue of Macalester Today. "It seemed that the church's pastor was bitter about the broken affiliation between the church and the college (compounded by the lack of Macalester students attending his church). A rumor even sprouted up that the pastor promised to return the bell if Macalester's football team—at that point infamous for its losing streak—won a game against a House of Hope team."
In case you were wondering, that infamous losing streak was an amazing 42 game loss. Way to be, Mac. 
Kramer's 1996 article offers a few more details:
"Once Didier refused Davis's offer of instead playing Crown College, the school began to hint at a lawsuit. A few personal phone calls between Davis and Didier later, a group of Macalester custodians retrieved the bell and restored it to campus." 
And it's been making love ever since.
In Conclusion...
And that's what we know about the bell's history. It's a story of war, romance, football, hostage situations, a vice president, and lots and lots of sex. Iconic.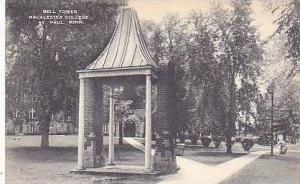 Stay in touch
Sign up for our free newsletter