Food & Drink
In Tiny Watkins, MN, Keek's Restaurant Revels in Literal Farm-to-Table Cooking
How chef/owner Colin Kuechle is bringing Thai steak salad and chicken dijonnaise to cow country.
10:08 AM CST on January 16, 2023
"If you don't mind a little bit of a road trip, Keek's in Watkins makes a really good Reuben." 
Studies have shown that people generally have a willingness to drive about three miles, maybe 20 minutes, to dine at a restaurant. Keek's is a drive of roughly 70 miles, and just as many minutes, for me. But when I saw the reply above in response to one of my frequent questions about food on social media—I wanted to know who had good Reubens because I like them and my mom loved them—I decided to make the journey to Watkins, a small town in central Minnesota.
I had the Reuben back in December of 2021, and the trip was worth it, but I didn't know if I'd ever take another 70-mile drive out here. But on my way out of Keek's door, I saw the chalkboard specials and overheard chef/owner Colin Kuechle talking shop with some local farmers and ranchers. Something about "Third Thursday Hocks and Kraut"? What sounded like a conversation about the intricacies of the cattle and feed trades in the middle of lunch? What was going on here? 
This is how I learned that chef Kuechle was also a graduate of the Culinary Institute of America (CIA). I came to Keek's for a sandwich. Now, I needed to know how this CIA grad ended up opening a combination scratch kitchen, pizza place, and coffee shop that occasionally does haute cuisine and German peasant food in cattle country. So, I went back to find out.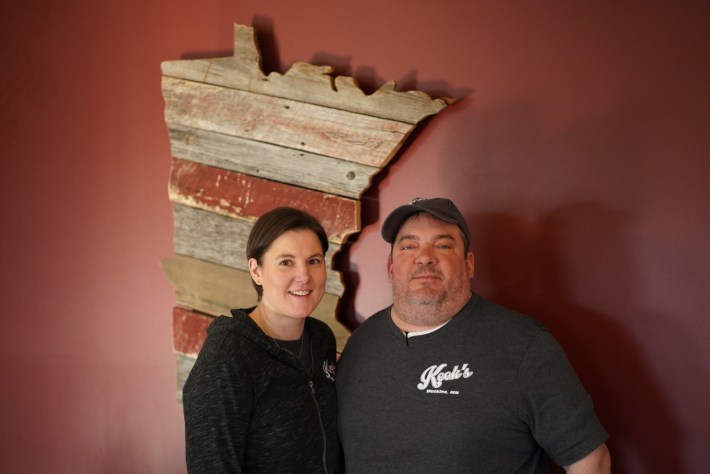 Chef Kuechle's journey to owning a pizza place started… at a pizza place. In 1984, family friends who owned Latuff's Pizzeria in Plymouth asked if he wanted a job. Yes, he did. (He noticed I'd visited Latuff's in my pizza travels, remarking at the coincidence.) At UW Madison, Kuechle split his time between the classroom and the kitchen at the Edgewater Hotel, eventually focusing on the kitchen. After stints at Ovens of Brittany and Bluephies Delicatessen in Madison (the latter of which Kuechle helped open), he went to the CIA. Following some time as an extern in New Orleans and his graduation from the CIA in 1997, he found his way back to the Edgewater Hotel, where he'd write menus and train teams. Then corporate food came calling.
One of the large chains that started its upper Midwest push in the mid to late '90s wanted chef Kuechle to work for them, and in response to his stipulation—start opening in the Twin Cities' greater metro, so he could work a little closer to home—they agreed. He began traversing the state opening new and supporting existing locations. After 17 years he wanted a change, some land, his own place.
The space Keek's now occupies had been sitting idle after four restaurants cycled through in roughly as many years, and Kuechle initially intended it to serve as a commissary kitchen for some weekend warrior food trucking while working for corporate. Family and friends suggested he make it a dining establishment, not just a kitchen. With a six-month-old at home and a resignation to corporate, Kuechle founded Keek's in the spring of 2016.
Chef Kuechle knew from his time in corporate that a lot of places cook out of boxes, that "no matter how long you fry it, you can't get a chicken tender from a box to change color." He didn't want Keek's to be like that. Keek's motto is "from scratch, the best we can," and they mean it; they make all their stocks and soups from scratch and hand dip all their fried chicken. Given their location in Watkins—a town with a population of less than 1,000 located a little closer to St. Cloud than Hutchinson—their beef is grown within 20 miles, butchered within 10. They do source some items, looking for quality over the bottom line: mozzarella from Burnett in Wisconsin; bread, since they don't have bakery space; and tortellini when they run it as a special, because Keuchle's got big hands and his days are already open to close.
It didn't start out perfect. Keuchle didn't want to be known for chicken tenders and mac 'n' cheese; he wanted to run freshly flown in salmon as a special. But mac 'n' cheese became one of the stars of the menu, and the first time he flew in 20 pounds of salmon he only sold one 8-ounce portion. He realized his reputation maybe wasn't as strong as he thought. 
What changed? What made diners in an area of the state known for disliking most things liberal, including liberal seasoning, start embracing his haute cuisine?
Chef Kuechle's answer? Trust. You have to make what they're familiar with as good or better than they can make it at home or the spot down the street—mind you, down the street might be 20 miles in this case. But once customers trust you, and you have some familiarity, the chef says they might, "Point at the specials on the chalkboard and say, 'I might not know what that is, but I want to try it.'"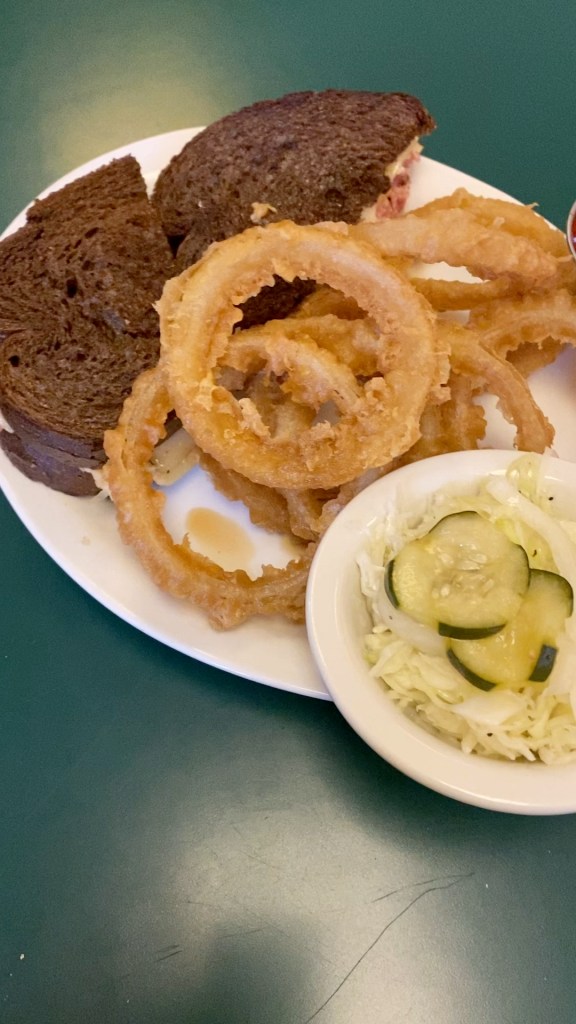 Part of it was his dad, a long-time resident of the area, pulling him aside and saying, "You should do hocks and kraut—the original restaurant did them, and it was popular." So he did, working with the slaughterhouse to get what was a throwaway cut. Chef decided to chef-up the peasant dish a little initially by smoking the hocks. The clientele let him know that was too much, so he went simple. Now, Thursday nights are filled with German beer swilling and song singing to accompany the hocks. It took three years to get that trust.
Then COVID hit, along with statewide restaurant shutdowns. It affected Keek's like other establishments, with one rural wrinkle: There's no Uber Eats or DoorDash out there. How were they going to survive if they couldn't do dine in?
Keek's was fortunate in one regard. The end of the building they were in used to be a bakery and had a takeout window. Before COVID, the takeout window had been converted into a regular window to allow in some light; after COVID, it became a takeout window again, maybe the only one in the state where diners routinely grabbed $35 T-bone steaks, mahi mahi, red snapper, and étouffée. 
When restrictions started easing and sit-down dining came back, there were thoughts of closing up the window again. That is, until some patrons approached the chef at church and asked if he'd consider keeping it because, dirty after a day in the fields, they didn't want to mess up the restaurant, but they still wanted to eat good. So the takeout window stayed, and Keek's started offering coffee through the window, too.
It's different, making a restaurant work this far outside the metro area. When the weather turns, Keek's is suddenly competing with home cooks who've got a freezer full of meat and a crockpot. There's not such a wide variety of food available as there is in the Twin Cities, and most spots in the area offer a similar fare, the type of stuff that keeps the lights on: chicken tenders, burgers, fries. 
But over time, Kuechle has been able to introduce some new surprises: Thai steak salad, Cioppino, chicken dijonnaise. The rare leftovers from hocks and kraut? The chef hand-shreds the meat and makes sweet and sour pork with the chunks. It always sells out.
Long after our discussion, when I finally sat down to write this, it dawned on me that there needs to be a lot of trust to start a business: trust in yourself and your vision to start, and then the earned trust of customers to succeed. 
Chef Kuechle has it on both accounts.
Keek's Restaurant
711 State Highway 55
Watkins, MN 55353
Stay in touch
Sign up for our free newsletter