The Twin Cities vegan scene has been exploding for a half-decade now. First identified as a boom in 2018 or so, additional waves of plant-based prominence have been pinpointed recently as more folks have gone vegan and more restaurants have popped up to serve them.
But when we talk about the "golden age" of vegan dining in the Twin Cities, what we're really talking about is a golden age of vegan dining in Minneapolis.
A sampling: Open in Northeast since 2016, the vegan butcher shop Herbivorous Butcher introduced a fast-casual fried chicken restaurant, Herbie Butcher's Fried Chicken, at 48th & Chicago last May. Stalk & Spade, the vegan fast-food chain with a flagship in Wayzata, is adding two Minneapolis franchises this year. Hark! Cafe serves a menu of meat-free and gluten-free eats downtown; so does Coconut Whisk Cafe. Francis has been slingin' killer vegan burgers at Sociable Cider Werks since September.
All of that is happening in Minneapolis, and that's alongside more established vegan favorites like Reverie, Trio Plant-Based, and Crepe & Spoon vegan ice cream.
If you find yourself with a hankering for vegan food from a plant-based restaurant in St. Paul? You're pretty much left with J. Selby's. And J. Selby's is great—but that doesn't give plant-based diners in Pig's Eye a lot of porkless products to choose from.
It turns out there is one other option: a little Eastside sub shop called Insane Vegan. The Black-owned, plant-based eatery quietly opened on an unassuming stretch of Arcade Street in March (after a brief stint in Minneapolis), and only hit Racket's radar last month after a friend Instagrammed a photo of their vegan hoagie haul.
Insane Vegan's menu is made up of flatbread pizzas, sandwiches, salads, and sides—think vegan versions of the things you'd find at any good deli, down to the colorful checkered paper your sammies come wrapped in. Hoagies like the Marinara Maniac, Very Veggie, and Arcade Club are available in full sizes ($14-$17) or half sizes ($8-$9), with a few panini-pressed melts for $14-$15. Flatbreads like The Lunatic (chikn, red onions, mushrooms, mozzarella, cilantro, and roasted garlic butter bbq sauce), which are billed as "12-inch personals" but are sizeable and shareable, go for $16.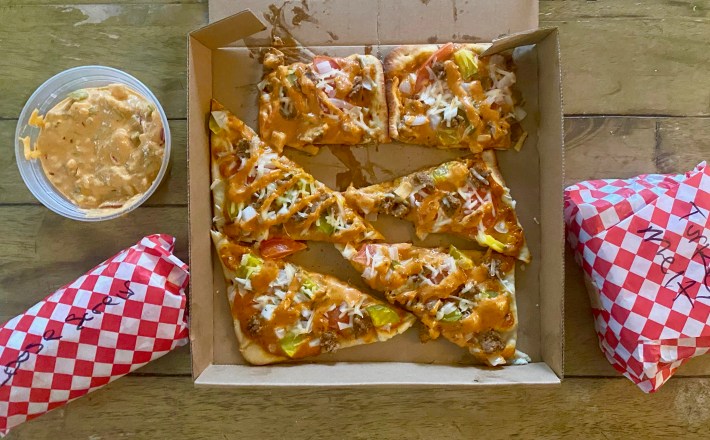 We opted for takeout, and after returning home, started munching on the Platinum GLORY—a meatless cheeseburger pizza drizzled with house-made Insane Sauce. I'm pleased to report the pizza retains its crunchy, pita-like crust even after a 25-minute car ride; it was thin but sturdy, which was good, because this thing was positively packed with ground protein, pickles, onions, and tomatoes, with a relatively light sprinkling of mozzarella cheese.
Their Insane Sauce is kind of like a spicy, mustard-y ketchup—all the flavors you'd want on a burger in one hearty drizzle that topped the whole thing off. You'll feel as full after eating this as you would from a version made with meat, and as satisfied.
The Turkey Melt, made with their new house-roasted turkey, maple bacon, and cheddar cheese (again, all vegan), was solid; I'll love any sandwich served on Texas Toast, and chipotle ranch sauce doesn't hurt. But the best thing we ordered was the Loose Screw, a "tuna" hoagie topped with banana peppers, lettuce, tomatoes, cracked black pepper, and mayo.
"Absolute dupe," my partner said after taking his first bite. "In fact, I'm questioning what they think vegan is." We actually pulled up the menu again to make sure—this thing is a dead ringer for a classic tuna sub, with the perfect balance of relish, mayo, mustard, and spices all coming together on a soft but substantial white roll. I found myself going back for bite after bite after bite, first out of a sort of confused curiosity, and then due to the fact that this thing is goddamn good.
St. Paul may not be experiencing the same "golden age" of vegan dining as its sibling to the west, but there's also nothing quite like Insane Vegan on the other side of the river.
And if it's a little far from where you are? They also deliver via DoorDash and Uber Eats.
Insane Vegan
971 Arcade St., St. Paul
Tuesday – Saturday, 11 a.m.-8 p.m.