The McPlant is here! And it's not really all that exciting!
When McDonald's announced it would start putting a meat-free burger on the menu in November, it got vegans like me excited. If the world's largest fast food chain was going to answer Burger King's Impossible Whopper, then good vegan options were sure to start popping up at all fast food places. It was a veggie volley in a plant-based arms race. 
Well, my excitement may have been a little premature. For one: Like the Impossible Whopper before it, the McPlant is cooked on the same grill as its meat based products. Not all vegans care about the grill situation… but the fact that it's made with real mayonnaise and cheese, meaning it's not actually vegan, is a bit of a bigger issue. (In the U.K. they offer a totally vegan McPlant, so blame the founding fathers for this one.) 
The McPlant also isn't widely available, at least not yet. The closest McDonald's that offers it is in Cedar Falls, Iowa, three hours from the Twin Cities. And when McDonald's does expand the McPlant nationwide, possibly in the next few months, it might not even be worth it. "The McPlant is just McOkay," Eater says, noting that while it "isn't exactly earth-shattering, it's a perfectly serviceable burger in a pinch, especially when you're road-tripping or in desperate need of a late-night meatless meal." The review touts the Impossible Whopper—which doesn't exactly have rave reviews itself—over the McPlant.
Put it all together, and we've got a long way to go before vegans get a satisfying option at the Golden Arches. Luckily, here in the Twin Cities we don't have to wait for something similar, because two cherished local vegan restaurants fill that void with their own fully plant-based spins on the Big Mac.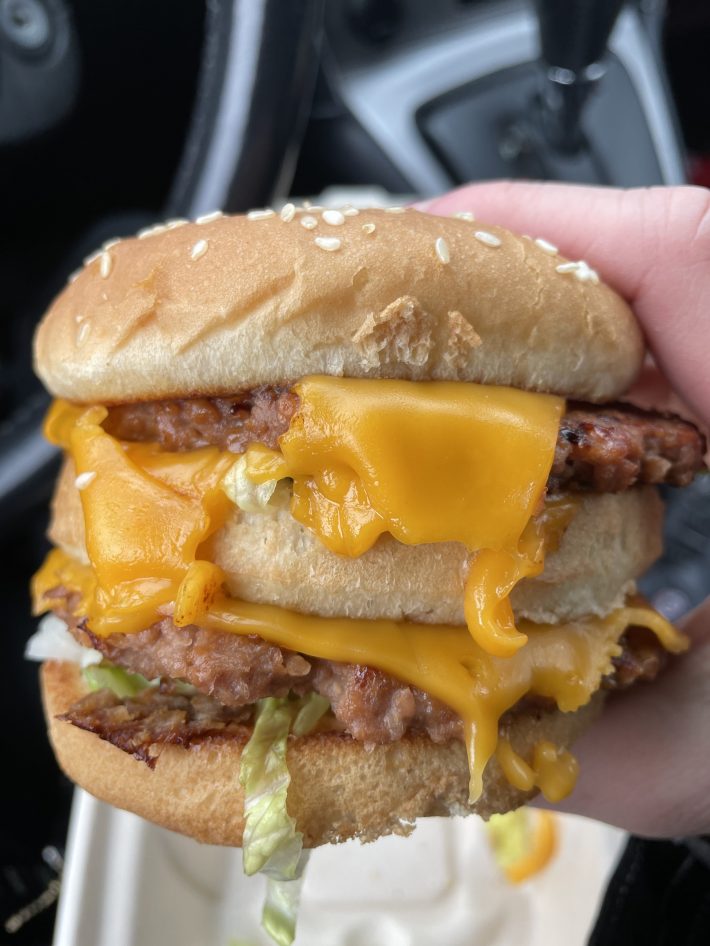 The first option, the Dirty Secret at J. Selby's ($15), is a dead ringer for the famous burger. Just reading the description on the menu—"Two non-beef patties, special sauce, lettuce, cheeze, pickles & onions on a toasted sesame seed bun"—you know the St. Paul restaurant means business.
Though I did enjoy fast food from time to time before going vegan, it's been a handful of years since my last order from McDonald's, and I can't recall if I ever ate a Big Mac or if it's just some sort of absorbed cultural memory. And yet as soon as I bit into the Dirty Secret I felt like I was sitting in a McDonald's drive-thru. 
Crucial to its ability to capture the magic of the original is the ratio of all the ingredients. No one ingredient dominates the burger; you can choose to savor something different with each bite. The texture is strikingly similar, too. It may not be the juiciest burger patty you've ever had, but it's packed with flavor, and the cheese—which is actually vegan—is melted to a perfectly gooey American cheese consistency.
The Dirty Secret has the ability to bring the fast-food experience to life. In an effort to give these reviews an extra degree of fast food authenticity, I ate the burgers in my parked car. J. Selby's by no means skimps on ingredients, but the burger still manages to stay neat and is a perfect size for stuffing in one's face. In spite of my efforts to savor it and get as much information as possible for this review, it was hard to slow down. In short, if you want McDonald's without McDonald's, The Dirty Secret will get you awfully close.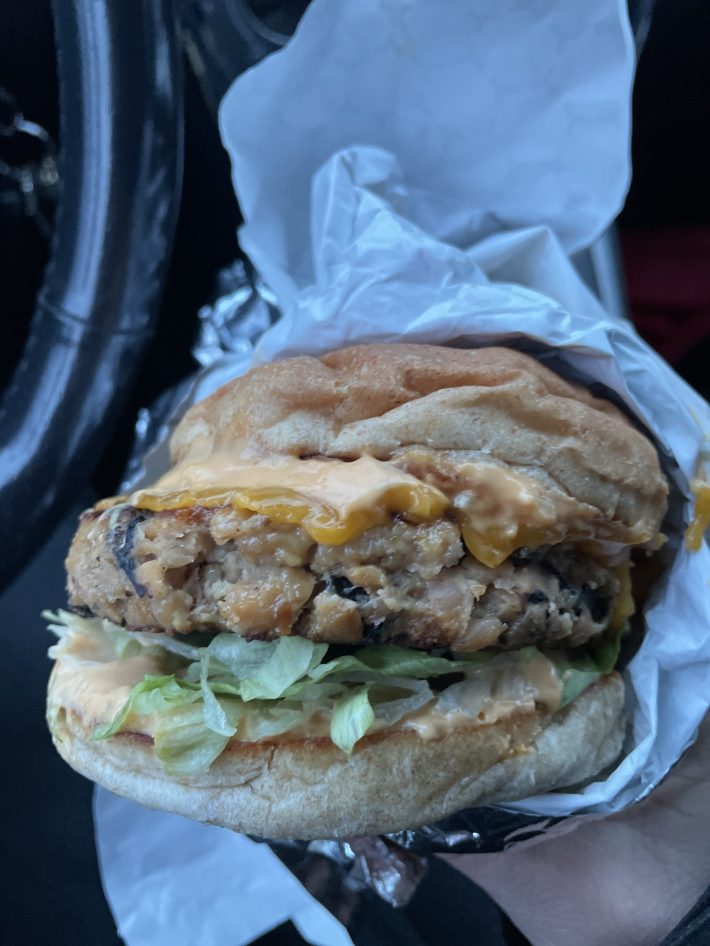 The Curbside Burger at Reverie ($12) is a bit of a different story. It doesn't follow the Big Mac ingredients exactly, as it adds a tomato and drops one of the patties. Likewise, Reverie isn't concerned with making burgers that taste like beef, so the grilled flavor J. Selby's reproduces—the thing that makes it taste like Ronald McDonald himself prepared it—isn't here. I kind of didn't miss it! Their "Rev Patty," which I believe is made from tempeh, also appears on burgers like the Rev Burger and the Long Haul, still has a good earthy-but-not-too-earthy flavor, much better than the average veggie or bean burger patty.
The special sauce on the Curbside Burger takes center stage. That's not a problem flavor-wise—the tangy mustard-vinegar flavor combo is hard to beat—though be warned that the abundance of sauce and the moisture of the tomato make it a sloppy eat in the car.
So, sure, the Curbside Burger may not stand up in a blind Big Mac taste test. I'd argue that's actually a reason to like it more. It's wonderfully gorge-able, and when you eat something so messy it can feel all the more indulgent, bringing you that much closer to the experience of eating a fast food meal you've been told a thousand times is bad for you.
We promised you a vegan Big Mac showdown, but if you have to choose between the two vegan burgers, it won't come down to which is better. The difference between them is like actors who do impressions. The Dirty Secret dons all the best prosthetics and gets the voice pitch perfect, and could very well win a meatless Big Mac Oscar. The Curbside Burger wonderfully exaggerates one aspect of the subject's personality, the "I can see Russia from my house" of veganized burgers. 
Both are impressive, it's just a matter of what you're in the mood for. And I'll bet both are better than a cheeseless, mayo-less McPlant—though when (and if) it makes it to the Twin Cities, I'll let you know for sure.