Music
I Didn't See Any of You at the Ashley McBryde Show at the Uptown Theater on Friday
Maybe you were at Flo Milli instead?
3:36 PM CDT on October 30, 2023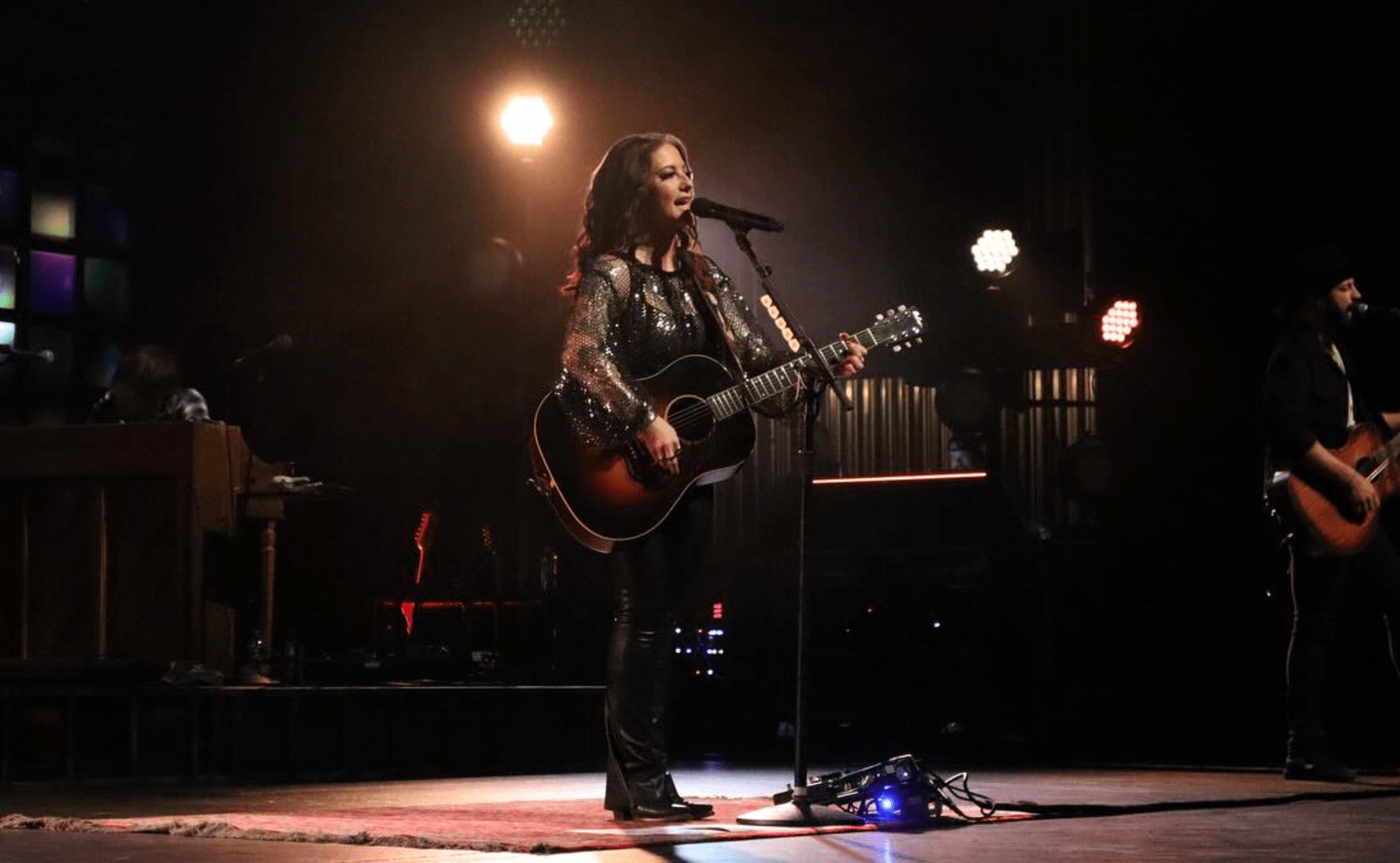 I'm not scolding (who, me?), just fascinated by the micro-distinctions of taste that run through (what some people are paid to call) Americana or (what I think of more broadly as) non-mainstream country music—you know, the stuff that doesn't make it on the radio. 
Who draws the lines and where? I'm sure plenty of people reading this saw Jason Isbell or Tyler Childers at the Armory, McBryde collaborator Brandy Clark at the Cedar, Margo Price or Morgan Wade at First Ave. Sure there are variations worth noting. McBryde's as rockin' as Isbell but not as somber (or lefty), and she's as country-first as Childers but not as rootsy (or lefty). Sticking to the ladies, she's as crafty as Clark but not as folky, as rebellious as Price but not as classic rock, as tattooed as Wade but not as horny.
We could play this game all day. (Well, I could—guessing you'd soon find other matters to attend to.) Maybe the folks who weren't at the Uptown just don't like McBryde's songs (or wouldn't if they heard them). But I'm a fan of everyone I've mentioned, to one degree or another, and I'd slot McBryde safely in the middle ranks of their company. An Arkansan who turned 40 in July and whose career didn't take off till her mid-30s, she's released four albums in the past six years, all worth a listen and each better than the last. She's also a Warner Nashville signee who's barely creased the charts but still has one boot in that world, regularly racking up CMA nominations in the wake of the New Artist award she won in 2017.
Anyway, the crowd that did turn out to see McBryde blast out 20 songs in a tightly professional 90 minutes (including all 11 from her latest album, The Devil I Know) hardly worried about who wasn't there. Based on appearance, they were mostly suburban if not outstate. They had the look of country radio listeners who complain about country radio a lot, and were spread comfortably through the venue. This was my first night back since Uptown's launch party, and though I can't say how far from capacity we were, sightlines were great and the room was easily navigable.
There were halves of married couples singing along to the road-not-traveled not-quite love song "Single at the Same Time," maybe in sympathetic regret or maybe because they lead healthy fantasy lives or maybe just 'cause it's catchy. Gaggles of girls-night-outers of varying ages sang along to "One Night Standards" like they lived it, and who hasn't at one point at another? It's my favorite country song of the past… five years? ten? … distilling a common experience into an unshowy bit of word trickery, noting firmly that a casual hookup (like country songwriting) has rules too. 
And that's the thing, McBryde's version of country is very old-school Music Row, fashioning a song off a simple lyrical conceit or central idea. Her writing is conventional in the strict sense of the word—it works off conventions—which doesn't seem unimaginative. And she collaborates with outside writers. ("One Night Standards" was written with Nashville all-star Shane McAnally and Nicollete Hayford.) The songs may or may not be autobiographical, though the day-after set opener "Blackout Betty" ("I'm a real piece of shit sometimes") and the empathetic "6th of October," about getting past a relapse, certainly draw from the experience of a musician who's been sober about a year and a half. But the songs all feel lived in.
McBryde showed her knack for the homiletic with "Light on in the Kitchen," a litany of a smart mama's good advice and the sort of song a certain kind of country hater can't stand, while "Coldest Beer in Town" flipped that knack on its head, ruminating on how truisms are often lies. Sometimes a song was exactly what its title advertised: "Cool Little Bars" is about how "little holes in the wall" shouldn't all be turned into condos. (Did I mention that the show was in Uptown?) And just to prove that she's not above settling for commonplaces, McBryde's got "Whiskey and Country Music." You will not be surprised to learn that she's in favor of both. 
That sort of expert craft could start to feel gimmicky if McBryde didn't go all out musically. "I'm Ashley McBryde and these are the men I make music with and this is country music," is how she introduced herself, accurately enough. She's got a balls-out band with a big ol' hairy 'n' heavyset fella in a cap pounding away on the drums and three guitars, just like god and Lynyrd Skynyrd intended. The big difference from the last time I saw her, opening for Chris Stapleton at the Xcel in 2017, was an increase in musical variety. Back then, McBryde and her boys struck me as a bit overly brawny, working themselves up to fill the big room. At the Uptown, one of those guitarists switched to mandolin and bouzouki; another switched to piano or fiddle or pedal steel or harmonica. 
More importantly, McBryde has added three albums worth of material to her songbook since. She performed many of these additions, several of them about her obsession—life on the road—including "Made For This," the most hard-driving of her touring anthems, and "Sparrow," about calling home from tour with a tinge of regret. And in case you doubted how much touring meant to her, she dedicated an entire monologue to the evolution of her touring transportation, from a single truck to two buses and a trailer, and she named all four of her drivers.
McBryde asks a lot of her big voice live, but though she claimed to be having vocal problems (even going so far as to ask the non-related Martina McBride for advice). I didn't notice anything extra "raspy," as she'd claimed while promising "I'll sing it to shreds for you." And she was in good spirits throughout, saying "That's one thing I appreciate about our fans—y'all ain't assholes" as an album was passed hand to hand toward the stage to be signed or just quipping about "a hangover that I didn't earn" or her days playing spots "that ended in ''n' Grill'.
The last quarter of McBryde's set was a little heavy on early material like the rockin' road song (another one!) "El Dorado" rather than the character-driven, often comic vignettes she's also good for. That side had been represented earlier in the night by the raucous "Brenda Put Your Bra On" (there's a fight out in the trailer park and you want to get a good seat and look good for the news cameras) for which McBryde launched big ol' boob-holsters into the crowd. But I missed "Martha Divine," in which a daughter has murderous thoughts about a woman making the moves on her daddy.
Of course, I'm hardly the target audience here. That'd be the middle-aged woman next to me whose eyes lit up like a kid's at the opening chords of "A Little Dive Bar in Dahlonega," McBryde's first hit. And it's a good one. As McBryde explained it, it was the product of a writing session with Hayford and Jesse Rice on a particularly shitty day, and it's based on the night Rice's car broke down outside of Atlanta and he walked into said bar and met his future wife. Events like that need to happen just often enough IRL to keep country music credible. 
But most of McBryde's songs are about the difficulty of making life choices. Sometimes she works off an easy juxtaposition of opposites like "The First Thing I Reach For" ("is the last thing need") about trying to fuck your way out of an infatuation with whoever's within arm's reach. As the invitation to ruin your life "Tired of Being Happy" shows, McBryde may not be prone to bad decisions but she's open to making them on occasion, and "Women Ain't Whiskey," about cutting it off with a worthless guy, shows she can learn her lessons. Still, the most psychological depth came from "Learned to Lie," sung from the perspective of a cheater's daughter, about how family dysfunction replicates in the next generation, and maybe you don't even make your own choices. 
With all those decisions in the balance, it was fitting that McBryde closed with the title track of The Devil I Know, which rejects well-intended advice. After all, good country music is about knowing the rules, and knowing when to break them.
Setlist
Blackout Betty
One Night Standards
Brenda Put Your Bra On
Whiskey and Country Music
Single At The Same Time
Ain't Enough Water in the River
Made For This
Girl Goin' Nowhere
First Thing I Reach For
Cool Little Bars
Learned To Lie
Women Ain't Whiskey
Sparrow
6th of October
Coldest Beer in Town
El Dorado
Tired of Being Happy
A Little Dive Bar in Dahlonega
Light On In the Kitchen
The Devil I Know
Stay in touch
Sign up for our free newsletter