Culture
I Baked a Coffee Cake With Local Social Media Celebrity Sam Schedler
Turns out he's a corner slice kind of guy.
10:24 AM CDT on March 15, 2023
Sam Schedler is tongue-tied. 
While he pushes out sketches and jokes every week that get hundreds of thousands (and sometimes millions) of views on TikTok and Instagram, the 29-year-old social media star is currently laser-focused on mixing up the batter of YouTube/chef Claire Saffitz's coffee cake recipe. 
"It's really hard to talk and follow directions at the same time," he says, exasperated.
Aside from being a big-time "content creator" (he hates that term), Schedler is also an avid baker, and often hosts live Instagram baking sessions with his followers. "Those don't get as much engagement, but that's fine," he says. 
Today, however, Schedler has not only agreed to chat with me about his social media stardom and his standup comedy aspirations, but he's letting me be a part of his baking process while giving me a look into his private life, one ingredient at a time.
Following the Recipe
Schedler has placed me on what I like to call "the little kid jobs." The ones that are easy to do and hard to screw up. While I'm mixing up coffee grounds and brown sugar for our coffee ribbon, and kneading butter into flour for our crumble, Schedler tells me about how he first became a viral sensation. 
The story starts roughly around the beginning of the pandemic, when he decided to become more active on social media as a way to pass the time.
"I think there was something inside of me that always wanted [to perform and entertain]," he admits. "But there are so many little fears that come with it. Stuff like, no one is going to think you're funny and the fact you think you can do that is really stupid." 
His first TikTok showed viewers how to make homemade Pedialyte. It bombed. 
"I thought it was so funny," he recalls. "I used a voice effect and was like, 'This is going to go viral!' Then like three people watched it. But I'd go back and look and be like, no, this is funny."
While that particular vid wasn't the right fuel for the almighty algorithm, future clips would fare much better. Whether it's portraying a nurse who needs to make fun of his patients on social media (Schedler was a nurse for many years), a multi-level marketing enthusiast terrorizing potential members of their pipeline, or, most recently, mocking the city job interviewer who decided that Sheriff Dave Hutchinson deserved another chance, Schedler entertains fans across the globe. 
"I remember the first time I got recognized in public," he recalls. "It was an 80-year-old woman at the Aster Café. She recognized me and wanted to take a picture. My ego is really big, so I was like, 'Absolutely.' Then she liked one of my TikToks the next week and commented something like, 'It was so nice meeting you at the Aster Café!' and I saw she had changed her profile picture to the one of me and her. And she said something else like, 'Keep doing what you're doing. It's really important.' That made me get emotional." 
Schedler currently has around 190,000 followers on TikTok, and another 183,000 on Instagram. Not surprisingly, brands have reached out to capitalize on his success. 
"I remember one of the first things a brand sent me," he says excitedly as he puts down his whisk and runs to a closet. When he returns, he's holding a bright yellow safe. "It was Butterfinger. They sent me this safe and some glasses. Now it's where I keep my laundry money." 
Over time, he would get more gifts from various brands that were hoping to get a post or a mention in front of his ever-growing fanbase. While this trick worked for a while, Schedler understands his worth has increased online, and candy bar sunglasses—while extremely cool—no longer cut it. 
"When I first started out, brands would send me things and I would think like, 'This is really fun,'" he explains. "And it worked for them, because I would talk about the things they sent me. But now, I'd like to be compensated fairly." 
Schedler reports he didn't get started for the money, and won't be swayed by it either. 
"That's a trap I think a lot of people fall into," he says. "One thing I pride myself on is my boundaries when it comes to my time. I've been turned away by companies because I've told them my price and they think it's an inordinate amount of money. But honestly it needs to be worth my time. Plus I want it to be something I care about and not just sell things that go against my code of ethics. You can sell out super-fast, if you want to."
Schedler takes a pause to show me how we're going to assemble our coffee cake. He's also very excited to let me use his favorite kitchen utensil: the spreading spatula.
While he's waiting on the right brand partner to come along, Schedler has recently made the decision to make the jump from the tiny screen to IRL, entering the world of standup comedy.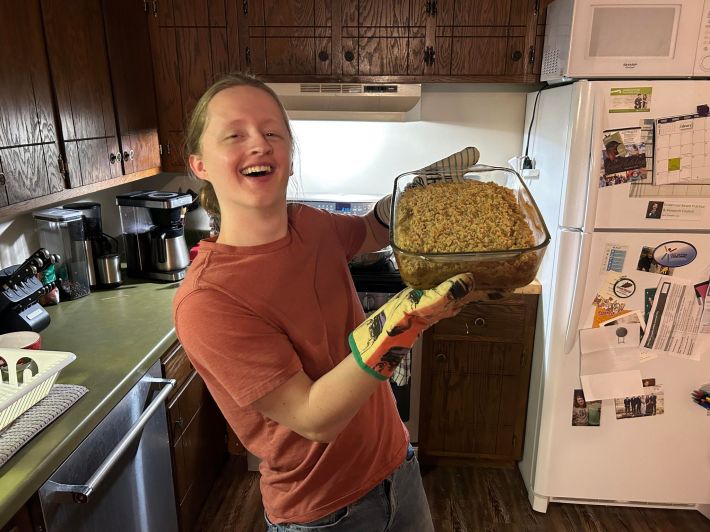 Watching Things Rise
One of the benefits of social media notoriety has been the opportunity to make new friends. Schedler met comedian Alex Collyard through Instagram, due to a mutual love of each other's comedy. So when Collyard produced a comedy variety show at Bryant-Lake Bowl this past December, he invited Schedler to be a part of it. 
"I was like, 'I've never done this before, I'm not sure if I'm going to be any good. Are you sure you want me on this show?'" Schedler remembers. "And he was just like, 'Absolutely. People are going to love you.'" 
Schedler's first time onstage was a hit in person and online. The clips of his standup—including a bit about dating a weatherman, stalking the weatherman, and ultimately being sued by the weatherman—went viral. At that point, he was hooked. 
Over the past few months he's performed a handful of times, including appearances at Sisyphus and Disco Death Records and a headlining spot on the weekly Uproar open mic show, but he's not rushing to take over the stage just yet. 
"I want to enjoy doing this," he says. "I'm really lucky that this is something I enjoy doing and learning about and getting better. I know I'm going to need to get out of my comfort zone if I want to get better, but I'm not super adaptable."
Schedler does plan to get more involved in the open mic scene, although stage time often falls past his bedtime. "The open mics start so fucking late!" he groans.
Fortunately, it's still early when the timer goes off on our coffee cake. Unfortunately, the consistency is like a very soupy Jell-O dish, as opposed to the fluffy pictures in Saffitz's book. Despite saying he's not adaptable, Schedler shrugs it off and shows that he is capable of being patient. 
"We'll give it some more time."
The Taste Test
As we anxiously await the overtime period of our coffee cake to expire, Schedler shares some of the challenges of his newfound fame. 
"The parasocial relationships are one of the weirdest things that happened," he says. "Like I share stuff on the internet and people think that's them being a part of my life. But it's not; it's just sort of this weird, assumed familiarity." 
Schedler says he's had to block people for being rude, intrusive, or, in some cases, just confusingly upset. 
"I did one TikTok where I made it seem like I was coming out to someone, but I was just telling them about a comedy show," he explains. "People got very upset that I played with their emotions. They would say things like, 'I trusted you' and 'I have a lot of queer friends and I don't appreciate that.' Here I was, trying to make light of experiences I've had with coming out and being queer, and people are telling me I can't do that." 
Although he realizes some of those feelings of anger, hurt, or obsession are misplaced, Schedler is a sensitive soul who admits the feedback gets to his core. "It all gets to me," he says. "The negative, the positive, all of it." 
That's also why he wants to use his platform to speak out on social issues and subjects that have impacted people. 
"A part of me is always thinking about what I could be doing to help," he says. "Especially with the recent anti-transgender policies and the ban on drag in Tennessee, I feel like I should be doing more? And yes, everyone can always be doing more. But I think letting people know that my page is a safe space for queer people and bringing attention to things I care about do help." 
With that, Schedler pulls our coffee cake out of the oven. Miraculously, it's solidified and ready to eat. He begins cutting me a corner piece—a sign of our newfound bond. 
"This is a big deal because I'm giving you the corner," he says. "The corner is my favorite part because it's crunchy and I like the crunch." 
As he packs me a to-go container before I leave, he says something profound that truly encapsulates his outlook on everything from standup to social media to baking.
"The thing I love about baking is that you don't have to do it for a specific reason," he says. "I do it just because it's something that brings me joy."
Stay in touch
Sign up for our free newsletter