Food & Drink
How Savory Bake House Become a Cult-Loved Longfellow Fixture
Open only a handful of hours each week, this south Minneapolis favorite always has a line down the block.
10:37 AM CDT on September 8, 2023
There's not a single cloud in the sky on this picturesque Friday morning in Minneapolis's Longfellow neighborhood. What better way to spend it than… standing in line?
"Do we wanna make a list?" asks Ivy, a pastry-loving patron in the famous queue that snakes down the sidewalk of 36th Street to the pick-up window at Savory Bake House. Ivy's friends Theo and Baz gaze longingly at the board of baked delights hanging in the window and agree to plan which goodies they'll devour this morning for Baz Day, "an international holiday celebrating Baz."
"I've loved this bakery ever since I moved here five years ago," Baz explains. "I come here once a week and it's delicious every time. It's my favorite breakfast place." 
The treats concocted by baking mastermind Sandra (Sandy) Sherva and partner Max Okray have earned them a lot of regulars like this over the years. "Welcome back!" is a frequent greeting as each guest finally reaches their destination, ogling the brioches, muffins, scones, cream puffs, quiches, and tarts piled into the bakery's glass cases.
Open just three days a week, for a few hours each day, Savory Bake House has steadily become something of a cult favorite in south Minneapolis. Sherva and Okray are food industry veterans, having worked at several notable restaurants over the years—Barbette, World Street Kitchen, The Wedge, Nightingale—though they first met at the late Seward brunch spot Birchwood Cafe. (Don't forget: You can currently buy Birchwood at a $200,000 discount.) Sherva was the manager of the pastry department at the time; Okray had just completed culinary school and landed his first kitchen job.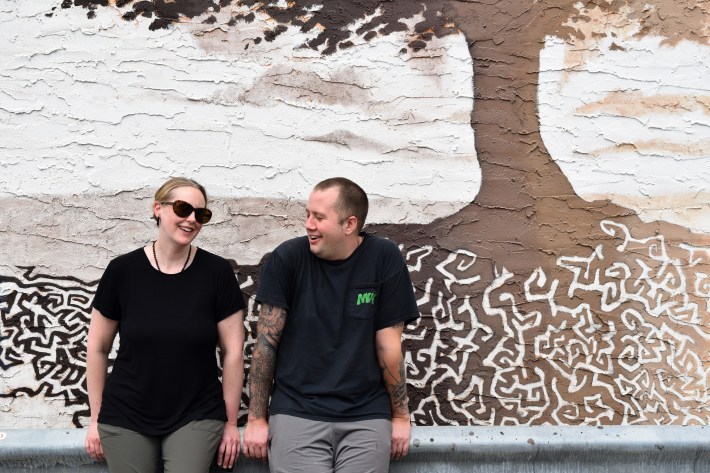 "I was working the salad and sandwich station—very new to the industry, new to the job—and Sandy was working at the baker's table that touched my back," Okray recalls. "There was one time that I said something goofy and I heard her chuckle back there, and I was like, 'That's it!'"
Both spent time in the food industry from a young age: Okray grew up in Stevens Point, Wisconsin, on his family's potato farm, while Sherva spent her youth moving all over Minnesota (and spent some time as far away as Oregon). She got her start in the food world at 15, working as a dishwasher at a small bistro in Stillwater called Savories; the name "Savory Bake House" is an homage.
The Bake House building at 3008 36th Ave. S. was formerly a dog grooming shop, a beauty salon, and most recently, an art studio owned by the mother of current landlords Brookes and Mark Mahoney. One night while working at Merlins Rest Pub, Sherva was nursing a bad headache and headed to her car to find some medicine. The Mahoneys had been walking through their newly vacant building when they stopped to observe Sherva rifling through her car. Despite not knowing who she was, Sherva remembers, they approached her and asked if she ever thought of owning her own restaurant—or, in Sherva's case, owning her own bakery. Seriously!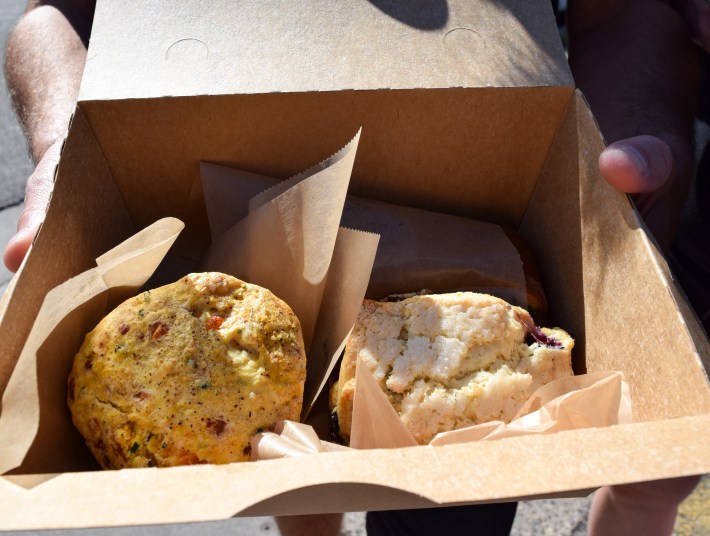 Okray was immediately on board; Sherva was a bit skeptical. But with the encouragement and help of their friends and family, they opened Savory Bake House in December 2014, and they've been the sole owners and operators ever since. It has been a labor of love from the very start, and nearly 10 years later, Savory Bake House still rarely fails to draw a crowd. 
But what is so irresistible about the goods at Savory Bake House? Okray chalks it up to Sherva's never-ending creativity and excitement to create something special for their guests. Sherva's inspiration comes from many places, whether it be a particularly juicy basket of ripe cherries or a chill in the air that sparks the desire to cook up a big pot of chicken wild rice soup.
In each savory brioche sandwich, dripping with gooey cheddar cheese, roasted red peppers, and fresh sweet corn, and every last delightfully spiced, stuffed-to-the-brim churro cream puff, Sherva takes all her hard work and expertise from a lifetime of baking and creates something wholly hers. And Savory's fans cannot get enough.
"The line keeps getting longer," says Carrie Overgaard, a Longfellow resident. "All the neighbors were worried about them through the pandemic and it's great to see them blossom. It means something to have a community bakery."
Savory Bake House was not immune to the vast changes that occurred along the East Lake Street corridor during the summer of 2020. Like many businesses, the bakery was temporarily shuttered due to COVID-19, and the challenges were exacerbated by Minneapolis Police clashing with protestors and rioters after the murder of George Floyd. 
Rather than moving or closing, Savory Bake House's co-owners used the conflict as a way to strengthen their ties in the community. In the days following the uprising, Sherva received a large order from Target Corp. for an event that was subsequently canceled. Not wanting the revenue and thousands of pastries to go to waste, Sherva and Okray organized a fundraiser to provide financial assistance and meals to Minneapolis residents whose lives were irreparably damaged during the pandemic and unrest.
Soon, Savory Bake House was partnering with organizations including the Safe Haven Encampment in Brackett Park to provide shelter, food, water, and medical attention to houseless individuals all over the city. Often, they'd arrive to find a completely evicted encampment before they had a chance to distribute their meals.
"You're searching for your connections and you're trying to find out where all the people went and you're trying to keep track of everybody during this whole traumatizing time," Sherva says. "It was this whole network that nobody knew about. And that was overwhelming."
"And we had no support from any city officials or anything," Okray adds. "Why are we the ones to step up to help? Where the hell is everybody else? But more importantly, where is the city? Why is this even happening? Why are people pushed to this point of living in this park?"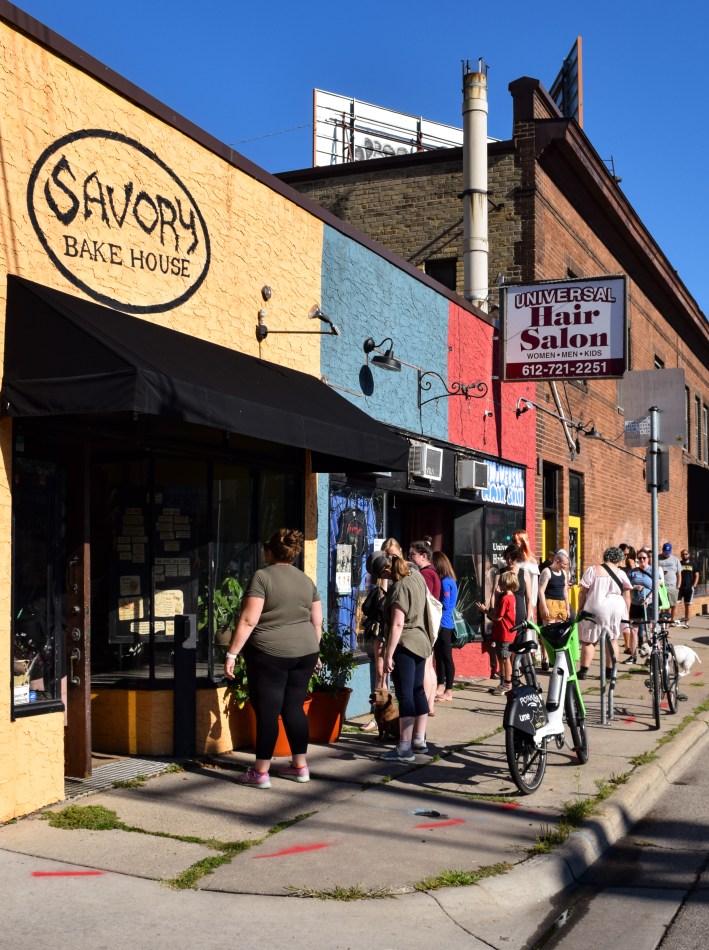 At one point, Sherva and Okray were providing breakfast and dinner to Safe Haven six days a week. Eventually, the encampment was evicted and individuals were moved from hotel to hotel around the Twin Cities, no longer requesting the meals provided by Savory Bake House. 
Sherva and Okray continued fundraising for meals and supplies through the end of 2020, while Savory Bake House reopened to the community that September.
Over the years, Savory Bake House fans have asked Sherva and Okray why they don't hire more staff to extend their hours or open a second location. Their answer is simple.
"We really don't want to," Sherva says. "And that whole upward trajectory is not something we would even consider. A bigger space, never."
Okray notes that their current business structure allows them to prepare fresh items every day and ensure that no one is ever getting a day-old product. Sherva and Okray also stress the importance of staying small, accessible, and affordable.
"I worked at a place I [couldn't] afford to eat at. It was always like that and when you feel that for 10 years, what does that mean?" Sherva says. "I don't want this to be a place that people can't afford to go to."
Sherva and Okray also enjoy the flexibility and freedom that their small business provides for breaks to regroup and relax, as well as escape from the oppressive heat of a small bakery during peak summer. 
If you go, be sure to get there bright and early—and don't let the line dissuade you. 
"It has this magical… I don't know what it is, but when that line finally reaches the end, we're not quite sold out. We actually do get to the end of the line," Sherva says. "I really try hard to make it worth it for anyone standing out there."
Savory Bake House
3008 36th Ave. S., Minneapolis
Friday-Sunday: 9 a.m. to noon
Olivia McKenzie is a writer, baker, vinyl enthusiast, beer lover, masochistic Timberwolves fan, and all-around Nordeast hipster trash. Find her in the kitchen concocting a new fermentation project, biking to a thrash metal show at the Entry, or collecting cool rocks on the North Shore.
Read More:
Stay in touch
Sign up for our free newsletter