Culture
The City Slicker's Guide to Twin Cities Auto Racing
This is racing with its roots in Brainerd and Boone, not Bristol or Bahrain.
11:01 AM CDT on May 4, 2023
Summer is nearly here,  and for many, winter's end has already heralded a return to Target Field to enjoy overpriced food in vanity helmets and $16 beers. (And baseball.) Those of you with a betting spirit and money to spare might find yourself down in Shakopee living out your derby dreams at Canterbury Park. But for me, summer's beginning means the start of the auto racing season.
Some still associate auto racing with the Busch Light-guzzling, Dale Earnhardt-praising crowd of a NASCAR race, as parodied by Will Ferrell in Talladega Nights. That's changing with the increasing popularity of F1 in America, driven in part by Netflix's Drive to Survive series, which pairs meticulously tuned cars on global tracks with eager announcers with British accents and svelte young drivers from exotic Mediterranean locales. 
You likely don't associate either NASCAR or F1 with Minnesota, and you would be correct! While NASCAR does have a few Upper Midwest tracks in neighboring states, F1's nearest active tracks are in Austin or Montreal. What we do have nearby is a number of short track speedways—both dirt and asphalt tracks—with a charm and culture all their own. 
This is racing with its roots in Brainerd and Boone, not Bristol or Bahrain. The tracks are well under a mile long, and in stark opposition to the 200+ mph speeds of Nascar or F1, these races feature speeds not unknown to your average Toyota Camry, but with a level of skill surpassing even the most adept March pothole dodger. 
Midwestern culture can be starkly divided between cities and rural communities. If you didn't grow up in a family or community that celebrated auto racing, you probably have no awareness of the opportunities within a short drive of the Twin Cities. I'm lucky for a city kid—despite growing up in the uniform sprawl of American suburbia, summers often included a trip to visit family in Knoxville, IA, home to the Knoxville Raceway and the aptly anointed "Sprint Car Capital of the World." My family and I would spend gorgeous summer evenings watching the overgrown-go-kart-looking sprint cars throw dust and dirt into the air, the scream of engines drowning out any attempts at conversation, and radiant stadium lighting reflecting off of the glittering laminate of tear-away visors. 
And I mostly hated it! Listen, kids can be awful, and if it wasn't hanging out with my friends or a video game, I really couldn't be bothered. I mostly ate junk food and cheered for crashes. But as an adult, I found a longing to reconnect with my family's roots and I needed quick escapes from the bubble of city life, and so I returned to the speedways of the Upper Midwest.
What I found at the races as an adult was an entertaining and adrenaline-filled spectacle—sure, I still like junk food and the spectacle of a crash, but now I can appreciate the tension of a racer making a pass, the roar of doppler-effected engines screaming past, the jubilation of a close finish. It's an evening outside in the summer sun with an unmatched energy: The dress code is casual, the beers are cheap, and the vibes are unpretentious and distinctly different from your average Minneapolis or St. Paul hangout.
There's no dancing around the cultural divide. If you don't regularly spend time in rural Minnesota, you'll almost certainly have a moment of culture shock. Maybe it'll be the prayer before the race begins (for the safety of the drivers) or the ubiquitous Thin Blue Line and Punisher paraphernalia that would get a patron side-eyed out of any respectable Minneapolis bar (though it wouldn't be out of place at a Wild game). Perhaps it will be less subtle, like the #1776 car with a My Pillow sponsorship, adorned with "Trump 2024" slogans, that I saw race on one occasion. 
I spoke to Connor Ferguson, staff writer at the Iowa-based Always Race Day blog, about some of those experiences, and he cautions that what you see on the smallest stages of the sport are "not representative of the sport of racing at large"—just as you can't write off the NBA if you hear a sexist remark on your local basketball court. And I agree with him—I hold those moments of discomfort in tension with the kindness and generosity I've felt from other race fans. I'm a loud and ignorant city kid, and folks have generally been happy to answer my questions about the race and have gone out of their way to make me feel welcome. 
Ferguson shared that he came out as a gay man while covering racing in rural Iowa, and he "never had a person come at me for that… I asked probably 10 people before I came out and three of them laughed at me and said, 'Why would you worry about that?'" While stereotypes of racing as a white and redneck sport can appear true on the surface, he reminds folks that "race fans are race fans, and… 95% of them will help anyone out in need." 
The Speedway is a revelrous and unabashed celebration of rural and small town identity—in both positive and uncomfortable ways. Race fans are hardly homogenous though, and dismissing the sport based on a stereotype would be a real shame. The experience is too much fun to consign to any one political affiliation or community.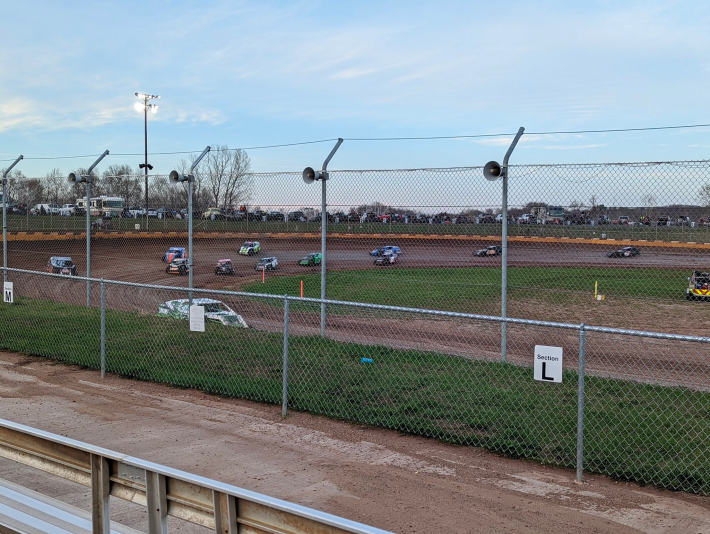 Attending your first race
The proceedings of a race can be a bit confusing for a new attendee. An evening at a small track race isn't one big race as you might see on a televised NASCAR or F1 event, but a number of short races of different categories of car—much more akin to a boxing event that will have multiple fights of different weight classes before the title card. It's not particularly important that you know the difference between a Late Model, Super Stock, or Midwest Modified; just know that each classification has different specifications that the car must meet to ensure an even playing field. 
Depending on the track and how early you arrive, you may witness qualifying heats that will determine starting positions for the actual race. Unlike Mario Kart, these cars do not start the race from a dead stop (some are mechanically incapable of it), so the cars will get in an orderly line behind a pace car until they get the green flag and actually begin the race. Wrecks will happen, and can result in a yellow flag—instructing cars to maintain their order, but reduce speed as the wreck gets cleared—or a red flag—indicating a dangerous situation where all cars should immediately stop until the track has been cleared and the race can resume. Most races take only a few minutes, and you may see dozens of races over the course of a few hours. 
A few suggestions for getting the most out of your trip to the races:
Races are noisy, and you'll want hearing protection. Once the cars open their throttles you won't be able to have a conversation anyway, so don't worry about high quality earplugs for concerts—just block out all the sound you can and choose something that you won't be worried about losing beneath a bleacher.

If you're opting for a dirt track (and I do recommend it!) then bring a pair of sunglasses, even if it isn't sunny. The cars kick up a lot of dirt and dust and you'll appreciate that debris being on a lens, rather than in your eye.

Pick a car before each race to cheer for and follow how they do—choose one with cool colors, a silly sponsor, or the number you like best. If fantasy football has taught us anything, it's that even an arbitrary rooting interest can make spectating more entertaining!

The action in a race is often not at the front, where a driver can maintain and expand their lead, but in the middle of the pack where cars are jostling for an advantage. Identify where position changes are occurring and focus on that to see the most exciting racing.

Tracks are all a little ways out of the city, and vehicular safety isn't just for the drivers on the track. Drag a friend with you and choose a designated driver in advance so you can enjoy the surprisingly reasonable beverage prices
In addition to my own tips, Ferguson adds that most tracks have open pits before the race, allowing fans to interact with the drivers. "Don't skip the pits—go down and talk to the drivers, tell them it's your first race." He also advises that if hot laps have already started, you can tell where you don't want to sit based on where you can already see dust and dirt accumulating on the seats.
Where to Catch an Auto Race Near the Twin Cities
There are three speedways located within an hour of Minneapolis, each with its own unique charm.
⅜ mile asphalt oval track
26350 France Ave., Elko New Market
40 minutes south of the cities on I-35, take exit 76
Season opens May 27, races on Saturday evenings
Elko Speedway advertises "Affordable Family Fun since 1965" and they take that mission seriously. Elko is the only asphalt track on this list, which I'm personally less partial to, but they go to lengths to make sure you're never bored. This is the St Paul Saints of auto racing—sure, there's a sport to be witnessed here, but the goal is entertainment. 
Interspersed with traditional racing, their Eve of Destruction events are a veritable automotive freakshow of monster trucks, semis strapped with jet engines, pyrotechnics, and rock music. Be sure to catch the annual figure-8 school bus races that feature decommissioned yellow buses t-boning each other to the cathartic amusement of the school kid in all of us. Elko is serious about the "Family Fun" promise with loosely thematic nights from "Ghostbusters" to "Star Wars" and a sometimes confusing lineup of entertainment away from the track—everything from a petting zoo to amateur wrestling. A portion of the parking lot doubles as a drive-in movie theater that offers entertainment well into the night after racing concludes, giving you a chance to let the onerous traffic situation resolve before heading home. 
¼ mile dirt oval track
1400 Third Street N., Princeton
60 minutes north of the cities, take I-94 to 169
Season opens in April depending on weather, races on Friday evenings
If Elko has the atmosphere of a Saints game, then Princeton Speedway is a high school baseball game. Tickets are cheap ($12 for adults) and a cash-only concession booth offers a full bar to serve fans. There's little pretense surrounding the races themselves and compared to other area tracks, the events are refreshingly quick, with races starting at 7pm and regularly wrapping up comfortably by 10 p.m. The track is oddly nestled along residential streets of Princeton on the Mille Lacs County Fairgrounds, and I have to hope the neighbors are enthusiastic race fans. Princeton Speedway feels like a small-town track that mostly draws attendees from nearby communities, and it's common to see folks greeting one another in the stands.
⅜ mile clay oval track
2275 County Road Cc, New Richmond, WI
50 minutes east of the cities, take Highway 36 into WI and County C north out of Somerset
Season opens in April depending on weather, races on Saturday Evenings
Cedar Lake Speedway makes the most compelling case for traveling to western Wisconsin since the start of Sunday liquor sales. While Cedar Lake doesn't feature all the extravagance of Elko, it's a bigger track than Princeton and with more extensive concessions and hospitality. I'd encourage you to stretch your legs at least once by walking the grounds—Cedar Lake allows for tailgating and camping around turns 3 and 4, which provides the unique spectacle of families watching the races from around a firepit or sitting on a truck bed. There are some fun roadside bars and grills in the area as well as the frat-party-on-water experience of the Apple River, so options abound for making a day of your trip out there.
A bit further out, you can also consider Arlington Raceway, Granite City Motor Park, Ogilvie Raceway and Red Cedar Speedway, all within 90 minutes. 
Auto racing may not be the first activity that a Twin Citizen thinks of when they consider summer recreation. But when you boil it down, many of our most cherished summer activities are really the chance to be outside with a cold drink and stare at something with your friends and family. Baseball games, fireworks, lakeshores, and backyard barbecues—all thinly veiled social excuses to enjoy a beer in the sunshine with friends. If you haven't tried it before, 2023 could be your year to add a new activity to that list and head out to a Twin Cities area speedway. You might discover a different experience from what you expected.
Ian lives in Northeast Minneapolis. You can find him out organizing the Cities with Twin Cities DSA and goofing around on Twitter.
Stay in touch
Sign up for our free newsletter