For three decades, the mission atop Lookout Mountain was clear. 
"Basically, we were looking for the Ruskies coming in from Canada," says Sgt. Marvin Crawford, who was stationed at the Finland Air Force Station from 1965 to 1968. 
At the height of the Cold War, the Minnesota base's three powerful radars scanned a 250-mile radius, searching for Soviet aggression along the northern border. (Unlike in Duluth, the base was never visited by nuclear-war-tempting bears.)
Built for $5 million in 1951, the base boasted 26 military buildings and 44 homes. When its technology became obsolete, the facility closed in 1980. "When the search tower was shut down April 30, ending the station's main mission, the women said they climbed up into the tower and broke open bottles of champagne," the Duluth News Tribune reported way back then.
Long gone are the barracks, power plant, dining hall, and champagne-soaked radar towers that formed a mountaintop town of 350 soldiers.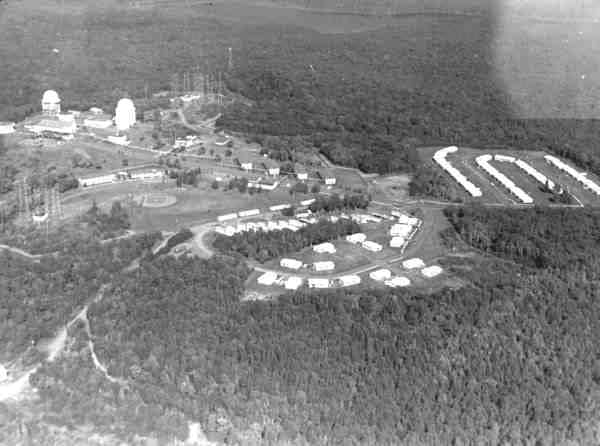 Remaining, however, are 27 mid-century homes on paved streets with power and sewer lines already in place, plus 101 acres that feature panoramic views of Lake Superior. That's the unique draw of the current property listing, which teases potential investors to "bring their ideas, imagination, and creativity to create something special" for the non-outrageous price of $800,000.
The current listing agent declined to speak with Racket; click here for a photo tour.
That promise has lured past investors, including a Twin Cities family that dreamed of creating a luxury vacation home village there as recently as 2006. (The mountaintop has also hosted Eagle Ministry's rustic prayer retreats since the '90s).
The main impediment to development dreamers isn't advertised by realtors: The seemingly pristine location is a Superfund site, according to the Minnesota Pollution Control Agency. The buildings were constructed with asbestos and lead paint; the soil is contaminated with diesel fuel, PCBs, and TCE, resulting in the quick poisoning of freshly drilled wells.
"I certainly wouldn't ever invest in it," says David Abazs, a resident and former township supervisor of Finland. "It sounds exciting, but what would you do with it? It has a great view, but how would you have water?"
An environmentally minded farmer who once appeared on the cover of City Pages, Abazs works as northeast Minnesota's director of sustainable development partnerships with the U of M. He's intrigued by the potential of windfarms atop Lookout Mountain, though the deadly impact it might have on birds remains murky. Due to pollution concerns, Abazs hopes the property never gets developed.
"We don't know what the future could be up there, all we know is what the past history has been," he says. "And it's not been very pretty in terms of developers trying to do something and not being successful. We had various past investors who built up debts and not paid them."
Crawford is more focused on the base's past. He still remembers approaching Lake Superior on his first chilly trek north.
"I had to turn my heater on about 30 miles out of Superior, and I thought: 'July 1, I've gotta turn my heater on?'" remembers the Kentucky-born vet who was previously stationed in tropical Thailand. "And that was just shades of things to come."
Work on the base functioned like a normal 40-hour-per-week job, Crawford says, affording soldiers from around the country plenty of time for hunting, fishing, and yes, drinking in the Northwoods. "There wasn't much else to do," he says with a chuckle.
Entertainment options did exist, including a pool hall, movie theater, library, bowling alley, ski tow, and an underground curling rink.
"We had the only curling rink in the Air Force, or so they said," Crawford says. "It was built, um, illegally I guess would be the word, but it was used an awful lot."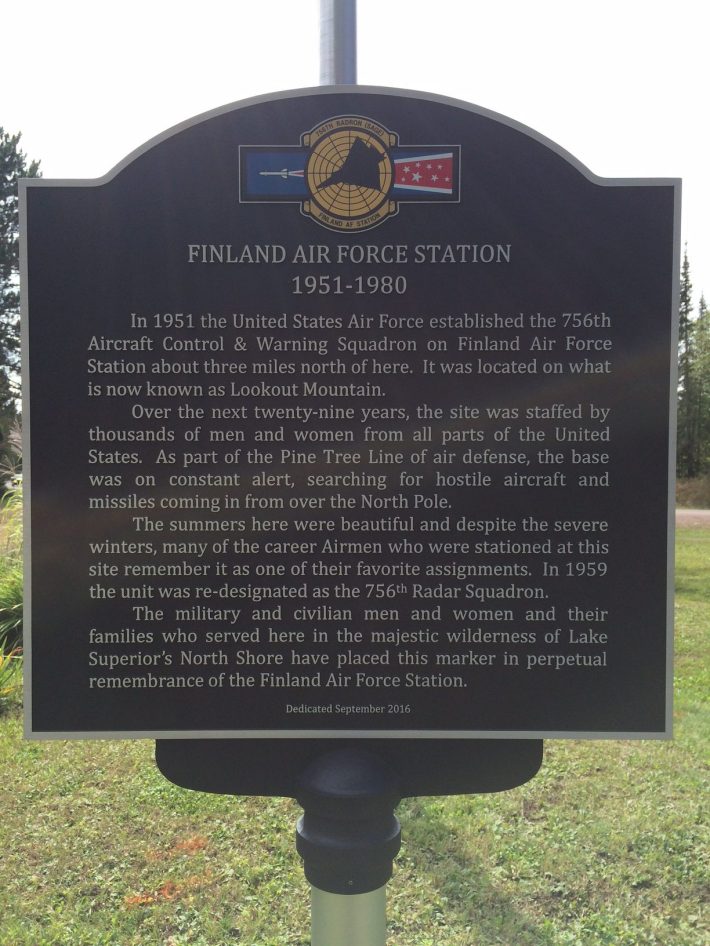 Crawford's attachment to the North Shore isn't just tied to the military.
"I got a girlfriend in Silver Bay, who ended up… she's my wife of 50 years," he says. "Her dad was the police chief in Silver Bay, so I kinda had to tow the line."
The couple returned to Finland in 2015 and 2018 for 756th Radar Squadron reunions organized by Crawford. The events drew 50 and 100 nostalgic soldiers, respectively. "There's a very strong connection, it was a big affair," Crawford says. In 2016, Crawford raised $4,000 for a plaque honoring the Finland Air Force Station, which you can see above.
Update (January 30): Current owner Patrick Remer reached us by phone to say the site is a potential "goldmine" for investors; he claims pollution levels are currently safe.