Arts
This Week's Best Twin Cities Events: Kielbasa with Kramarczuk's, Party on the 24th Street Bridge, Modest Mouse
This week's Event Horizon
3:45 AM CDT on August 18, 2021
For decades, City Pages put out a list each week of things to do, showcasing the best concerts, festivals, food happenings, art-show openings, and more in the Twin Cities. Now, Racket is here to bring that curated calendar energy back. You'll find these posts on our site every Monday, or you can sign up using the window below to get it sent to your inbox each week.
Stay in Touch
Sign up for Our Free Newsletter
THURSDAY, AUGUST 19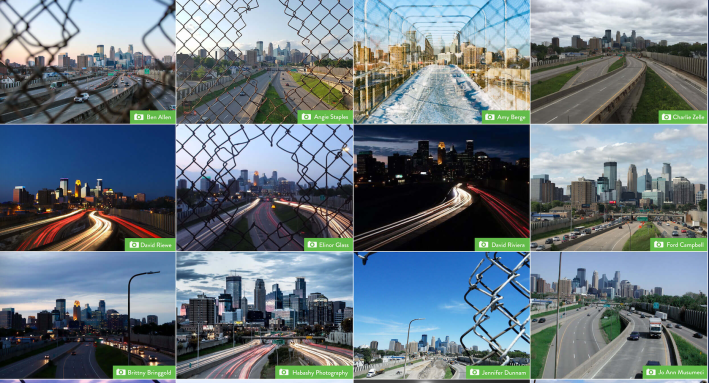 Bridgefest
Various Locations
When the 35W project began work near 24th Street in 2018, not only were the roads and entrances torn up; the foot/bike bridge between Phillips and Whittier was torn down, making travel in the area difficult, whether you were in a car or not. Fortunately, this tale of two neighborhoods has a happy ending, as a new bridge is opening this Thursday. And both 'hoods are celebrating at a variety of locations. Open Eye Theatre will have a slew of activities, including puppet plays, live music from the Brass Messengers, a DJ-fueled dance party, and art creation with the very metal Southside Battletrain. Mia's parking lot will have a taco food truck and a snow plow for vehicle-lovin' kids to explore. The American Swedish Institute will host a lawn party with music and free museum admission, and Hennepin History Museum will also invite folks in for free. Don't skip the bridge itself, obviously; here you'll find downtown views and a photography showcase. Free. 6 to 8:30 p.m. Find more info at bridgefest.35wat94.com. --Jessica Armbruster
Minneapolis Freedom of the Press Exhibit
Urban Ventures
This exhibit features photos by St. Paul-based independent journalist Georgia Fort, a visual storyteller and one of two journalists who was in the courtroom for Derek Chauvin's sentencing. There's an opening reception this Thursday, August 19, from 6:30 to 8:30 p.m., but the exhibit is open to all for a little more than a month. Find more info and RSVP on Facebook. (And hey, give Racket a follow while you're there!) You can also grab a copy of Fort's Freedom of the Press—which includes photos from the George Floyd protests, Trump's final day in the White House, and more—on her website. 3019 S. Fourth Ave., Minneapolis. Through September 25 — Em Cassel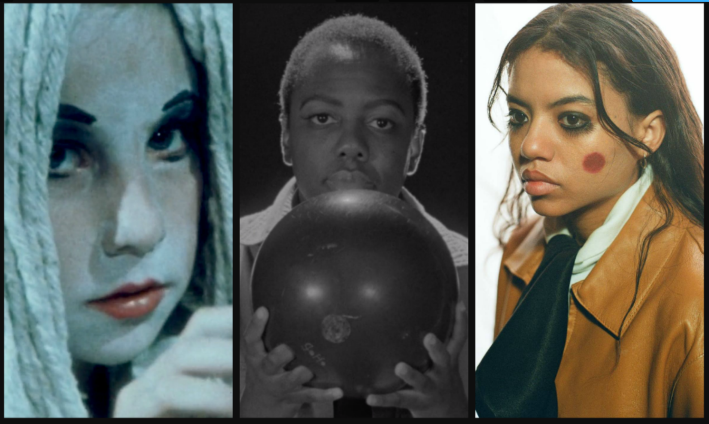 Sound for Silents 2021: Film + Music
Walker Art Center
The fifth edition of the Walker's annual hillside event, which pairs adventurous local musicians with selections from the museum's Ruben/Bentson Moving Image Collection, hands the reins over to FPA, who's following up her standout R&B-adjacent 2019 release, the vibey skittering Yang Chen, with Princess Wiko this fall. Tonight, along with a five-piece that features not just synth and guitar and percussion but also violin and trombone, FPA will perform a newly commissioned work to accompany Suzan Pitt's 1972 Jefferson Circus Songs (shot at Uptown Minneapolis's Jefferson School),  Shu Lea Cheang's Bowling Alley (1995), and Pat O'Neill's Horizontal Boundaries (1995). With DJ Yonci Jameson. Free. 7 p.m. 725 Vineland Place, Minneapolis. —Keith Harris
Twin Cities River Rats
Mississippi River
Come on man, it's the River Rats! The local water skiing institution has jumped, stacked, and danced atop variously polluted levels of Mississippi River water since 1979, reliably delighting tots and their nostalgic parents. The Rats took last summer off due to Covid-19, but they're back with an underwater-themed show, Under the Ski, which, if all goes as planned, will not see any of its seven members submerged. "Will Nemo be able to reunite Ariel with her underwater friends?" the poster screams in bold text. Only one way to find out. Grub-wise, takeout from nearby Broadway Pizza has been a solid bet for two decades; suds-wise, crowlers from nearby Pryes Brewing Co.'s newish taproom provide the perfect covert public consumption on the riverbank. Concessions and pre-show fun begin at 6:30 p.m. Watch the Rats from the banks of the Mississippi, between the Broadway and Plymouth Avenue Bridges. Tuesdays and Thursdays through August 26 --Jay Boller
FRIDAY, AUGUST 20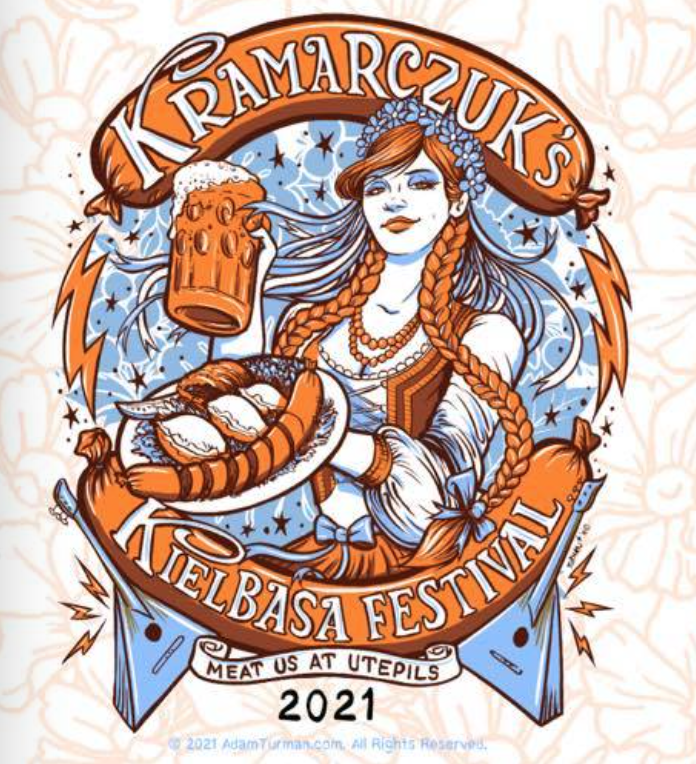 Kramarczuk's Kielbasa Fest
Utepils Brewing Co.
After taking a COVID break, Kramarczuk's beloved sausage party is back this summer with two days in Utepils's lot. Friday's free shenanigans include live music from ​​Boe Beito and Doctor Kielbasa, and a meat raffle where you might score some eats to get you through the dog days of summer. Saturday is a bit more of a production; a $5 wristband will get you in for a day of music, starting with Eastern European vibes (Orkestar Bez Ime, Ukrainian Village Band) and shifting to a folk, funk, rock energy in the evening (Fur Coats & Bar Fights, Mae Simpson). There will also be a pierogi eating contest, hands-on art activities for kids, and Minneschlagen, that hammer-and-nail game that pops up at events like this. Of course, the beer and meat will flow freely both days, so bring cash if you're hungry. Free Friday; $5 Saturday. 4 to 10 p.m. Friday; 11 a.m. to 10 p.m. Saturday. 225, Thomas Ave. N., Minneapolis. Also Saturday --Jessica Armbruster
The Cinematic Slaughter: 24-Hour Horror Movie Marathon
The Parkway Theater
Sure, Friday the 13th was last weekend, and yes, we're still two months out from Halloween. But you're an adult! And that means you can celebrate the spooktacular any damn time you want. At the (just-reopened) Parkway Theater, this frightful fest invites you to enjoy 12 back-to-back horror movies—uncut, digitally remastered, and sure to scare. Horror trivia and prize giveaways are part of the fun, and pillows, sleeping bags, and blankets are all encouraged. Find the full lineup of classics—from The Crazies to Piranha to Terror Train—here. 18+. $30 pre-sale/$40 at the door. 6 p.m. Friday to 6 p.m. Saturday. 4814 Chicago Ave., Minneapolis. Through Saturday — Em Cassel
SATURDAY, AUGUST 21
Cloud Nothings 
7th St Entry 
Steve Albini's production articulates the songs on this Cleveland quartet ninth album, The Shadow I Remember (Carpark), till they ring out with the clarity of a '92 DGC audition: guitarist Chris Brown's pin-prick leads make themselves heard without being pushy, drummer Jayson Gerycz's forward tumble contributes urgency until time comes to dramatically punctuate a chorus or bridge in unison with T.J. Duke's bass. The frenzy's all so tuneful that somehow-not-yet-30-year-old Dylan Baldi sounds consistently energized rather than overwhelmed, whether he's posing timeless questions like, "Does anybody out there really need me?" and "Am I older now, or am I just another age?" or setting boundaries with a reasonable sentiment like "I need to make time for me, for me." Who says self-care isn't punk rock? With Manas. $20-$23. 7:30 p.m. 701 N. First Ave., Minneapolis. —Keith Harris
Black Forum
Mia
Last year, in the wake of the George Floyd murder, the Bureau, a multidisciplinary/design studio, came together to create art, spread joy, and ponder our shared histories. Their work began as an Instagram Live series, but this week it will morph into an in-person event at the park. The evening features an artist talk between author and filmmaker Malanda Jean-Claude and Adrian Octavius Walker, photographer and senior artistic director at the Getty Museum. There will also be a pop-up shop with limited-edition T-shirts, a soundscape curated by DJ Kwey, and a screening of Poetic Justice (yes, the 1993 John Singleton movie starring Janet Jackson and Tupac Shakur, RIP). Free. 5 to 10 p.m. Target Park Courtyard, 2400 Third Ave. S., Minneapolis. --Jessica Armbruster
SUNDAY, AUGUST 22
Modest Mouse
The Armory 
Issac Brock is a weird dude. The Modest Mouse frontman's Portland, Oregon, home is crawling with taxidermied fauna; in the '00s he'd slice himself onstage with pocket knives; and, in the press cycle for his band's new album, The Golden Casket, Brock indulged his paranoid side, peppering interviews with terms like gang-stalking, targeted individuals, remote viewing, and voice-to-skull. The record, his veteran indie-rock band's first since 2015's disappointing Strangers to Ourselves, is a strong return to form. Casket is an inventive distillation of past MM delights, from herky-jerky, Waits-ian snarling ("Wooden Soldiers") to hooky arena fist-pumpers ("We Are Inbetween") to wacko surprises ("Never Fuck a Spider on the Fly") and even sweet fatherly ones ("Lace Your Shoes"). Modest Mouse will always be a projection of Brock's singular, often brilliant musings and rantings, and Brock circa 2021 still finds interesting ways to contort a formula he could simply ride off into legacy act land. Once-viral Pennsylvania rockers the District open. $22-$163. 6 p.m. 500 S. 6th St., Minneapolis. --Jay Boller
Stay in touch
Sign up for our free newsletter