Events
Don't Blame Us—We Voted for Your Complete Concert Calendar: November 7-13
Pretty much all the live music you can catch in the Twin Cities this week.
10:27 AM CST on November 7, 2023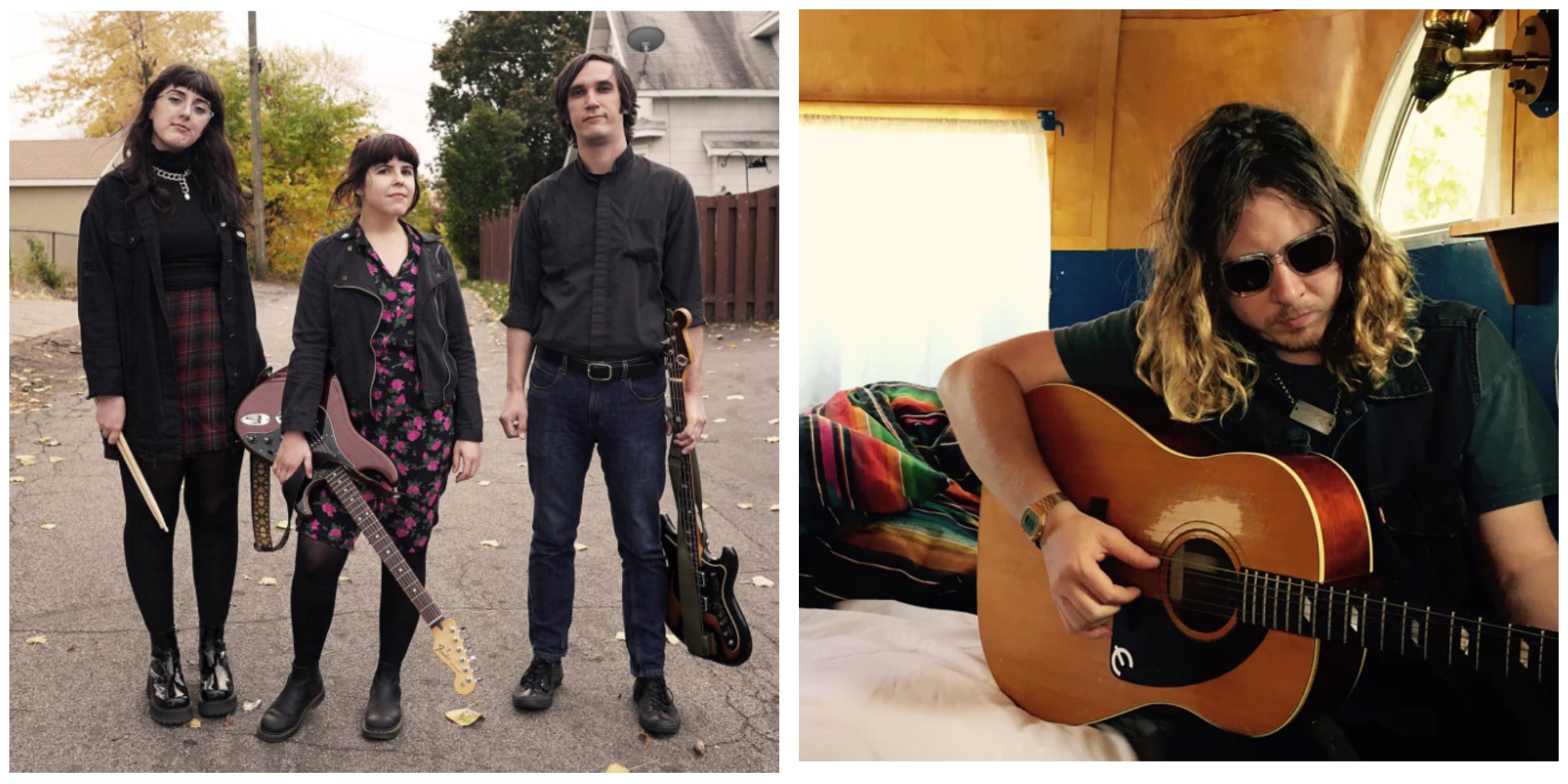 Sorry, this week's calendar is a bit under-annotated. Feature deadline + dumb cold = less time for me to dig into what's going on. Not to be all Tom Sawyer offering you a chance to paint my fence or nothing, but feel free to scour the listings below and share what you're most excited about in the comments.
Tuesday, November 7
International Reggae All Stars @ Bunkers
Israel Fernández & Diego del Morao @ Dakota
St. Dominic's Trio @ Driftwood
Karaoke With On Call Entertainment @ Eagles 34
Kevin Gamble Trio @ Green Room
Holy Hannah! with Dark Pony @ Icehouse
Bill Simenson Orchestra @ Jazz Central
Bluewater Kings @ Minnesota Music Cafe
Mating Ritual with Loviet and Zippo Man @ 7th St Entry
Industrial Strength with DJ Sin @ Terminal Bar
Worker's Playtime with Pop Wagner @ 331 Club
November Conspiracy Series featuring ELOUR, Joan of Profile, Cold Sweat @ 331 Club
Two Steppin' Tuesdays with DL4, Blair Krivanek, Clare Doyle @ White Squirrel

Unattractive Giant Monster (Tuesday Night Residency) with Ruben, Mccrd @ White Squirrel
Wednesday, November 8
MN Songwriter Showcase hosted by Nick Hensley @ Aster Cafe
A Chill Wednesday @ Bryant Lake Bowl
Maggie's Wednesdays: Lori Dokken @ Crooners
Miss Shannon's Swing Night @ Eagles 34
The Bad Companions @ Eagles 34
Deer Tick with Abby Hamilton @ Fine Line
Big Tasty with Willie Waldman Project @ Hook and Ladder
Wind Up Wednesday Walter "Q-BEAR" Banks, Jr. @ Minnesota Music Cafe
Willow Waters (Residency) with Brunette and Vapo Rub @ Palmer's
Car Spiders @ Pilllar

Connor McRae Trio @ Schooner Tavern
Lorena McKennitt @ State Theatre
Harold's House Party on KFAI with the Paul Barry Blues Band @ 331 Club
Stephanie Was, Whale in The Thames @ 331 Club
Polar Red, Ghostmade Cellophane, and Lost Evidence @ Underground Music Venue
Molly Maher & Her Disbelievers @ White Squirrel
Jeremy & The Lords of the Universe with Splimit, Drug League @ White Squirrel
Thursday, November 9
Eli Gardiner + Dan Schwartz @ Aster Cafe
Jay Bee & the Routine @ Bunkers
Another Heaven, Time Room, Curve, Modern Wildlife @ Cloudland
Leslie Vincent and Zippy Laske @ Crooners
U2 Zoo TV Project Tribute @ Driftwood
Karaoke with On Call Entertainment @ Eagles 34
LGBTQ+ Twin Cities Latin Dance @ Eagles 34
Victor Wooten and the Wooten Brothers @ Fine Line
Reckoning Crew (R.E.M.), Trompe Le Monde (Pixies), Rattle and Hum (U2) @ Green Room

Riley Skinner (Album Release) with Rabeca & Hemma @ Hook and Ladder
Joan of Profile + The Grippy Socks @ Icehouse
Paul McCoyer's KJ Garret Quartet @ Jazz Central
Kinda Fonda Wanda @ KJ's Hideaway
No Limits: The B Side @ Minnesota Music Cafe
Smiling Cowboys @ Minnesota Music Cafe
Orchestra Spotlight @ Orchestra Hall
The Front Porch Swingin' Liquor Pigs @ Palmer's
About a Boat @ ROK Music Lounge
Doug Collins & the Receptionists @ Schooner Tavern
Meltt with Killed By Kiwis @ 7th St Entry
Madelyn Rowell, Rachel Geurtin, Poison Ivy!, Nicholas Walz @ 331 Club
The Brevet with Harbor & Home @ Turf Club
The Monday Club @ White Squirrel
November Ninth Noises with Eric Carranza @ White Squirrel
Friday, November 10
FULL OF HELL with END, INTER ARMA, and WAKE @ Amsterdam
Theory of a Deadman & Skillet @ Armory
Mwago Kuria + Rachel Bearinger @ Aster Cafe
Wu Fei and Abigail Washburn @ Cedar Cultural Center
Ghost Kitchen, the Briefly Gorgeous, Baltic Avenue, Neighborhood Watch, Saffron Dealers @ Cloudland
Maggie's Afterglow: Dorothy Doring and Rick Carlson @ Crooners
Steve Clarke & the Working Stiffs @ Eagles 34
Chris Renzema with Jess Ray @ First Avenue
José González @ Fitzgerald Theater
Chatham Rise, Muun Bato, Lumari, Wild Lyre @ Hook and Ladder
Superfloor, The Changeups, and Sabyre Rae Band @ Hook and Ladder
Sen Morimoto with KINFU @ Icehouse
Hammond B3 Night with Pierre Lewis @ Jazz Central
Hector Anchondo @ KJ's Hideaway
Ticket to Brasil with Quatro Bossa Nova @ KJ's Hideaway
The Good, the Bad, and the Funky @ Minnesota Music Cafe
Tacklebox, Gentleman Speaker, Pool Boy, Porcupine @ Mortimer's
62nd Annual Marching Band Indoor Concert @ Northrop
Orchestra Spotlight @ Orchestra Hall
Night Jobs, Oister Boy, and TimIsaRocker @ Palmer's
Solo La Noche: Deep Organic House @ ROK Music Lounge
We Still R with Maurice Jacox @ Schooner Tavern
Sammie Jean & the Moonshiners @ Terminal Bar
TV for Dogs (Single Release), The Envies, Total Gaze @ 331 Club
Puma Blue with Dweller @ Turf Club
Angel Du$t, Candy, Bib, 9 Million, & Popstar @ Underground Music Venue
13 Arrows, Trading Faces, and Indecent Proposal @ Underground Music Venue
Mustard Plug with Something To Do, Space Monkey Mafia, Lost Island Society @ Uptown VFW
Billy Joel & Stevie Nicks @ U.S. Bank Stadium
Half Moon Run @ Varsity Theater
My Kid Banana @ White Rock Lounge
KC McKee with Trash Catties, Unguided @ White Squirrel
Saturday, November 11
The Motet with Yam Yam @ Amsterdam
Dar Williams with Lilli Lewis @ Cedar Cultural Center
Clown Sounds, Visual Learner @ Cloudland
Dillinger Four, Clown Sounds, Norcos y Horchata, Slow Death @ Cloudland
Cafe Accordion Orchestra with Prudence Johnson @ Crooners
Charmin Michelle Presents BB and J: Ballads, Bossas and Jazz @ Crooners
RIVER: The Music of Carole King, Joni Mitchell and Carly Simon @ Crooners
Maggie's Afterglow: Dorothy Doring and Rich Carlson @ Crooners
Shabby Road Orchestra @ Dakota
Michael Gay and Jack Klatt @ Dusty's
Gordon Lightfoot Tribute Band @ Driftwood
American Cream (Record Release), Bermuda Squares, Rupert Angeleyes, Dosh @ Eagles 34
Hot Bagels, Kate Malanaphy, Malamiko, and Admiral Fox @ Eagles 34
Kidd G with Lathan Warlick @ Fine Line
DragonForce with Amaranthe, NanowaR of Steel, and Edge of Paradise @ First Avenue
National Metal Day @ The Garage
Toussaint Morrison (Album Release) with Lazy Scorsese, Damascus @ Green Room
Dani Erin, Weeping Covenant, Oak and The Woods @ Hook and Ladder
Chosen By The Funk Presents: Turn It Up To 1111 @ Hook and Ladder
Roy Orbison Tribute Brunch @ Icehouse
MMYYKK + Sonny Miles @ Icehouse
Patrick Adkins Quartet @ Jazz Central
Joshua Johnson's Blue Dream @ KJ's Hideaway
Demitri Rallis & Run for the Roses @ KJ's Hideaway
The Good, the Bad, and the Funky @ Minnesota Music Cafe
62nd Annual Marching Band Indoor Concert @ Northrop
U.S. Naval Academy Glee Club @ Orchestra Hall
Dark Star Orchestra @ Palace Theatre
Sparrowhawk, Speed Riders, and Super Flasher @ Palmer's
Jest, Alice's Escape, Telekinetic Overdrive @ ROK Music Lounge
We Are Scientists with Sean McVerry @ 7th St Entry
Freight Train, EFMI @ Terminal Bar
Voltage Controllers @ 331 Club
Falcon Arrow, McVicker, Tannins @ 331 Club
Moon Walker with Nordista Freeze and Little Man @ Turf Club
Handsome Midnight (Album Release) @ Underground Music Venue
Feral Light @ White Rock Lounge
Sean Cosgrove @ White Squirrel
Deep Fakes with Taylor James Donskey @ White Squirrel
Sunday, November 12
Swing Brunch with Patty & the Buttons @ Aster Cafe
I Am Woman: Presented by Lori Dokken @ Crooners
Twin Town Strings Trio @ Crooners
Urban Classic: Michael Bland, G Sharp, Mark Lickteig, and Jay Bee @ Crooners
Phine Friends, Shotgun Ragtime @ Driftwood
Twin Cities Country Dancers @ Eagles 34
Karaoke with Reina Starr @ Eagles 34
Red Hot Django Peppers @ Icehouse
Michael Perry and the Long Beds with Molly Brandt @ Icehouse
Zachary Scot Thomas (Album Release) @ KJ's Hideaway
U.S. Naval Academy Glee Club @ Orchestra Hall
Church of Cornbread: Cornbread Harris and His Band @ Palmer's
Poor Nobody's with Chris Hepola @ Palmer's
Walter Etc. with Suzie True and Che Arthur @ 7th St Entry
The Darling Suns with Emma Jeanne & Tacklebox @ Underground Music Venue
No Divinity, Fallingwithscissors, Ice Everlasting, Sucker Punch @ White Rock Lounge
Honeymoon Madness, Cook County @ White Squirrel
St. Paul Songwriter Rounds @ White Squirrel
Monday, November 13
Sombre Arcane, Paths of the Eternal, Feather, Desolation Plains, and Dungeon Synth Sunday DJs @ Amsterdam
Tango Desperados Practilonga @ Eagles 34
Twin Cities Queer Contra Dancing @ Eagles 34
Scene Queen with Ellise and Rivals @ Fine Line
Liz Draper (November Residency) @ Icehouse
Auto-Tune Karaoke @ Mortimer's
Annual Fall Musical Festival @ Orchestra Hall
Cowaoke with Ben Moooker @ Palmer's
Helena Deland with Jana Horn @ 7th St Entry
The Roe Family Singers @ 331 Club
Matt Arthur Contraption @ 331 Club
Mumblin' Drew's Oldfangled Orchestrators Monthly Residency @ White Squirrel
Stay in touch
Sign up for our free newsletter