Food & Drink
Blame 'The Bear': The 6 Best Italian Beef Sandwiches in the Twin Cities, Ranked
Inspired by Hulu's hit show, Racket went on a drippy, messy, beefy taste test in pursuit of the Sandwich of the Summer.
8:07 AM CDT on July 20, 2022
If we can have a Song of the Summer, why not a Sandwich of the Summer?
One of 2022's top song contenders, Kate Bush's 1985 synth-pop masterpiece "Running Up That Hill," was revived by Netflix juggernaut Stranger Things. This season's buzziest sandwich, if we're to believe such a concept exists, comes from the world of streaming TV as well: Hulu's smash-hit The Bear, a terrific tragicomic meditation on loss, grief, desperation, family, and mountainous Chicago-style Italian beef sandwiches. 
To prepare for his role as a tortured, hunky former star chef, lead actor Jeremy Allen White enrolled in L.A.'s Institute of Culinary Education, dedication that no doubt contributed to critics hailing The Bear as one the most authentic fictionalized accounts of life in the food-service industry. Yet for all of the heady think pieces championing the show, its Kitchen Confidential-indebted core embraces raw humanity, compelling Chicagoland characters, and beautifully shot food porn. 
Less heady trend pieces are already seizing on The Bear as an excuse to exalt Chicago's namesake beef sandwich, the signature dish served up at the show's hole-in-the-wall restaurant hub. NPR bit into the history of sandwich, which typically consists of mounds of thinly sliced roast beef, giardiniera and roasted green peppers, and generous splashes of jus, all piled high on a French roll (Turano or Gonnella). IndieWire cornered Allen White, the show's star, into revealing his favorite beef sandwich destination, a killer chain that landed at No. 2 on our list below. Block Club Chicago nitpicked the in-house baking and general culinary haughtiness of the Italian beefs depicted in The Bear. 
"I'm not a fine dining restaurant. I've had countless people trying to talk me into it. I'm not a brick-layer either," Chris Pacelli, owner of Chicago institution Al's Beef, told BCC with a laugh. "I know what I know, and I've learned through the years: Do what you know. So we do what we do the best."
As the greasy guns of the Chicken Sandwich Wars fall silent, and America turns its collective hungry eyes to the Italian beef battlefields, you might ask yourself: Who makes the sandwich best locally? In the interest of reader service, two foolhardy Racket staffers attempted to seize the meaty zeitgeist by downing six such sandwiches amid Tuesday's swampy 95-degree heat. (Punishing our bodies for your amusement has become a recent editorial theme.) 
We're still sweating jus from every pore, though the final product justifies the heart-clogging heatwave pain: Here's the definitive list of the best hot Chicago-style Italian beef sandwiches in the Twin Cities. The Sandwich of the Summer would be an unmitigated disaster at the beach, but through some time-tested umami alchemy, it truly slaps when executed with a real-world proficiency befitting The Bear. 
6. Pappy's Chicago Style Eatery 
6-inch Italian Beef: No further description, $9.49.
Pappy's Chicago bona fides date back to the '90s, when its founders pedaled garden-adorned dogs and drippy beefs in the Windy City 'burbs. The St. Paul shop opened in 2004, and the north Minneapolis one would pop up years later. Not to get all Gordon Ramsay, but the menu is massive to its apparent detriment. Gyros, fajitas, jerk chicken, fish, wings, pizza puffs, and gizzards are not Chicago-style items, yet they exist at this chain-style eatery with just two locations. Shaved razor-thin and heavily salted, the dry beef would fit right in at a fast-food joint. Thank god for the passible jus, as Pappy's provided the worst roll we encountered this afternoon—flavorless and almost cotton-like. The indulgent joy of biting into this style of sandwich is almost entirely lost here, though the thing was edible. 
Notes: "The sad, gray beef is like that one place… the one with Ving Rhames… oh yeah, Arby's!" 
2006 N. Washington Ave., Minneapolis; 1783 Maryland Ave. E., St. Paul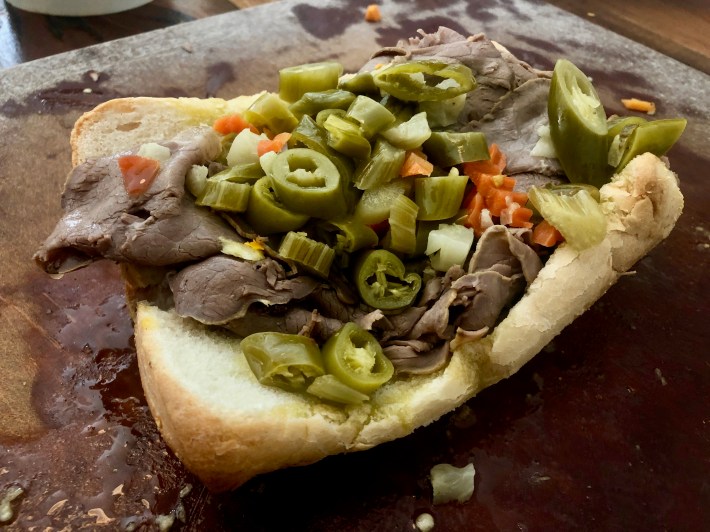 5. Flynn's Eats
Italian Beef Chicago Style: "Sliced Italian roast beef and Italian sausage dipped in house jus. Swiss, giardiniera," $9.99.
Flynn's, which has been "bringing Chicago Style to the Twin Cities" since opening in Richfield in October 2018, is the newbie on this list. As an ambassador of Chicago-style Italian beef, it falters: Two bites into this sandwich, your sweating Racket staffers raised our eyebrows and uttered, practically in unison, that this was… fine. There's nothing cheffy about it—the beef was OK, the roll was dry, the jus tasted like beef stock straight outta the box. The whole sandwich was dry, in fact, which just isn't what you want from a Chicago-style Italian beef. These things are best enjoyed a bit on the sloppy side.
Notes: "I feel like every time we do one of these food rankings, there's one that just screams 'cafeteria food.' This, to me, is a cafeteria-grade Italian beef."
6600 Penn Ave. S., Richfield
4. Buon Giorno Deli
Italian Beef: We special ordered it Chicago-style, since their menu version comes with… spaghetti sauce and cheese? $12.
This is a third-generation operation—a full-service sandwich shop and Italian market that's been serving St. Paul since '77—and their sub-making pedigree is evident the second you unwrap your sammy. Buon Giorno's Italian beef was the most visually appealing one we scarfed: A hefty, golden-brown roll served as the vessel for thick cuts of beef and a healthy heap of peppers. The roll here was a contender for the best of the bunch, and their jus was incredible—deep, dark, and peppery, with more spice than most of the others on this list. We're only docking points for the beef itself, which had a robust, meaty flavor but was a little too tough and thick for our preferences.
Notes: "This roll is like a boat. It's a beef boat."
981 Sibley Memorial Hwy., St. Paul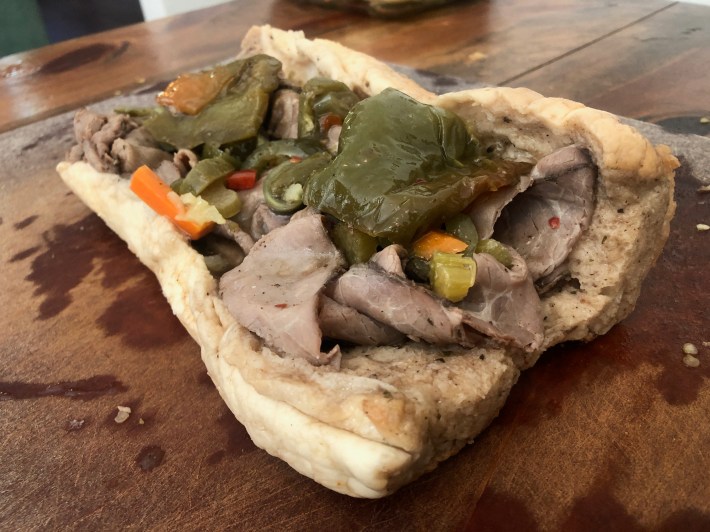 3. Chicago's Taste Authority 
King Beef: " ⅓ lb. Italian sliced Beef, piled high in the Taylor Street Tradition on our Turano bread," $12.49.
Opened in 1994 by the brothers Dubnecay (Chris and Rob, whose names once appeared on the sign), this purveyor of authentic Chicagoland flavors claims to sell 1,500 hot dogs per week and 1,200 pounds of Italian beef per month. They serve the only "authentic Chicago-style food in the area," Rob claims, and their no-nonsense shop has become something of a Southside institution. Worth noting: We ordered jus on the side for every sandwich we sampled, though Taste Authority's bun suffered the most in transit. Jumbo and chewy, it appeared drenched almost immediately underneath mounds of subtle beef with more marbling than the competitors. When sampled by spoon, the beefy jus struck an uncanny pho broth chord. The net result? A satisfying gut-bomb that didn't really register any knockout flavors or textures.
Notes: "This is absolutely the biggest and wettest one we've encountered." 
3101 E. 42nd St., Minneapolis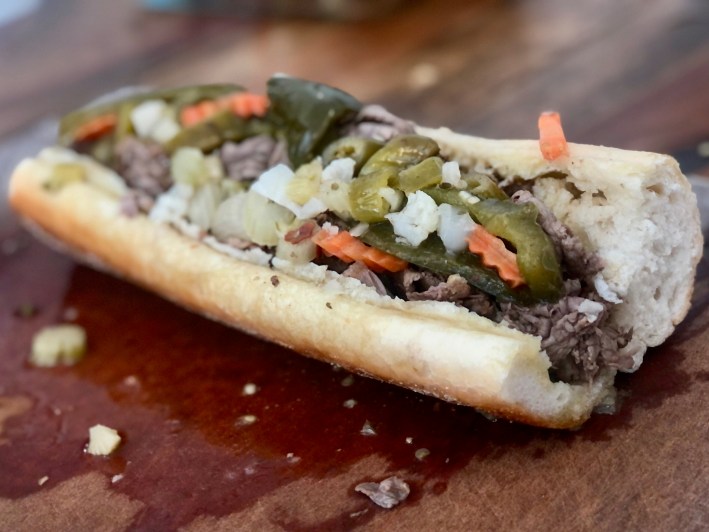 2. Portillo's
Big Italian Beef Sandwich: "Our famous, homemade, Italian beef is slow-roasted for four hours, thinly sliced, and served on freshly baked Turano French bread," $9.39.
Look, it's not like we want to give such high marks to a chain, especially a chain that's based anywhere outside of Minnesota. But this is a Chicago-style Italian beef contest, and it's not an accident that ol' Dick Portillo's Villa Park, Illinois, sandwich shop has grown to a mini-empire of nearly 70 restaurants since 1963. Portillo's simply ran circles around most Minnesota takes on the Windy City style. Portillo's bun is the separator: firm but soft, doughy but trustworthy, offering top-notch structural integrity that holds up to the meat and jus. And don't let the photo fool you—this thing is packed with beef, but because theirs is more finely chopped than the slices we encountered on almost every other sub, it doesn't look as overwhelming. The cut lets them stuff the sandwich full with (slightly) less mess; it's saltier than some of these other sandwiches in a way that feels sinful and tastes sublime. As for the jus? It's thick, amply flavorful, and just… in our notes, we starred and underlined the word "beefy." A positively kickass classic.
Notes: "I could look at this all day."
12251 Elm Creek Blvd. N., Maple Grove; 1800 County Rd. B2 W., Roseville; 8450 Hudson Rd., Woodbury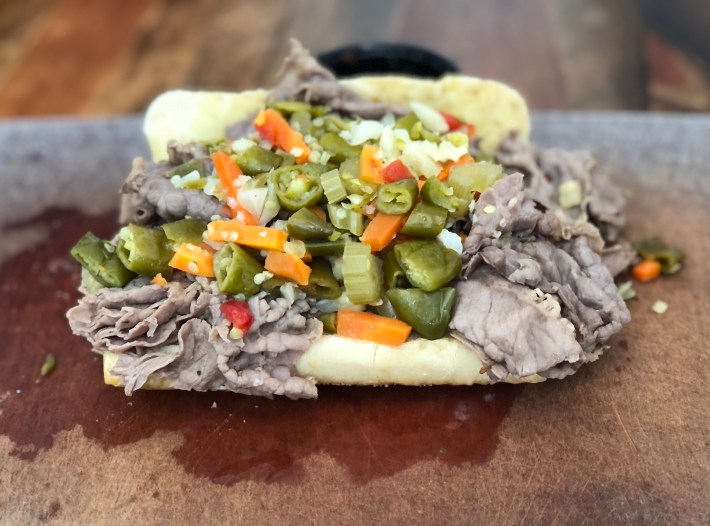 1. Uncle Franky's 
Chicago Italian Beef: "This amazing sandwich starts with a traditional Gonnella Italian roll, toasted and stuffed with about ½ lb. of our thinly sliced Italian seasoned beef. We dip it in seasoned juice and top it off with hot or mild Giardiniera peppers," $12.95.
Just look at that gorgeous bloom of beef. It's like an oil painting of a cornucopia; like a hypnotizing mushroom cloud of cow and giardiniera; like that scene from Alien but, ya know, appetizing as fuck. For almost 20 years, Uncle Franky's has served elite-tier Twin Cities dogs, burgers, and sandwiches at fair prices, and their Italian Beef is no exception. (Not unlike The Bear protagonist Carmen "Carmy" Berzatto, original Franky's owner Jay Grobstein cut his culinary teeth at a swanky restaurant—Northeast's Erté.) Up top, the peppers pop with real heat and the salty jus—swimming with authentically beefy bits—explodes with bone-deep flavor that seeps into everything beneath. With its uneven folds, chars, and slices, the flavor-packed mountain of tender beef was clearly prepared with love inside Franky's kitchen. And folks, say a prayer for that overmatched Gonnella bun. It's a nice, study roll with a softer inside, ideal for sopping up the delicious mess that's left behind after you—or, more realistically, you and a friend—devour the best Chicago-style Italian beef sandwich in town. 
Notes: "Remember when Uncle Franky set up shop with a hot dog stand in the entryway to the Quarry Home Depot?" 
728 Broadway St. NE, Minneapolis
Other Twin Cities Chicago-style Italian beef sandwiches we didn't try for logistical, geographic, cost, and/or timing reasons:
The Wienery: The local hot dog champ on the West Bank reportedly boasts a tasty Italian Beef that, like the rest of its menu, is a major bargain at $7. 
Chicago's Very Own: Recently launched by three experienced Chicagoans, this new hoagie spot at Lyn-Lake doesn't offer a proper Chicago-style Italian beef, but it looks promising.  
Frankie's: Specializing in Chicago fare outta New Hope since 1991. (No relation to Uncle Franky.)
Carbon Kitchen + Market: The team behind Gastrotruck went brick 'n' mortar with "coal-fired cuisine," including a Hot Italian sandwich with shaved pit beef. 
Mayslack's: The beloved Northeast dive is famous for its roast beef, which apparently can be ordered deliciously dressed with all the Chicago-style fixins. 
Em Cassel (she/they) is a cyclist, a metalcore apologist, and a co-owner and editor of Racket.
Co-owner/editor of Racket.
Read More:
Stay in touch
Sign up for our free newsletter