Food & Drink
A Very Biased Guide to Duluth's Best Dive Bars
Cheap beer. Free biscuits 'n' gravy. 'Odd smells.' Here's where to drink in Duluth.
6:56 AM CDT on August 16, 2023
Duluth is my home. I work here. I play here. I get ripped here. I am, after all, Duluth's Famous Kaylee.
My day job is in the tourism industry. This means I spend every day at a museum telling folks from Anoka/Stillwater/Bloomington where the best place to get some lunch is and how to get to the aquarium. Sometimes, I'm lucky enough to get questions about where to catch live music or which cidery they should try. Yet in all my years of tourist wrangling, I've never been asked about one of my specific passions: dive bars.
If you consider Twitter likes to be endorsements—and I do—then a lot of folks from the Twin Cities think I'm qualified to talk about the wonders of Duluth's dive bar scene. Luckily for you, it would be my pleasure. But first, just a few things to keep in mind:
The title of this guide is accurate: This list is extremely biased. There are plenty of good dives in the city I'm not including, and that's perfectly fine.

I'm not talking about any bars in Superior, Wisconsin, because there could be a separate guide for the spots over the bridge. Superior dive bars are another beast.

Credit where it's due: Part of my passion for dive bars stems from the writings of Slim Goodbuzz. He was Duluth's "booze connoisseur," and his column, "Gettin' Ripped," ran in the now-defunct Duluth Ripsaw and Transistor from 1999-2009. Thanks, Slim.
If you have any comments or qualms about my picks, feel free to buy me a Hamm's at any of the fine establishments on this list and let me know how you really feel.
Let's dive in! We're going from west to east: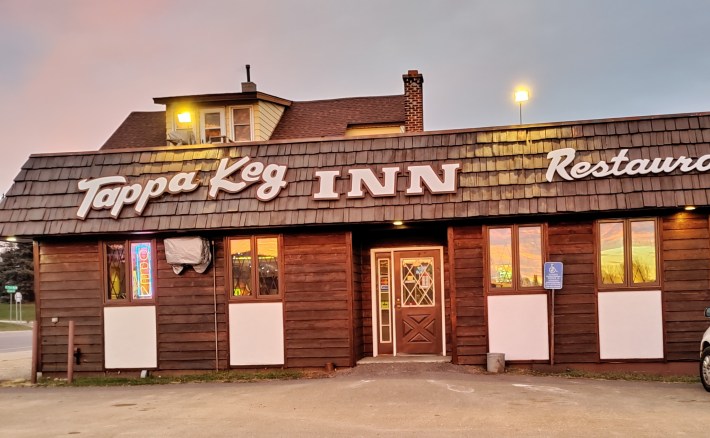 Tappa Keg Inn
7036 Grand Ave.
Is a dive bar still a dive bar if it has a full-service restaurant? Why not! The westernmost bar on this list, Tappa Keg is an absolute landmark. Almost every time I've gone here, my beer has been served in a mug with a man's name engraved on it. (I guess we've never been there at the same time?) And while there's a sign on the wall behind the bar that lists different excuses the bartender can give your wife if she calls looking for you, a smart person would bring her with them. Why would you deprive her of one of the most slept-on fish fries in town or an all-you-can-eat popcorn shrimp basket? Or, if she's adventurous, she could try the mysteriously named "Spaghetti Dick's Way"? 
INSIDER TIP: If you're the kind of person who enjoys a beer with a pickle in it, ask for one of their homemade spicy pickles from the fridge behind the bar. You won't regret it.
Kom-On-Inn
332 N. 57th Ave. W.
One time I was sitting at the bar here when a pomeranian walked in unattended and everyone but me yelled "JACKSON!" Was the dog a regular? I never figured it out. Built in 1891, the Kom-On-Inn's unassuming exterior hides one of Duluth's most beautiful bars. The walls of the long barroom are decked out with gorgeous murals of historic buildings across West Duluth. Some are still standing, some are long gone. As for amenities? They got 'em. Pickled eggs? Absolutely! Pull tabs? Hell yeah! Every flavor of DeKuypers that's ever existed? You betcha. This is a bar that's just plain fun to exist in. It doesn't matter if you're there for happy hour with a handful of locals or you're there for a packed Homegrown show (aka our annual weeklong local music fest), you're going to have a good time. Well priced pints (mostly local, too!) range from $3.25 to $5 each, and bottles of High Life are $3.25 every day. Be sure to ask for a free apple pie shot on your birthday. Kom-On-Inn is a great place to have a few drinks and, as their merch says, Krawl-On-Out. 
Rustic Bar
401 N. Central Ave.
Don't confuse this with Rustic Inn, home of the North Shore's undisputed best pie! The only pie you can get at this dive is a pizza pie from neighboring institution Sammy's, and banners on the exterior of the building advertise "Home of the Frosted 34 oz Mug." They also have one of the best Google reviews in town: "My bartender was Whitney and I fell in love with her and moved in with her. We have been married for 4 years. Come to the Rustic!" This place feels like a Wisconsin bar, and the mountains of pull tabs you can buy while you sit really brings it all together. Fun fact: The gauntlet of Kom-On-Inn/Rustic/Gopher is a West Duluth dive bar trifecta that's sometimes referred to as the "Barmuda Triangle," and their convenience is hard to top.
Gopher Bar & Grill
402 N. Central Ave.
One time, my partner and I were at Gopher and asked the bartender to run us through the beer list. As she quickly rattled them off, we heard "Schmidt," and we had to stop her. "You guys actually have Schmidt?" we asked, astounded. "Yeah, it's for one old guy who's a regular. He requests it." If that's not service, I don't know what is. I've heard they serve food, but I've never been there during the kitchen's open hours. I should try to rectify that, because their Tuesday specials include two-for-$5 domestics and rails and something called "Taco Tots" for $8.95. The cavernous stage space has also been known to host the occasional music show.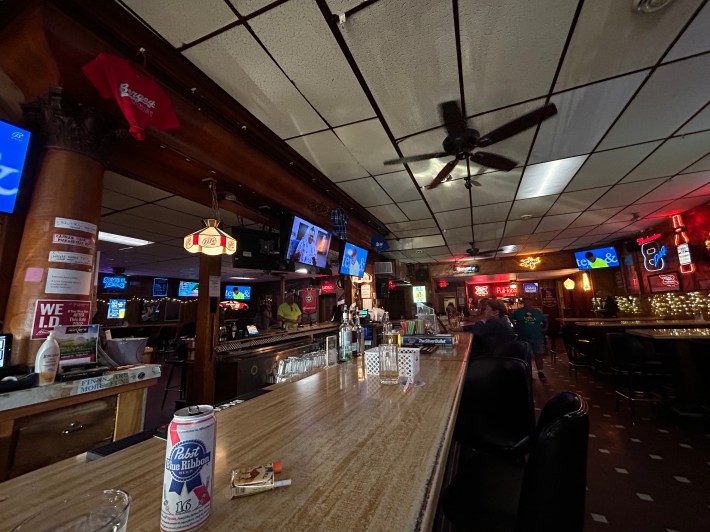 Bergey's
2232 W. Superior St.
While working on this article, I asked other local dive enjoyers which taverns I absolutely had to include. Almost everybody said Bergey's, and for good reason. "Any of the Debs behind the bar are a treat, the pool tables are flat and the felt is fast, and TouchTunes allows you to play Ween if you want," the wise @DuluthHipster told me. So I ended up there for an early morning Vikings game when they were playing in London last season. Upon seeing my joy after finding out there were complimentary biscuits and gravy, some old-timer turned to me and gruffly said, "Welcome to Lincoln Park, pal." I'm still not sure if that was a true welcome or a veiled threat. It was probably a bit of both, and that's what makes Bergey's so special. That, and the menu item known only as "Big Pickle."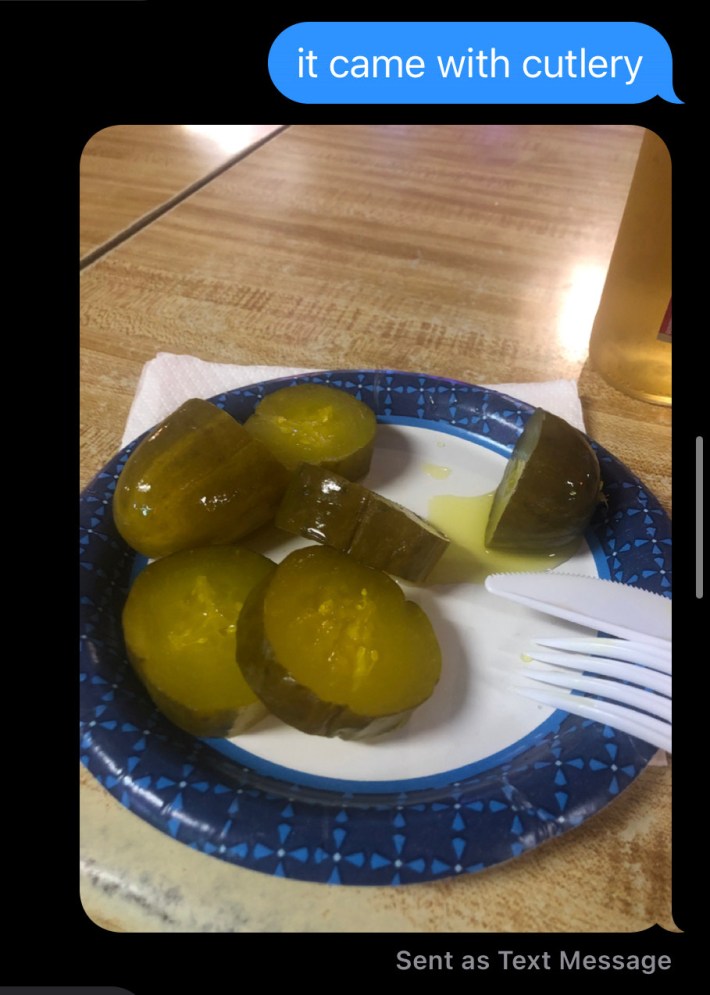 Curly's Bar
2013 W. Superior St.
Curly's is an oasis. A cash-only oasis, mind you. They were also the first dive bar to capture my heart. You can get a 32-ounce Hamm's for $3.75, or a full pitcher for $7.50. If you're not into beer, they happen to pour the best apple pie shots I've ever had for a measly $3. Curly's has the best karaoke in town on Fridays, Saturdays, and, sometimes, Mondays. It's run by the legendary Major Mike, who is one of the most ethical karaoke hosts of all time, making sure everyone gets a song and no one is hogging the mic. This bar has been owned by the same folks since the mid-'80s and is still a family operation: The owner, Joel, bartends along with his sons Jake and Jordan. Julie, the matriarch, decorates the place to the nines every single holiday. If you're in the Lincoln Park Craft District, you absolutely need to check this place out. Per Jake: "You're only a stranger at Curly's once. Put that in your article!" This place is my Cheers.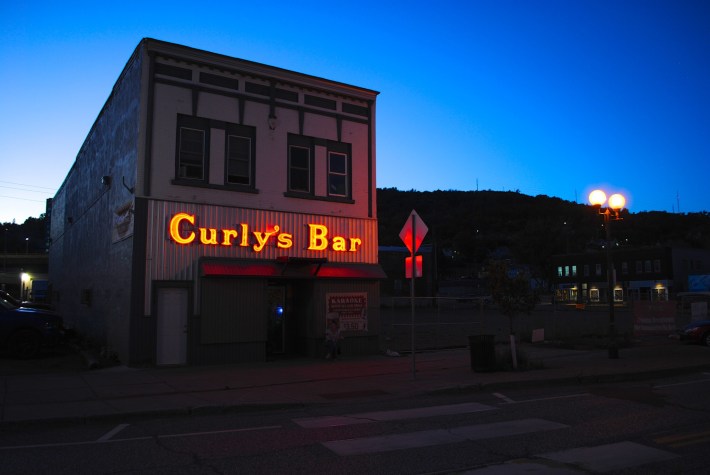 All American Club
1931 W. Michigan St.
The All American Club has been slinging drinks to members and non-members alike since 1940, though the organization dates back to 1935. Located in the heart of Lincoln Park, this sweet spot hides in plain sight, as many locals assume it's members only. That just means you'll never have to wait long for Jill to pour you a pint. The All American runs different drink specials every night, so there's always a good deal to be had. Pair that with something from Howard's Que, a fantastic barbecue restaurant that operates out of the club's kitchen, and you've got a good time to be had. 
INSIDER TIP: If you ever attend Bent Paddle Brewing Co.'s annual Festiversary, head down the street to the All American. They grill up tasty brats and hot dogs every year that are some of the cheapest eats at the fest.
Roscoe's Pioneer Bar
323 W. First St.
The Pioneer is an interesting place. The front section is a solid dive with a bit of a sporty vibe. Go in a little deeper, however, and you'll be greeted by a slew of enormous, league-quality dart boards. Darts are a big draw here, and those professional boards are a big reason why. The Pioneer also boasts a quality happy hour and there's great Carribean food next door at Jamrock Cultural Restaurant. 
INSIDER TIP: This is one of your best bets for a post-Bayfront Festival Park beverage if you're staying downtown. We stopped by after this month's Bon Iver show, and the place had a great energy from other concertgoers who had had the same idea. The olives in my Grain Belt sure tasted good after I'd been sitting in the sun listening to experimental indie-folk for hours.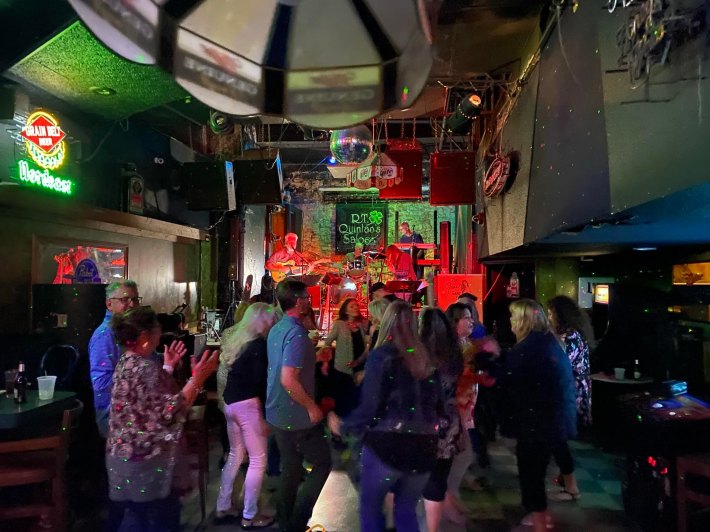 R.T. Quinlan's Saloon
220 W. Superior St.
Folks in the 25-35 age group call this bar "Quinlan's," while those 35 and up call it "R.T.'s." No matter what you call it, this downtown Irish bar is a strange, fun basement to drink a very cheap Hamm's in. R.T. Quinlan's also happens to be one of the only bars in town that hosts metal shows/loud bands in general. "R.T.'s has cultivated a large number of bands—including my own," says Tyler Scouton of the infamous local band Bratwurst. "They have always let me come in and supported me. As weird as the things I do, I have felt at home doing them at this venue. The combination of local music, cheap PBRs, and odd smells makes R.T.'s my number one dive bar of choice." Odd smells indeed, Tyler. 
Carmody's
308 E. Superior St.
If the name of this bar sounds familiar, perhaps it's because you watched the 2022 Hulu original movie Merry Kiss Cam, where it's featured prominently. You should know it was set dressed to look less divey. Hollywood rewriting history, I say! One of three Irish bars in town, Carmody's is also a brewery. I've heard the beer is very good. However, I have only oscillated between Old Style, Hamm's, and PBR while here. That's a craft beer flight, right? This is a cash-only hole in the wall that hosts plenty of live music and the occasional food pop-up. 
INSIDER TIP: The seating area in the back is very cozy, but the booths by the window offer great people-watching.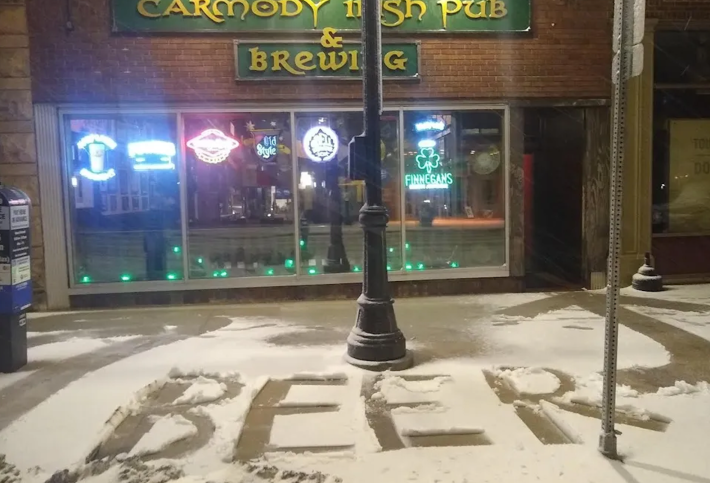 Round Up Bar and Grill
415 E. Fourth St.
I ate a delicious burger here on St. Patrick's Day 2023. I desperately needed it. Luckily, the kitchen was open late and did not disappoint. I've heard on good authority that they have an insanely cheap, tasty breakfast (including an enormous breakfast sandwich for $5.95 and steak and eggs for $9.95), as well as the best patty melt in town. This is a comfy joint, and a great place to just hang out. They also recently opened a nice little patio next to the building. What's better than a dive bar patio? 
INSIDER TIP: As of our most recent visit to Round Up, the menu prices listed online are accurate, and they're unbelievable. Wednesday's is $3 Long Islands and $1 Coney dogs. Need I say more?
Honorable Mention:
Owl's Club
118 E. Second St.
Owl's Club is an honorable mention because it is a fantastic place, but it's members only. You should join us! The club is unique for many reasons—the building used to be a mortuary! The fraternal order is over a century old!—but perhaps the most interesting thing is the liquor license. The Owl's Club has a bottle license, which means members bring in a bottle, keep it behind the bar, and just pay for mixers. (There are only a few bars left that operate like this in Minnesota, including Hugo's in Brimson.) The club also has a beautiful deck out back with one of the best patio views in town.
Stay in touch
Sign up for our free newsletter