Events
Autoptic Fest, 3-D Chalk Art, Muna: This Week's Best Events
It's a geeky week with lots of arts on the streets. Hell yeah!
10:08 AM CDT on August 8, 2022
Welcome to Event Horizon, your weekly roundup of the best events in Minneapolis and St. Paul.
Stay in Touch
Sign up for Our Free Newsletter
MONDAY 8.8
Northern Fire Dynamic
Powderhorn Park
Unless you are a pyromaniac, "free fire" isn't necessarily a draw. But we promise it's a good thing tonight at Powderhorn Park. Northern Fire Dynamic is a local fire arts group that do all kinds of performances while their stuff is set ablaze. They've been practicing a new routine to take to Burning Man this year, and tonight they'll be in the park doing a full-blown performance for locals to see first. First they'll do two practice rounds of their 15-minute show without fire, then, at 8 p.m., they'll set the whole thing alight and do two more burning pieces for you to enjoy. Free; donations are welcome. 8 p.m. 3400 15th Ave. S., Minneapolis. –Jessica Armbruster
Muna
First Avenue
On Muna's third and self-titled album, Katie Gavin has gotten almost too good at songwriting. With an assist from the band's new label boss Phoebe Bridgers (who'd never go so cheerily pop), there's something sleekly advertorial (or maybe just TikTok-able) about the tactile ecstasy of "Silk Chiffon" that gives my sugar rush an aspartame aftertaste. Not that that stops me from coming back for another hit, or appreciating how elsewhere on Muna the band makes so much more of ye olde galloping synth bass than most new-wave fetishists. I'm charmed by the irrepressible but modest demands of "What I Want" ("I want to dance in the middle of a gay bar"), the prudent infatuation of "Solid" ("You can tell she made herself all by herself"), and this riposte to a lover who tells Gavin to get off her high horse: "I think my horse is regular size." Most of all, I appreciate how Gavin's expression of her desires don't slot easily into her contemporaries' favored personae. There's a wide expanse between doomed yearning sobs and legs-wide-open hedonism, and plenty of room for one young adult's coming of age stories. With Jensen McRae. All ages. $31. 7 p.m. 701 N. First Ave., Minneapolis; find more info here.—Keith Harris
TUESDAY 8.9
The Wild Hearts Tour
Surly Festival Field
Sad girls unite outside the brewery! A heavily vibing indie-rock Cerberus—Sharon Van Etten, Angel Olsen, and Julien Baker—has loosely formed for the Wild Hearts Tour, though it's unclear if we're dealing with a supergroup of simply a triple bill. No recording plans have been announced, so likely the latter. And that's just fine, considering each celebrated artist has spent the past decade leveling up record after record. Van Etten "is an institution now," if we're to believe Pitchfork; Olsen just dropped "the album she's been waiting all her life to make," to hear Rolling Stone tell it; and Baker, who's no stranger to supergroups, well, she's "still learning," according to a RS profile that's much more glowing than the headline suggests. 18+. $50-$55. 5 p.m. 520 Malcolm Ave. SE, Minneapolis; find more info here.–Jay Boller
WEDNESDAY 8.10
Curtis Cook
Acme Comedy Co. 
In his Twitter bio, Cook bills himself as the "cum joke laureate." That honorific is unofficial, but the Portland, Oregon-launched comic has plenty of documented wins throughout his career, including writing gigs on Crank Yankers, American Dad, and Hulu's Michael Imperioli vehicle This Fool. He even got kicked off Twitter once for impersonating right-wing quack Dr. Oz and threatening to murder children. You may have seen the boundary/tastefulness-pushing comedian acting on Portlandia or performing standup on Comedy Central. The 6-foot-7 comic will be showing off the latter artform at Acme, where attendees can expect bits about scoring coke at art galleries, Taliban jazz instructors, and whatever else comes across the laureate's mind. $18-$22. 8 p.m. Wed.-Thu.; 7 & 9:30 p.m. Fri.-Sat. 708 N. First St., Minneapolis; find more info here. 708 N. First St., Minneapolis. –Jay Boller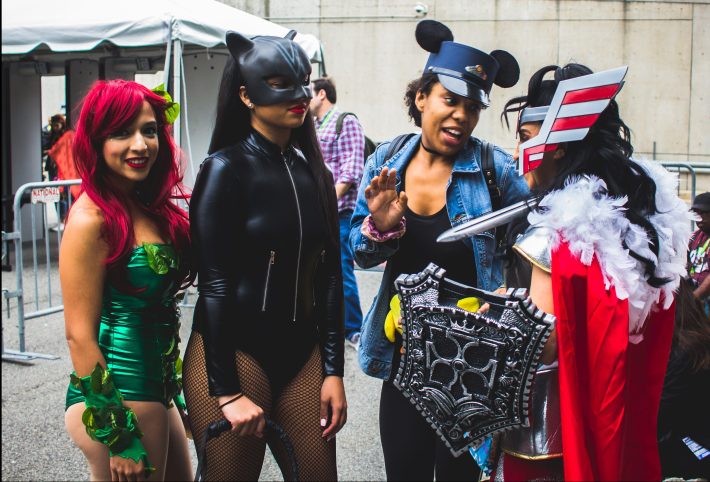 THURSDAY 8.11
CONvergence
Hyatt Regency Hotel
Nothing like an epic nerd party to help you make the most of every minute of your weekend. Like any good con, this event is stacked. There will be an artist alley where you can support creative ventures, there will be a merch mart where you can support… merchandise. There will be gaming, whether you prefer board games or video games. There will be TV marathons and movie screenings. There will be panel talks, meetups, and hands-on crafting sessions. Cosplay will abound here, of course, and room parties will keep things going so you'll never have to sleep. Check convergence-con.org for tickets and a complete schedule. $25-$85. 1300 Nicollet Mall, Minneapolis. Thursday through Sunday–Jessica Armbruster
FRIDAY 8.12
Fringe Festival
Various Locations
Every summer, the Twin Cities hosts one of the most epic theater festivals in the country. Over 100 companies, troupes, and one-person shows pop up on a variety of stages for 10 days of performance. The content varies per year, and there's no theme, so pick your genre, mood or curiosity in the moment. Want a romantic comedy? Looking for something queer and super fun? What about an historical drama? A Middle Eastern musical? How about an experimental puppet show? Yeah, you'll probably find all that here. Productions are short and sweet, lasting about an hour, so if you end up at a dud you won't have to flee in shame at intermission. Plan your Fringe by checking out the schedule at www.fringefestival.org. August 4-14 –Jessica Armbruster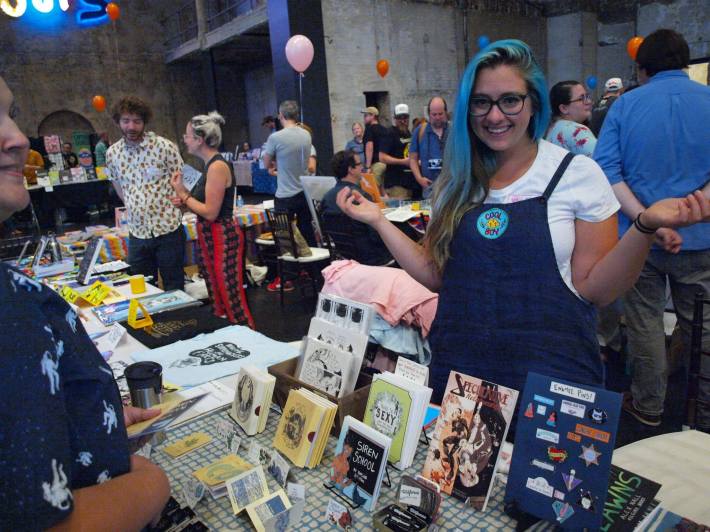 SATURDAY 8.13
Autoptic Festival
Coffman Memorial Union
Local lovers of indie comics, zines, and posters haven't been able to enjoy an in-person Autoptic Fest since 2018, since COVID-19 put the kibosh on what would've been the 4th installment of the biannual blowout. But now 120+ artists will convene yet again for "panels, workshops, interviews, book signings, and parties" at the U of M. And don't get it twisted: If you want a purebred comic con, head to the not-free CONvergence; although about half of Autopic is devoted to comics, organizers stress that it's a celebration of all things printed media. Interested in panel discussions with special guests like Anders Nilsen, Ari S. Mulch, Caroline Cash? They go down from 1-6 p.m. at MCAD on Sunday. Free. 11 a.m.-6 p.m. 300 Washington Ave. SE, Minneapolis; find more info here.–Jay Boller
Downtown Street Art Fest
Downtown Minneapolis
This weekend, downtown Minneapolis will become an interactive gallery that guests can stroll through. Artists will be creating chalk art on the streets and sidewalks, ranging from kids just having fun to wild 3-D pieces over at the IDS Center meant to blow your mind (or at least make for a really good photo op). Graffiti artists will be out and about, making a variety of murals live during the event. There will be food trucks, guided tours of new murals, and a makers' market featuring local artisans and artists. Other entertainment includes live performances; Bad Bad Hats cap the event on Saturday, and zAmya Theater Project goes up on Sunday. Find more info at mplsstreetartfest.com. Free. 10 a.m. to 6 p.m. Saturday and Sunday. Nicollet, between 6th and 8th Streets, Minneapolis. –Jessica Armbruster
Open Streets Minneapolis
East Lake Street
Open Streets are a lot like a block party, except instead of closing a side street these events shut down main drag. We're talking Franklin Avenue, Minnehaha, West Broadway, and, this weekend, Lake Street. During each celebration the streets will be closed to cars but open to you, where you'll find a variety of things to see and do, including sidewalk sales, parking lot concerts, chalk-art making, pop-up skate parks, impromptu yoga sessions, and summer beer patios. Find the complete schedule at openstreetsmpls.org. 11 a.m. to 4:30 p.m. East Lake Street, from Second Avenue South to 22nd Avenue South, Minneapolis. –Jessica Armbruster
SUNDAY 8.14
Jack White
Armory
Forever Meg White's former bandmate in my mind, White's increasingly dismissed as a crank. But he reminds me more of Paul McCartney than anyone these days: Because his generous compositional/instrumental gifts can outweigh his ability to make his creations feel necessary, his use of those gifts feels arbitrary, glib even. He's not the genius or the fool the forever former Beatle could be, but if fans of the half-assed can stake a claim for McCartney II as redeemable, maybe White's three-quarter-assed two new albums, Fear of the Dawn and Entering Heaven Alive, will be considered lost classics. I prefer his dalliances with the Dead Weather and the Raconteurs—proof he knows he needs an external context to shape his music—but admire his refusal to go all in with either as a sign that he's too honest to be a true arena rock cornball. Maybe one day he'll find the concept that makes him all make sense again. Until then, he's the last great rock eccentric, too minor to threaten our peace of mind, plenty diverting to listen in on from time to time. And you best believe he's got the catalog to rock the fuck out for a couple hours live. All ages. $82.50 and up. 8 p.m. 600 S. Fifth St., Minneapolis; find more info here.—Keith Harris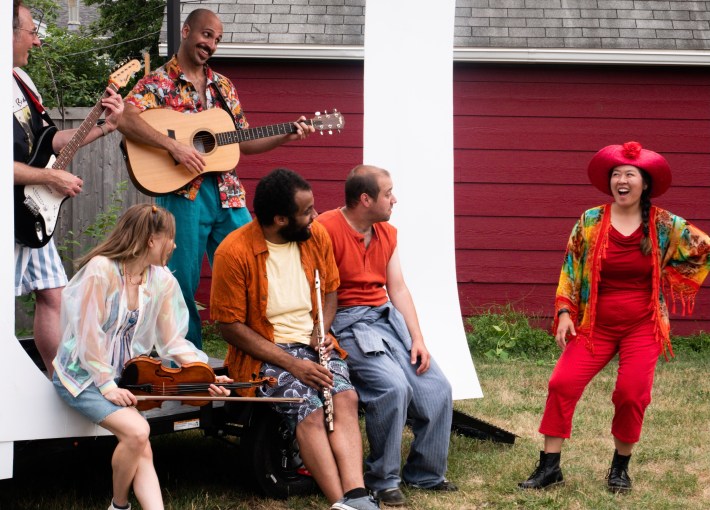 ONGOING
The Magic Flute: A Pickup Truck Opera
Various Locations
For the past 14 years, Mixed Precipitation has brought accessible opera shows to parks, gardens, and wineries throughout the metro and beyond. They used to go by "A Picnic Operetta," but have rechristened themselves "A Pickup Truck Opera" as a nod to the 2011 Ford Ranger Pickup that serves as their ride and part of their stage. This year, they'll be presenting their take on The Magic Flute, Mozart's last production before he kicked it. The (modernized) plot follows a few young professionals facing burnout in their bullshit jobs, and explores the principles of Freemasonry. (Mozart was in the illuminati, y'all!) In addition to 18th century bangers, expect a few hits from Deee-Lite and Bjork. Make reservations at mixedprecipitation.org. $10-$20 suggested donation. Through September 11 –Jessica Armbruster
Artist Designed Skyline Mini Golf
Walker Art CenterNow in its 15th year, Artist Designed Skyline Mini Golf returns to WAC for another season of putt putt played in the sky. No really: You'll be heading up to the museum's rooftop to play these 10 holes, which means you'll see gorgeous city views in addition to the spectacle of the quirky course. The new hole this year, ​​Always Have Been Sewn, was designed by Asian American Organizing Project's Youth Action Team, and was inspired by Hmong "story cloth," a.k.a. a paj ntaub. Mini golf aficionado Tom Loftus also has two holes featured this year. $10. 11 a.m. to 9 p.m. Thursdays; 11 a.m. to 6 p.m. Friday–Saturday; 11 a.m. to 5 p.m. Sunday. 725 Vineland Place, Minneapolis. Through September 25 –Jessica Armbruster
Stay in touch
Sign up for our free newsletter