Food & Drink
Across the Twin Cities, Marinara and Ranch are the Standard Cheese Curd Dips. Why?
You can dip a curd in anything, but ranch and marinara are everywhere. Are they the best dipping options out there, or just the ones we're used to?
7:42 AM CDT on May 11, 2022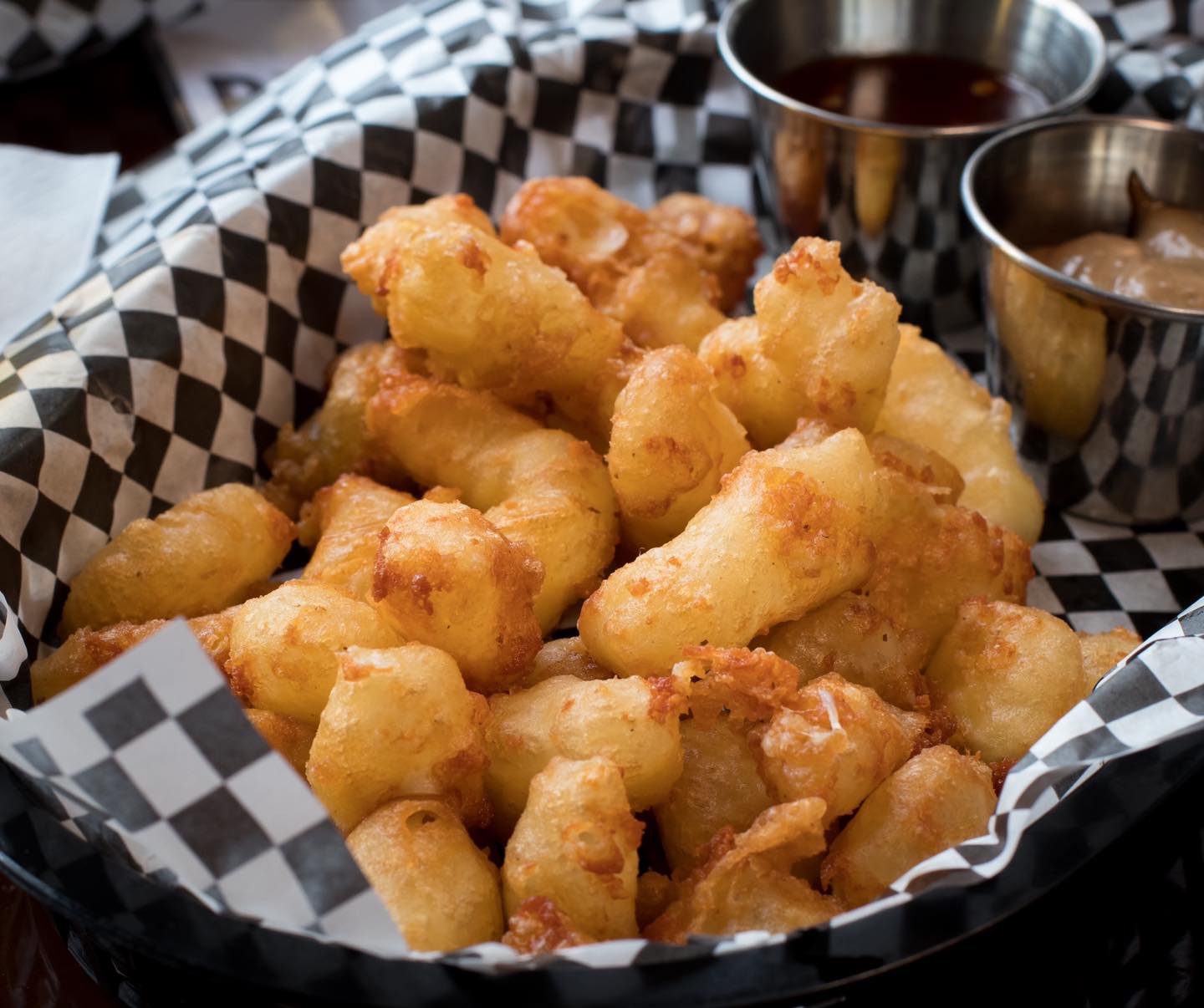 Few Midwestern delicacies compare to the humble, wonderful cheese curd. They're crispy, gooey, salty, greasy—and, practically everywhere you go out to eat in the Twin Cities, they're served with a side of either marinara or ranch dressing. 
At the Bulldog's three locations, the default dip is marinara. At Town Hall Tap and Town Hall Brewery, they offer ranch. At each Revival, it's ranch; at the four 5-8 Club restaurants, it's marinara. Lake Street sports bar Peppers & Fries? Ranch. Blue Door Pub at Longfellow and University? Marinara. Memory Lanes gives you marinara and ranch; Half Time Rec gives you the choice of marinara or ranch.
It's not that there's nothing wrong with that. Marinara is great, and I've never turned up my nose at a side of ranch. But there are literally thousands of different dips out there, right? Why is it that these two have become so standard?
To find out, we went straight to the makers of the Midwest's preeminent fresh cheese curds: Ellsworth Cooperative Creamery.
"At the creamery, we tinker around with lots of different sauces and dips," says John Freeman, senior manager at Ellsworth. The western Wisconsin creamery actually hosts a cheese curd festival each June (the 24th and 25th this year), where curd-obsessed attendees can pair their deep-fried cheese treats with a number of dipping sauces from designated dipping sauce stations (!).
But all that experimentation can only take you so far: "What's funny is, we do a special featured cheese curd flavor… for that flavored curd this year, our two dipping sauces, uniquely enough, are going to be ranch and marinara," Freeman chuckles.
Asked why ranch and marinara are so often served alongside curds, Freeman has a few ideas. "First, those are classically midwestern things," he says. "Particularly ranch, right? What don't we dip in ranch? To take an already phenomenal cheese curd and dip it into something that we already love, I think that was an easy call for most people."
(As for marinara, he speculates that it too comes from a place of comfort. Whether it's Italian Dunkers during school lunch or mozzarella sticks at TGI Friday's, breaded cheese and marinara just go together.)
"The whole ranch thing is just, it's crazy with Minnesotans," laughs Doug Flicker, co-owner of the delightfully dive-y Bull's Horn in south Minneapolis. "They love it! They want it with everything." Flicker says they've seen folks to ask for up to 10 extra sides of ranch dips on the side with their takeout orders.
The love for ranch is so powerful that even when it's not on the menu, people find a way. They don't offer ranch at the Mouth Trap—the Minnesota State Fair curd favorite—though you can pump yourself a side of ketchup if you'd like. Owner Dave Cavallero says they go through about 300 gallons of ketchup during the course of the fair's 12 days, and estimates roughly one in six guests use it on their curds.
"Now, what we have seen is that we'll see people take their order of cheese curds, and they'll put them down on the table and invariably pull out of their pockets or bag or purse a little bottle of ranch," he says. "We've seen that more than once."
Cavallero says he's not a curd purist, it's just that to move 65,000 pounds of curds over the course of 12 days, you can't have anything slowing down service. "We understand it's popular. It's actually one of those things we've been kind of wringing our hands over, going, 'Is this the year we offer ranch or not?'" 
But as popular and quintessentially Midwestern and predictably cheese-adjacent as ranch and marinara may be… are these really the ideal accompaniment to a fried cheese curd? 
Not everyone is convinced. Flicker doesn't think so, despite the ranch fans who add a half-dozen sides of it to their order. At Bull's Horn, the standard side with an order of their hot, crispy, gooey curds isn't ranch—it's Thousand Island dressing.
"It's not like it's some totally in-depth, 'We tested 12 different dressings and Thousand Island was the best,'" Flicker says. But because "everybody else does ranch—there's ranch on everything—that, to me, is like, we can't do that."
Using Thousand Island, which people are still familiar with and which is also easy to make, helps the already top-tier curds at Bull's Horn stand out even further.
"And it's kind of acidic," Flicker explains. "You've got fatty cheese, and you're frying it—I think the Thousand Island kind of cuts the cheese curd with a little bit of tang."
The story is similar at Brunson's Pub in St. Paul, where you won't see ranch listed as one of their curd-dipping choices. "There's nothing wrong with those things—they're commonplace for a reason—but like most things at Brunson's, we just wanted to be a little different than everybody else," says co-owner Thomas LaFleche. "Ranch, for me personally, never worked, because it was rich on rich."
As the Payne Avenue pub prepared to open in 2017, LaFleche says they thought about putting a summertime cheese curd dish on the menu, adding fried tomatoes and basil to the curds and topping the whole thing off with a balsamic reduction.
Worried that that might be complicating things a little too much, Brunson's chef dialed it back, deciding instead to make a balsamic aioli by mixing the reduction with garlic aioli.
"Because we're still getting that vinegar, right? We were talking about acidity," LaFleche says. "I personally felt that marinara works because of some of the acid in the tomatoes, the brightness of tomatoes."
And Brunson's has since doubled down on the uncommon, adding a second dipping option in the form of a sambal honey (my personal favorite). The two unexpected options have helped make the curds a big hit; customers are always asking when they can get 'em bottled. Which makes LaFleche feel validated that they're doing things a little differently (even if, at the end of the day, people still ask if they can sub in some ranch on the side).
"What I would kind of say is, the best sauce to dip your cheese curds in is that sauce you already dip everything else into," says Freeman with Ellsworth Creamery. If you like sweet and sour sauce? Try dipping a curd in it! Have 12 different kinds of hot sauce in your cabinets? Splash some on a curd!
"But I think just based on the midwestern palate, ranch and marinara are going to be a winner every time," he chuckles. "I've never heard of someone sending back ranch."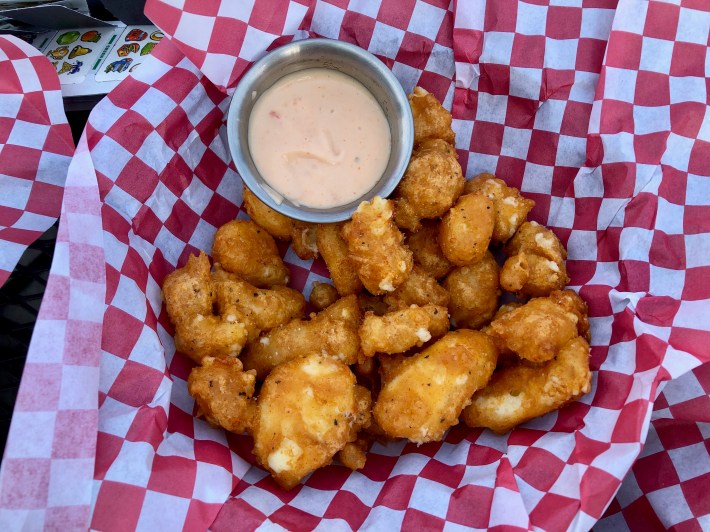 Dipping Differently
Ready to try a new spin on the ol' curd? Here are nine Twin Cities restaurants where the dips are a little different.
Hell's Kitchen
Red Pepper Jelly
"Often when you're around food all the time, you get bored and experiment with your staff meals," says Hell's Kitchen employee-owner Haley Hawkins—and that's exactly how a sweet and spicy red pepper jelly came to accompany their curds. Hell's Kitchen's late founding chef, Mitch Omer, came up with the spicy jelly to pair with their Juicy Lucifer burger. "It was perfectly spicy and sweet and, naturally, we had to try it on everything," Hawkins says. "Someone dunked a curd in the RPJ one day, and said, 'Oh shit, this is good,' and the rest is history."
Busters
Cranberry Mustard
Like every sauce at this south Minneapolis brewpub, the Cranberry Mustard that comes alongside the curds is made from scratch at Buster's. "People really like it," reports server Kelly. "If customers ask for something else it's mostly ranch, but we also make our ketchup and ranch in-house." Unsurprisingly, the fresh Ellsworth curds are coated in a house-made beer batter before they sizzle. The gooey, batter-kissed results are on par with the rest of the food at Buster's, a neighborhood gem whose sprawling beer list is matched by a stellar menu of bar eats. 
Foxy Falafel
Local Honey
Foxy Falafel takes Ellsworth Cooperative Creamery curds and tosses 'em in dill—another underutilized curd component. They're lightly fried and served with a side of local honey, for a sticky-sweet, tangy-savory, infinitely snackable cheese treat. And as an added bonus, they're also gluten free!
Brunson's Pub
Balsamic Aioli and Sambal Honey
Brunson's co-owner Thomas LaFleche thinks their balsamic aioli and sambal honey are "pretty neck and neck" in terms of popularity, with balsamic maybe edging the spicy honey out ever so slightly. Try both and argue about it with your friends.
Bull's Horn
Thousand Island Dressing
Thousand Island dressing works so well with the curds at Bull's Horn that I kind of can't believe other local bars haven't copied them. It's a creamy dressing, which should satisfy the ranch crowd, with just a little bit more tangy acidity balancing the fatty richness of the curds. "We kind of put our little take on it by adding a little bit of liquid smoke to it," says co-owner Doug Flicker. "That's our little unknown piece that accentuates the Thousand Island." 
Red Cow
Triple Berry Ketchup
Like curds? How about charcuterie? "The thought process behind the triple berry ketchup was to be a riff on jam that you receive on a cheeseboard," says Red Cow president and owner Luke Shimp. "We opted to add ketchup to balance out the sweetness of the fruit and add an additional layer of flavor."
Longfellow Grill
Applesauce and Roasted Red Pepper Sambal
For a fruity accompaniment that's a little bit different, check out what Blue Plate Restaurant Company does at a few of its establishments, including Longfellow Grill: applesauce. It makes the curds eat like a cheesy latke. 10/10.
The Nook
Honey-Bacon Glaze
You think Nook, you're thinking Jucy Lucys. And the St. Paul pub does live up to its reputation as a top destination for molten-core burgers. But don't sleep on the cheese curds. We're cheating a bit here, since the Nook's major distinguishing curd factor is a honey-bacon glaze instead of a dippin' sauce. "Our most popular cheese curds are our Nook Curds," says co-owner Ted Casper. "They're battered with crumbled bacon and topped with local Bare Honey. They don't even require a dipping sauce, though a lot of people still ask for ranch. It's our No. 1 appetizer hit, along with the wings." To hear one Tripadvisor reviewer tell it: "Curdriffic!" Fried up light and crispy, almost tempura-like, the dipless Nook Curds even leave you with cleaner hands… until cheese starts cascading outta your Jucy Nookie Burger. 
New Bohemia
How long ya got?
Outside of the trademark brats, the entire menu at New Bohemia is highly dippable—enormous fucking pretzels, tendies, corndogs, loaded fries, etc. So it makes sense that the dippin' offerings are as vast as a Bavarian beer garden: Bacon Bleu Cheese, Spicy Ketchup, Wasabi Ginger Mayo, Sriracha Mayo, Mango Curry Ketchup, Jalapeño Mayo, Pepper Jack Cheese Sauce, Fresh Herb Ranch, Stout Beer BBQ Sauce. Whew, ich bin hungry!

Em Cassel (she/they) is a cyclist, a metalcore apologist, and a co-owner and editor of Racket.
Stay in touch
Sign up for our free newsletter