Snow, subzero temps, and seasonal depression don't stop Minnesotans from making the most of winter, whether we're playing sports, binge drinking, enjoying nature, or hiding indoors. If you'd like a few suggestions on how to embrace the season we're known for, we got a list for you.
1. Rent a yurt
Did you even know that was an option? Minnesota State Parks operates seven yurts throughout the state: two in Afton State Park, two in Glendalough State Park, and three at the Cuyuna Country State Recreation Area. It's BYO bedding, and don't forget a lantern—the yurts are electricity-free and are heated by a wood stove. But firewood is complementary, and most sleep up to seven people for $50 to $70 a night–a steal! You can reserve your yurt here. 
2. Compete in the Loppet Winter Festival and drink a beer at the end of the Luminary Loppet
A little snow never stops a Minnesotan from getting around. In fact, it can even help. Case in point: Any event at the City of Lakes Loppet Winter Festival. One weekend in the dead of winter, south Minneapolis becomes a winter trail, as parks and lakes host a variety of races and fun events. There's fat-tire bike races, cross-country ski loppets, and skijoring (dogs!). Meanwhile, the Luminary Loppet turns Uptown lakes into a nighttime winter wonderland with ice installations, twinkling lights, and toasty bonfires, and ends in a beer garden with a rock concert. This year's event is set to take place February 4-6. 
3. Do a sun salutation in the snow
Sure, hot yoga can feel great when the temps drop. But if you're looking for something a little more in tune with the current state of nature here, embrace the elements with a zen moment of winter yoga. You can do this anywhere: in your backyard, at a park, on the sidewalk while waiting for a tow truck. Group sessions are also a thing in the Twin Cities, with parks, frozen lakes, and even brew pubs hosting pop-up classes. Some events coming up: women's yoga, BIPOC-led yoga, and HIIT and yoga. Prepare to take that "moment of stillness" to the next level.
4. Get weird with your exterior decor
Look, just because the holidays are over and the grass is covered with a foot of snow doesn't mean you can't still fuck with your lawn. Now's actually the perfect time to confuse your neighbors and make visitors point and laugh. Use wet jeans and other clothing items to create frozen bodiless specters that will make passersby question whether they missed the rapture. Eschew a typical snowman and build a snow penis instead. Make your own monolith, or bust out the Halloween decorations again and go spooky year round. Emulate the iconic "POO POO PEE PEE" house.
5. Live it up in a sauna, baby!
Saunas can do great things for the circulatory system, the skin, the lungs, and the mind, but the greatest plus they offer is a change of pace. To enjoy, you simply strip off your layers, enter the sauna, and sit still until you can't anymore. If you don't have $5K to drop on a "cheap" backyard model, you still have options. The 612 Sauna Society travels to parks, bars, and special events during the winter. If you stay at the Hewing Hotel, you'll find their rooftop sauna open in the evenings. Roam Sauna Co. drops off rentals to people's yards. They even encourage sharing your time with neighbors. (It's the least you can do after building that snow penis).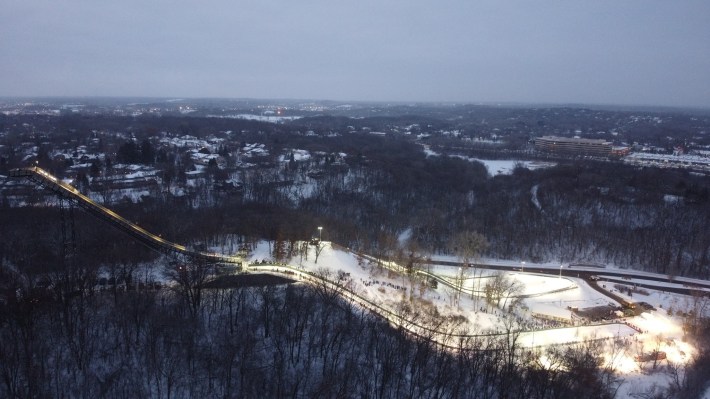 6. Watch ski jumping… in Bloomington?!
It takes a special type of daredevil to slap on a pair of skis, propel down a 300-foot-ramp, and expect it to end well. The Minneapolis Ski Jumping Club preps people, from kid beginners to established athletes, to do this exact thing with the grace of a soaring eagle. You can see this amazing sport in action each year at the International Ski Jumping Competition, where some of the best in the world, including former and future Olympians, fly through the air. This year's event is on January 16.
7. One-up the East Coast at the Saint Paul Winter Carnival
The Saint Paul Winter Carnival might be the only local festival that was borne out of spite. When a few East Coast journalists deemed Minnesota an inhospitable Siberia in 1885, the locals responded with an outdoor carnival the following year. Over 100 years later (136, to be exact), we're still partying every January to prove them wrong. Suck it, easterners! This year's event takes place January 28 through February 6, and will include ice and snow sculpting contests, fireworks in Rice Park, special happy hours, family-friendly events outdoors, sporting tournaments, a parade, and more. High-five, Siberia. 
8. Hang out with cats and dogs at the RiverCentre
Animal lovers in the Twin Cities looking for a cuteness overload have at least two options each winter: the Land O' Lakes Kennel Club Dog Show (January 7-9) and the Saintly City Cat Show (January 29-30). We'd never dare to judge the quality of a cat or dog; we'll leave that to the experts. While the judges critique, we're making our way through the product demos, adoptable meet-and-greets, and super-cute photo ops.
9. Slap on your skates and hit the rinks
With more rinks per capita than anywhere else in the U.S.—plus warming houses and skates to rent at nearly every one—you'd be hard-pressed to find an excuse not to carve up some ice in the Twin Cities this winter. Check out our rinks map for the 2022 season here, and make this the year you say yes to any and all pickup hockey invites, no matter how intimidating those 12-year-old kids look.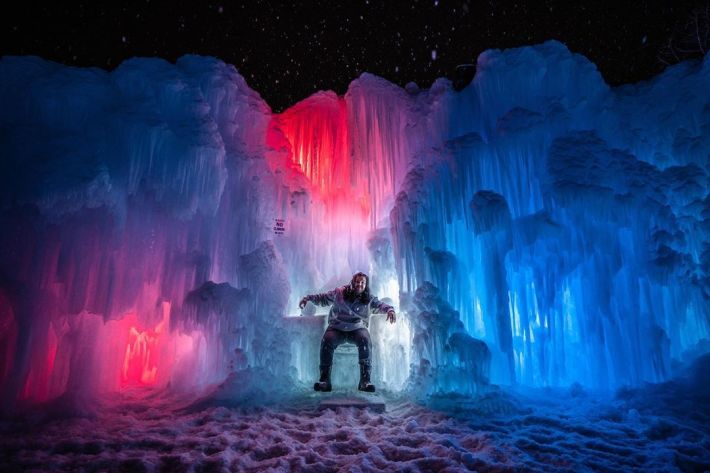 10. Stroll through an ice castle, but don't sing "Let It Go"
People love looking at impractical homes they could never afford. People are also into ice doing cool stuff. Ice castles bring these two things together. The frozen structure now up in New Brighton ($11-$22) has turned ice into a grand spectacle, featuring tall ceilings, cold thrones, and DIY lighting. Sure, we wouldn't really want to live here, but the views are pretty impressive.  
11. Get your beer poked
C'mon. Do it. Stick a hot metal rod in your beer. You've done weirder things related to alcohol, and this is an age-old tradition, not some weird fad like… I don't know, butt chugging. The biggest beer poking event of the year is Schell's Bock Fest, held March 5 in New Ulm, but breweries including Bent Paddle in Duluth and Minneapolis's Northbound Smokehouse & Brewpub get in on the fun, typically in February and March.
12. Find out if fatties really are more fun
Surly Bikes in Bloomington made the first commercially available fat bike—the Pugsley—back in the early aughts, and since then Minnesota has been ground zero for fat biking. You can go all-out adventure mode with a day on Cuyuna's world-class trails, or tool around the Twin Cities courtesy of Tangletown Bike Shop, which offers day-long fat bike rentals for around 70 bucks.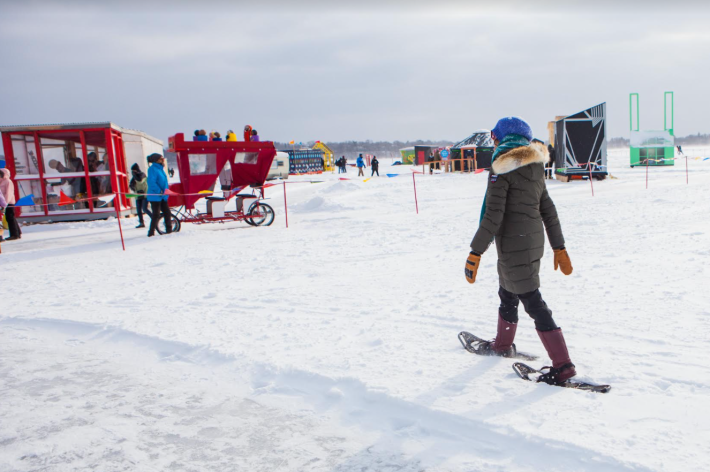 13. Feel whimsical AF at the Art Shanties
Since 2004, the Art Shanty Projects has taken to the ice to remind us that winter is a great time to get creative. Bde Unma/Lake Harriet will play host again for this year's all-outside fest; fun activities include theater, music, spectacle, and interactive art from scientists, artists, musicians, and more. Experience it on weekends from January 15 through February 6. 
14. Hit a heated patio
It may not be the vibe during our 30-below days, but with the right jacket and a little liquid insulation you too can enjoy patio season all winter long. We're partial to the ones with fires: In St. Paul, the Gnome Pub's patio fireplace helps keep guests toasty while the Waldmann Brewery's bonfire roars in the outdoor biergarten. In Minneapolis, the Utepils winter beer garden is a snowy dream, while Sociable Cider Werks patio has fire pits where you can warm up while catching a game on its ice rink.
15. Try your hand at hockey or broomball
You already know what hockey is, but while we have you here, let us sell you on broomball. It's kind of like hockey, except rather than skates, you run around the ice on these little foam-bottomed sneakers, and instead of a stick, you use this… well, I suppose it's a stick, but it's more like a broom-shaped paddle. Oh and instead of a puck, you play with a ball. It's so fun, you guys. Really fast and chaotic. And if you can't field a full team, you can sign up as a free agent, and they'll find one for you.
16. Take a virtual cooking class
The Seward Community Co-op has all kinds of free virtual classes, from buffalo cauliflower wings to Kabalagala. Just register on Eventbrite and you're good to go!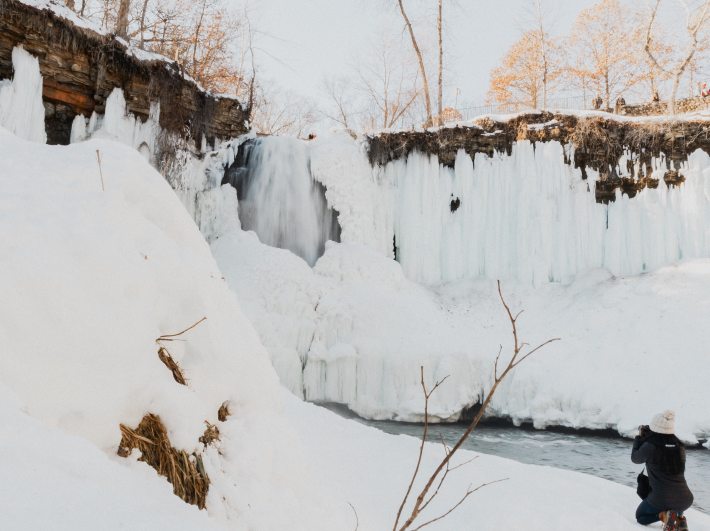 17. Rack up likes at the frozen Minnehaha Falls
Ah, the majesty of those frozen falls, suspended in time as they tumble over Minnehaha Creek. Post a picture from your visit, and we promise: People are going to double tap. Just be careful.
18. Go to a Wild game
It'll be a nice way to wash the taste of that Vikings season out of your mouth. (Timberwolves games are less likely to make you feel better.) Single-game tickets to see the 19-10-2 team at the X aren't crazy expensive.
19. Make mulled wine
Mulled wine is such a win-win-win: It warms you up, gives you a little buzz, and makes the whole house smell like sugar and cinnamon. You can use the recipe Carrie McCabe-Johnson of Minneapolis's Nightingale once gave Wine Enthusiast, or make it easy on yourself and grab a Glögg Mulling Spice Blend from Ingebretsen's.
20. Warm up at the Marjorie McNeely Conservatory
I don't care how much you love winter. At some point, the frigid temps, gray skies, and dirty snow start to get to a person. At the exact moment you feel yourself going a little Jack Torrance, it's time to pay a visit to the plants at St. Paul's Marjorie McNeely Conservatory and soak up some of their warm, humid habitat.
21. Visit Margaritaville
Trip to the tropics out of the question? May we recommend a Cheeseburger in Paradise? A Landshark Lager? A blended cocktail served in a 22-oz. take-home souvenir blender cup that costs like $18? Margaritaville takes you on a delightfully tacky Key West vacation from inside MOA.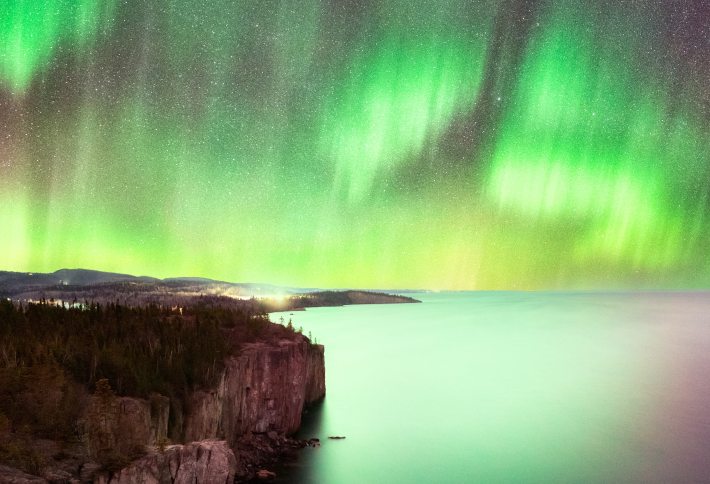 22. Go looking for the Northern Lights
According to Wikipedia, Aurora Borealis is the "result of disturbances in the magnetosphere caused by solar wind." Look, we're not going to pretend to understand the science behind it, but dang, the Northern Lights sure are pretty. What makes them even more special is that they are elusive. Sure, people stumble on them accidentally sometimes, but most of us only find them if we carefully plan, travel, and stay up late. There are lots of resources to help you find nature's homemade light show; the Great Lakes Aurora Hunters on Facebook offer tips to finding and photographing it, Explore Minnesota has lots of info, and even the Weather Channel has been known to tip off light seekers when the conditions are right.  
23. Indulge in pinball 
Sure, if you're nostalgic for the early days of the pandemic when you could sit at home with Animal Crossing. But if you're feeling the itch for something a little more, you know, tactile, there aren't just pinball-themed bars like Tilt and Up-Down but machines scattered throughout the area. You can find a map of them all here.
24. Check out some rad street snowboarding in Duluth
You don't need a mountain to snowboard, and Red Bull Heavy Metal is out to prove it. Some of the best street snowboarders (including local boy Benny Milam) will compete in Duluth's Cascade Park January 16, which will be transformed into an obstacle course for the occasion. Find more info here. 
25. Foster a pet
Lot's of dumb people give animals as gifts for Christmas. That means a bunch of gentle creatures will find themselves homeless a few months later. Keep a dog or cat out of a shelter by giving them a temporary place to stay on their way to their true forever home.
26. Become a curling ace
Why play a normal sport that everyone knows when you could master the art of curling? Minnesota is home to 29 curling clubs, scattered throughout the state. Get going now and you can be an expert sharing your wisdom about "hogged stones" and "draw weight" in time for the Winter Olympics' curling competition in February (most of the U.S. curlers are Minnesotans). Read more about Minnesota curling here.
27. Score Christmas rejects at your local thrift store
There's some good shopping to be had after the holidays. January is a good time to cruise through some stores as people often clean out their closets and jettison gift fails that might just be up your alley. You can consult this handy guide to thrifting in the Twin Cities.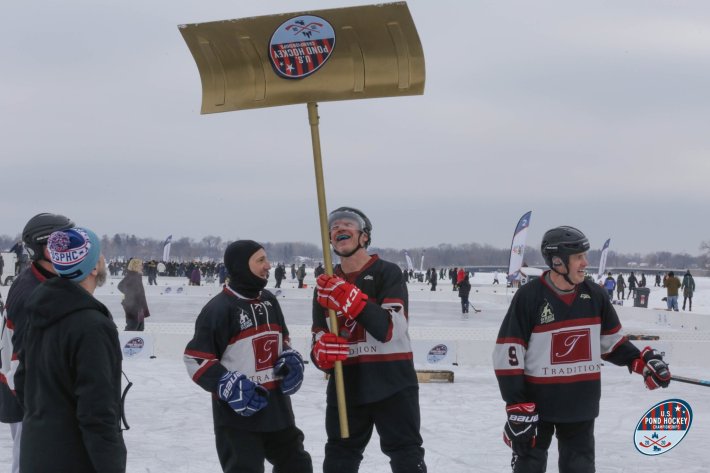 28. Cheer teams on at the U.S. Pond Hockey Tournament
Since 2006, hordes of hockey fans have traveled to Minnesota for a multi-day tourney played on the purest of hockey venues: a lake. That lake is Nokomis, where former pros, weekend hobbyists, and wobbly beginners all take to the ice and vie for the right to carve their team name into the Golden Shovel. ESPN lists the tournament at 66 on an article titled "101 Things Sports Fans Must Experience Before They Die." The 2022 event is scheduled to take place on the weekends January 21-30.
29. Fall off an elaborate Art Sled
Hard to believe this is only the 11th annual Art Sled Rally—the institution is such an essential part of south Minneapolis winter it seems like it's been around much longer. Thaw out your imagination and see what you can build. It's free to enter, and the less practical your design, the more fun it can be. This year's event is on Saturday, January 29. Find more info here.
30. Go fly a kite
Yes, we all have an idealized image of kiting in a breezy summer day, but there's wind in the winter too, you know. The Lake Harriet Winter Kite Festival is a chance to gather with fellow kite enthusiasts on a frozen lake, and there are even free s'mores, plus not-free food trucks. And if you can't make this event, there are plenty of other winter kite fests throughout the region. Saturday, January 22. Noon to 4 p.m. More info here. 
31. Be a good neighbor
We live in a society. In fact, winter is when Minnesotans need each other most, and a little neighborly aid can go a long way. Help push someone's car out of a snowbound parking spot before the tow trucks come. Use your snow blower on the whole block. At the very least, when you shovel your sidewalk, go a couple squares over the property line. It's only neighborly. 
32. Enjoy one of our many, many music residencies
For some reason, touring bands are reluctant to visit Minnesota in January and February. Well, who needs 'em? Venues have learned the value of entrusting a single local artist with the responsibility of curating one night of the week for a full month. The Turf Club is chock full of residencies in January, and Icehouse, Mortimer's, and the White Squirrel are also getting in on the action. I bet your favorite joint has a residency, too.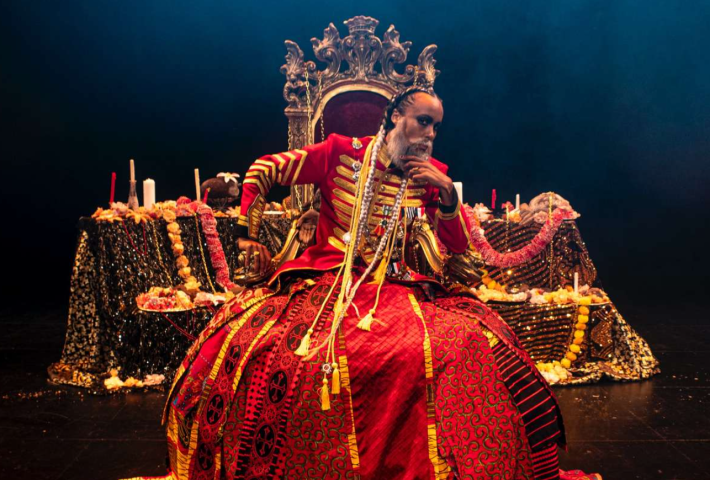 33. Try to understand weird theater at the Walker
In January, the Walker Art Center plays host to one of the most intense, fascinating, and challenging theater festivals in town: Out There. We're talking experimental arts, abstract ideas, and major international performers onstage for a series of shows unlike anything else. For the 2022 installment (January 27-February 12): Kaneza Schaal portrays the ghost of Belgium's King Leopold II in ​​KLII, a myth-bio piece inspired by a monologue written by Mark Twain; Annie Dorsen creates an original sound experience using pop-songs and an algorithm; and Big Dance Theater's The Mood Room features a family reunion between five sisters in 1970s Los Angeles. Does that last one sounds a little too grounded for the fest? Don't worry, it's not.
34. Experience the indescribably varied Great Northern Festival
Visit an artist-curated pop-up greenhouse in a St. Paul alley. Immerse yourself in absolute silence in Orfield Labs' anechoic chamber. Watch Phillip Glass's Koyaanisqatsi projected on the United Crushers Mill. These are just a few of the unique experiences this festival has to offer, which runs from January 27 through February 6. Find more info here.
35. Stay home and read a book by a local author
When all else fails, there are always books. And some of them were written by people who live in Minnesota. Your pals over at the Hennepin County Library let you browse for Minnesotan books online by subject (memoir, novel, etc.), and even let you search for titles by Minnesota-based publishers.  
36. Hide away at the movies
It's dark all winter—may as well hole up someplace even darker. There's always something fun happening at the Trylon or the Parkway. (Be sure to check Racket on Thursday for listings.) And if you're Omicron-leery, here's a little pro-tip: Go see a flick a little smaller and less Spider-Man-y and you might have the theater almost to yourself.
37. Settle into a new dive bar
Tired of your usual haunts? Seeing the same old faces, the same casual acquaintances, the same frosty exes? Maybe winter is the perfect time to find a new dive bar to settle into. Leave the cozy confines of your neighborhood and try someplace new. Maybe even in St. Paul. Become an educated Twin Cities dive-bar aficionado by reading Bill Lindeke and Andy Sturdevant's 2019 book on that very subject.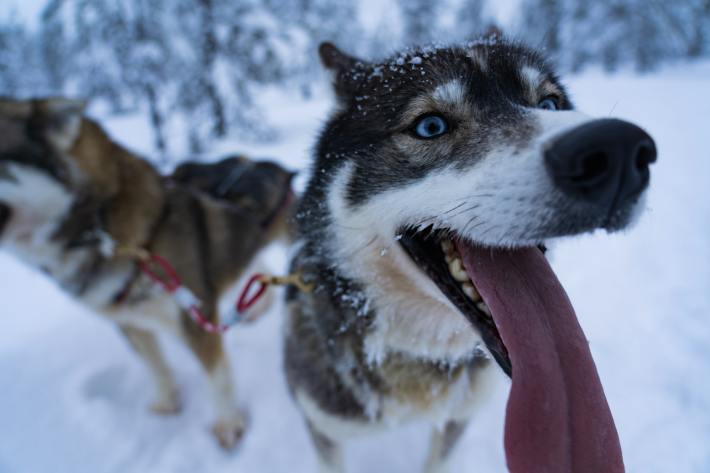 38. Watch them doggies pull at the John Beargrease Sled Dog Marathon
If you're a musher or a mushed dog, you already know this epic, 300-mile dog sled race is a qualifier for the grandaddy of 'em all–Alaska's Iditarod. Spectators get to watch teams of pups fly across the snow from Duluth to Grand Portage, as they've done along the same North Shore route for 41 years. This year's edition of the John Beargrease Sled Dog Marathon goes down January 30 through February 2.
39. Ice bars—they're bars made of ice!
Ice bars may not be quite the fresh trend they were a few years back, but they're more inviting than ever given our new viral reality. Perfect if you want to socialize at a bar without entering a possibly COVID-friendly enclosed space, and you want to make the most of our frigid climate. Rochester has a free ice bar event this year that looks pretty rad. Or you can enjoy a cold one from an ice bar after making it through this huge ice maze in Stillwater.
40. Bar crawl, y'all
There are bar crawls in the dead of winter? There are bar crawls in the dead of winter. In downtown Minneapolis the 5th Annual "Onesie Bar Crawl" (hey, whatever you're into) starts at the Pourhouse on February 19, and a Mardi Gras bar crawl starts from Wild Greg's Saloon on February 26. If you'd prefer to crawl through Northeast, head to NE Moose's on February 12. 
41. Play a tropical video game
We don't need to play any of those Viking games, we're living it, mean. Instead, try a more tropical experience with a video game set somewhere… vacation-y. Visit ancient Greece and download the new free add-on content for Assassin's Creed Odyssey, fire up the Sims 4 and move in a family in the tropical island of Sulani, or try to overthrow a Central American government in FarCry 6. Think of it as a staycation… of the mind!
42. Get charitably chilly at Polar Bear Plunge
Over the past 15 years, the Minneapolis installment of Polar Plunge has raised $13.7 million for the Special Olympics. This year's goal? $795,000. Plungers tend to get silly with it, rocking costumes and making the most of the icy plunge on social media. There's still time to register and raise cash ahead of the March 4 through 5 event at Bde Maka Ska. 
43. Drop a line, crack a beer while ice fishing
On large northern Minnesota lakes, something beautiful happens when the ice gets thick enough: Tiny towns of fish houses emerge, complete with plowed roads that twist atop the water. An entire cold-weather culture springs from these fish communities–snow mobiles, cribbage, rivers of beer, and, yes, even augered holes that, with any luck, will supply dinner. The state tourism board offers this helpful primer to ice fishing novices, and Racket offers you this locally produced ice fishing TikTok we can't stop watching. 
44. Hit the cross-country skiing trails
Minnesotans are all about shunning flashiness (downhill skiing) and opting for quiet suffering (cross-country skiing), so it makes sense that we're a "mecca" for the latter, per this helpful guide from Visit Minnesota. But seriously: Cross-country skiings rocks, whether that's in the city at Hiawatha Golf Course/future sex forest and Theodore Wirth Park, along the Root River, way out near Detroit Lakes, or up on the Gun Flint Trail.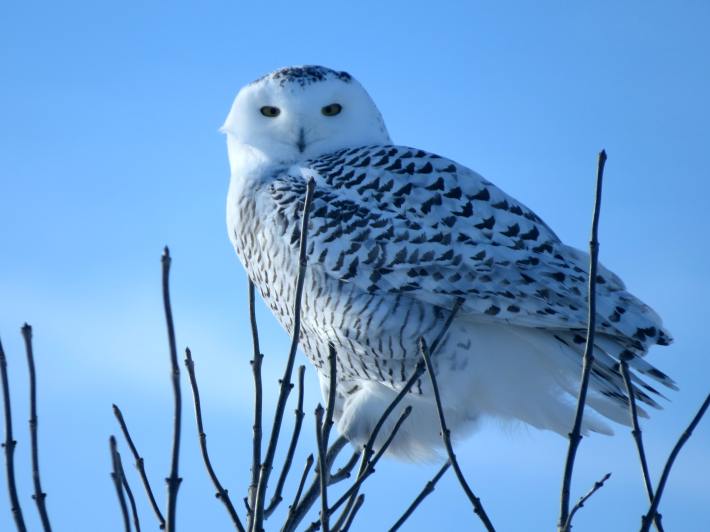 45. Head to Sax Zim Bog to spot a snowy owl 
Did you know there's a world-class birding destination located an hour northwest of Duluth? It's true! Seasonal sightings like snowy owls, great gray owls, and even hoary redpolls await at Sax Zim Bog, a boreal bird wonderland that even got props from the Obama-beefing bird buds of the Audubon Society. Barely related: "Snow Owl" happens to be a criminally underrated early Mountain Goats song. 
46. Store beers on the porch
Nature is magical. The tides, the seasons, etc. But mostly: The seasonal transformation of your three-season porch into a cavernous, walk-in beverage cooler. There's nothing more fun than a party host saying, "And there's a bunch of beers on the porch." What are we, royalty? This privilege mustn't be underthought, however. If temps creep too cold, your Summits and Grain Belts will explode into aluminum shrapnel, glassy shards, and slushy suds chunks. 
47. Warm up amid the fishes at MOA's Sea Life Aquarium 
Mindless consumerism ain't the only thing at MOA; there are also sharks, stingrays, turtles, and goddamn guitar sharks. They're all swimming around Sea Life, Minnesota's largest aquarium that also happens to house the state's only duo of endangered green sawfish–Duke and Duchess! A 300-foot walkway is surrounded by 1.3 million gallons of water, so maybe don't subject the kids to Jaws 3 before visiting. 
48. Road trip to the Apostle Island Ice Caves 
OK, this one's in Wisconsin–sue us. (Please don't sue us.) But any jury in the land would rule in favor of the Apostile Island Ice Caves being an absolutely fucking gorgeous natural wonder located on Lake Superior about 20 miles west of Bayfield. The tricky part is whether ice thickness is appropriate for visitors, so you've gotta check the National Parks website for current conditions. 
49. Downhill ski on our large hills and very small mountains 
Locally, slope-heads have Afton, Hyland, and Buck Hill, the latter of which was sloppily immortalized by the Replacements. Head north to Minnesota's tiny, isolated Sawtooth Mountain range and you've got more spectacular options, including the unparalleled Lutsen Mountains. Check out the Strib's recent survey of lodging options at three top Minnesota ski resorts. Those lucky dogs and their expense accounts…
50. Joust with your partner over appropriate thermostat levels 
Look, we don't want to gender this daily, hopefully good-natured wintertime argument… so we'll let The Onion do that for us.