Culture
5 Local Standup Comics to Watch in 2022
Meet up-and-coming artists who aspire to make us laugh.
9:01 AM CST on January 11, 2022
While 2021 sucked in a ton of ways, one thing that definitely didn't suck was our local standup comedy scene. The clubs and breweries opened back up, open mics started running again, and a new, fresh wave of comics took the opportunity to push themselves to the next level. 
Looking ahead to 2022—which has to be better, right?—here are five comics we think you need to pay extra attention to, because they're all ready to have a very big year. 
Emma Dalenberg
IG: @emmadcomedy
Twitter: @emmadcomedy

Emma Dalenberg was simply hoping to make friends and try something different when she started performing with the U of M standup comedy club in 2019. She soon became a regular at open mics around town, however, and was starting to find her place in the community. 
Then 2020 hit and... nothing. 
"This time last year was a nightmare," Dalenberg says. "I was thinking about comedy, but everything felt so impossible and far away." 
Once open mics started back up, albeit in a significantly diminished capacity, Dalenberg realized just how much she'd missed it. "Everything being taken away made me understand how much I loved standup," she says. 
The best part of watching Dalenberg onstage is that you can feel how much she's enjoying it. Whether she's talking about her family or just reflecting on the absurdities of life, she approaches her sets with a laid back, quasi-stoned demeanor. 
"I got asked to do the 4/20 show at Sisyphus and I was super excited to be asked to get on that," she says. "Then over the summer I did Rock What You Got at Keg and Case. It just felt like I was getting asked to do these shows pretty regularly and I was like, 'Hmm, maybe we're onto something here.'" 
In August, Dalenberg opened for both Geoffrey Asmus and Steve Gillespie. A weekend feature gig in Fargo soon followed, and she capped the year by launching her own Underground Roast Battle (the next installment is scheduled for January 29). 
As a new college graduate, Dalenberg says she's not too concerned with making any massive moves just yet, but plans to use 2022 as a year to build her resume. 
"I want to go out on the road more," she says. "I want to have the best 20 minutes of material I possibly can, and be the best feature I can be by the end of the year. Other than that, I just want to visit more cities, meet more standups, and get booked on a festival." 
Oh, and in case you were wondering, she did achieve her original goal—she made a lot of new friends, too.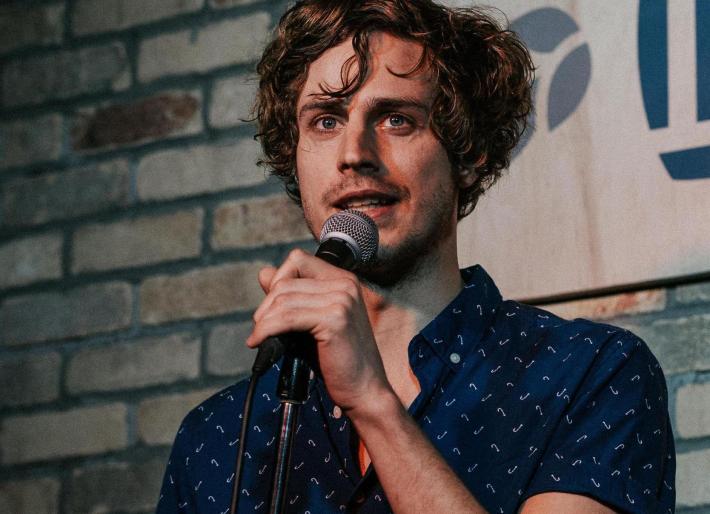 Joey Hamburger
IG: @joeyhamburger
Twitter: @joeyhamburger
Seeing Joey Hamburger live is a trip. A good trip, but a trip nonetheless. You never know what you're going to get, and Hamburger says that's by design. But this summer his ability to read the room was tested in a big way. 
"I went to this open mic at the Moose, and there was a guy who was being really obnoxious and yelling at the host," he recalls. "I told him he needed to leave and he spit in my face. So then I was like, 'OK, I'm not going to just get up there and do a set like nothing happened.' So instead I sang Sheryl Crow's 'If It Makes You Happy,' and it worked. At that point I decided I just wanted to do new stuff, have fun, and keep things fresh." 
Unlike a lot of comics who pride themselves on being their authentic selves onstage, Hamburger sees himself as more of a character playing a part. 
"I got very into coming up with themes for my sets," he says. "Lately I've been doing, 'I'm a bad boy.' I still have jokes strung in there, but I like having a theme and trying to make it feel cohesive." 
The highlight of Hamburger's 2021 was headlining at Sisyphus, which featured a carnival of characters, jokes, and a singalong to close out the evening. This year, he wants to take that approach one step further, developing a new one-of-a-kind one-man show that's part comedy, part monologue. 
"I want to pull in more elements that you wouldn't necessarily see in a typical standup show," he says. "Bring it back to theater a little bit." 
While we're officially calling him a "comic" to watch, Hamburger says he doesn't necessarily put himself in that category. 
"I think I'm a creator," he says. "I want to be a performer, but also keep creating all of these different kinds of things."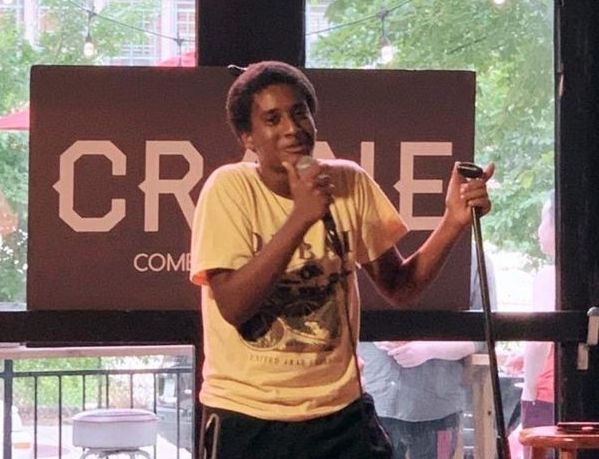 Ali Alkhulidi
IG: @alialkomedy
Let's be honest: Most of us were a mess at 14 (and 24, and probably 34, too). But at just 14 years old, Ali Alkhulidi has already been performing standup for six months. 
Alkhulidi's parents, immigrants from Yemen and Ethiopia, are devout Muslims. As a young man finding his own way, Alkhulidi says his comedy stems from the fact that some of the things that are important to his parents don't quite connect the same way for him. 
"A lot of my comedy is about experiences I've had growing up in this Muslim family that I don't believe in," he explains. 
After discovering standup while watching America's Got Talent with his family, Alkhulidi sought advice on how to get started himself. 
"Ali Sultan is a close family friend," he says. "I texted him, and told him that I had written some jokes and wanted to try them out. He texted me back, and wanted me to meet him at Acme for their Tuesday open mic. I did my first open mic the following week, and I loved the experience so much that I decided to keep going." 
Despite not being old enough to get a passable fake ID, Alkhulidi has performed everywhere, including Comedy at the Crane, Sisyphus, and the Uproar open mic that took place outdoors this past summer. While he says the community has been extremely welcoming and accepting, his mom needed a little convincing. 
"At first my parents really didn't like the idea," he says. "My mom told me before my second open mic that she didn't know if she wanted me doing this because people were going to have jokes about sex… Eventually they realized it was helping me with my self-confidence, and I had become a way happier person. Then they were way more supportive."
While school and transportation can be challenges (he rides the bus from Coon Rapids to most mics), Alkhulidi says he plans to keep getting onstage, and hopes to enter the Acme Funniest Person Contest this coming summer. 
As for why he chooses to do comedy, Alkhulidi shows a wisdom and self-awareness beyond his years. 
"This is something my therapist told me about. When I do comedy, I tend to focus on my issues and things that are bothering me. It's not therapy, but it's therapeutic."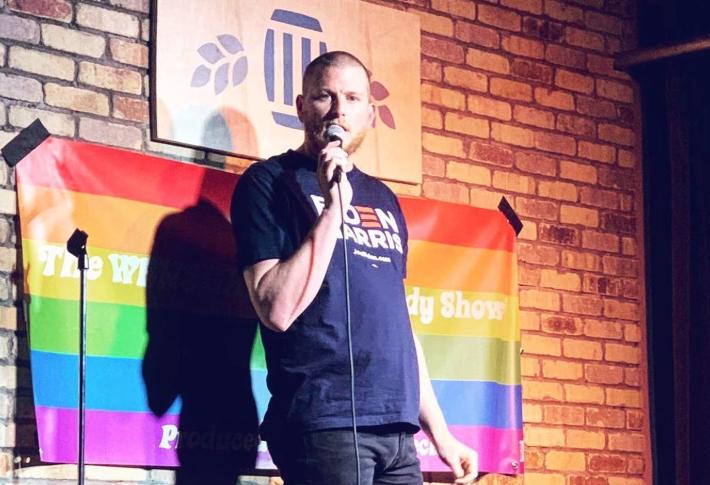 Riley Cosgrove
IG: @rileycosgrovecomedy
Twitter: @rileycoscomedy
Riley Cosgrove is biting onstage. 
"I get it; I'm not for everyone," he admits.
It's not unusual for him to stop and call out audience members, sexualize detractors, and effortlessly weave in stories about his family in mere minutes. 
Cosgrove says one of the biggest challenges for him in reaching the next rung of the comedy ladder is the lack of opportunities for gay comics in the Twin Cities. 
"I don't typically get booked unless the headliner is gay or a woman," he says. "And it sucks, but it is what it is." 
Last year, Cosgrove became a House of Comedy feature regular, a fixture of the monthly Wednesgays showcase at Sisyphus, and hit the road for a show in Pillager, MN, as part of Brainerd Lakes Pride. His favorite moment, however, was opening for Robert Baril in his native Iowa, where Cosgrove's parents saw him perform live for the first time. 
As for this year, Cosgrove is starting off hot, with a headlining weekend at Sisyphus later this month. 
"Sam [Harriman, Sisyphus's owner] came up to me and said, 'Every time you come here you kill. Do you want to headline a weekend?' And I mean, what would a straight guy comedian do? He would never turn that shit down, so I took it." 
Beyond the Sisyphus shows, Cosgrove hopes to continue to hit the road and put in the work to make him a success, regardless of what anyone else thinks. 
"I've heard this from a lot of people: Do not look at other people's success. You'll fucking get there; some people just get there before you. I want to be a slow cooker."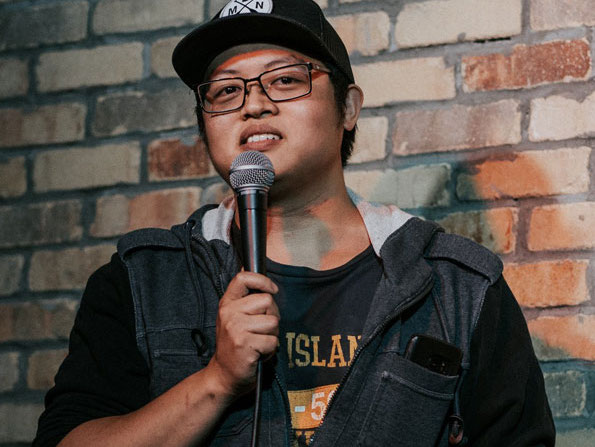 Shawn Nafstad
IG: @bust2nut
Twitter: @bust2nut
Is there a more laid-back comic in the Twin Cities than Shawn Nafstad? A standup since 2015, Nafstad was one of four new emcees hired at Acme Comedy Co. in 2021. While most comics would have been through the roof at the opportunity to get paid to perform on Acme's legendary stage, Nafstad was his characteristically cool self. 
"Back in February they had just reopened Acme, and I was at one of the mics when one of the managers came up to me and said, 'Just so you know you should probably try tonight because you got some eyes on you," he says. "So I was like, 'Oh OK.' I did my time and when I finished they said I would probably get a call later in the week." 
His onstage coolness matches his off-stage attitude, as Nafstad's style comes off as aloof. But to hear him share his philosophy, he's clearly more humble and focused than he lets on. 
"I never have, like, concrete milestones," he explains. "Some people want to be like, the best comic ever. I don't want to put a cap on it. To me, if you focus on making constant improvements, you'll surpass what you consider to be the best in your own mind." 
While he may not have any concrete 2022 comedy goals, he does have some very specific hopes for generating new material. 
"I haven't been able to go out in like two years," he says. "My whole life is going to work and coming home and then doing shows... I'd like to have more material, but I need to leave the house to do that. Maybe I'll just go on a rollercoaster or something."
Stay in touch
Sign up for our free newsletter