Food & Drink
Twin Cities Dairy Queens, Ranked
It may be a summer classic, but not all DQs are created equal. That's why we're ranking all 11 locations in Minneapolis and St. Paul.
9:17 AM CDT on June 22, 2022
More than any other fast-food restaurant, Dairy Queen evokes a feeling of pure summer that's hard to reliably reproduce. Heck, it's hard even for DQ to replicate the same summertime feeling from location to location. Eating a cone on the grass by Minnehaha Falls just isn't the same as snacking on a sundae and sitting on the curb in a neighborhood in St. Paul. Their scenery, their ambiance, is different, for better or worse.
And those tiny differences at each Dairy Queen—the staff, the customers, the seating, the setting, the weird little murals—those are just the kind of minutiae that make DQ an ideal subject for a Racket ranking.
We visited the Dairy Queens of Minneapolis and St. Paul to get a feel for the mood of each one—the little twinges of memory and nostalgia each invokes, the specific way it cools a summer-baked brain. The menu may differ very little from one location to another, but there's more to DQ than Dilly Bars, ya know? This is a ranking based on vibes. (Plus, did you know DQ is headquartered in Bloomington? Local angle, baby!) 
You might disagree with these rankings. That's okay—a vibe can be a beautiful and personal thing. If you don't know what the vibe of your nearest DQ even is, go get some soft serve! You'll figure it out.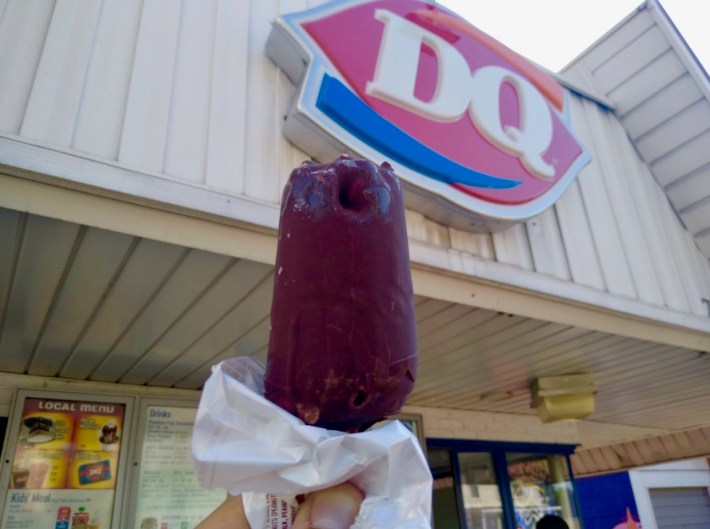 11. Ford Parkway Dairy Queen
1959 Ford Pkwy., St. Paul
DQ has two varieties of stores: "Grill & Chill," where you can walk inside and order at a counter like most fast-food restaurants, and "Treat Only," where you usually order at an outer window. Having a chance to escape the heat and cool off with A/C and ice cream can be the main attraction at a Grill & Chill spot like this one… but the location just doesn't feel like a reprieve. It has a more modern energy, with none of the vintage charm many of its local counterparts share, and being adjacent to Ford Parkway means it doesn't boast the kind of pastoral patio paradise you'll find at others, either.
10. Downtown Minneapolis Dairy Queen
800 Nicollet Mall Ste. 205, Minneapolis
Look, I'll level with you, I forgot to go to this one. I have no idea what this DQ is like, but it's on Nicollet Mall, inside the skyway, so you can probably picture it. Looking at some online reviews, people seem to have a good time there. "Always creamy," says one Google review, and hey—that's what you want from ice cream. Another says "thanks for mending my broken heart :'(."  If you're inside the skyway, want some soft serve, and are a bit lovesick (that part's optional), you've got your spot.
9. Maryland Avenue Dairy Queen
1354 Maryland Ave. E., St. Paul
This is in the suburb-like outskirts of St. Paul, and when I stopped here I saw the quintessential clientele of an ice cream parlor in the summer: teenagers! Sitting at a table, leaning in so close together their heads and cones almost touched, hopefully conspiring on something important, like ways to goof off on a hot day. Come here, get ice cream, conspire.
8. Minnehaha Falls Dairy Queen
4740 Minnehaha Ave., Minneapolis
It's tough to see a DQ suffer because of circumstances outside its control, but this location—right across from the roundabout leading to Minnehaha Falls Park, in an area that sees a near-constant stream of construction and cars along the Parkway—is tough. It's a Treat Only DQ, which means proximity to traffic is non-negotiable if you're having your sundae to stay. Plus, if you're craving a frozen treat while you're already at the falls, there's Sebastian Joe's right inside the park. On the other hand, Sea Salt can be a zoo on the finer days of summer, and putting some distance between yourself and the sweaty hordes can be a reprieve: Walk just across the street, grab a cone, lay on the grass, and wave at cyclists and dog walkers easing on by.
7. White Bear Avenue Dairy Queen
1537 White Bear Ave. N., St. Paul
This is an anodyne spot: a walk-up window under a shelter. And that's okay! We're not living in a real-life production of Grease; nothing has to be retro or old-fashioned. This is a perfect stop for minivans and soccer teams (and assorted other little kids whose parents are trying to wrangle them). Pack up the orange slices and the pinnies and take the lil' strikers here.
6. Lowry Avenue Dairy Queen
710 Lowry Ave. NE, Minneapolis
There's a grimy charm here that's hard to capture. It might have been the slow water leak coming out of the DQ logo right above where the line forms. It might have been the hot dogs visibly left to thaw on the counter. In any case, this Northeast DQ is best enjoyed by snagging your Blizzard and wandering around to the back, where a mural of sunflowers and daisies and ice cream cones growing from the ground adorns the wall. Pleasant! 
5. Lyndale Avenue Dairy Queen
4719 N. Lyndale Ave., Minneapolis
You've got a pretty laid-back, bare-bones operation here, which is great. Just a single employee at a walk-up window. A weird mural of an American flag with a crying bald eagle (more patriotic than if it weren't crying) is a little off-putting, but you can still appreciate the artistry while you enjoy your sweets. Get dinner at FireBox Deli, mosey over here for dessert, and sit on the banana split-shaped bench to eat your Blizzard and watch the lazy traffic go by.
4. Earl Street Dairy Queen
565 Earl St., St. Paul
A lot to like here on Earl Street. This location stands by itself, an unassuming little house of soft serve. A study in minimalism, really, since there are no tables or benches or anything at all. Just a small DQ, a parking lot, and a sidewalk. Sitting on the curb, eating soft serve on a hot summer day, thinking nothing at all, brain light as a feather, is a phenomenal experience. The highlight of a Sunday afternoon trip here was watching a dad in white socks and genuine Air Monarchs—which apparently are real sneakers and not just a meme—excitedly get out of his car with cash already in hand to order a Blizzard.
3. Lake Street Dairy Queen
4400 E. Lake St., Minneapolis
This is a near-ideal ice cream situation. It's a walk-up style, Treat Only DQ, with no going-inside nonsense. The situation is so clean and pristine that even watching some guy berate the staff for messing up his order can't spoil the mood. 
On a Saturday, at golden hour, the parking lot is exquisite. It's an electrically charged childhood summer place. Opening the trunk of your shitty little hatchback and sitting down on the bumper instantly creates a perfect evening. Getting cold treats with your high school crush—not knowing what else to ask a crush to do on a date—talking softly, watching families, parents, and kids on tricycles come and go, heart pounding, eyes focused on your ice cream. How do you know if your crush likes you back? You'll find out, in the parking lot of the Lake Street Dairy Queen.
2. Portland Avenue Dairy Queen
6014 S. Portland Ave., Minneapolis
Real heartbreaker at #2, where you get an ideal mix of old and new. An old-style, retro sign dotted with marquee light bulbs reads "DAIRY QUEEN" just across from the new, red "DQ" pole sign. Technically it's a Treat location, though you order inside, but it's tiny, and the place to hang out is outside on the patio, in the heat, chasing your treat as it melts. Life's rich pageant unfolds there: A mom polishes off a cone, then tries to frame her two kids just right for a photo. A lanky high schooler finishes his Blizzard, then ambles away vaguely in the direction of Lake Nokomis, arms and legs jutting out as he walks, like he's still feeling out the use of his own body. Grandpa, in a fishing vest, working diligently on a plain vanilla cone, sits silently with grandson, empty-handed but sticky, head on the table, halfway to sleep.
1. 38th Street Dairy Queen
3747 13th Ave. S., Minneapolis
Don't let the address fool you: This is the 38th Street DQ, goddammit, and it's the crème de la crème (cream de la cream?) of Twin Cities Dairy Queens. This is an old-school place, with a walk-up window, nestled nicely in a pretty, walkable, bikeable neighborhood. There are two lovely flower stands, a handful of tables, and some benches nearby. Chat amiably (the only way to chat) with other customers, pet a dog—they've got a DQ-red water jug and bowl for toasty canines—and soak up a hot, late-summer afternoon. The 38th Street DQ is the embodiment of summertime, condensed down to a single place, with a street side patio where you can sit and let the heat of the day roll over and past you.
Dan Samorodnitsky is a writer and editor who specializes in covering science. Nice guy, likes cats. Learn more at dansamorodnitsky.com.
Read More:
Stay in touch
Sign up for our free newsletter