If you walked down Chicago Avenue just south of 35th Street this past July, you might have noticed a space encircled by hanging quilts. You might have heard peals of knowing laughter, songs of affirmation — and piercing, anguished screams of rage and grief.
Those were the sounds of What to Send Up When It Goes Down, a play that was also described as a "ritual," a production by and primarily for the Black community. Written by Aleshea Harris and directed by Signe V. Harriday, What to Send Up was Pillsbury House Theatre's first mainstage production since the COVID-19 shutdown.
"All of theater, when done well, is a kind of ritual," explains Harriday during a joint interview with her colleague Noël Raymond. "When we name it explicitly as a ritual, it invites the possibility of being changed by the experience. And I know that I was changed, in the best of ways. I was renewed, oftentimes. My spirit was affirmed."
"I still cry now, every time we gather a group of artists in person," says Raymond. "Not doing that was devastating."
The production will be remounted this September 18-28.
Located just three blocks north of George Floyd Square, Pillsbury House Theatre provided sustenance both artistic and physical last summer, hosting online programming and opening a community aid pantry as the city grieved and roiled.
While the challenges were acute, the orientation of the organization's response was clear. "Our mission, from day one, is to shine a light on injustices and do everything we can with the organizational resources and our artistic expertise and our position in the community to disrupt those inequities," says Raymond.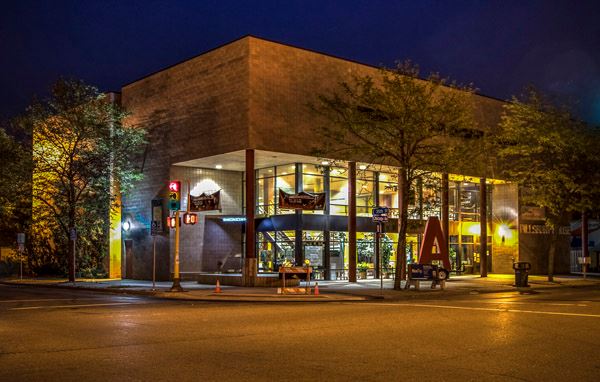 Founded by Ralph Remington in 1992, Pillsbury House Theatre was envisioned "as a professional arts institution committed to the Settlement House tradition of creating art in collaboration with the community." That community connection has grown over time, and, in 2009, the arts institution and the neighborhood center fully merged.
"The vision is the same, and has been the same since Ralph was here: justice-focused and equity-focused," says Raymond. "Our purpose is to create art; to integrate art into places where it's not." That includes both inside and outside of their building.
As Pillsbury House Theatre approaches its 30-year anniversary in 2022, the organization is moving forward with a new leadership structure. When Raymond's longtime co-director Faye M. Price left this summer to pursue other projects, Harriday joined the organization as artistic producing director.
"Noël and Faye had an incredible partnership in making this place a vibrant institution," says Harriday. "I have every intention of continuing that legacy."
While the theater's acclaimed main stage productions were put on pause last year due to the pandemic, other programming continued. That included longstanding public art initiatives exemplified by the Illuminating Legacies project supporting work by four south Minneapolis African American artists, and the McKnight Fellowships for Community-Engaged Artists, which Pillsbury House administers.
"I love Pillsbury H+T so hard," writes Saymoukda Duangphouxay Vongsay via email. The Lao American writer was a multi-season participant in Pillsbury House's Chicago Avenue Project, a youth mentoring theater program. Now she's a 2021 McKnight Fellow. "The heart of my practice is about making connections between this and that: between people and people, people and information, people and experiences, people and spaces, people and histories… To me, PHT does that so well: making connections."
In an artists' talk conducted last November (also archived on the Illuminating Legacies website), participants in the program shared how the work they created last year — films both documentary (Daniel Bergin) and poetic (Junauda Petrus-Nasah), a sculpture panel (Esther Osayande), history cards celebrating Black Minnesotans (Valérie Déus) — was particularly meaningful, and only possible because the program represented an ongoing organizational investment in the community.
"It wasn't extractive," said Petrus-Nasah in that artists' talk. "This often happens after Black tragedy or pain: all of a sudden entities care about Black creative output… [But Pillsbury House] was supporting Black artists and artists of color and young artists in doing dope experimental art, not as a response to a tragedy, but just as a commitment to an important capture of creativity."
Pillsbury House's Breaking Ice program — which uses devised performances to spark workplace dialogue about diversity, equity, and inclusion — moved online during the pandemic.  Over the course of 2020, "the tenor of those conversations changed a lot. We were able to go at those issues much more directly in corporate environments," says Raymond. "That felt really good; to be able just to name white supremacy as a force that's operating and have people receive that and be able to actually talk openly about that. But that didn't change our programming, it just helped us push it to that next layer that we've been trying to get to."
In addition to the organization's ongoing programming, Harriday is considering what the future will hold for their professional theatrical productions amidst conditions she aptly describes as "dynamic."
"A lot of people have been asking me, 'How are you going to design a season, and how are you going to pick shows?'" she says. "I've come to settle on an answer that feels really right and authentic for me, which is true to the history of this place. I'm thinking about the people, and I am letting relationships and people be the core driving factor to decision-making around what's next."