Welcome back to "Five Things," Racket's recurring rundown of new, new-to-us, or otherwise notable Twin Cities restaurants.
Today we're talking about Third Space Café, which just opened at 2930 Lyndale Ave. S. on Friday. They're all about the power of the "third space," a sociocultural term referring to a place that's not work and not home, but a third, other, communal setting. Clubs, museums, bars, breweries—and cafes—all can serve as a third space.
Here are five more things to know about Lyn-Lake's newest coffee shop.
1. It's new blood, but not Youngblood.
If you're in the neighborhood a lot, you might remember briefly seeing neon and gold paint spelling out "Youngblood" on Third Space's black facade. The trendy Fargo-based coffee roaster planned to expand to the Twin Cities… then opened right before COVID-19 hit, and closed not long after. So it's nice to see another coffee shop move into the building, and you can (and should) still visit Youngblood if ever you're in Fargo.
2. Come for the coffee, stay for the paninis.
Third Space's menu is made up of traditional coffee drinks (latte, Americano) and a selection of specialty coffee including a miel cream cold foam cold brew, cinnamon roll latte, and a pumpkin latte (made with real pumpkin). On the food side, they're serving a selection of paninis and bakery staples from Turtle Bread Company, including a daily quiche. We went with the open-face Avo Toast and the close-face Elvis with peanut butter, banana, and honey. Both came with a honkin' huge pickle and your choice of chips or a lightly dressed breakfast salad.
3. The croissants are formidable.
I didn't get one, but I think the croissants in the pastry case were literally the size of my head.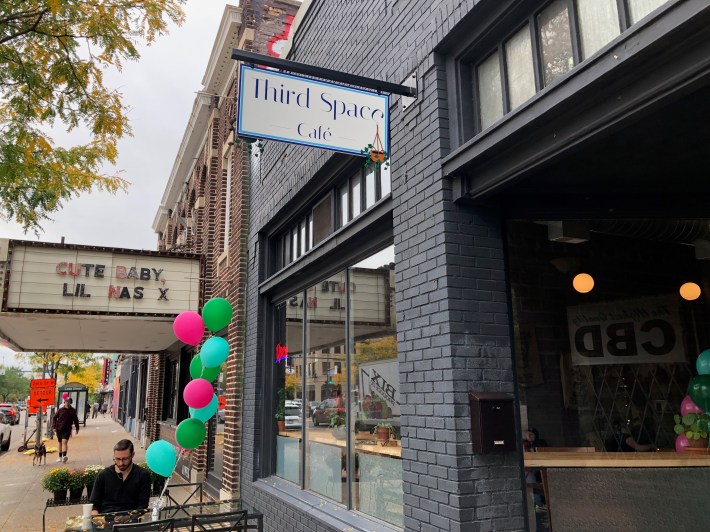 4. Watch this space.
It's not up and running yet, but Third Space Café's website promises that soon they'll have an events calendar full of community happenings at the shop. Thinking of hosting a caffeine-and-panini get-together of your own? They encourage you to reach out!
5. It just might make you hopeful for Lyn-Lake.
Look, this neighborhood can feel kind of bleak these days. You've got a vacant-for-years building on one corner of Lyndale Avenue and Lake Street, and the vacant-since-Prieto-moved-out building across the street from it. If you grab a seat in the wide, Lyndale-facing front window at Third Space Café, you can see the awning for dearly departed Very Good Bar Muddy Waters—whose space is also still empty—across the street, which would have been the go-to coffee shop here before the pandemic shut it down. To see a new, community-oriented coffee shop open up, nestled between LynLake Brewery and Legacy Glassworks, feels like… maybe there's hope for the area after all?
Third Space Café is open Tuesday – Sunday, 7 a.m. – 4 p.m.