Food & Drink
The Hypebeast's Guide to Local Oktoberfest Beer
Sure, you might call it a stodgy seasonal. Doesn't mean we can't have some fun.
6:25 AM CDT on September 13, 2021
There are two kinds of beer nerds. And Oktoberfest brings them into direct conflict.
On one end of the spectrum are the traditionalists—the know-it-alls who insist every beer experience can be whittled down to a list of 14 peer-reviewed descriptors. Then, there's you. If you're anything like me—we've looked at the subscriber data, you are—then you enjoy beer at the ridiculous margins of the drink's definitions. You want it pulpy like an Odwalla, glooped out from a brightly colored can that cost $10 on the secondary market. In your mind, the best beers are named after quotes from The Big Lebowski, and your Untappd reads like Tavour's greatest hits.
And then, every September, Oktoberfest rolls around, and the empiricists mount their high horses. The Bavarian beer festival celebrates some of the beer world's least sensational styles. There is a painfully nuanced difference between the Oktoberfest märzen and the festbier, but for our purposes, they're the same: hyper-malty, light bodied, crystal clear. Almost none of the fun shit.
But that doesn't mean we can't have fun with the seasonal style. Despite the fact that it's manufactured for and championed by an ideological rival, you too can gain some beer-scene clout off Minnesota-made Oktoberfest beers. Here's how.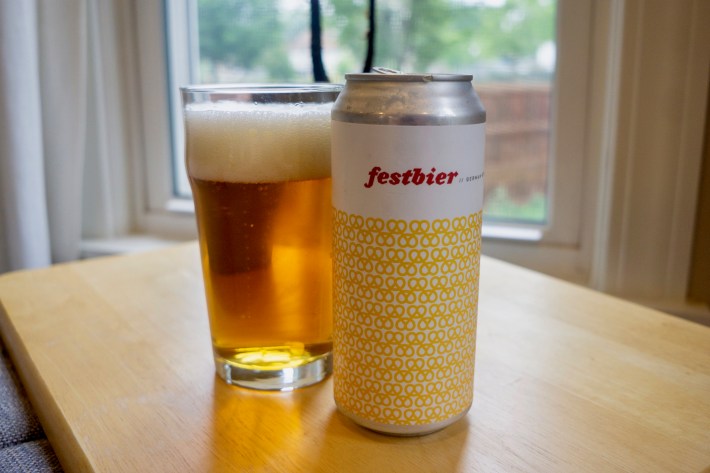 Maximize Your Instagram Likes with Fair State Festbier
5.7% ABV, 20 IBU, Untappd score: 3.72
Known for years as Co-Op Festbier, this slightly sweet crispyboi got a makeover that set the can far above its peers in the category. Eschewing the blue-and-white diamond pattern of the Bavarian flag (a hackneyed symbol found on many cans of this style), Fair State instead opted for a pretzel pattern that's evocative of the German festival without being totally corny. It's so effective that I stole the aesthetic for the lead image of this story. Throw a tallboy of this finely decocted lager on the grid and watch the double taps pile up.
Build Your Beer Cred with Schell's Oktoberfest
5.8% ABV, 20 IBU, Untappd score: 3.68
If there's one thing beer empiricists love more than plotting their drinking experience on a pocket chart, it's gassing up August Schell Brewing. The New Ulm brewery is indeed a bastion of European beer know-how, and six generations of German-trained Schells brewers have led to a beer portfolio that makes purists froth. Unsurprisingly, Schell's märzen is an exemplar of the style. If you want to curry favor with the scowling dads of the Twitterverse, make this your order for the month.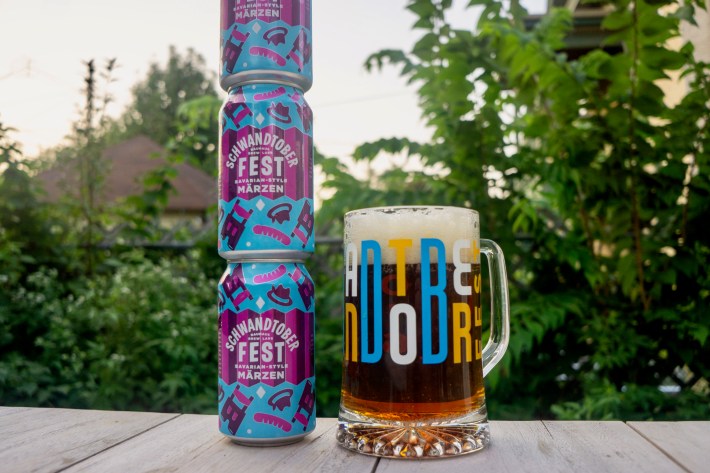 Vibe Out with Bauhaus Schwandtoberfest
5.7% ABV, 27 IBU, Untappd score: 3.73
Here's something an asshole might say: So much of drinking beer is what's going on around the beer. Bauhaus Brew Labs is all about the vibes, dawg, and the spirit of gemütlichkeit (bless you) pervades throughout their beer portfolio, giving them a sense of familial geniality. Schwandtoberfest embodies this spirit. It's just a good-timing beer that you want to drink by the bootful. Feel the love at the brewery's annual festival of the same name, taking place September 25 this year.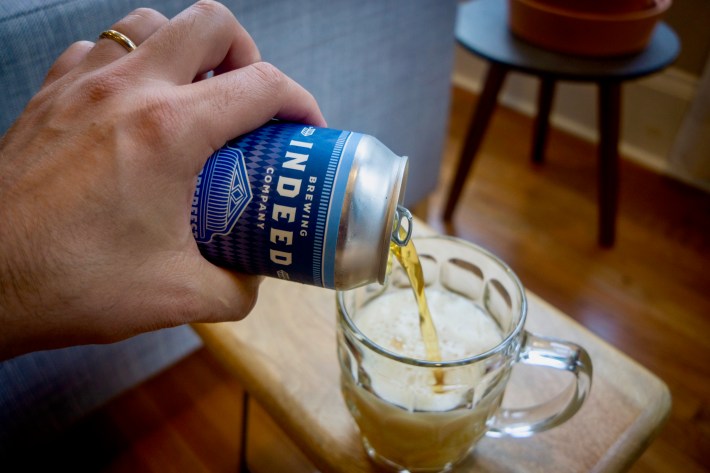 Stay Woke with Indeed Oktoberfest
5.7% ABV, 23 IBU, Untappd score: 3.68
Indeed Brewing had been going through it since the large-scale craft beer reckoning came to Minnesota this summer. Their entire corporate culture has been called into question, with an independent consulting firm finding symptoms of institutionalized gender bias and a persistent "us vs. them" mentality among employees. For their part, Indeed has been a leader in transparency, chronicling their efforts to do better on their Accountability page. It's a topic that doesn't get enough talk time in craft beer, and if you want to use your beer platform of choice for some social good, you can start with holding up a can of Indeed's sticky sweet seasonal and opening the conversation.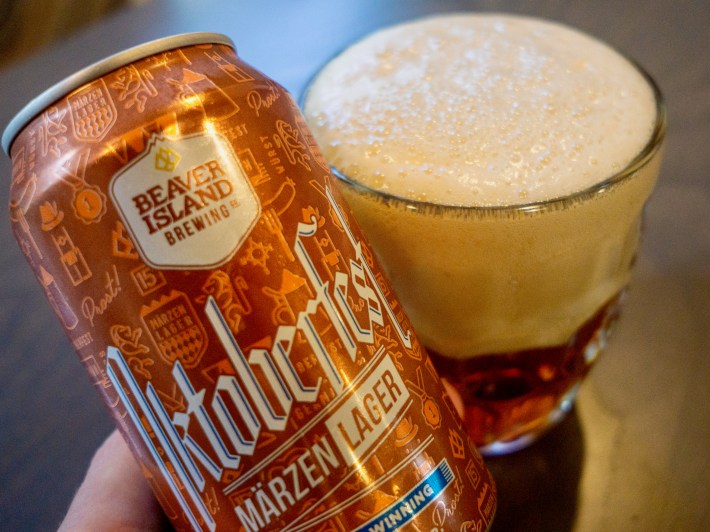 Champion the Underdog with Beaver Island Oktoberfest
6% ABV, 22 IBU, Untappd score: 3.70
Despite winning a Great American Beer Fest bronze medal in 2017, Beaver Island Oktoberfest is still a sleeper in the local running. After all, how is a St. Cloud brewery supposed to keep up with the likes of Summit and Schell's crowding the shelves? Well, Beaver Island has made this beer just as available as those stalwarts, crowbarring in as a plucky third party candidate. I'm not gonna go so far as to call this simply built amber lager the Jill Stein of September beers, and you shouldn't either.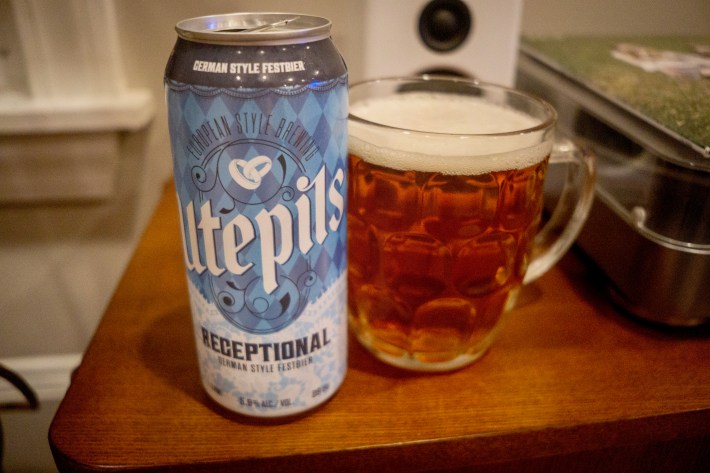 Put on a Young Legend with Utepils Receptional
5.8% ABV, 22 IBU, Untappd score: 3.76
Everyone loves a come-up. Since opening in 2017, Minneapolis' Utepils has released some all-timers, but they fly consistently below the radar because of their refusal to bend to the norms of hype beer. Messing with their delicate Oktoberfest Receptional is definitely playing against type, but in three or four years when they're winning GABF medals and gaining a simmering reputation across state lines, you can claim you saw it coming. Shit, you've been drinking their beer for years.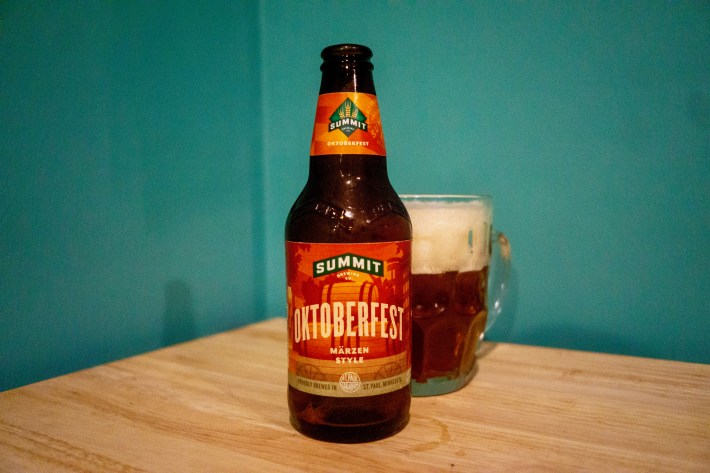 Still Your Racing Thoughts with Summit Oktoberfest
7.1% ABV, 25 IBU, Untappd score: 3.57
Chasing hype is a nightmarish hobby. The beer trading forums. The illicit Facebook auctions. The Untappd envy. It's an absolute con, and it invades your thoughts. One minute you're sharing some shots of a cool bottle with your buddy, the next you can't enjoy a beer without thoughts of engagement sloshing around your mind. Summit Oktoberfest can help you just be a normal human. No need to cram a candy bar in the mash or ripoff a cereal brand on the label. You can just pick up a sixer of this widely available malt missile and sip on it idly, maybe in a hammock while the autumn sun sets—your phone somewhere in the house, far from your mind.
Jerard Fagerberg is a freelance beer writer and product manager in Powderhorn Park. His name is not Jared, but lotsa folks get that wrong.
Stay in touch
Sign up for our free newsletter