Events
TC Art Week, Arab Film Fest, Dogs in Halloween Costumes: This Week's Best Events
Halloween doesn't have to be scary or sexy, sometimes it's just plain cuuuuuuute.
12:45 PM CDT on September 25, 2023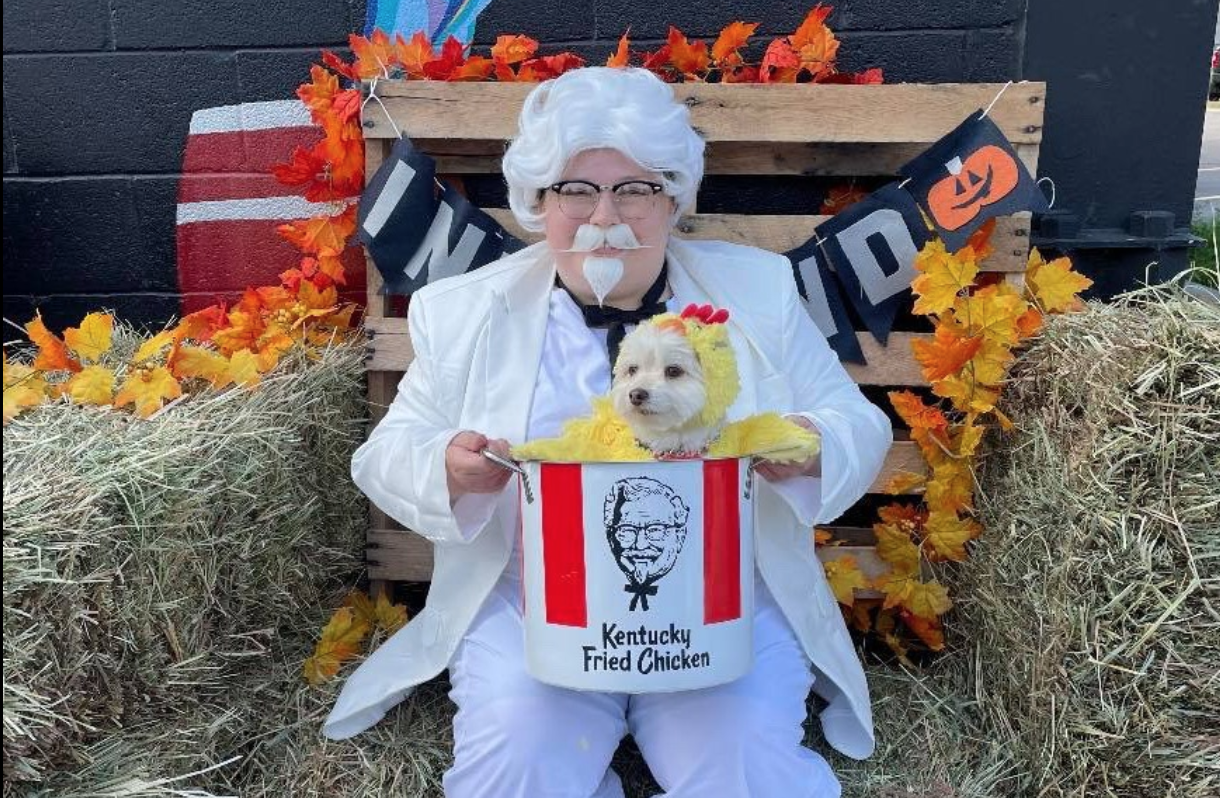 Welcome to Event Horizon, your weekly roundup of the best events in Minneapolis, St. Paul, and beyond.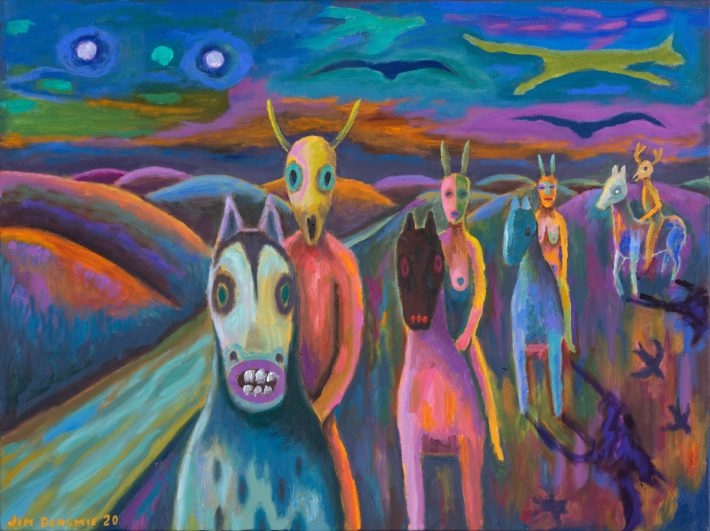 WEDNESDAY 9.27
TC Art Week
Various Locations
It's back! Now in its second year, TC Art Week offers five days of gallery-related fun in locations around the cities. Opening day includes a handful of receptions and gallery walk-throughs, including a posthumous Jim Denomie exhibition, "Painting-a-Day," a selection of oil works the Ojibwe artist created in 2005, at Bockley Gallery. Friday's happy hour at Midway Contemporary Art will feature recent library acquisitions and N/A cocktails from Marigold. On Saturday, playful (and often site-specific) dance troupe Hijack will give a performance inspired by Sophia Chai's exhibition, "Mouth-Space," at Hair and Nails. The whole celebration ends with a Sunday backyard BBQ at Dreamsong. Other highlights include artist-led gallery walkthroughs, opening parties, boozy social hangs, and artists' talks at locations including SooVAC, MCAD, Mia, WAC, and even a few museums without abbreviated names, like the Highpoint Center for Printmaking. Find the complete schedule of happenings and venues at tcartweek.org. Through Sunday—Jessica Armbruster
Twin Cities Arab Film Festival 

Various locations
Mizna crammed a lot of cinematic goodness into just five days. Now in its 17th year, the Arab Film Festival continues to feature films from multiple countries and cultures, though to commemorate the 75th anniversary of the mass Palestinian displacement, 2023's iteration spotlights Palestinian films old and new. The opening night film, Mediterranean Fever, will show at the Walker Art Center; it's a story about a writer and a crook whose blossoming friendship in Haifa takes a dark turn. Most of the remainder of the films will screen at the Main Cinema, though a few are scattered elsewhere—so make sure you go to the right theater. The closing night film, presented outdoors under the Third Avenue bridge, is A Gaza Weekend, about Israelis seeking refuge from a deadly virus in Gaza. And if you can't make it out to the theaters, there are virtual options as well. Find dates, times, locations, and more info here. Through Sunday—Keith Harris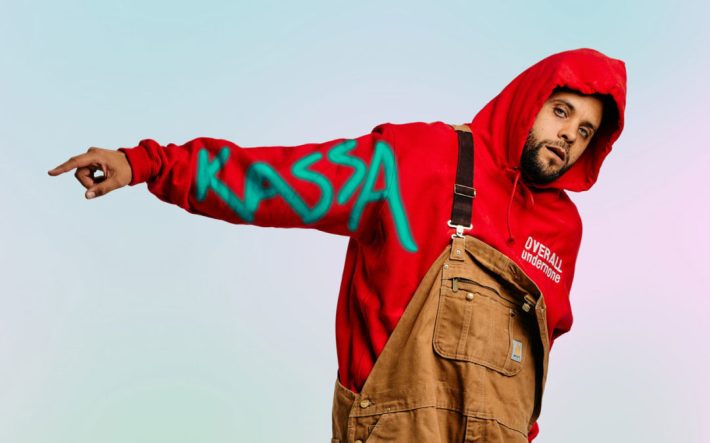 THURSDAY 9.28
Kassa Overall
Icehouse
One of the most exciting cross-genre jazz players today, drummer Kassa Overall records for Warp, and his beats often reflect the shifting experimental rhythms of that electronic-focused label. The list of guests on his latest, Animals, gives you a sense of how much ground he wants to cover—there are rappers (Danny Brown and Lil B), esteemed improvisers (trumpeter Theo Croker, trombonist Andrae Murchison, and pianist Vijay Iyer, with whom Overall has frequently collaborated), and singers (Nick Hakim, Laura Mvulu). And that's all in a brisk 35 minutes. The results can be a little unfocused, but they're never boring, and trying to keep up always repays the effort. (And for what it's worth, I'm an admirer of his mixtapes with Das Racist's Kool A.D. as Kool and Kass.) This is the first event in the Novel Stages Fall Series, which endeavors to bring prominent boundary-crossers like Overall to smaller clubs like Icehouse. (Future installments will include Roomful of Teeth, My Brightest Diamond, Sen Morimoto, Rafiq Bhatia, and Craig Taborn.) Multidisciplinary local XINA opens. $18/$20. 8 p.m. 2528 Nicollet Ave. S., Minneapolis; find more info here.—Keith Harris
10th Anniversary Celebration
Sociable Cider Werks
It all started with two guys, Jim Watkins and Wade Thompson, making cider in Watkins's girlfriend's (now wife's) apartment garage. Ten years later, Sociable Cider Werks is sold in stores as well as their northeast taproom. This week, they'll be celebrating a decade with tons of events. Things actually kick off on Wednesday with a super sold-out dinner with Yia Vang, whose Union Hmong Kitchen got its start in the cidery's food trailer. Thursday night is all about trivia, with lots of prizes to be won. Stop by Friday after work for a night market featuring makers and vintage sellers, vegan eats from Francis, and DJ tunes. On Saturday, old favorites like Spoke Wench and Pinch Flat will be revived with special keg tappings every two hours, and the day's music lineup will include Gully Boys, Cactus Blossoms, Eleganza, and others (tickets are $10 to drink). Finally, Sunday kicks it with a bingo brunch in the morning followed by dog- and family-friendly fun at the Canine Carnival with pup vendors and a bounce house. You can find the full schedule of shenanigans online. 1500 Fillmore St. NE, Minneapolis. Through Sunday—Jessica Armbruster
Radio K's 30th Birthday 
First Avenue
If this 7,000-word oral history didn't make it perfectly clear, we're big fans of Radio K. This here? It's a birthday bash befitting the nation's best college radio station. Former City Pages Picked to Click finalists Bugsy open things up with their fuzzy and dramatic indie rock, followed by: Derecho Rhythm Section, a newish band featuring Low's Alan Sparhawk; local psychedelic bluegrassers Buffalo Galaxy; and North Side jazz/gospel/hip-hop/funk powerhouse L.A. Buckner & BiG HOMiE. Headlining is Afro-fusion collective Ozone Creations, an ambitious blend of talents from first-generation Americans Mack OC, Obi Original, Bakarii, Sumer, Ch!nwe, and Breezy 2 Fresh. All told, this crackling, genre-spanning bill is perfectly suited for the radio frequency being celebrated in the Mainroom. $15. 7 p.m. 701 N. First Ave., Minneapolis; find more info here.—Jay Boller
Drinking Liberally
331 Club
Billed as an "informal, inclusive weekly progressive social club," the Minneapolis chapter of Drinking Liberally has been holding court at 331 for almost two decades. (Dozens of other chapters convene weekly around the U.S.) Each installment features a guest speaker—this week's is St. Thomas law professor Mark Osler, who's currently serving as deputy Hennepin County attorney and director of the Criminal Division—followed by a free-flowing, spirited conversation befitting the barroom setting. In an era of politics defined by toxic comment sections and increasingly unbearable Twitter discourses, Drinking Liberally provides a rare IRL oasis to talk policy, crack jokes, and not feel like you're losing your mind. Free. 6-9 p.m. 331 13th Ave. NE, Minneapolis; find more info here.—Jay Boller
FRIDAY 9.29
Gasthof's Oktoberfest
Fulton Brewing Production Site
Fall isn't just about leaf peepin', sending kids back to school, and college football, it's also Oktoberfest season, where we drink beer in parking lots and wait for it to snow. This is the second weekend for Gasthof's/Fulton's annual outdoor party. There will be beer: In addition to special varieties from Fulton there will also be classic German brews like Paulaner and Hacker-Pschorr on tap. Bring a stein if you have one, or buy one at the event; all beer will be consumed via the old-school earthenware and glassware. Food and entertainment will be decidedly traditional as well, and include brats, pretzels, Polish tunes, lawn games, and more. Free. 4-10 p.m. Fridays; 2-10 p.m. Saturdays. 2540 Second St. NE Minneapolis. Through September 30—Jessica Armbruster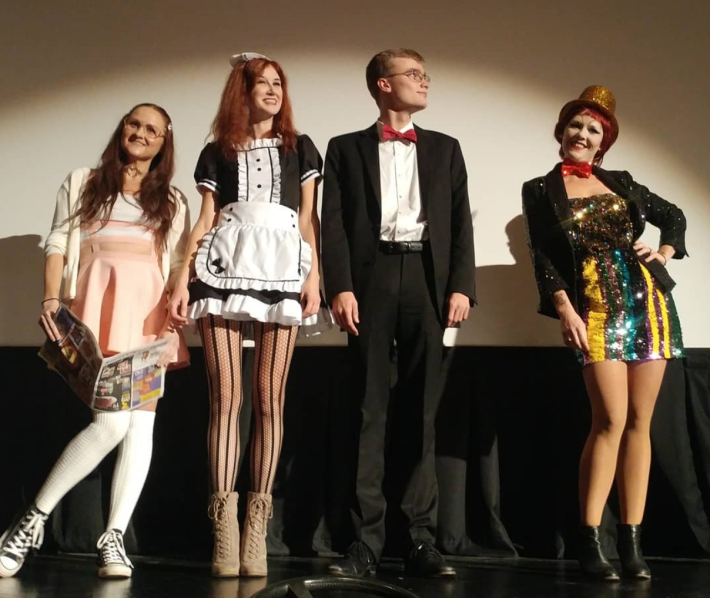 SATURDAY 9.30
The Rocky Horror Picture Show
The Parkway Theater
Dr. Frank-N-Furter enthusiasts and movie cult lovers alike are invited to attend this midnight showing of the 1975 Rocky Horror Picture Show. But this isn't your average midnight movie, oh no. As is tradition, Transvestite Soup will be performing a live, interactive shadowcast production while the movie plays on the big screen—something this fishnet- and glitter-bedecked troupe has been doing since the '70s. After a brief hiatus due to Covid and the closing of their host venue, Uptown Theater, Transvestite Soup landed at Parkway Theater, where they have been doing monthly shows since June 2021. They claim they have become "the bane of existence for the Parkway's clean-up crew," so make sure that glitter is glued on securely before you head to this event ushering in the Halloween season. 18+. $10. 11:30 p.m. door; show at midnight. 4814 Chicago Ave., Minneapolis.—Mackenzie Johnson
Fall Booya Fest
Bent Brewstillery
Writing for City Pages a handful of years ago, Sarah Brumble tried to track down the origins, history, and regional specificities of the elusive booya. "It's not real booya unless it's being cooked over an open flame, outdoors, while, ideally, being stirred by a canoe paddle," one friend's father told her. "Ohhh, yeah. Awful stuff. It's kinda like stone soup," added another. "My grandpa used to make my dad eat booya when he was growing up to [air-quoting] 'make him like lutefisk more.'" Now, maybe that doesn't sound like a ringing endorsement of this distinctly Upper Midwest creation, but we believe Bent Brewstillery's booya—made with smoked pulled pork, smoked chicken, and Andouille sausage for a bit of Southern flare—will be worth tracking down. Plus, at this celebration of the return of chillier weather, they'll also have some spicy cocktails to help warm ya up. Free. Noon to close. 1744 Terrace Dr., Roseville; more info here.—Em Cassel
Legacy Cup IV
Surly Brewing Co.
Did you hear? Minnesota legalized it, man. Nobody is more privy to that fact than the folks at Legacy Glassworks & Cannabis, who've been gearing up each year with the Legacy Cup weed blowout. This installment is something of a legalication victory lap, featuring: the namesake marijuana awards competition; L.A. alt-rap stars the Pharcyde plus sets from DJ Abilities and Heatbox (Slug from Atmosphere has hosting duties); ganja games (best joint rolling, bong rip, etc.); education panels; 125+ vendors; food trucks; and art exhibits that include live glass blowing. Attendees to this year's biggest THC gathering are encouraged to bring their own weed and hash because, hey, we can do that sorta thing legally these days. 21+. $4.20. 11 a.m. to 7 p.m. 520 Malcolm Ave. SE, Minneapolis; find more info here.—Jay Boller
Underground After Dark
The Museum of Russian Art
Here at Racket, when discussing all the places we wish we could visit more frequently, TMORA almost always comes up. It's a really cool museum, boasting a huge collection of Soviet-era works. It's also located in a really cool space, a former church modeled after the Texas Mission in San Antonio. Saturday night's party is your chance to explore, as all the galleries will be open. The featured exhibit, "Leningrad Underground," is a collection of 64 works from artists who chose self expression and subversion over censorship by an oppressive government (it should also be noted that the museum stands with Ukraine). In the Main Gallery, folks will be welcome to imbibe drinks from the bar and enjoy folk tunes from Soul Trouvére, while outside there will be a variety of food trucks. 21+. $20-$25. 6:45 p.m. 5500 Stevens Ave., Minneapolis; find tickets online.—Jessica Armbruster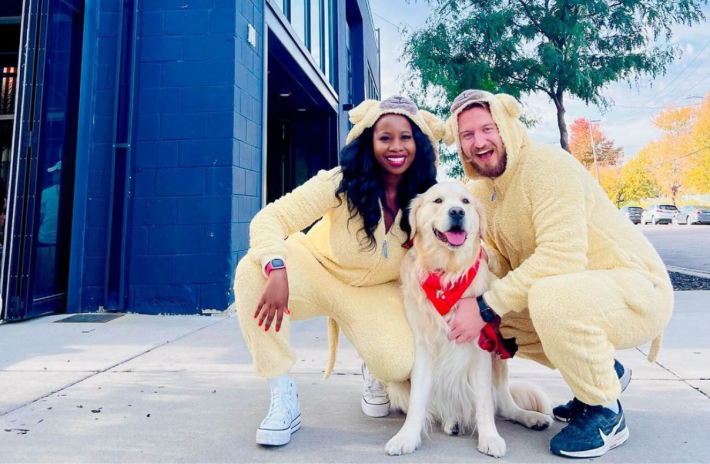 SUNDAY 10.1
Barktoberfest
Inbound BrewCo
If you're of the mind that dogs don't belong at brewery taprooms, you're gonna wanna stay far, far away from the adorable festivities at Inbound today. The seventh-annual Barktoberfest invites two- and four-legged patrons to paw-take in an autumnal photo booth, shop pet-friendly vendors, and participate in a pup costume contest. They'll also have live music from the Twin Cities Brass Band, and, of course, beers! Just don't forget your non-retractable leash, and please… no non-canine pets at this party. It's called Barktoberfest, people. Free. 11 a.m. to 3 p.m. 701 N. Fifth St., Minneapolis; more info here.—Em Cassel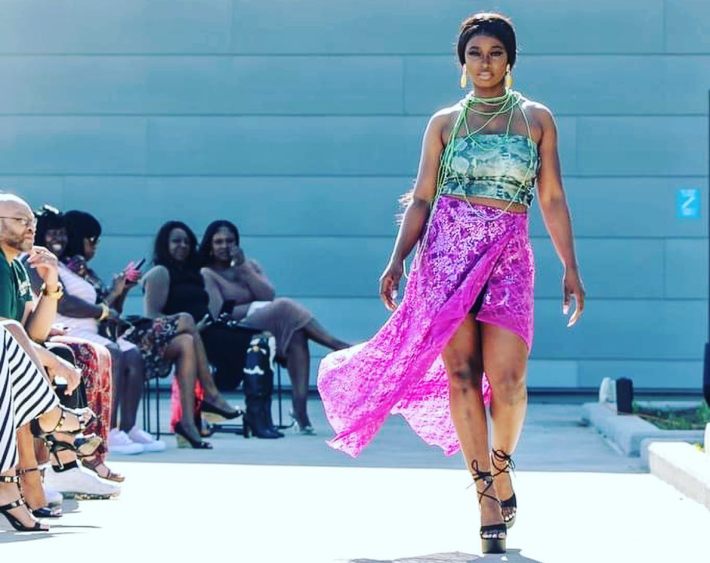 ONGOING
Black Fashion Week MN
Various Locations
Fashion Week MN may be taking a season off, but Black Fashion Week MN is in full swing this season with five parties planned. Things kicked off last week with the Cognac Fashion Show Experience. This week's events include Brown Girl showcasing women designers, while nail artists BrisCrazyClaws and Petty Gal Nails will square off for some friendly competition at the Nails and Fashion Show. Black Man Magic closes out the celebration with Black men's fashion designers and dudes in their dapper best. Events will be held at various venues, including The Rooftop at Canopy Hotel and The Neu Neu. Tickets for the five individual events can be found on Eventbrite. Through September 30—Makenzi Johnson
It Might Be
Gamut Gallery
Much like outsider art, lowbrow art is art by the people for the people. It celebrates and things people love: think awesomely bad B-movies, superhero comics, DIY aesthetics, and cheap canned beer. Its roots are in '60s countercultures, but it really hit its stride in the '80s, where it thrived on the punk rock scene via 'zines, questionable tattoos. and gig posters. For "It Might Be," local illustrator/painter/muralist Chuck U has brought together a variety of artists working in this absurd, kitschy, delightful genre, including Alex Kuno, Briana Hertzog, Ewok, Jennifer Davis, Riiisa Boogie, Rodrigo Oñate, Vivian Le, and WingChow. "The world-building artists involved each create illustrative works that are accessible to artists and non-artists alike," explains Chuck U, "evolving the idea of what fine art is, what kind of art is valid in gallery spaces, and how anyone can interpret what they see and know they aren't 'wrong.'" 717 S. 10th St., Minneapolis. Through September 30—Jessica Armbruster
Peter Weir
Trylon
Though it's hard to sum up the career of a director who's worked comfortably across genres for nearly 50 years in a simple phrase or two, the films of Peter Weir are, for the most part, thematically consistent. Weir tells the stories of people who find themselves in places where they don't quite fit in, whether that's Harrison Ford as a Philly cop embedding with the Amish in Witness or the early 20th century Australian schoolgirls of Picnic at Hanging Rock who go missing during a class trip. This seven-film selection shows how flexible that scenario can be. Four of the movies come from the '70s, when Weir emerged as part of the Australian New Wave: his debut, The Cars That Ate Paris, about a town in the Australian brush whose inhabitants survive off car wrecks; Picnic at Hanging Rock, which is sort of an ur-text for Sofia Coppola's career; The Last Wave, a poetic examination of a colonialist legacy; and The Plumber, Weir's class conscious Ozploitation anticipation of Haneke's Funny Games. Weir made the transition to Hollywood in the '80s, and this series includes the two films he made with Ford: Witness, and The Mosquito Coast, about an American who rejects the modern world and relocates his family to Central America. The latest film in the series is Fearless, from 1993, with Jeff Bridges as the survivor of a plane crash who finds himself alienated from anyone who hasn't endured what he's been through. Personally, I've got plenty of gaps in my Weir viewing, and I'm looking to remedy that this month. $8. 2820 E 33rd St, Minneapolis; find times, dates, and more info here. Through October 1—Keith Harris
Skyline Mini Golf

Walker Art Center

Are we a mini-golf town? Signs point to yes, as we have trendy bar mini golf (Puttery, Arts + Rec), campy mini golf (Can Can, Betty Danger), old school mini golf (Big Stone, Golf Zone), and, yes, museum mini golf. For over 15 years, the Walker's Mini Golf has been a sign of spring, whether it's popping up in the sculpture garden or its more recent home on the skyline terraces. This year's installation features 10 holes total; highlights include a Hmong textile-inspired hole created in collaboration with the Asian American Organizing Project's Youth Action Team, and two holes from Native Youth Arts Collective. Returning hits include the hot dog hole, the one where you have to bounce off of ping pong paddles, and the one where you become the obstacles and hazards. Find more info at walkerart.org. $12. 725 Vineland Place, Minneapolis. Through October 1—Jessica Armbruster 
Sever's Fall Festival
Sever's Farm
Getting lost in a corn maze? Sounds like the start of a horror movie. But in reality it's just wholesome fun. Since 1997, Sever's has hosted a huge maze meant for you to get turned around and confused in. They're not just about large-scale crop art though—this festival has all kinds of fall activities. There's a petting zoo with feisty goats and playful pigs, there are hay rides, there are hay sculptures, there's a live music stage, fields of pumpkins, zip lining, and not one, but two corn pits (one is labeled as an "extreme" pit!). Bring the fam or your friends. Find tickets and more info at seversfestivals.com. $19-$22 online/$23-$26 at the gate; $45 season pass. 10 a.m. to 7 p.m. Sat.-Sun., plus Thu.-Fri. Oct. 19-20. 3121 150th St. W., Shakopee. Through October 29—Jessica Armbruster
Stay in touch
Sign up for our free newsletter