Welcome to Event Horizon, your weekly roundup of recommended things to do.
TUESDAY 4.5
Sons of Kemet
Fine Line
Tenor man Shabaka Hutchings is a central figure—maybe the central figure—in a revitalized London jazz scene that has caught the ears of listeners whose tastes are, shall we say, not typically saxophone-oriented. That's why his retrofuturist prog trio the Comet Is Coming played the Turf Club in 2019; that's why his brass-and-poetry quartet Sons of Kemet is at the Fine Line now. The group's 2021 album, Black to the Future, features exhortations from the avant-garde likes of Angel Bat Dawid and Moor Mother, but live you'll just get the four Sons: Hutchings, Theon Cross (whose tuba handles bass duties), and percussionists Edward Wakili-Hick and Tom Skinner. That's more than enough. Their music is direct without sacrificing virtuosity or invention, drawing on West Indian traditions often overlooked by American jazz. Come to dance. 18+. $25-$40. 8 p.m. 318 N. First Ave., Minneapolis; find more info here. –Keith Harris
Pup
The Fillmore
Pup has a knack for writing funny little turns of phrase that pinpoint the spirit of the moment we're in and really stick in your ol' brain box. Take their fall 2020 pandemic EP, This Place Sucks Ass—hard to say that any more succinctly. This place really sucked ass! Now that live music is back and the noisy Canadian punks can hit the road again, they're keeping it simple, with a tour they're calling "Pup Returns: Thank F*cking God." The only thing we'd maybe change is spelling out the swear. We love swears. Pup returns: Thank FUCKING God. With Pinkshift and Cloud Nothings. All ages. $25. 6:30 p.m. 525 N. Fifth St., Minneapolis; find more info here. –Em Cassel
THURSDAY 4.7
Strange Brew (1983) with Pryes Brewing Beer Tasting
Parkway Theater
It's been a while since I've seen Rick Moranis's Strange Brew, so let's defer to the Parkway's plot description: "Canada's most famous hosers, Bob and Doug McKenzie, get jobs at the Elsinore Brewery, only to learn that something is rotten with the state of it—including that the brewery is unable to sell beer out of its taproom because the Surly bill had yet to be passed into law." Sounds right! This Strange screening also includes a tasting with Pryes Brewing, who, we have it on good authority, are not involved in some sort of sinister plot to take over the world with mind controlling substances. (Craving more Canada content? Don't miss last week's groundbreaking feature on Winnipeg!) $9 advance/$12 door. 7 p.m. doors and tasting; 8 p.m. screening. 4814 Chicago Ave., Minneapolis —Em Cassel
Dave Attell 
Acme Comedy Co. 
Casual comedy fans might remember Attell as a relic from '00s Comedy Central, where he hosted Insomniac with Dave Attell, a show that saw the comic drunkenly and hilariously stumble through various cities until barclose. But by then, the give-zero-fucks New Yorker was already a foundational figure of the '90s alt-comedy scene, and to this day his peer respect is off the charts. An unabashed dirtball, Attell loves porn, booze, and standup comedy; he's all but perfected the latter pursuit, with a loose and filthy act that feels sharp as ever as he approaches age 60. $33.20. 8 p.m. Thu.; 7 and 9:30 p.m. Fri.-Sat. 708 N. 1st St., Minneapolis; find more info here.–Jay Boller
Ata Kak
Cedar Cultural Center
Oh hell yeah. The almost impossibly serendipitous path to this Ghanian musician's first U.S. tour begins in 1993 Toronto, where Yaw Atta-Owuso recorded 35 minutes of music that sounded a little like techno and a little like rap and a lot like nothing else. He sent the tapes home for mastering where, of the 50 cassettes manufactured (and a negligible amount sold) only one copy of Obaa Sima survived. An American student named Brian Shimkovitz bought it from a roadside vendor in 2002, and loved it so much he started a blog (and later a label), called Awesome Tapes from Africa, to share the music more widely. Ata Kak sings, raps, and rap-sings in a high, rubbery voice over keyboard presets ranging from poppy Italo house to New Jack breakbeats; his infectious melodies never stop reconfiguring themselves, especially when the female chorus joins in. Imagine Fu-Schnickens rapping over a Snap!'s "The Power" and you'll be about a tenth of the way there. It sounds like music anyone could make. And yet, nobody but Ata Kak ever really did. All ages. $20 advance/$25 at the door. 7:30 p.m. 416 Cedar Ave., Minneapolis; find more info here. –Keith Harris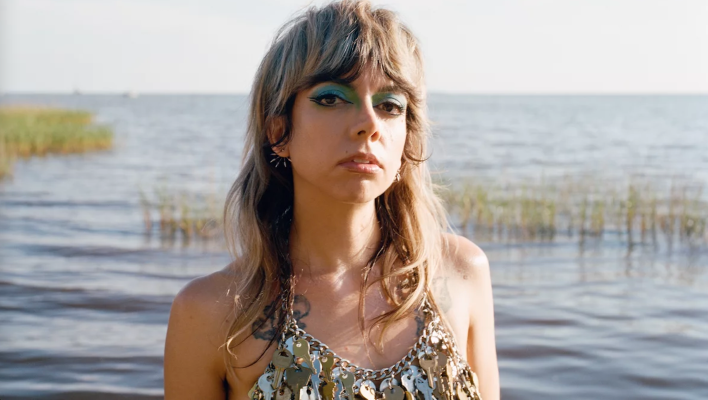 FRIDAY 4.8
Hurray for the Riff Raff 
Fine Line 
Aging punks still awaiting the second coming of Joe Strummer probably weren't expecting a queer Puerto Rican non-dude from the Bronx with an acoustic guitar to come closer to fitting the bill than any mere man, but it ain't 1977 no more, pal. Not to saddle Alynda Segarra, very much their own artist, with that sort of baggage, but Segarra does embrace rock heroics and political purpose with a verve few younger songwriters dare today. On Hurray for the Riff Raff's latest album, Life on Earth, Segarra's lyrics have a more personal thrust, but the scope of their vision remains just as broad. With Anjimile. 18+. $20-$35. 9 p.m. 318 N. First Ave., Minneapolis; find more info here. –Keith Harris
Rachel Mac
Comedy Corner Underground
If the Mac gives off midwestern, motherly teacher vibes, that's because she's a Wisconsinite mom who teaches middle-school English. She's also a raunchy standup comic who commands rooms with an easy-going frankness about sex. ("He promptly went down on me, which is a surprising move for a 10–they should, but they don't have to.") Mac spent almost a decade in L.A. honing her craft as a regular at the legendary Comedy Store, and she scored some nice credits appearing on David Spade's Comedy Central talk show, Lights Out. Opening is very funny local Pearl Rose, who also recently returned from a years-long stint on the other coast. $12. 8 p.m. Fri.-Sat. 1501 S. Washington Ave., Minneapolis; more info here.–Jay Boller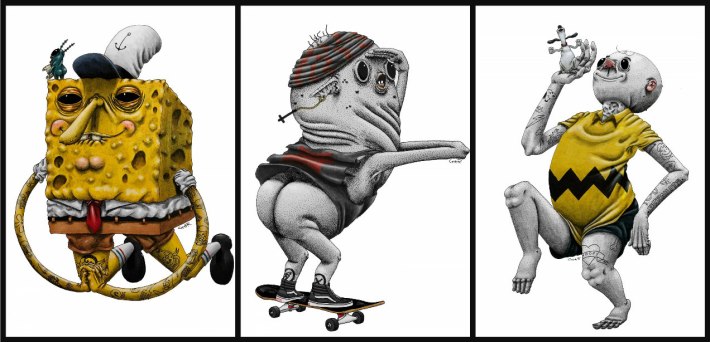 SATURDAY 4.9
M U L T I V E R S E
La Doña Cervecería
The kooky characters created by Charbel Abuxapqui are a little unsettling, a little uncanny. But know this: They come in peace. And they are coming here soon. The Mexico City artist will be in town this weekend to share his friends with Minneapolis, all while creating a trippy mural for La Dona. Though his pieces can be seen throughout Mexico and he has traveled the world with his art, this will be his first exhibition in the U.S. His work, which explores things like alien lifeforms and multiverses, the theory that there are infinite parallel worlds coexisting aside ours, will be on display in La Dona's Gallery space through May 7. This Saturday, however, you'll be able to watch Abuxapqui work live as he paints a new piece for the restaurant. 4-7 p.m. 241 Fremont Ave. N., Minneapolis. –Jessica Armbruster
Slipknot
Target Center
If you told me in 2019 that Slipknot, almost 25 years into their career, were about to release their best record yet, I simply wouldn't have believed you. When your band of masked freaks is pushing 50, you'd be forgiven for quietly bowing out. But then Slipknot released We Are Not Your Kind, a snarling collection that features the Iowans at their most mature and most primal. These tracks are seriously heavy, with Corey Taylor's voice shifting from spiteful snarl ("Critical Darling") to ominously pensive ("Unsainted") to all-out blistering chaos ("Nero Forte"), sometimes all over the course of a single song ("Solway Firth"). If you haven't heard it yet, this Target Center tour date—their first Twin Cities show in 13 years—would be a great place to start. With In This Moment and Wage War. All ages. $45-$145+. 6:30 p.m. 600 N. First Ave., Minneapolis; more info here. –Em Cassel
Pryes Paradise
Pryes Brewing Company
Forget summer. In the Twin Cities, it would be great just to get a little spring. This weekend, Pryes is inviting guests to skip both seasons and just go straight to equatorial vibes. The main draw here is the release of Magic Hour, billed as a tropical smoothie IPA with orange, guava, passionfruit, marshmallow notes. The patio grills will be fired up during the day, serving brats of the beer and Impossible variety, and jerk chicken skewers. Live music starts up around 2 p.m. with electro artist Trent Campbell. 11 a.m. to midnight. 1401 W. River Rd. N., Minneapolis. –Jessica Armbruster
SUNDAY 4.10
Jawbreaker
The Fillmore
Dear You was a controversial record in its time. Jawbreaker's 1995 major-label debut marked them as traitors to their dedicated punk fans, who also hated the band's more thoughtful and melodic direction. Their label only pressed around 40,000 copies and the record was deemed a failure. Then, like five years later, everyone was like, "Wait lol this record whips ass, also the concept of 'selling out' has already become irrelevant, also why can't I find a copy of this anywhere for less than $100?" To celebrate the 25th anniversary of this once maligned, now classic album, Jawbreaker is hitting the road for a handful of dates this spring, including a stop at the Fillmore. (If you're interested in learning more about their rise and fall and rise again, there's the great 2017 documentary Don't Break Down; Jawbreaker is also one of the 11 bands profiled in Dan Ozzi's recent book Sellout: The Major-Label Feeding Frenzy That Swept Punk, Emo, and Hardcore.) With Smoking Popes and Dillinger Four. $55+. 6 p.m. 525 N. Fifth St., Minneapolis; find more info here. –Em Cassel
Donut Fest
Utepils Brewing Co.
You're kinda rolling the dice here, since Utepils hasn't revealed the full lineup of makers who will be participating in this taproom festival/contest (Sweet Kneads Bakery in Farmington is onboard), but given the ingredients—doughnuts, beer—the likelihood of a good time remains high. Here's what we know: Guests are promised between eight to 10 food and drink samples, with organizers noting that you are entitled to at least 1/4th of a doughnut per sample. Some samples will be full doughnuts, we're told. At the end of the afternoon, the "city's Favorite Donut" will be crowned. Your entry fee includes one drink ticket. $20. 1-5 p.m. 225 Thomas Ave. N., Minneapolis; more info here. –Jay Boller