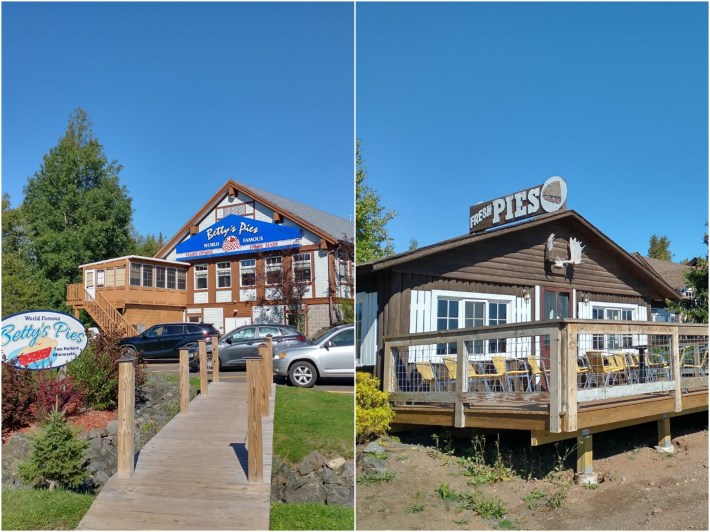 The congenial North Shore pie wars have simmered for decades, with two major players vying for supremacy: Betty's Pies in Two Harbors and Rustic Inn Cafe in Castle Danger. 
For true pie-heads, however, the contest isn't even close. For years, I've tripped over myself to recommend Rustic Inn over Betty's pies at the mere mention of "Hwy. 61." I'm not alone. A 2018 Strib piece on destination pies tiptoed toward the truth, noting that some readers considered Betty's a "has-been" and that food critic Rick Nelson preferred Rustic Inn. This thread and meme, featuring the triggered campus lib as a pie-take conduit, sums up the current consensus: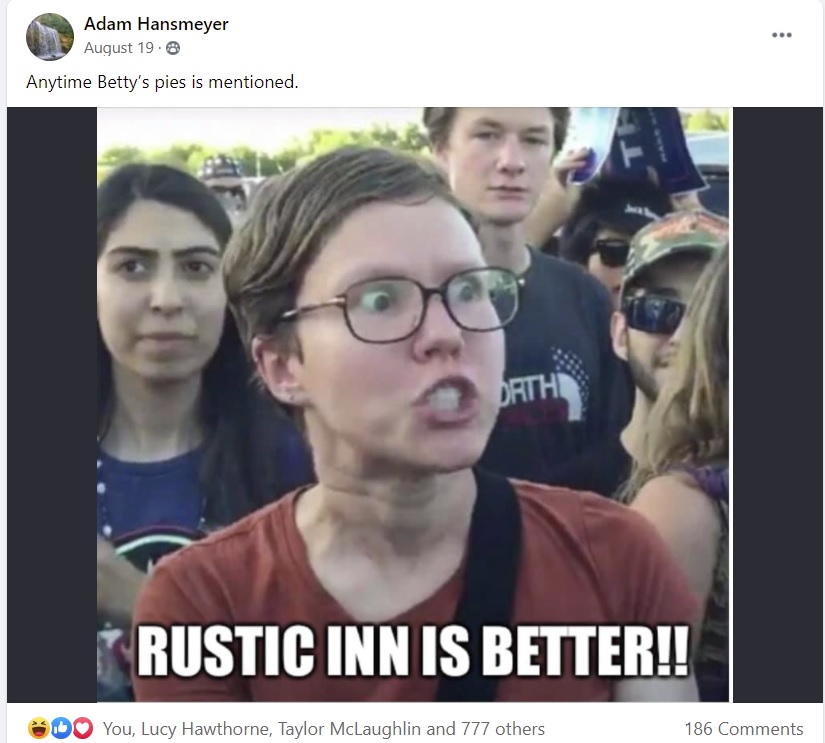 In the interest of justifying this headline and canonically ending the North Shore pie debate, I recently staged a pie vs. pie showdown between Betty's and Rustic Inn. One berry piece, one crumble piece, and one cream piece from each establishment to determine a single pie-shop champ.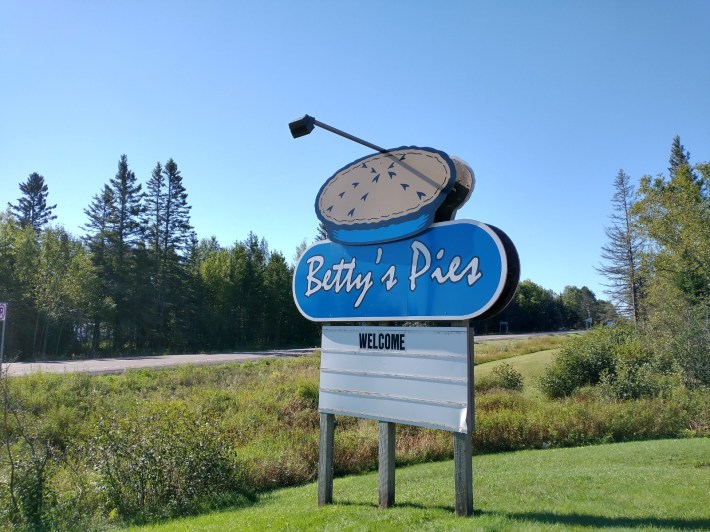 Betty's Pies
Anecdotally, you'll hear that Betty's, which opened in 1956, used to peddle far better pies. Original owner Betty Lessard converted her family's 8-by-8-foot Lake Superior fish shack into what would become her namesake pie empire. Lessard, a noted perfectionist, sold Betty's off in 1984; the Minnesota pie queen died in 2015 at age 90. The second wave of Betty's ownership seemed to have a tough go at it, listing the property for sale throughout the '90s before eventually closing in 1997. Current owners Martha Sieber and Carl Ehlenz rescued Betty's in 1998. They acquired the brand and recipes, built a new restaurant just up the hill that doubled Betty's footprint, and even attempted a short-lived satellite location in Mahtomedi. On busy summer afternoons, the corporatized current iteration of Betty's resembles a theme park, luring tourists with the same legacy-coasting promises of Tobies and Grandma's.
So, how's the pie?
Bumbleberry: Flimsy, textureless crust. Sickening-sweet, amorphous filling that supposedly houses blueberries, blackberries, raspberries, and strawberries, though you wouldn't realize it amid the purple mush.
Great Lakes Crunch: The sugary, granular crumble tastes like it came from a box. Also, where's the dang crunch? Same lifeless crust as mentioned above, similar cloying fruit goop—apple, blueberry, rhubarb, strawberry, and raspberry, signifying the five Great Lakes—below.
5-Layer Chocolate Cream: The top two varieties of chocolate could easily pass for Jell-O pudding; the third is a paste-like skim that does have decent, punchy chocolate notes. The fourth layer must be the crust… we're struggling to I.D. a fifth.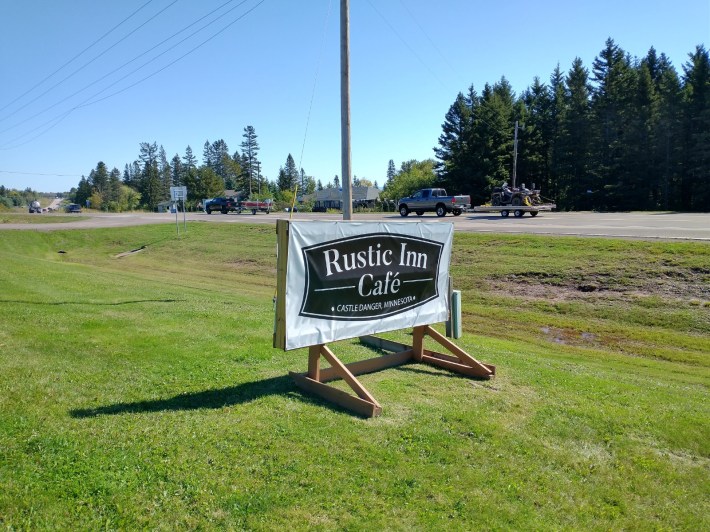 Rustic Inn Cafe
The history of Rustic Inn is more straightforward. Jim and Beth Sullivan opened the place in 1986 on a simple premise: scratch-made food, including fresh Lake Superior fish and knockout pies. Multiple generations of Sullivans have helped run the cabin-y institution. A Duluth family purchased the business in May, Beth tells me, though the matriarch still clocks around 10 hours per week. Displaced by the same Hwy. 61 construction that moved Betty's, Rustic Inn is now three blocks from its original location. Fun fact: The expansive gift shop was once a naturalist cabin inside Gooseberry Falls State Park.
So, how's the pie?
Cherry: My lord, the heavenly things lard does to this crust: flaky, rich, irresistible. The tart, not-too-sweet cherry filling is, per its name, merely accentual filler to the fresh-baked perfection it's squished between.
North Shore Berry: A crunchy, oven-kissed crumble that could be mistaken for candified granola rests over an avalanche of fruit—apple, rhubarb, strawberry, and blueberry—each popping bright with their own descriptive flavors.
Peanut butter: An absolutely outrageous reimagination of the the Reese's Peanut Butter Cup. Fudge-like icing tops a dense, peanut butter-exploding cream filling that sits on a thick, crumbly Oreo crust. Make this one your new Hwy. 61 tradition.
Conclusion
I entered this contest determined to set aside all previous biases, and judge the pies purely on merit. It's wasn't a fair fight. Rustic Inn's pies feel lovingly made from scratch, while Betty's feel like refrigerated afterthoughts.
The pickup experiences drove those points home. At Betty's, a literal tour bus idled as a teen worker scrambled to fill orders from the takeout window. At Rustic Inn, Beth herself warned the customers ahead of me that their pies, fresh from the oven, still had piping-hot tins.
Let's hope that never changes at Rustic Inn, and that Betty's can rediscover its magic.