Mom-'n'-pop restaurants in deep south Minneapolis don't have PR budgets. They don't have proximity to food writers, many of whom live in livelier zip codes and cover flashier openings/closings. But places like Kwan's Chinese Cuisine—the increasingly rare type of spot that's ingrained itself into the neighborhood fabric for decades—matter to their communities.
As far as I can tell, no outlet in town has ever written about Kwan's, the hole-in-the-wall Chinese joint that cooked up countless takeout meals for my family growing up. (Funny exception: In 1983, a Star Tribune reader wrote in requesting Kwan's lo mien recipe, and the paper dutifully retrieved it from founder Tin Tat Kwan.) When Kwan's quietly folded last December, nobody made a peep.
"Kwan's has changed hands several times over the 40-plus years it has been an institution at 54th & Penn," says Peter Campbell, the owner of neighboring pizza parlor Red Wagon Pizza Co. "It all kind of fell apart, really unceremoniously, and it many ways sort of tragically. I was very sad about how this all played out for Kwan's."
The most recent owners acquired Kwan's around 2015 from Min and Jim, the longtime and much-loved previous proprietors. They had a rough go from the onset, Campbell reports, struggling with staffing before and, especially, during the pandemic. A looming six-figure bill to get the building up to code, combined with landlord disagreements, eventually proved fatal to the business, he adds. The equipment was sold off late last year, leaving 5412 Penn Ave. S. vacant. "Right now, as far as what goes on in that space next, there are a lot of questions," Campbell says.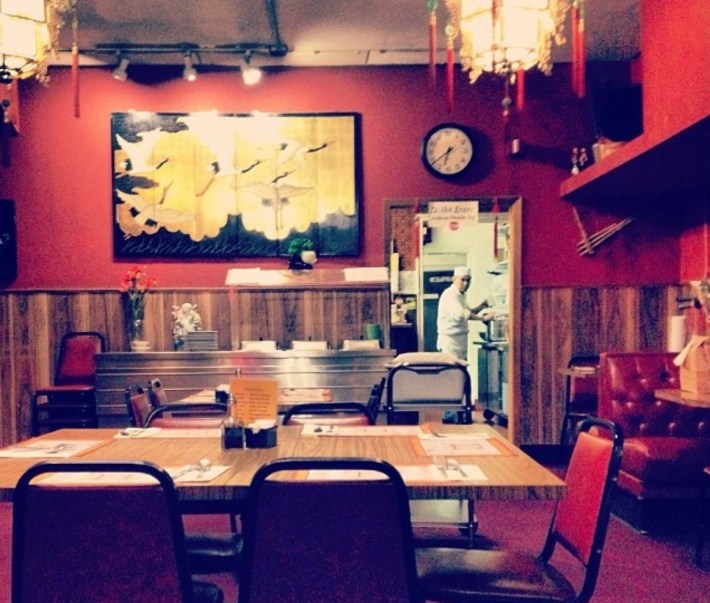 Multiple attempts to reach the multiple generations of Kwan's ownership proved unsuccessful, but we easily found loyal regulars who were eager to wax nostalgic over their favorite Chinese restaurant.
"For my specific group of friends, Kwan's was that safe space where nothing changed as we all grew up," says Terry Horstman. "The food, the furniture, the smells, the staff, were the same every time we walked in. Nothing beat coming home from college for break and having a three-hour dinner at Kwan's with everyone the first night back."
Horstman actually authored a wonderful Kwan's remembrance years before its demise. In his essay, he enjoys one final meal with Min and Jim, who express endless gratitude toward their customers. Kwan's was never about exceptional food or ambiance, Horstman writes—it was about affordable, satisfying meals cooked by beloved residents of southwest Minneapolis.
Prices were intentionally kept as low as possible, Min tells Horstman, so that customers never felt a "burden."
"We realize that it's been special," Min says of her run at Kwan's. "I always would tell the people to 'make yourselves at home.' Because I think as kids grew up here, it's a connector to their childhood. When kids would come in here we wanted to treat them as we would our kids."
Luke Albrecht certainly felt that connection. He grew up a couple blocks from Kwan's, and worked across the street at Settergren's hardware as a teen.
Albrecht estimates he's eaten more meals at Kwan's than any other restaurant. As a kid, the $6 weekday lunch buffet was always a big draw; he never remembers the price breaking $8. The selections were minimal—typically fried rice, lo-mien, green beans, orange chicken, and a few bonus dishes—but Min would always have Jim cook something fresh when bin levels got low. For Albrecht and his friends, Kwan's was the first restaurant you could go to without bothersome parents.
"It really took years of regular business for Min to warm up to someone. I don't remember it happening until I had my 12th birthday dinner there," he says. Min handled all the front-of-house duties herself and Jim, while mostly silent, reliably had a smile on his face, Albrecht recalls. "Min and Jim were really the heart of soul of that place."
Food quality suffered under the last Kwan's regime, Albrecht says, even though Min assured him the recipes had been passed along. He's surprised they made it as long as they did.
Yet, as upscale businesses takeover the neighborhood, the identity of south Minneapolis is really what suffers, Albrecht says. Noting that gentrification is certainly worse elsewhere in town, he has observed the residents of his childhood block shift from "tradespeople, teachers, civil servants, salespeople" to "doctors and executives" who tear town "functional, relatively affordable" 1.5-story homes and replace them behemoths fit for the suburbs.
"I see this as a perfect example of how our society is changing," Albrecht says. "There are fewer and fewer places where someone of average or below average means can call a community, especially that's accessible by foot." 
These days, Armatage diners prefer the $17 entrées at nearby Colita and Book Club to anything you would've found on the humble menu at Kwan's. Horstman isn't surprised that Kwan's got elbowed out of the neighborhood, but that doesn't make it hurt any less.
"I fully understood it was long overdue, but it still hit me pretty hard," he says. "Nostalgia's a helluva drug."