Asa's Bakery hadn't even opened to customers yet. But on a chilly afternoon last week, a few days ahead of its March 13 grand opening, the Nokomis bagel and bialy spot welcomed a dozen striking elementary school teachers inside to warm up from hours on the picket line.
"Solidarity with striking Minneapolis teachers and educational support professionals!" the bakery wrote, sharing a photo of bundled-up educators on Instagram.
As Minneapolis teachers and ESPs enter the second week of their strike, they've become a common fixture outside many city schools, with lots of folks driving by and honking in support or extending well wishes to those on the picket lines. And some local restaurants are getting vocal with their support as well.
Slice, the new New York-style pizza place in Northeast, spent Saturday giving free pizza to any Minneapolis Schools employee who flashed their badge.
"We felt it was appropriate for sure," co-owner Hosie Thurmond tells Racket. Not only were he and his business partner Adam Kado educated in the Minneapolis and St. Paul public school systems, but after graduating from college, Thurmond went to work as an aide at a school in north Minneapolis.
"Being public school products, we've been in that space, so we understand how important it is to have good teachers—but also happy, fulfilled teachers who feel like they're being paid so they can do their jobs adequately," he says. "Which is why, ultimately, they're able to change the lives of some students."
The Slice duo aren't working in the education space anymore, but they wanted to give back in whatever way they could. So: free pizza.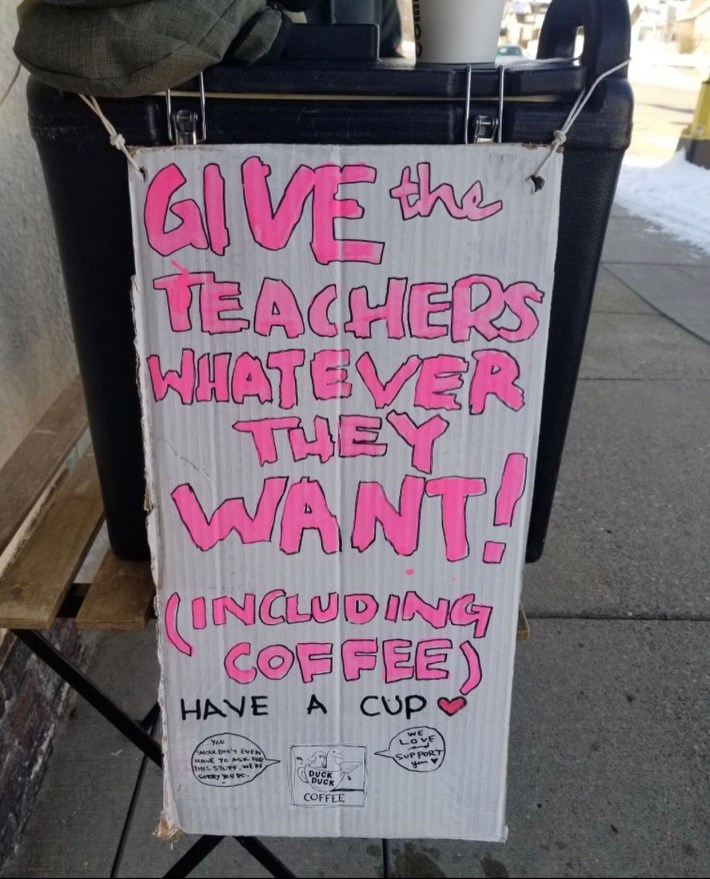 Over in south Minneapolis, Duck Duck Coffee has helped keep picketing teachers caffeinated. Owner Kat Naden tells Racket that supporting the teachers was an obvious thing for her shop to do.
"All the teachers are asking for are things that they should have already. The only reason the teachers don't have these things, I think, is because they are in a position where they are putting the kids first," she says. "If they ask for something and don't get it, they just keep going. If they do something like this as a last straw they're looked at like, 'How can these teachers abandon the kids like this?'"
(Her message to Superintendent Ed Graff, re: the public schools he oversees? "Make them better, ya doink. Make them what you would want your kids to go to.")
Thurmond says Slice had a ton of educators stopping in over the weekend: "It was really cool just to talk to them, different teachers and support staff who are working on the front lines."
It was such a hit that they're going to run another free slice day for Minneapolis teachers on Tuesday. Not a teacher, but want to help? You can buy them a slice by getting a voucher with your order.
"We're just happy to be able to help," Thurmond says.
And if you're looking for more ways you can support Minneapolis teachers, check out our recent story on the strike fund, where you can donate to show your solidarity.