In the early 2000s, the Twin Cities fashion scene was small, a little chaotic, and very DIY. Then, in 2004, a little store named Cliché opened at 24th & Lyndale. The shop, run by (then) husband-and-wife team Delayna (Payne) and Joshua Sundberg, started as a (mostly) vintage store, but eventually pivoted to carrying pieces by local designers.  
"At the time, they were selling a mix of vintage clothing with some local designers," says fashion writer/journalist Jahna Peloquin. "It was kind of random and thrown together, but I immediately dug it and thought, 'This is my thing. These are my people.'"
Eventually things started to really come together. Runway shows like Voltage and Envision took fashion to cool places like First Avenue; Minnesota designers like Christopher Straub, Samantha Rei, and Tim Navarro showed up on Project Runway; and we even got our own fashion week. 
At the heart of this renaissance was Delayna Payne and Cliché.
"It seemed like there were endless ideas and opportunities to participate and collaborate," reflects designer Maritza Ramirez. "The scene was welcoming and supportive and I think that was due in large part to people like Delayna and [MN Fashion Week's] Anna Lee. They both had this attitude of the more inclusive, the better. I met so many of my best friends through the scene. It was such a special and formative time in my life."  
Delayna also organized her own fashion shows at Cliché, including Avoid the Grey and the notorious Crosswalk, a show where models would strut around the block and across the street right outside the shop. 
Then, in January of 2020, after nearly 16 years of experimentation, innovation, and success, it was announced that Cliché was closing. The shop's crew anticipated that it could take a month or so to clear out the remaining inventory; it took three days. About two months later, we were all in lockdown as Coronavirus hit.
On January 3, news broke that Delayna had died. Fans, friends, and designers mourned, sharing their sadness and fond memories online.  
"I think Delayna would love to be remembered for all that she did to build and grow fashion in the Minneapolis community," says designer Kimberly Jurek-Valanzasca of the Fitting Room. "I think she would feel honored that so many people loved her and will miss her spirit."
We asked a handful of those friends to remember and reflect on Delayna's life, passions, and influence.
How/when/where did you and Delayna meet?
Anna Lee: I met Delayna when I was producing Voltage: Fashion Amplified. Cliche had just opened, and I remember getting a card in the mail. 
Kimberly Jurek-Valanzasca: I met Delayna in the Spring of 2005 after returning from studying fashion design in Italy. I went into Cliché to see about selling my line there, and met co-founder/co-owner Josh and he said he really liked my work, but he'd have to check with co-founder/co-owner Delayna to be sure she approved. I am so thankful she did, because it marked the beginning of a 10+ year friendship and business relationship with Cliché, Josh, and Delayna.
Jahna Peloquin: I can't remember the specific moment I met Delayna, but I do clearly remember the first time I went into Cliché. It was sometime in 2005 when I first started getting involved in the local fashion scene, and I'd just moved to Uptown. 
Maritza Ramirez: I met Delayna when I was still a design student. It must have been around 2006 or 2007. As the owners of Cliché, Josh and Delayna played a big role in the then-budding local fashion scene, which was very small but tight-knit and supportive. I got involved with Voltage: Fashion Amplified, which was a very cool rock/runway show at First Ave. produced by MNFashion cofounder Anna Lee. I was involved first as a student and intern to one of the designers and later as a designer. Josh and Delayna were on the production committee, and I would see them at meetings and events. Later, I would sell my designs at Cliché. 
Abigail Guderian: I met Delayna roughly 13 years ago, and became good friends with her shortly after my move to the Twin Cities from the Chicago suburbs. I met her first through being a shopper at her boutique, Cliché, but little did we know at the time we actually had numerous mutual friends, which opened the door to us becoming much closer over time. I also worked for her store, and assisted Delayna in the production and styling of all their fashion shows and events between the years of 2013-2019. There was more than a 14-year age difference between her and I, but that never seemed to matter much. We were both old souls and had a great mutual respect and love for one another. Having had the opportunity to work so closely with her over the years and to be called one of her close friends has honestly been one of my greatest privileges.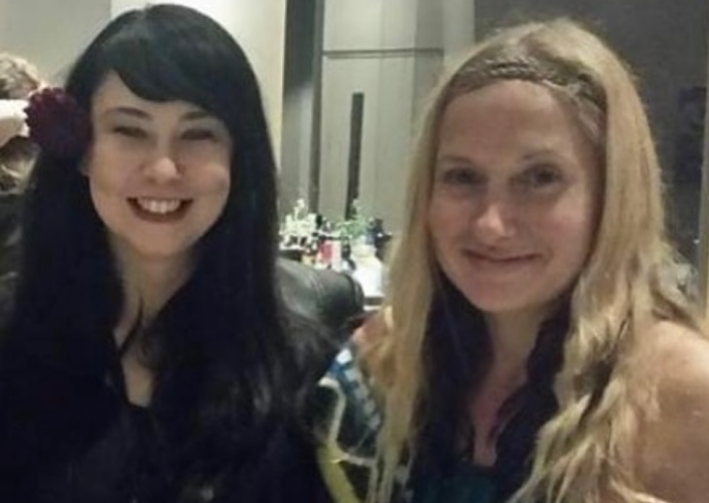 How would you describe Delayna to a stranger?
Jurek-Valanzasca: Delayna was a beautiful person, inside and out. She was striking in her look, how she did her hair, and especially her fashion. She was strong, fierce, loyal, and committed to her mission of building local fashion and providing a space for local designers to sell their work. She was fiery.
Sarah Edwards: Delayna was kind of quiet, super smart, and knowledgeable. She had a depth to her that you could pick up on in the first moment of meeting her. Hard to describe, but you knew that there was a lot going on behind her eyes. 
Peloquin: She was intense, energetic, enthusiastic. I remember how her eyes would get wide in excitement when she'd tell me about whatever fashion show she was putting together, or the latest designers they were bringing into the store. There was so much creative energy in her that it was as if it was bubbling over. She'd always be wearing something colorful, often with an unusual silhouette, always framed by her long, straight, black hair and thick bangs.
Guderian: Delayna was a fiercely loyal friend and individual and the matter of friendship was not something she took lightly. She was incredibly genuine and caring towards those she claimed as her own, and was never afraid to go to bat for those she loved. She had an infectious energy about her, if she was having a good time so was everyone else. She was uniquely creative and imaginative when it came to her love of fashion and loved nothing more than sharing her vision with others. Delayna was one of the most beautiful individuals I had ever met, inside and out.
What was Delayna's impact on the local fashion scene?
Lee: There was a collective surge of creativity in Minneapolis around 2004/2005, and there was a group of us that were part of the initial spark that led to the current wave of independent fashion in MN. Delayna embodied that spark in her work at Cliche, but, most importantly, with the designers, artists, and stylists that they brought together. So many people owe at least part of their creative careers to opportunities through working with her and the folks at Cliche.
Ramirez: When I think about Delayna I think of her as a cultivator of talent. She believed whole-heartedly in designers and through Cliché helped them to gain access and exposure to wider audiences and a clientele who would support them through retail. She was never  gatekeeper and always welcomed young, new talent and held them in the same esteem as more seasoned designers. She was a pioneer with a vision who through her boutique and her work within the community helped to lay the foundation to build an entire scene. I don't know that you can really measure that kind of impact. She was a true original and she will be missed greatly. 
Jurek-Valanzasca: Delayna had a vision. Through Cliché she helped many designers break into the fashion community in Minneapolis. Cliché was a place that felt like it's own community of designers. Many of us were friends. Delayna and Cliché worked hard to provide a space for designers to succeed through their retail shop, hosting tons of trunk shows and in-store events and fashion shows all over Minneapolis.  
Edwards: HUGE. Anyone that loved fashion, unique clothing, and shopping local would get their wardrobe at Cliché. Over the years she and Josh would produce fashion shows, pop up events and participated in the iconic Envision fashion show produced by Allison. One of my favorite events that they did was the Cliché sidewalk fashion show. Such a unique concept and had such great energy. I fucking miss that store! 
Peloquin: Her creative direction and styling for their fashion shows was innovative, memorable, unique, whimsical, joyful, conceptual, with a slightly dark edge. I always looked forward to their shows, and never knew what to expect. She was always changing things up and trying something new. Looking back, she really was a visionary. Cliché was one of the very few local boutiques to carry pieces by local designers before the "shop local" movement took off, and she took them on when they were just starting out. So many of those designers went on to find success. Cliché was really a catalyst and incubator for local fashion. Delayna took a chance on untested designers because she could see their potential. That was very rare. 
Guderian: When I first moved to the Twin Cities, I was only 19 years old, and knew very few things but I did know that I wanted to seek out this city's fashion scene and take part in whatever it had to offer. It was clear to me from the start that Delayna and her boutique were at the very center of this movement. Cliché's events were such an exciting bright spot in the cities throughout the years, to both fashion enthusiasts and modern art lovers alike. She put such an emphasis on promoting and supporting local designers and artists of all kinds, which is just one of the many ways that I believe made Cliché so special to the community it served. I also strongly believe that Delayna's creative passion and unique vision helped fuel, if not start, the fire that is the Minneapolis/St. Paul fashion scene today.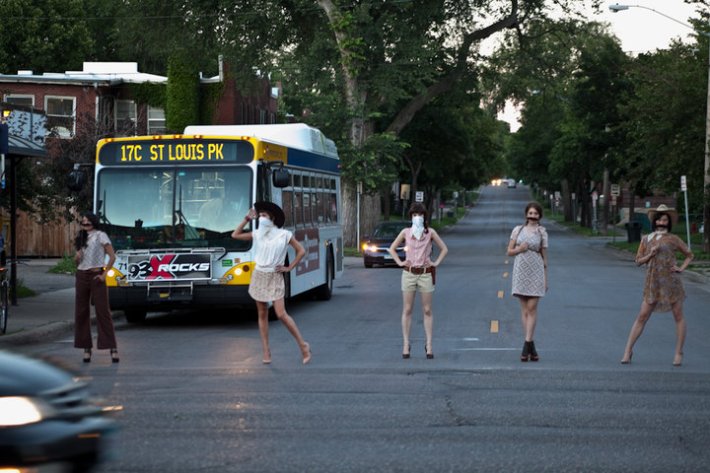 What's one of your favorite memories of Delayna?
Lee: One memory that I love in particular is just sharing a bottle of wine with her (no glasses, just passing it back and forth) in a parking lot just before a runway show we were both involved in. Nothing big and dramatic, just lighthearted banter and a bit of a pep talk for both of us introverted women with grand ideas and intentions.
Ramirez: Every year, Josh and Delayna would put together a runway show that featured all of the local designers whose lines were carried at Cliché… We had kick-off meetings at the store where we all got together and she would share her inspiration and the theme of the show. She always pulled together the most unique mood boards that weren't based on what was currently trendy–was she into the 1970s and also polka dots at the moment? That was a theme! There is not one single memory that stands out above all else, but more of an overall picture of a person that had a unique eye for trends and such a passion for pulling together the community. 
Jurek-Valanzasca: There are so many! I remember long afternoons of brainstorming ideas about collections, looking through her file of inspiration magazine cut outs, researching fashion show themes, and show spaces, hanging out for dinner, going camping in a tornado and gleaning her prized recipe for peanut chicken skewers and peanut rice, going to trade shows in Las Vegas, and participating in any fashion show she did. Not to mention hanging out with her at all of the ENVISION shows and countless others like Still in Style, Avoid the Grey, and VOLTAGE, to name a few. She was just someone I always wanted to be around.
Edwards: She and I had a lot of conversations over the years. I remember one time she said something really sweet, and told me a story about how they were shopping at market and Delayna told me she bought some things specifically for me. She said: "Nobody would wear this in Minneapolis. Well, Sarah Edwards would actually." Just made me feel special and like she valued me as a customer.
Guderian: This is a difficult one for me to answer, but I think my favorite memories with Delayna were the after-hour chats we would have once Cliché had closed their doors for the night, typically after the conclusion of an in-store event. We would talk and laugh for forever until one of us would look at the time and realize how late it had gotten. I will always remember how down to earth she was and just how easy she was to talk with. I will miss this very much.
What do you think will be Delayna's legacy? How do you think she would like to be remembered?
Jurek-Valanzasca: I see Delayna's legacy through everyone she touched while she was here. Through all of the designers, stylists, production staff, models, press, clients, and the rest of our community. I think people in our community always wanted to know what her next inspiration for a show, curation, theme, and production would be. She was a trend setter and was humble about it. 
Edwards: This is heavy. I would never want to pretend like I know what Delayna would want but in my experiences and interactions with her, I think she would like to be remembered as someone that walked to the beat of their own drum and revolutionized local fashion in Minneapolis. She had an edge. She was unique, deep, and interesting. 
Lee: In an industry known for moving along at lightning speed, my hope is that Delayna will live on in the stories we tell of how we got our start, those who believed in us, and those whose creative fire pushed us to be better versions of ourselves than we ever thought possible.
Peloquin: I think she'd like to be remembered as a force when it came to her creative vision with Cliché's fashion shows. No one was like her, and no one could do what she did, the way she did it. And she'd have been especially proud to know how much impact she's had on people, especially the emerging designers she mentored. I look at someone like Kimberly Jurek, who has gone on to become a successful designer and open her own boutique, which also is an incubator for local designers, The Fitting Room. Cliché carried her very first line, and Delayna was instrumental in her development as a designer and small business owner. Now that's what I would call a legacy. 
Guderian: When I think about Delayna's legacy I not only think about the incredibly successful business she created but I think a lot about the events she put together, like Avoid the Grey and Crosswalk. Those were the types of things she was happiest doing. She loved taking your average everyday runway fashion show and making it something out of a fantasy. She thrived on having this type of creative outlet and she was so good at it. I think she would want to be remembered for her unique, and not always understood, creative perspective. She always knew that this is what made something or someone special, when not everyone loved your idea because it was different or unconventional. Delayna felt a sense of satisfaction with her work if at least even a portion of her audience was left scratching their heads in confusion. I'm smiling even typing this out because I know she would laugh and agree this was true.