Food & Drink
Gold From the Soil
With Oro by Nixta Tortilleria, chefs Gustavo and Kate Romero showcase the complexity and versatility of heirloom corn.
9:28 AM CDT on July 28, 2023
Oro means gold in Spanish, and it's also the name Nixta Tortilleria proprietors Gustavo and Kate Romero gave their cozy, new-ish sit-down restaurant. The Romeros are on a mission to show that a humble crop—corn—is not just a complex and versatile ingredient but a cultural lifeline worth its weight in the precious metal.
Corn, also known as maize, was initially domesticated almost 9,000 years ago from a wild grass called teosinte by pre-colonial Indigenous people in the area now known as central Mexico in the Balsas River Valley. Early versions of maize had small cobs that yielded few edible kernels; back then, the stalks were the more appealing part of the crop, because they possessed a sugary juice that was likely fermented and used for making maize liquor. The early domestication led to the selection and breeding of corn varieties with larger cobs with more rows of bigger kernels on each cob—and led to a crop that made up about 70% of the pre-colonial Mesoamerican diet about 4,000 years ago. It was a significant dietary and cultural piece for the Indigenous nations across the Americas at the time. Although much of its religious reverence was crushed by colonialism, it still plays a huge role in America today.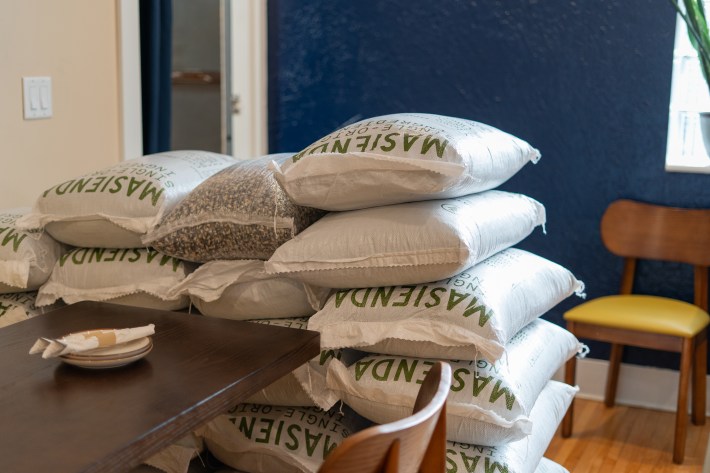 I am biased, and a nerd, and an American-born person of Mexican descent who identifies as Chicanx, who's loved corn since I ran through the bright green stalks of my parents' garden calling myself a "corn witch" as a child. I know that the glossy, pale, yellow cobs I can find at the grocery store are simply one version of a crop that sustained my ancestors. What once had countless varieties is now often presented as a singular thing. A monolith. A monoculture, in fact. It's a crop that's been modified to within an inch of its life and lacks variety on grocery store shelves and often in purpose: making big money. In 2021, corn accounted for 72 billion dollars in crop cash receipts in the United States. Forty percent of domestically grown field corn is used as the primary feed to sustain the animals we eat. It's turned into fuel for our vehicles. Its syrup is a sweetener. Its starch is used to make everything from batteries to clothes to diapers. 
So, the Romeros are right to call it gold. They know field corn's potential once it's nixtamalized—a traditional process of soaking field corn in an alkaline solution to soften and remove the hull that takes field corn from hard and indigestible to a soft, nutrient-dense dough—as a culinary shapeshifter. And with Oro, they're working to introduce its diverse presentation, flavor profiles, and applications to the Twin Cities to a broader audience. 
I've overlapped with Gustavo in my day job at a local food co-op. It broke my heart to hear that he was sometimes asked what Nixta adds to the masa (the dough that eventually turns into tortillas, tamales, tostada, and more) to imbue the rich golds, earthy blues, and deep reds in his tortillas because people had never seen them in that color before—they thought it was artificially added. Within our current food system, people are significantly removed from the ingredients and paths their food takes to make their meals, and diners and shoppers cannot be blamed for their ignorance when they're only fed white and pale yellow corn. 
To remedy this, Gustavo works with Mexican vendors who grow the vibrantly hued heirloom corn varieties he ate as a child. Not only does this add a punch of color to each plate, but it also sustains smaller-scale growers to keep them in business—and helps keep these heirloom varieties from disappearing. The work to show off these varieties is as much corn exposure as cultural food preservation. 
To say I was excited about trying Oro was an understatement. I live to see our food illuminated by a chef who has equally deep compassion for the quality of ingredients and a personal connection to the cultural importance of maize. He also tries to source local options when possible and works with them to make each component shine.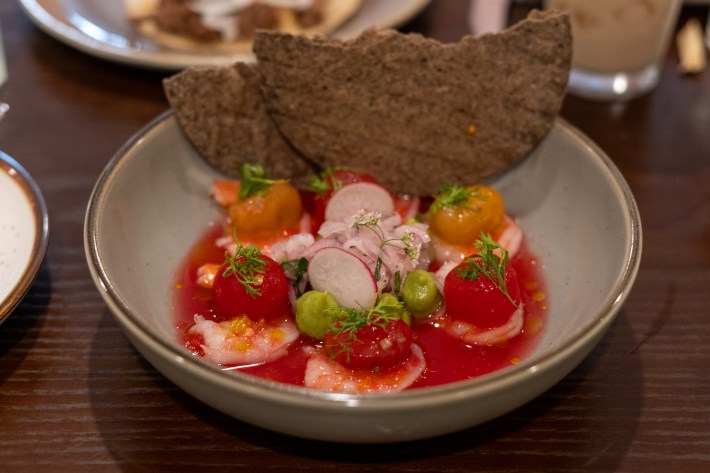 For example, Romero takes the beloved rice beverage horchata and uses locally- and Indigenous-sourced wild rice that's deeply toasted to almost burnt and incorporates the roasted grains with oat milk into it for a light and refreshing vegan take on the drink. It's not heavy or overly sweet, and it has an almost chocolate flavor from the deep roast it receives. Another drink we tried, the Mezcalita, was a boozy take on the popular agua de jamaica: refreshing hibiscus, zippy lime, and smoky mezcal blend to make a balanced sipper. The restaurant also offers beers—including Nixta's collab with nearby Dangerous Man Brewing Company, made with corn—and select Mexican and Spanish wines. 
For refreshment on our plates, a standout dish was our appetizer, the aguachile rojo. Slippery peeled tomatoes and bright watermelon balls are bathed in aguachile, a piquant, slightly spicy, incredibly refreshing thin sauce, and slices of meaty shrimp. Each bite was a kiss of acid followed by a juicy sweetness and an absolute textural symphony when each element was piled on one of the crunchy tostadas with which the dish was served.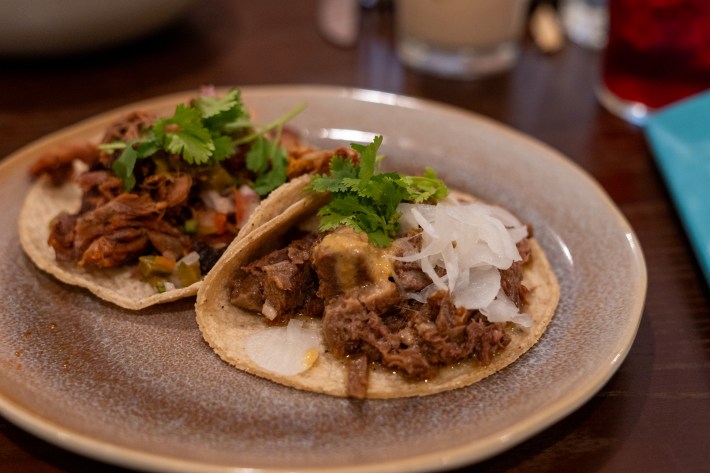 Tacos range in price from $6-7, and before people say that's overpriced, I'd like to counter that maybe Mexican food in America is undervalued. When it's served out of a truck on the street without sit-down service and made from non-local, non-organic ingredients, the price will reflect that. When the taco comes on a thick, fragrant, supple tortilla made from in-house-ground masa, the price will reflect that! Although some of my favorite tacos are $3-a-pop street tacos, Oro tacos are not meant to "compete" with that. The experience here is different and does not make one "better" than another. Just—different! Each has its place and its merits. 
And, let me tell you, friends, Oro's melt-in-your-mouth $7 lengua taco was an experience worth every penny. For anyone who's had a stringy, chewy tongue taco, this one will make you give them another chance. Incredibly tender with luscious fat, this taco was crowned with salsa made from chile arbol, adding a depth of smokiness, while bright, cured onion and cilantro kept it from being too rich. We also tried their barbacoa taco with earthy braised lamb shoulder and a cactus pico de gallo which was meaty, well-cooked, and savory but was overshadowed by the tongue taco. 
When I was growing up, my uncle had a restaurant in Milwaukee that specialized in moles, so I had to try Oro's version of one of my favorite dishes. My heart swells to say their pollo con mole was an absolute delight. Artistic, chunky little pillars of chicken thigh are nestled in their complex house "mole Nixta," with flavors of roasted tomato, toasted seeds and chiles, and bittersweet from dark chocolate. On the side were chochoyote: pillowy dumplings made from thick corn masa and plantain, each with a little divot pressed into it by hand. The deep flavors of the mole were leveled out by succulent chicken and the tropical sweetness of the little dumplings, which were perfect for dragging through that elegant sauce. 
The vegan chochoyote dish featured airier, crispy potato and masa dumplings arranged on a bed of rust-colored mild pepper sauce. Caramelized onion, chives, and a little toupee of microgreens added a bit of jaunty color to a dish that looks like a beautiful sculpture pulled from the earth and tastes lighter than we expected. The tlayuda is a massive, plate-sized tostada slathered in silky black beans and covered in melty cheese and chorizo for another masa course. It's topped with avocado and a charred roasted salsa tatemada. The original Mexican pizza, if you will. We broke this thing apart with our hands and had no regrets, but more "civilized" eaters might cut it up with a fork before tearing in.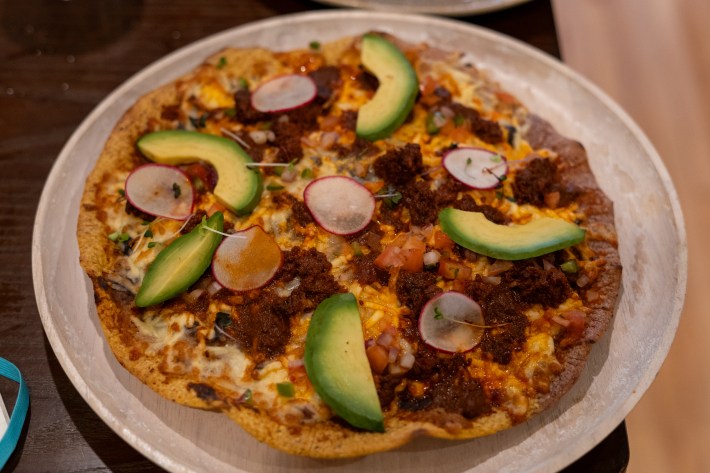 If all of this sounds serious, I assure you it's only seriously good. Although the food is made with respect and care, the atmosphere is jovial, the walls are a deep luxurious blue above earth-toned gold booths, and the murals in the entryway and the bathroom are vibrant and beautiful. There is joy and play baked into the space—and into the desserts, too.  
Gustavo told us that until recently, the only dessert lacking corn was the mole dessert. When his mom was visiting, she helped him incorporate elements of "pan de elote," a Mexican corn cake, into the dish. The result is a nondescript-looking pasilla pepper that's been rehydrated in simple syrup. Within the thin sheath of burnished reddish-brown pepper skin with a whisper of sticky raisin depth from its syrup bath, sweet corn is transformed into a mild chocolate cake with chocolate mousse. Nutella powder, peanut brittle, and banana incorporate other elements of a well-rounded mole into this dish—dissected, resurrected, and reimagined as a dessert.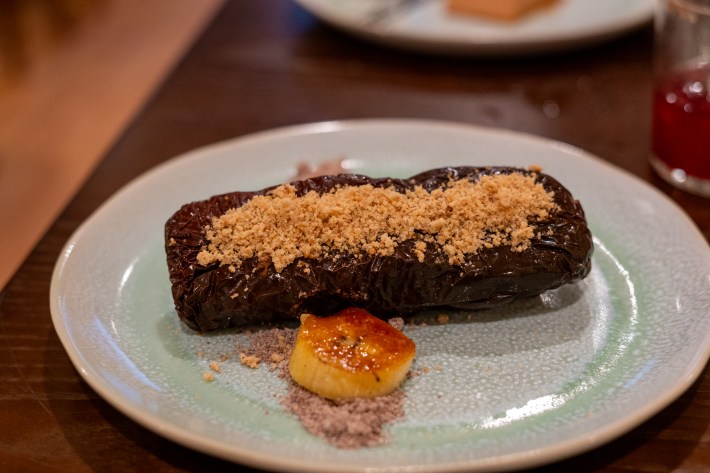 Another dessert we tried was the mamey flan. The coral-colored flesh of the Mexican tree fruit was turned into a custard, and the seed from inside was used to make a delicate marzipan-adjacent flavored ice cream. The ice cream rests on a bed of pinole, roasted, ground maize, and a drizzle of balsamic reduction on the plate adds a bit of sweetness and acid to the deliciously creamy dessert. 
Oro is the place to find if you're looking for an experience that blends the past, present, and future of an overlooked veggie often used as a side dish. Many people think they know Mexican food, though they may only know one version. But don't be intimidated. The warm and friendly staff is knowledgeable about ingredients and sourcing and is more than willing to explain what's in each dish or salsa. Oro is a place to expand your idea of Mexican food and what it can be. (For those with a "Minnesota palate," I assure you, there are things on the menu that even those who fear heat in their food can enjoy and will leave with their bellies full.)
Mexican food of any stripe is perfect as-is, and Gustavo and co. are only in the beginning stages of showing off its potential. Whether sweet or savory, corn is vibrant and versatile, and not just for commodity goods. Gustavo's menu takes dishes that fed our shared ancestors, shines them up like polished gold, and brings them into this century—and to the Twin Cities—with Oro.
Oro by Nixta Tortilleria
1222 Second St. NE, Minneapolis
Wednesday - Saturday: 4 - 9 p.m.
Stay in touch
Sign up for our free newsletter