Last year, Tameka Jones was laid off from her job due to pandemic cutbacks. A year and two months later, she's the owner of her own St. Paul-based cosmetics company, Lip Esteem, and one of six small business owners who will be highlighted on this season of Small Business Revolution.
The preceding seasons of Small Business Revolution, a reality series from the Twin Cities-based company Deluxe, took place in small towns across America. "We asked people to nominate their favorite small town, and then Deluxe would invest half a million dollars in revitalizing the main street of the winning community," says Amanda Brinkman, the show's creator, producer, and host.
Deluxe may have been based in St. Paul (they're in the middle of a move to downtown Minneapolis), but this is the first season of the show to take place in the Twin Cities.
"We really felt like the power of this program and the work that we do and the mission is that when you invest in small businesses, entire communities feel the ripple effect," Brinkman says. Roughly 30,000 small towns have been nominated over the course of these six seasons, and this time around, "we really wanted to bring it back home and invest in important Black-owned businesses in our neighborhoods."
For the Twin Cities edition, the focus isn't on one main street, but neighborhoods across Minneapolis and St. Paul. You'll meet businesses from the Minnesota Spokesman-Recorder, the oldest Black-owned business in Minnesota, to Lip Esteem, which was founded mid-pandemic. Two restaurants are featured—Sammy's Avenue Eatery in north Minneapolis and Taste of Rondo in St. Paul—along with a barbershop (Gentlemen Cuts) and a furniture store (Elsa's House of Sleep).
"I think everyone's eyes have been opened in the last 14 months to how much work we still have to do as a society," Brinkman says. "And I think one of the ways forward—there's certainly many, many other things we need to address as a society—but one of the ways forward is around economic empowerment. Investing in and intentionally supporting Black-owned businesses is a really important thing to do."
All of season six's businesses are run by people who are invested in their communities, with missions that go beyond what they sell or the services they offer. "They're active leaders within their neighborhoods—even if they don't have an official civic capacity, you see entrepreneurs stepping up and supporting the community in incredible ways," Brinkman says. Of someone like Sammy of Sammy's Avenue Eatery, she says, "He runs far more than a coffee shop. He has such an impact—not just on West Broadway—but across north Minneapolis."
The show's mission is to demonstrate what happens when you invest in small businesses. They provide marketing, financial advice, operational advice—whatever that business needs. Small Business Revolution isn't is a show like Bar Rescue or Extreme Makeover: the kind of reality TV shows where people come in, tell people what they're doing wrong, tear them down, and leave. The entertainment value here isn't in the severity or intensity of the transformation, but in the celebration of small businesses and the people who run them.
"If we know how to do things that can make their business more successful, it's our duty as humans to help others with those things," Brinkman says. "We never, in the show, have to or want to affect the passion or the way they do their business. We're just there to help with those resources."
Tameka Jones, the founder of Lip Esteem, says when she applied for season six she didn't think she'd make the cut. She's been a makeup artist for two decades, but she only started her plant-based, cruelty-free lipstick line last year. She also wasn't in a brick-and-mortar space—one of the things listed on the application—she ran her business out of her St. Paul fourplex.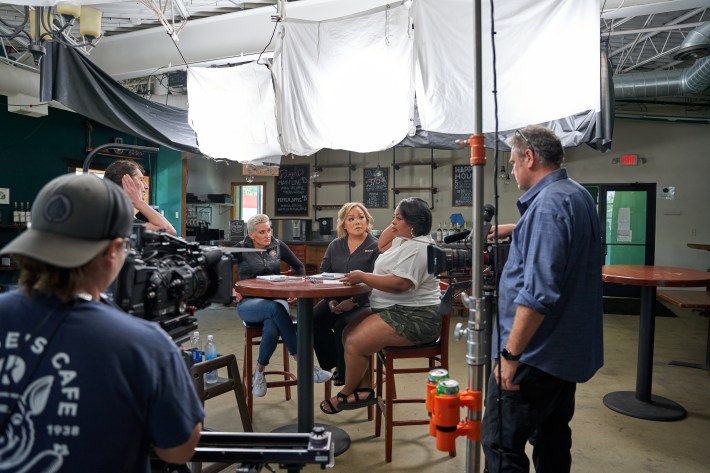 Still, she applied. "I wasn't sure what my next steps were or how I was going to get there," Jones says. "My hope was to be surrounded by professionals who could help me learn how to scale up."
"We really want to use these stories to inspire people to understand the importance of supporting small businesses," Brinkman says. The goal is to empower small business owners, to celebrate Black excellence, and she hopes viewers walk away with an appreciation for the difficulty of being an entrepreneur and an appreciation for these small businesses and all that they do.
Jones learned a lot from the show: She's smarter than she thought and knows way more people than she thought she did, and her community is willing to throw its support behind her. The program helped her open her own beauty bar at 1821 University Ave. in St. Paul, where people can come in for makeovers, have a girls' night, or shop by appointment. "The most important thing was to learn to find my voice—my voice had been drowned out in so many different situations," Jones says. "Now … I'm not scared of myself in that way anymore."
Season six of Small Business Revolution airs November 9 on Hulu and at smallbusinessrevolution.org (where you can watch for free online without a subscription). In the meantime, you can visit the website to catch up on past seasons and get a sense for what our Minneapolis and St. Paul small businesses are in for.