Food & Drink
What's the Most Expensive Twin Cities Supermarket Chain?
Pitting the pricey locals against their allegedly budget-friendly counterparts
8:26 AM CDT on July 6, 2022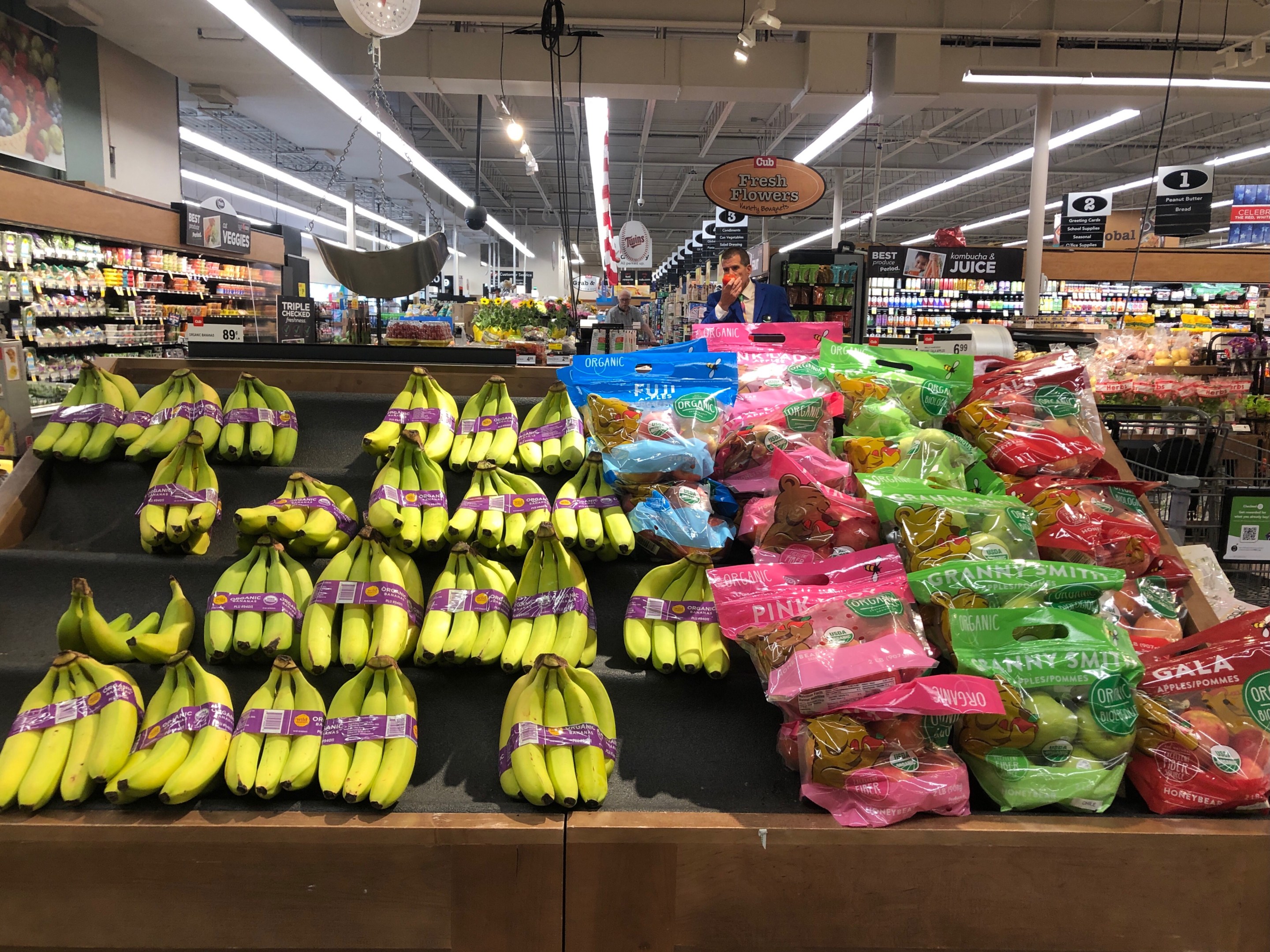 A few months ago, a reader named Rebecca answered one of our "Ask Racket" calls with an inspired question: "Which grocery store is more expensive: Lunds & Byerlys or Kowalski's?"
"I've always thought Lunds & Byerlys is more expensive, but at a gathering last winter, someone went on a diatribe about how Kowalski's is so much more expensive than Lunds & Byerlys," they explained. "So who's right?"
The question piqued the interest of your ever-frugal Racket staffers, who are feeling the ol' inflation squeeze along with the rest of you. Is the Edina-headquartered Lunds any more guilty of catering to its cake-eater class than its Woodbury-based rivals at Kowalski's? Last week, we set out to find the answer.
To do it, we made a list of more than 30 items a person might purchase on a "typical" grocery run: bread, canned goods, beverages, cheese, produce, coffee, eggs, snacks, pantry staples. Many were brand names we could compare to one another, but we also included a few house-brand buys.
Because we're curious, we also visited Target (headquartered in Minneapolis, nationally available), Cub Foods (Eden Prairie-based, with Minnesota and Illinois locations), and Hy-Vee (headquartered in Iowa and found throughout the Midwest). The idea was to keep it as local as possible. We considered including the co-ops as well, but there are so many co-op specific products that, like Aldi, Trader Joe's, and Whole Foods, it really doesn't work to include them in this kind of one-to-one comparison. (Perhaps that's a subject for another investigation!)
We went with the list price rather than the sale price, since those can change from week to week and from product to product and since most of us have to grocery shop regularly and can't consistently rely on big deals like Lunds' BOGO blowouts. And there were a few weird anomalies, of course. Target only sells La Croix in eight-packs, for example, while the other supermarkets we included do 12-packs; Lunds doesn't sell Heggies, so we went with Lotzza Motzza.
But we tried to be as true to the experiment as possible, doing the math to find unit/per-pound prices when different stores sold different sizes and subbing in similar options when one wasn't available. Let's begin.
Some context and stray details
The recent inflation numbers are one thing—and a big thing, with food prices 9.4% higher in April 2022 than they were in April 2021. But "food-at-home" prices—that's how the USDA categorizes groceries Americans buy—have been going up since the pandemic, as COVID-19 illnesses, supply-chain issues, and international trade conditions (among other things) all squeezed food producers and sellers.
Even if you haven't noticed it, grocery store prices have been steadily and quietly increasing around us for a while now. And some people definitely have noticed; we've been surprised to see more than one local Reddit thread talking about how expensive Cub has gotten over the last year.
It's also worth noting that while Lunds and Kowalski's are responsible for a good deal of grocery store discourse around here, they occupy fairly little local market share. According to the latest data from sales-tracking firm Chain Store Guide, Lunds & Byerlys takes just 7.3% of the market share in the Twin Cities, putting the chain behind Target (19%), Walmart (17.2%), Cub (14.7%), and Costco (10.8%). Kowalski's doesn't even crack the top 10. 
The overall cheapest store we visited: Target
Our 31-item list would cost just $123.92 at the Quarry Target.
Here's the thing about scale: It allows you to undercut your competitors! And Target Corp, which boasts more than 1,900 locations around the country, is the eighth-largest retailer in the U.S. Another interesting Target tidbit, per the money-savvy folks at Fortune: 75% of the U.S. population lives within 10 miles of a Target store. No wonder business at the bullseye jumped 20% during the pandemic.
Headquartered on Nicollet Mall in Minneapolis, the Dayton-owned big box store got its start as a discount division of their department store. It debuted in Roseville in 1962 and expanded throughout the '80s and '90s; in 2000, its parent company was renamed the Target Corporation. Today, it's ranked 32 on the Fortune 500.
If you're looking to lower your grocery bill, this is the place to do it. Target offered just about everything on our grocery list at the lowest price in town. From Old Dutch chips to Hebrew National Franks, the retail giant undersold the competition by leaps and bounds. Hey, when you slash Shipt shopper earnings and engage in union busting (allegedly), there's no limit to the deals you can pass on to customers. 
Cub and Hy-Vee are just about neck and neck
Our hypothetical grocery run totaled $139 at Cub and $139.85 (!) at Hy-Vee.
Cub Foods has Minnesota roots. The business was started by two brothers, a friend, and a brother-in-law in 1968, and was one of the first discount grocery stores in the U.S. Back then, it was named Hooleys Supermarkets. As they grew, they renamed it Cub, after a friend, and later gave it the acronym "Consumers United for Buying." They've had some buyouts and acquisitions since the '80s, but Cub remains a big part of the local grocery shopping scene, with around a dozen stores in the metro area. 
The company is not without its controversies. Earlier this year Cub earned bad press for cutting union retirement and health care benefits. In 2011, they sued and eventually settled out of court with Centro de Trabajadores Unidos en Lucha, a labor union that was trying to represent janitorial/cleaning staff. (The grocery workers at Cub, Kowalski's, and Lunds & Byerlys have long been unionized.)
Vibes vary a bit depending on the store. We visited Uptown Cub, a no-frills grocery store with customers here come from all walks of life, including bike punks picking up some coffee, frazzled moms getting stuff done, and teens buying stuff to sneak into the movie theater nearby. The aisles tend to be plentifully stocked—not always the case at Targets—and most of what you're looking for is going to be on sale or likely cheaper than higher-end competitors, though the produce quality can be iffy.
When we stopped by on the Fourth of July weekend, there were some bonkers deals. If you appreciate two-for-one deals and $1-$4 discounts, this is the spot for you. Here there's no reason to buy something that isn't on sale. If you're looking for cheaper, brand name meats ($6.19 Hebrew National Beef Franks), chips ($3.50 for a "Family Sized" bag of Old Dutch Chips), bread ($1.99 for a house-brand wheat loaf), it's a little cheaper here, too.
As for Hy-Vee: In 2015, it entered the Twin Cities market and began circling Minneapolis and St. Paul, shark-like, with 13 gargantuan suburban stores. (Further expansion plans were recently retooled.) Nominally, the country's 38th largest private company is employee-owned, though its internal stock-buying model doesn't translate to the worker empowerment of, say, a startup media company that's collectively owned by four Minneapolitans. Clamoring for a union presence is intensifying, at least in the Twin Cities.
Crucially, though, how are the vibes? Kinda weird! Sort of… Iowan, if you will. 
The Eagan location, one of 260+ scattered around the Midwest, shares real estate and customers with Wahlburgers, the celeb-owned burger chain with whom Hy-vee has an ownership stake. The deli-adjacent pizzeria promises fresh pies within in six minutes; purchase the sad, sopping rotisserie bird at your own risk. A Wonka-esque candy zone occupies the central footprint of the store, and, given the endless aisles and towering ceilings, the produce department feels like a picked-over afterthought. With its massive scope and exotic novelty, Hy-vee implants shoppers with the—misguided, it turns out—notion that deals abound. And, in fairness, fans of the yellow food group will appreciate the best-in-market prices on bananas ($1.14 per bunch) and Kraft mac 'n' cheese ($1.29 per box). 
But why confuse your senses, drive past your city lines, and, most importantly, betray your Minnesota heritage only to spend 85 cents more for the same groceries you could get inside the comforting confines of Cub? 
As for the initial Lunds and Byerlys vs. Kowalski's question…
It was pretty close! And, predictably, it was also a good deal more expensive than at the other local stores. Our grocery run added up to $164.63 at Lunds and $158.25 at Kowalski's.
Jim Kowalski and his wife, Mary Anne, opened the first Kowalski's in 1983, buying the underperforming Grand Avenue Red Owl that Jim was working at using their life savings and a loan from a friend. These days, there are 11 shops in the Twin Cities metro. Jim died in a freak propeller accident in 2018; his daughter, CEO Kris Kowalski Christiansen, has run things since. 
As for the stores, Kowalski's is not cheap—people don't come here for the value. That said, they often do have a bunch of stuff in their shops that you won't find anywhere, including some of the best store-brand frozen pizza in town (or pick up a Heggie's here for $9.49—the lowest price we saw). They have a decent deli and a great in-store bread section (cost-wise, their honey wheat loaf is right in the middle of our survey at $3.49, not the cheapest, but also not the spendiest). Their organic produce can be costly, but the non-organic stuff is priced pretty average here, save for a strangely high $5.99 pint of strawberries. That said, if you want to splurge on fancier jams, harder-to-find niche products, or delicious potato salad, they got your back. They're just not the shop for you if you're looking for rock-bottom prices or big deals; you'll probably find your grocery bill is higher here.
Lunds, whose corporate history traces back to the '30s, and Byerlys, which dates back to the '60s, slugged it out for decades as the dueling titans of high-end Twin Cities groceries. Their swanky empires would merge in 1997, and, in 2015, formally become Lunds & Byerlys across all 28 metro stores. 
Those luxe pedigrees remain intact, particularly at the Edina location on France Avenue—there's a goddamn rooftop bar-slash-performance space billed as "The Mezz"! May the gods of egalitarianism have mercy on our souls, but we can't help but love the prestige L&B shopping experience. The stores are sparkling and well-stocked; the staff is friendly and outrageously helpful (a gentleman walked me across the entire store to locate peanut butter); and the globe-spanning hot bars offer elite self-serve food at a fair per-pound price. Don't sleep on the fried chicken, either. 
Bougie grocery nirvana won't come cheap. But! As mentioned above, savvy navigation of the BOGO deals can dramatically hack away at the top-of-survey grocery bill. You're not a class traitor for shopping at Lunds & Byerlys. Every shopper deserves this level of sensory pampering as they seek out Top the Tater, frozen pizzas, and BOGO brats.
Wanna view the breakdown of our shopping trip at each local chain? You can find it here.
Stay in touch
Sign up for our free newsletter